Print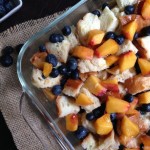 Challah Bread Pudding with Blueberries and Peaches
Inspired by a recipe by Shauna Sever and some blueberries from my mom, I whipped this up on a Saturday morning. Use this concept as your base and change it to fit the ingredients you have on hand and the number of people you are serving. Enjoy!
1/2

of a 1 lb loaf of challah

cut in 1 inch squares or enough to fill an 8x8 glass pan

3

large eggs

1 1/3

cups

milk

I used lowfat lactose free - something richer would be great as well

1/4

cup

orange juice

1/4

cup

maple syrup

1/2

teaspoon

vanilla extract

zest of 1/2 a lemon

1/2

teaspoon

cinnamon

1/2

teaspoon

salt

1

cup

fresh blueberries

1

peach chopped
Preheat the oven to 375 convect or regular bake.

Slice bread into cubes and place in a buttered 8x8 glass pan (round is fine too)

In a medium bowl, whisk the eggs, milk, orange juice, maple syrup, vanilla extract, lemon zest, cinnamon, and salt until well combined.

Pour the wet ingredients directly into the pan filled with the bread along with about 3/4 of the blueberries and peaches. Gently mix to combine. Then let it all sit for 5 minutes or so. Then scatter the rest of the fruit on the top.

Bake at 375 convect for about 20 - 25 minutes or 375 regular for about 30 minutes. If you double the recipe, it will take longer to cook.

When it is nearly done, you will notice it has puffed up and a knife inserted in it should come out clean. Let it sit on a wire rack or stove top for 10 - 15 minutes before you serve. A little maple syrup over the top when you serve would not be a bad thing at all. Just saying.