We differ, blind and seeing, one from another, not in our senses, but in the use we make of them, in the imagination and courage with which we seek wisdom beyond the senses. --Helen Keller
At first glance, it looked like any other food conference session in a generic hotel meeting room. Round tables quickly filling up as attendees jockeyed for the best viewing spot or a seat next to their best new friend. A large screen was set up in front next to a raised platform with a table and chairs for the presenters.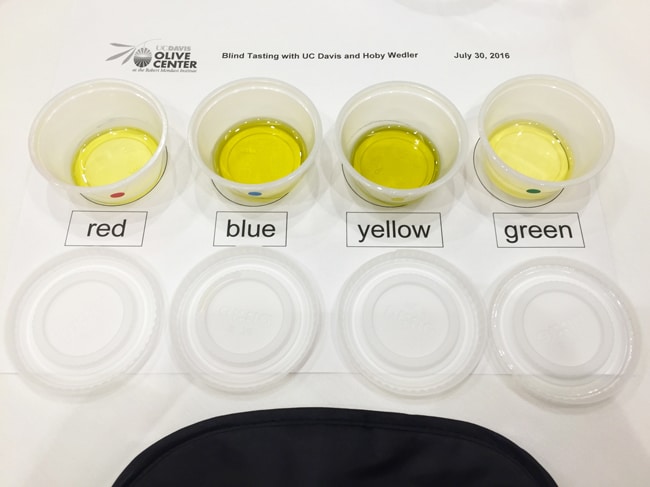 This session at the International Food Blogger's Conference (IFBC) in Sacramento was described as a blind olive oil tasting. Not bothering to read the detailed description, I assumed the brands of olive oil would be hidden while we were guided through the evaluation process. I was only partially correct.
At closer inspection, I noticed the tables were set up with four plastic cups of olive oil at each seat and a blindfold. Hmmm.
The Attributes of an Olive Oil Tasting
Dan Flynn, the director of the UC Davis Olive Oil Center opened the session with an overview of how olive oil is made and then a clear explanation of how olive oil is rated – the three positive attributes and the three most common negative ones.
Positive:
Fruity – this sensory attribute will be apparent in the nose and on the tongue
Bitter – your tongue will sense this attribute shortly after tasting- it is not a bad flavor in oil, merely a description of the flavor
Pungent – this attribute will be most apparent as the oil slides down your throat – it will likely be that peppery taste you sense after swallowing. More pungent = more peppery.
Negative:
Fusty – the taste you get if the olives were left sitting in a pile too long before being processed – smell is sometimes described as akin to a pile of smelly socks
Musty – the flavor you will detect if the olives were moldy before being processed
Rancid – what happens to oil after it is processed and has been exposed to air, light or just natural aging for too long. Might taste similar to what a rancid nut or cracker tastes like.
The Blind Leading the Blind
After Dan's overview, he introduced Hoby Wedler to guide us through the olive oil tasting. Hoby is a Ph.D. candidate at UC Davis, a sensory scientist (I might say savant) as well as a food and drink educator. He has also been sightless since birth.
Imagine for a minute obtaining a degree in chemistry without ever seeing a chemical reaction?!
If we had been blind-folded before we met Mr. Wedler, nothing in his enthusiastic speaking style or in the sensory images he creates with his palate descriptors would ever reveal his missing sense of sight. He even described the town of Winters, CA where a certain olive grows as "beautiful" which led one of my table companions to ponder: How does he know it's beautiful? I suggested that he must "see" beauty in a very different but no less magical way than sighted people -- perhaps in the sounds he hears, the smell in the air, the feel of the earth beneath his feet or the personality of the people he meets.
Hoby explained that removing one sense can heighten or change the way our other senses perceive the aroma, taste, texture and overall impact of the oil. Or as Hoby explains to his guests in his monthly "blind" wine tasting he conducts at the Francis Ford Coppola Winery in Geyserville, "You might find your vision is actually a disadvantage when you're trying to pay attention and really taste something." (San Jose Mercury News, Oct 28, 2015)
Given Hoby's sommelier-quality tasting acumen, one can only assume he must be right.
Though my tablemates and I didn't openly discuss it, I'm sure they were as initially uncomfortable as I was without my sight – what if I picked up the wrong cup of oil? What if I spilled it? Was everybody else really following instructions or were they all peeking?
Who knows? But I can confirm that for me, this session was the most insightful tasting of oil or wine I've ever experienced and somehow, I felt more confident than I usually do at identifying what I was tasting and why.
So for at least an hour at IFBC, I came to my senses.