Pomegranate molasses dressing is a simple and sophisticated vinaigrette that incorporates balsamic vinegar, pomegranate molasses, and shallots.
Arugula and fig salad paired with pomegranate molasses dressing Is the perfect way to use fresh figs. And when the season is over, dried figs stand in so well that you can serve this salad all year long!
A family favorite and a classic Hawaiian specialty – Portuguese sausage marries beautifully with soy sauce eggs and Japanese rice.
Thanks to Ottolenghi's mom, Ruth, I am a stuffed pepper convert! Ruth's stuffed Romano peppers recipe in Ottolenghi's Jerusalem cookbook is the ideal combination of a mild pepper filled with a warmly spiced meat stuffing. You'll love this dish and the introduction to the fragrant Baharat spice mix.
These marinated, oven-baked, and grilled baby back ribs are worth the effort – the flavor and texture is perfect – tender and chewy in the best kind of way. And perfumed by bourbon and a spicy, smoky rub. Your guests will thank you!
Cook green cauliflower (or any color) by roasting it to perfection with just olive oil, lemon and salt and pepper or add your favorite fresh and dried herbs, creating the perfect side dish. So good that you'll even turn on your oven in the summer to make this dish!
Motivated by a fridge full of fresh fruit and a lack of maple syrup, I created this fresh fruit compote to top Sunday pancakes, waffles, yogurt and so much more. No fresh berries, frozen will work too! This is a simple and versatile recipe you'll make over and over again.
Rose Harissa – a spicy, smoky North African condiment takes on another layer of flavor with the addition of rose petals and rose water. Having a hard time finding it in the store? Make your own. This simplified recipe comes together quickly and will be your new favorite hot sauce.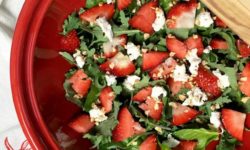 Celebrate berry season with this strawberry spinach salad with goat cheese, pecans and strawberry balsamic dressing. It's the perfect bright, tasty, and healthy addition to summer menus. Change up the ingredients to match your tastes or what's in your refrigerator – it's flexible and delicious no matter how you put it together.
Add this make-ahead corn salad to your summer entertaining repertoire. It's so easy and flexible — perfect for a buffet and a crowd! And you'll love the edamame, tomatoes, avocado, herbs and lime dressing too.
Sangrita is a non-alcoholic mixture you drink alongside tequila. Not to be confused with sangria – sangrita is a tomato or fruit-juice based beverage. Depending on its region of origin, the ingredients change but it is always intended to complement and bring out the flavors of the tequila it accompanies.
Welcome to OMG! Yummy
I'm Beth – a seasoned marketing professional, kitchen table storyteller, and enthusiastic food consumer. Hang out in my virtual kitchen and I promise to feed you recipes, stories, and lots of inspiration!
Instagram
Amazon Store