Portuguese sausage, soy sauce scrambled eggs, and rice are a staple in Hawaii and in our home. Learn more about how to cook Portuguese sausage and its roots in Hawaii, plus a little glimpse into the lesser-known North Shore of Oahu. (post first published in April 2012, updated August 2019)
Another recipe inspired by my husband's Hawaiian family is mandu or Korean dumplings.
For ease of browsing, here are all of my Korean Hawaiian recipes in one place,
Bring the Taste of the Hawaiian Islands to your Kitchen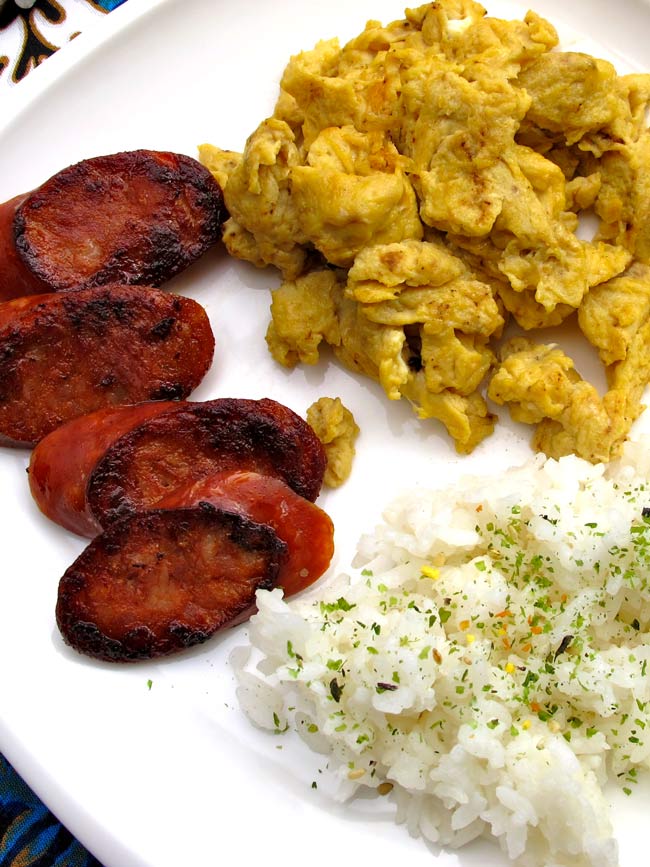 This post contains Amazon affiliate links – if you click on one and purchase something, I receive a very tiny percentage of the sale. Your price is never affected.
The fabled (and frequently forgotten) North Shore of Oahu is known for its waves and beaches, not its cuisine. But surfing swells your appetite (or so I'm told) and many locals and visitors feed that hunger with a visit to Ted's Bakery in Sunset Beach.
Ted's serves up local traditional food like our family favorite: Portuguese sausage, rice, and eggs. This is such a staple for kama'aina (local residents) that McDonald's even offers it on their menu.
What is Portuguese Sausage?
Portuguese sausage is similar to linguica but according to Hawaii Magazine: "What's now called Portuguese sausage (in Hawaii) is a larger, slightly sweeter and softer sausage than the original linguiça. You can buy it in both mild and hot versions, the latter having a dash of red pepper."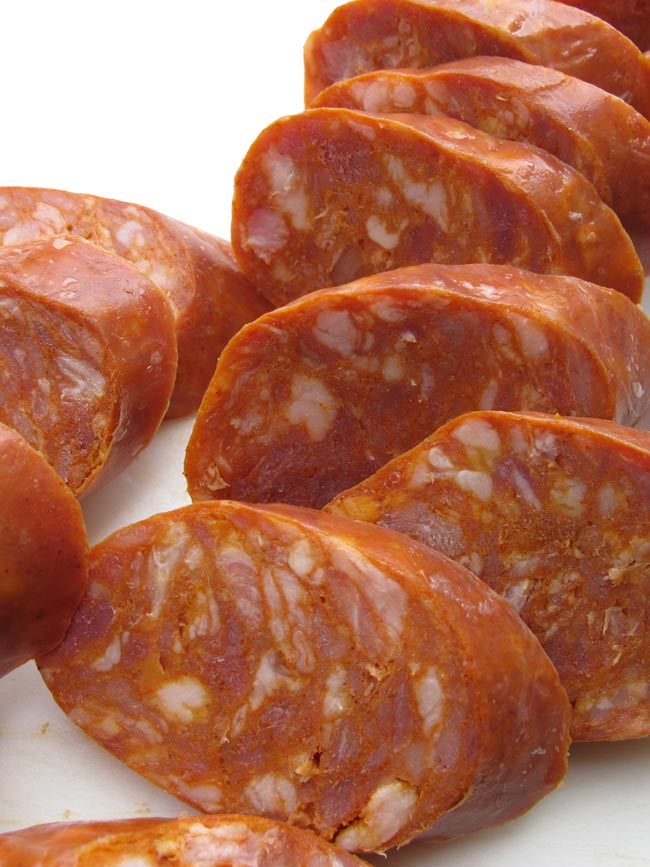 Our family prefers the spicy style of sausage but many restaurants only offer the mild. Ted's mild Portuguese sausage met our expectations – pan-fried with a crisp bite on the outside and smoky flavor on the inside.
Only thing missing was the hot kick. But I guess you can't have it all, all the time.
What are Soy Sauce Scrambled Eggs?
At home, we always make our favorite soy sauce eggs to accompany the Portuguese sausage, a simple twist on classic scrambled eggs that you should add to your BFD (breakfast for dinner) repertoire. Just add soy sauce and touch of milk or cream to your eggs to transform them to something a bit different.
My husband's Hawaiian/Korean family calls these soy sauce eggs: Kung Jung eggs. We eat portuguese sausage, kung jung eggs and rice at breakfast, lunch, or dinner. And we almost always have a big fruit salad with it as well.
How to Cook Portuguese Sausage
I like to cut the sausage on a bias to get substantial pieces with a lot of surface area to brown
You can pan fry it, broil it, or certainly put in on a grill too
It's pre-cooked so all you're trying to do is get a good sear on it and make it hot.
If you want to reduce the fat, broil on a traditional broiler pan with holes is a great method so the fat can drip through to the bottom (which you might want to line with foil for easy clean up)
How to Prepare Soy Sauce Scrambled Eggs
Crack the eggs into a bowl
Add the soy sauce and a touch of milk or cream
Mix it all together
Cook in a frying pan with a bit of butter to your desired doneness
Want to hear me talk story about soy sauce eggs? Listen to my guest appearance with Leigh Olson of the podcast The Heritage Cookbook Project where I share a few more details about my culturally blended family and how the simple egg can create dishes from cultures around the world.
What to Serve with Portuguese Sausage and Soy Sauce Eggs
When we prepare Portuguese sausage at home, we always serve it with steamed Japanese short grain rice. Our two favorite brands are Nishiki and Kokuho.
Often we top it with furikake - a Japanese spice blend specifically made for topping rice. Furikake comes in many flavors but always includes dried seaweed and sesame seeds in the blend.
Ted's offers a fried rice option that @dormantchef sampled. It was outstanding – not only is the portion ample but the flavors and texture are expert – still moist but the grains were separated and had soaked up the ingredients nicely.
We also love a big fruit salad to pair with our rice, eggs and sausage – bonus if you can find some tropical fruits to add to it.
Where to Buy Portuguese Sausage
Also check out my Amazon shop that includes some of my favorite food and food-related products. I am always updating it – please visit often. And let me know if you need specific product recommendations – I am happy to help!
More about Ted's Bakery on Oahu's North Shore
Ted's Bakery draws in many visitors for their Chocolate Haupia Pie (haupia is a gelatinous Hawaiian dessert made with coconut milk) but we found much more to love than their version of chocolate cream pie.
We stopped in for breakfast on the way to Haleiwa, for their Portuguese sausage, rice, and eggs, of course. But not knowing if we'd have time to stop in again, we had to sample their baked goods as well: a malasada (a Portuguese version of a donut), a slice of chocolate haupia pie, and a macadamia nut danish.
I am not a big donut fan but you can ask my kids how many times I marveled at the texture and flavor of their heavenly malasadas. They say Leonard's in Honolulu has the best malasadas, but I don't know how they could be better than Ted's.
P.S. If you try this recipe, please leave a star rating and/or a review in the comment section below. I so appreciate your feedback! AND find more inspiration on Pinterest, Facebook or Instagram. Signup for my email list, too!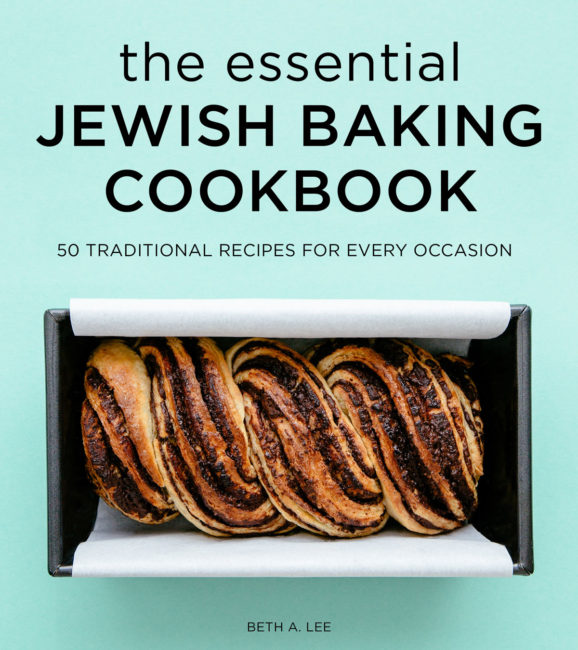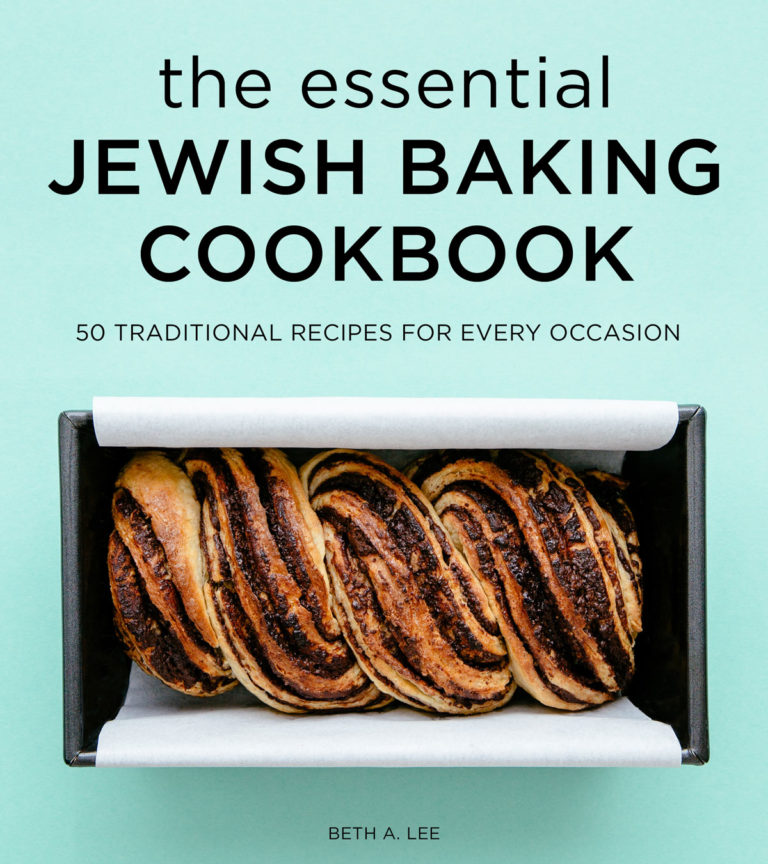 Portuguese Sausage, Rice, and Soy Sauce Eggs
Beth Lee
The plain rice is a welcome counterpart to the slightly salty eggs and rich sausage, as is a large platter of fresh fruit.
Ingredients
2-3

cups

medium grain Japanese rice

or any rice of your choosing

2-3

Portuguese sausage links

mild or spicy

8

eggs

3-4

teaspoon

reduced-sodium soy sauce

4

teaspoon

cream or milk
Instructions
Prepare the rice in a rice cooker or stove top. We have a rice cooker and use 3 cups of rice and about 3 ½ cups of water (or fill to 3 cup line) and it takes about 15 or 20 minutes to complete the cooking cycle.

Slice the Portuguese sausage on the diagonal.
To cook the sausage, I use one of two methods:
Broiling is the healthier approach, allowing some of the fat to drain off and is an easy way to cook a large batch fairly easily. Watch closely because it goes from perfect to burned quickly. I would guess about 5 minutes on the first side and 3 minutes on the second side.

Pan frying is the other method and what I did for this post. The added benefit was the yummies left in the bottom of the pan, some of which I wiped away but the remainder, along with just a dab of butter was all I needed to scramble up the eggs. It added a nice depth of flavor, even beyond the soy sauce, to the eggs.
To prepare the scrambled eggs:
Crack the 8 eggs into a medium-size bowl. Add the soy sauce and milk or cream and whisk briskly. They will have just a tinge of brown in their color. If they are too brown, you've probably overdone the amount of soy and they will be too salty. The amount of soy I have suggested is a guideline, adjust to your liking.

Heat a medium size fry pan (I usually use non-stick) to medium, add a bit of butter, swirl it around and then add the eggs. Mix quickly until almost dry then divide among your plates or serve from a bowl at the table.
Nutrition
Calories:
484
kcal
Carbohydrates:
75
g
Protein:
18
g
Fat:
10
g
Saturated Fat:
4
g
Cholesterol:
334
mg
Sodium:
267
mg
Potassium:
227
mg
Fiber:
1
g
Vitamin A:
550
IU
Calcium:
78
mg
Iron:
2.4
mg
Mahalo to the late Gregory Lee and @dormantchef for many of the local Hawaiian photos in this post!