Ruth's stuffed Romano peppers recipe from the Jerusalem Cookbook is Yotam Ottolenghi's mother's recipe. I first made this treasured dish in August 2013 shortly after we started our Tasting Jerusalem group and have put it on repeat since. (This post was first published in 2013, updated July 2019).
Stuffed Romano Peppers – Filled with Meat, Rice, Spices, and Love
Growing up, I thought the only peppers that existed in the world were green bell peppers. Romanos? Padrons? Serranos? Anaheims? These peppers didn't exist in my food world. My mom frequently served green pepper steak and we gobbled it up. The steak was great – not so sure about the peppers.
Fast forward to my adult realization that peppers sometimes aren't green and come in a myriad of shapes, sizes, colors, and flavors. Having moved up the pepper learning curve, I decided to prepare the stuffed peppers from the cookbook Jerusalem by Yotam Ottolenghi and Sami Tamimi. It was the first time I ever stuffed a pepper. Please don't think less of me for it. At least I finally took the plunge. And what a lovely, fragrant, hearty, soul-satisfying plunge it was!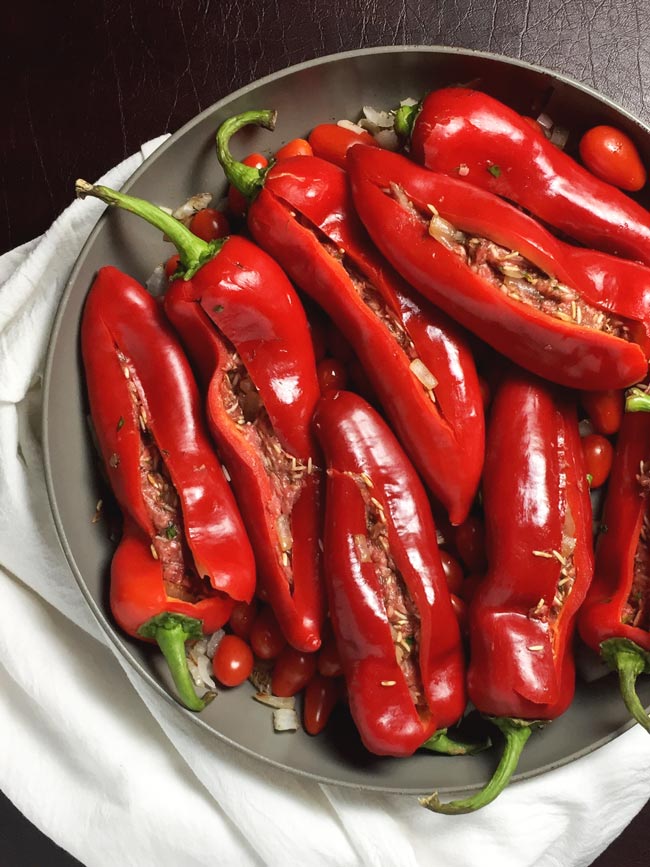 The recipe is named after Mr. Ottolenghi's mom, Ruth. Now that I've eaten her stuffed peppers, I want to meet her, cook with her, and share a meal with her.
What are Romano Peppers?
The Romano peppers are part of the sweet pepper family that includes bell peppers of all colors. But Romanos are longer, thinner and, to me, have the flavor of hot peppers without the searing heat.
Where Can I Buy Romano Style Peppers?
You should be able to find Romano peppers or a substitute for them in your local large chain grocer or small local grocers such as Middle Eastern, Indian, or Mexican stores.
What Can I Substitute for Romano Peppers?
Anaheims or Poblanos should be a perfect substitute for Romanos. But the red of the Romano is stunning if you find them. Or try a combination of Anaheim and Romano – combining the red and green is visually appealing and the flavors work very well together.
What is Baharat Spice Mix?
In Ruth's recipe, these skinny beauties are stuffed with a basmati rice and lamb mixture flavored with Baharat spice mix, cardamom, dried mint, fresh dill and parsley as well as sautéed onion that is mixed with the dry spices. Baharat (pronounced ba-har-ot) means "spices" in Arabic – and that's exactly what it is: a versatile mix of warm spices used commonly in Arabic cuisine. The Baharat mix I used contains nutmeg, black pepper, coriander seed, cumin seed, cloves, cinnamon, cardamom, paprika, and chili. You can read more about this warm and fragrant Middle Eastern spice in this Tasting Jerusalem post.
You can also mix your own Baharat or find it at a local Middle Eastern market or purchase it online from your favorite spice vendor (suggestions below). If you want to make this Romano peppers recipe and don't have the Baharat, just combine as many of the Baharat spices as you have on hand and let your nose guide you. If you like the way it smells, it will taste great in the stuffing mixture.
How to Cook Stuffed Peppers
Break down the process into stages
You can prepare the stuffed peppers up to the cooking point ahead of time, and just cook them right before you serve.
Or you can cook them ahead and reheat. Our two-day-old leftovers maintained their flavor and shape.
The filling mixture can also be prepared ahead.
The peppers can be cleaned, cut, and stored in the refrigerator for a short time.
Adapt the recipe to your ingredients on hand
The first time I made these stuffed peppers, I had 9 oz. of organic grass-fed beef so I subbed that in for part of the lamb, using a combination of both meats.
The recipe uses onions twice – once sautéed with the dry spices for the filling and then again raw underneath the peppers with some tomatoes. I decided to sauté the onions that the peppers sat on for about 10 minutes, rather than just using them raw.
I also mixed vegetable broth and chicken broth, rather than using 100% vegetable.
And I heard from another member of our Tasting Jerusalem group, Michelle of Daily Waffle blog

, that you can skip the pre-cooking of the rice – it will cook up just fine when you cook the peppers in the broth for an hour. Nice time-saver!

I couldn't find fresh dill at my market, so I used a smaller amount of dried – that worked out fine.
And as you can see from the pictures, I used both red and green versions of the peppers. The green ones were likely Anaheim peppers. They were sweet peppers and worked just perfectly.
I've included my version of the recipe below. But I encourage you to buy the cookbook Jerusalem, and join our cooking conversation on the Tasting Jerusalem Facebook page and group where we delve deeper into Ruth's son's cooking wizardry and explore the fabulous flavors of the Eastern Mediterranean.
What Should you Serve with this Stuffed Romano Peppers Recipe?
Roasted Asparagus Salad with Preserved Lemon
Summer Corn, Tomato, and Edamame Salad
Persian Cucumber and Tomato Salad
This post contains Amazon affiliate links – if you click on one and purchase something, I receive a very tiny percentage of the sale. Your price is never affected.
Supplies for Making Stuffed Peppers
Also check out my Amazon shop that includes some of my favorite food and food-related products. I am always updating it – please visit often. And let me know if you need specific product recommendations – I am happy to help!
Stuffed Romano Peppers
This stuffed Romano peppers recipe from the Jerusalem Cookbook is a gem from Yotam Ottolenghi's mom, Ruth. It was my foray into stuffed peppers and hope it will be yours too!
Equipment
This stuffed Romano pepper recipe from the Jerusalem Cookbook is Yotam Ottolenghi's mom's recipe – the obviously talented Ruth. It was my foray into stuffed peppers and am so glad I took the plunge!
Ingredients
8

medium Romano peppers or other mild sweet peppers like Anaheim

10-20

cherry tomatoes

about 1 cup

2

medium onions

coarsely chopped (about 1 ½ cups)

2

cups

vegetable or chicken stock or a combination of both
Stuffing
¾

cup

basmati rice

1 ½

tablespoons

Baharat spice mix

store bought or homemade

½

tsp

ground cardamom

2

tablespoons

olive oil

1

medium onion

finely chopped (about 1 cup)

14

oz

ground lamb or beef or a combination

2 ½

tablespoons

chopped flat leaf parsley

2

tablespoons

chopped dill

1 ½

tablespoons

dried mint

1 ½

teaspoons

sugar

1

teaspoon

Kosher salt

1

teaspoon

freshly ground pepper
Instructions
Stuffing
First prepare the stuffing. You can partially pre-cook the rice as the original recipe suggests but I found, as did other members of our Tasting Jerusalem community, that you can add the rice uncooked to the filling and it will cook while the stuffed peppers are cooking. If you want to pre-cook it, put the rice in a sauce pan covered with lightly salted water, bring to a boil and let it cook for 4 minutes. Then drain and run cold water over it and set it aside.

Now sauté the Baharat and cardamom in the frying pan you
will eventually place the stuffed peppers in (just trying to minimize dirty
dishes). Ottolenghi calls this dry-frying the spices. Just heat your fry pan to
about medium to medium high and add the spices in and mix around for 15 – 30 seconds
to release some of the flavor.

Now add the olive oil and chopped onion and sauté until the onion is translucent and soft. Probably 7 - 10 minutes.

While the onion is sautéing, add the rice, meat, herbs, sugar and kosher salt to a large mixing bowl. When the onion is done, let it cool just a bit and add it to the meat mixture in the large bowl. Use your hands to mix it all together.
Prepare the peppers
Starting at the stalk end of the pepper, cut a slit about ¾ of the way down the pepper to create a long opening. Gently remove the seeds from the inside. Fill each pepper with approximately equal amounts of the stuffing. Hard to give an exact amount since peppers are not a standard size. Just stuff them as best you can and then add in more to each pepper to finish off the filling – ok if the stuffing bulges out a bit but don't over pack or rip the peppers. The rice will expand a bit when it cooks.
Cook the stuffed peppers
Place the remaining chopped onion in the large fry pan where the peppers will go and sauté them until they soften a bit – 5 minutes or so. The original recipe doesn't call for this but I found it added some good flavor. Skip this step if you'd like.

Add the tomatoes to the pan as well. The onions and tomatoes form the base that the peppers sit on. Place the peppers on top and then add enough stock to come up about 1/8 of an inch on the peppers. Season with a bit more kosher salt and pepper if you'd like. Cover the pan with a tight-fitting lid and let it simmer for about an hour. Periodically check the amount of liquid in the pan and ensure there is always a bit there. You want these peppers to steam inside that pin.

You'll know they are done by the color of the filling, the size of the rice and the shade of the peppers. Or cut one open and check if you feel unsure. These peppers can be served warm or at room temperature. And they are excellent leftover the next day.
Notes
Notes
• If you don't have fresh dill, dry will work. I tried it.
• If you don't have dried mint, omit it or try a touch of fresh.
• I haven't tried it without the sugar, but I bet you could omit it and the filling would be fine.
• If you don't have Baharat spice mix, buy some or make some, it's so good. BUT, you can use as many of these as you have around for the stuffing to approximate the flavor: nutmeg, black pepper, coriander seed, cumin seed, cloves, cinnamon, cardamom, paprika, and chili. And you can flavor the meat to your liking – the basic recipe will still work.
• Can't find Romano peppers? Substitute Anaheims or any elongated sweet, mild pepper or mix the two as I did the first time I made this recipe. Makes for a beautiful presentation.
Nutrition
Calories:
359
kcal
Carbohydrates:
33
g
Protein:
14
g
Fat:
19
g
Saturated Fat:
7
g
Cholesterol:
48
mg
Sodium:
1010
mg
Potassium:
195
mg
Fiber:
5
g
Sugar:
7
g
Vitamin A:
498
IU
Vitamin C:
22
mg
Calcium:
40
mg
Iron:
2
mg