Since I first posted this recipe for Melissa Clark's make-ahead corn salad, variations of this salad have become a staple in our home. For Mother's Day, summer gatherings, even in the dead of winter using frozen corn. This salad always hits the spot!
May and June have always been busy fun months in our family, even now that we are way past the grade school activities. Mother's Day, DormantChef's birthday, Memorial Day Weekend, my birthday and the sheer excitement of warm weather and long days.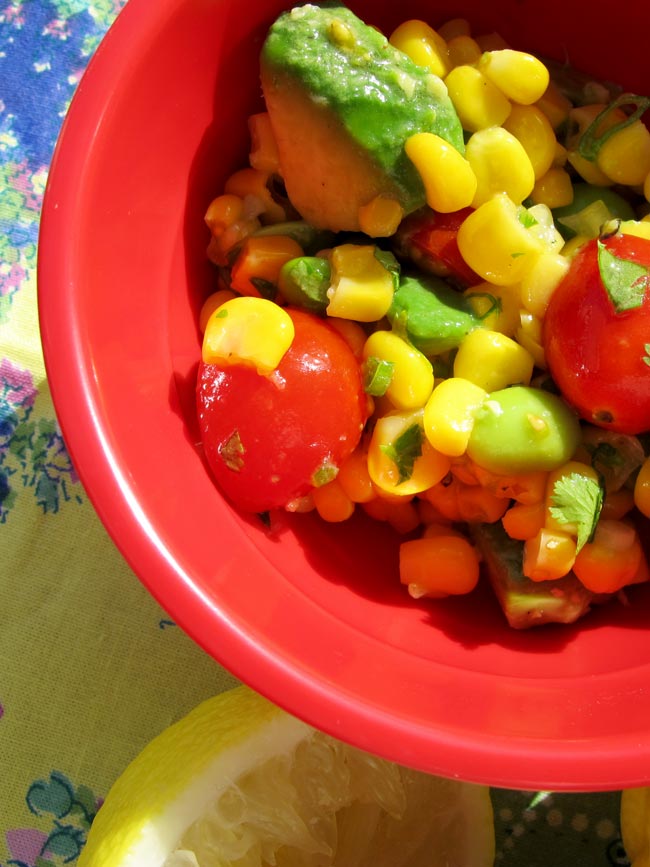 Make-Ahead Corn Salad Satisfies a Crowd
Even though the long days encourage us to gather and celebrate, we often find our desire to be in the kitchen waning. That's why this salad from Melissa Clark's book, Cook This Now, should become your new best friend. This is the perfect salad to bring to the teacher appreciation lunch or Mother's Day celebration or the annual Memorial Day barbecue. Melissa Clark's Corn Salad with edamame and lime dressing can be made ahead of time and easily feeds a gathering for 20 as a side dish.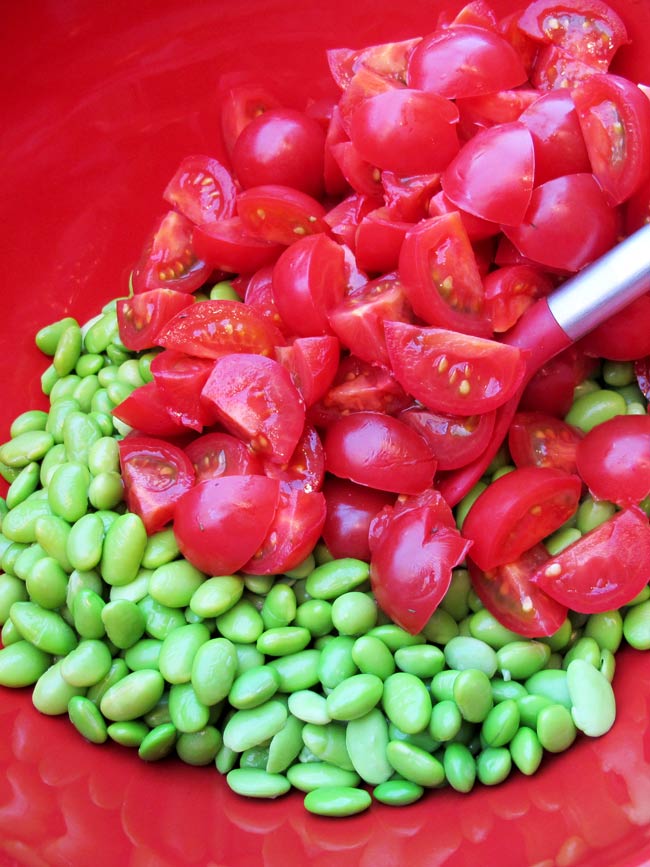 Can I Make this Corn Salad with Frozen Corn?
This recipe is in the summer section of the book, calling for fresh corn on the cob. When I first prepared this salad, there was no fresh corn. That didn't stop me. Off to the frozen aisle I went. Turns out that frozen corn and frozen edamame work quite nicely.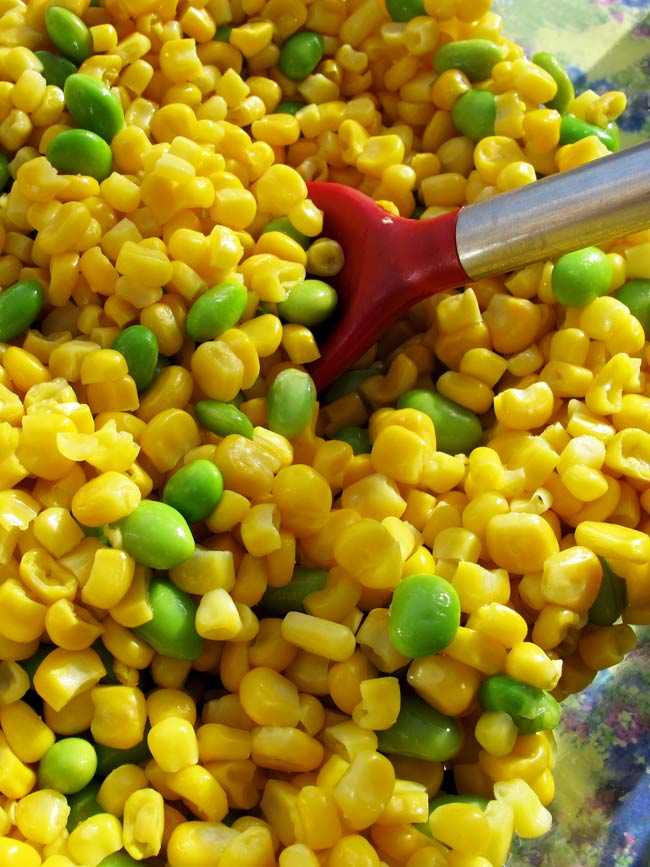 If I use Fresh Corn, How Should I Prepare it?
Could this salad be even better with fresh corn? Absolutely. But can you offset the lack of fresh corn with other bright summery ingredients? Absolutely.
If you have fresh corn, 3 ears serves about 4 – 6 according to Melissa, so if preparing for a crowd, triple that. She suggests either boiling or microwaving the stalks.
Another method that will just make this salad sing with flavor, is to put some olive oil, salt, and pepper on the corn and grill it, sear it in a cast-iron pan or even broil it until it is starting to brown vigorously all over. Then cut the kernels off the ears after they cool a bit. The flavors of roasted/grilled corn are so intense that it takes the salad to another whole level of greatness. Try it, you'll like it!
You'll Love this Make-ahead Corn Salad!
And here's the best part – the dish can sit out or in the fridge for hours with no spoilage and only a continual improvement in flavor.
If the only time you can prepare the salad for 20 for the teacher appreciation lunch or your Mother's Day barbecue is at 6AM before the frenzy begins, make this salad. If you are looking for a versatile colorful side dish that screams summer and marries with an array of main dishes from chipotle steak tacos to barbecue to a vegetarian buffet, make this salad.
How can I Modify this Salad?
Add one fresh jalapeno finely minced (Melissa suggests this as an addition – I used it the first time and it was just the right bite of spicy but depends on your taste)
Hearts of Palm – if you've never tried these slightly bizarre stalks that you can find in cans or jars, give them a try. My daughter eats them straight out of the jar, but I've made avocado, tomato and hearts of palm salad with a lemony dressing and it's a crowd pleaser. I think they would make a nice addition in this salad as well. Just slice the stalk into bite size pieces.
If you don't have avocadoes – it still tastes great without them.
If you don't like cilantro – then use parsley or basil or thyme or oregano or arugula. Even just salt and pepper with the citrus and olive oil will taste delish.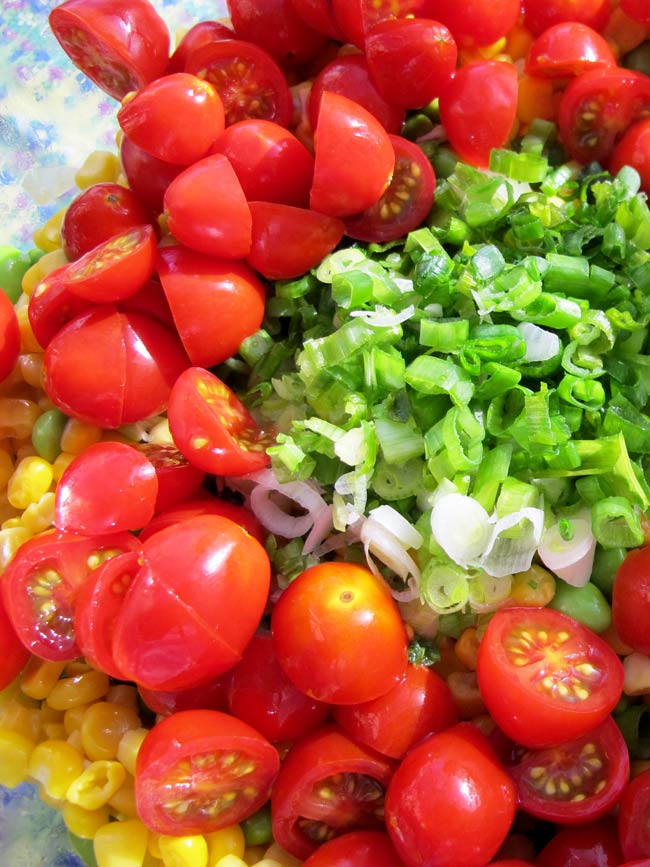 What Should I Serve with this Make-Ahead Corn Salad?
Smashed Bacon Double Cheeseburgers from Pastry Chef Online
Pesto Grilled Alaska Halibut from Fearless Dining
NY Strip Steak with Herb Compound Butter from Family Spice
Other Great Summer Salads
Blistered Tomato, Corn and Arugula Salad
Roasted Asparagus Salad with Preserved Lemon
Heart of Palm, Avocado, and Cherry Tomato Salad
Corn Salad with Tomatoes, Avocado, Edamame, and Cilantro Lime Dressing
Beth Lee
Adapted closely to Melissa Clark's recipe in Cook This Now
Ingredients
3

16 oz

packages of sweet frozen corn, preferably organic, white or yellow or a mix **

1

10 oz

package of frozen edamame beans (shelled)

⅓

cup

fresh squeezed lime juice

about 2 or 3 limes

2 - 4

garlic cloves minced

depends how garlicky you like it

½

cup

extra virgin olive oil

1 ½

teaspoon

pepper

or to taste

1 ½

teaspoon

kosher salt

or to taste

4-6

avocados

diced

1 ½

pints

cherry tomatoes

cut in half

4-6

scallions/green onions finely chopped

½

cup

of chopped cilantro
Instructions
If using frozen corn and edamame, put it all in a bowl large enough to hold the finished salad but small enough to fit in the microwave, if possible. Don't need to cook the corn, just take the chill off of it. Or, just let it sit out and defrost or leave it in the fridge to defrost.

Make the dressing by squeezing the lime juice into a bowl, add the chopped garlic, salt and pepper, then whisk in the olive oil. Set this aside and let the flavors blend.

Now prep the rest of your vegetables – cut your cherry tomatoes in half, slice the green onions finely, chop your cilantro, cut the avocado into largish bite size pieces so it doesn't mush in the salad and if using jalapeno or hearts of palm, dice and slice as well.

Add the tomatoes, green onions, and cilantro (jalapeno and hearts of palm if using) to the corn and edamame mixture and combine gently, then add the avocado and dressing and combine well but gingerly so as not to mush the avocado. Now just cover and either place in the fridge or even leave it on the counter for a few hours if fridge space is spare.
Nutrition
Calories:
255
kcal
Carbohydrates:
28
g
Protein:
6
g
Fat:
15
g
Saturated Fat:
2
g
Sodium:
232
mg
Potassium:
686
mg
Fiber:
7
g
Sugar:
1
g
Vitamin A:
355
IU
Vitamin C:
24.6
mg
Calcium:
29
mg
Iron:
1.7
mg
Happy Mother's Day and may your spring gently and calmly turn into summer.