You can make this blistered tomato, corn, and arugula salad year-round but it really shines in the summer when the tomatoes are flavorful, the corn is sweet, and the farmers' market is buzzing with excitement. (This post may contain affiliate links.)
"This corn is as sweet as your mother-in-law or your money back."
I'd been waiting for that hokey sales pitch since last summer from my favorite Brentwood-based corn vendor at our local San Jose Blossom Hill Farmers' Market. If his corn's flavor is as vibrant as my mother-in-law's personality was, then it must be pretty darn good! And nothing sounds more like summer than the crunch of a fresh ear of corn.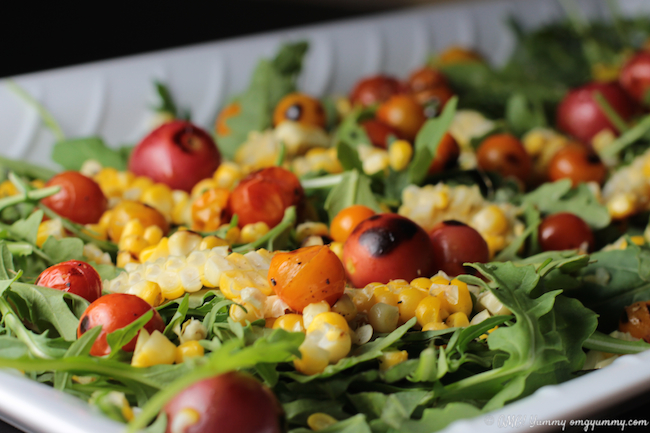 Another star of the July farmer's market is the tomato with a depth of flavor like a big old cabernet. Combine these two treasures – fresh corn and tomatoes –  with some peppery arugula and a smattering of fresh basil and the result is this simple but sumptuous blistered tomato, corn, and arugula salad. Serve this crunchy, flavorful salad as a side dish at your next barbecue or even as a base for grilled steak, creating a version of my grilled steak and arugula salad.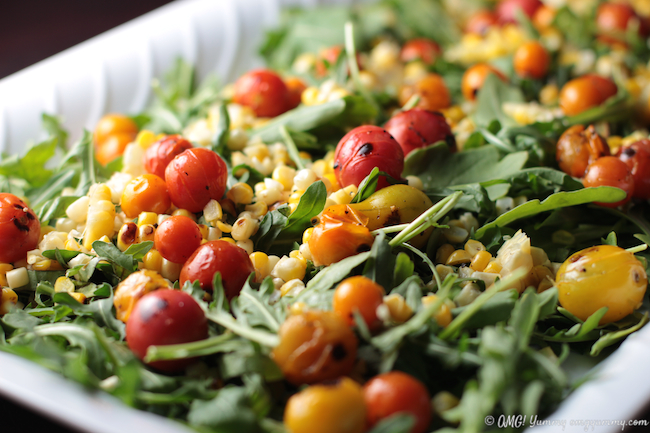 Among the many benefits of shopping at my local farmers' market, the freshness of the produce and an opportunity to support local vendors are my top two reasons. But if I can't get to a market, I still look for locally-sourced produce at the supermarket. I'm lucky enough to have a grocer close by, New Seasons Community Market, that offers many locally-sourced fruits and vegetables. You can see in this photo, that I was able to pick up everything I needed for the salad with assurance that it was from a local grower. Even in large chain stores, you will often see items marked as originating from local farms. Read the signs and support your local growers as much as you can!
To add a layer of flavor to this tomato, corn, and arugula salad, I charred up the corn and tomatoes in a cast iron pan. You can easily do this on the grill if you have it fired up but I am currently having a bit of a love affair with my Lodge Cast Iron Skillet and decided to do the charring or blistering a bit earlier than the outside grill was ready to go.
The dressing for this salad is basic balsamic vinegar and extra virgin olive oil. You can add in a bit of the fresh basil as well. But the flavor of mid summer corn and tomatoes is so deep and rich that they need little adornment to be superstars.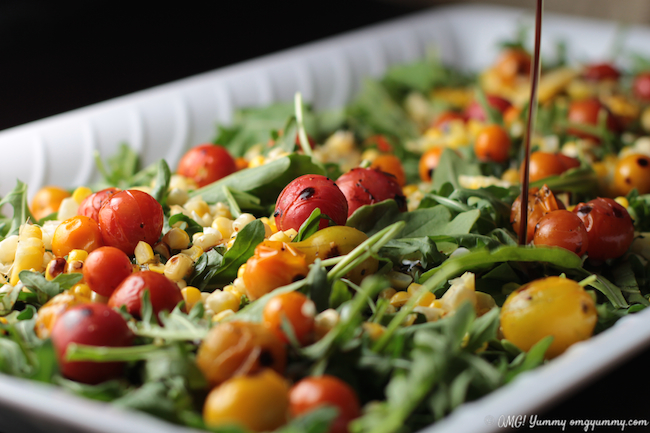 I hope you add this simple salad into your summer rotation along with all the other enticing dishes in this Farmers' Market Dinner Party. Be sure to head over to these other blogs to see what they brought to the party and find some more yummy farm-to-table inspiration.
Entrée: Eggplant Pesto Parmesan Casserole by The Wimpy Vegetarian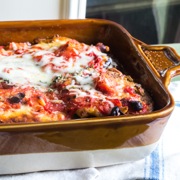 Side: Summertime Vegetarian Stir-Fry by Peanut Butter and Peppers
Dessert 1: Striped Heirloom Tomato Spice Cake by Zebot's Kitchen
Dessert 2: Peachy Keen Ice Cream Sandwiches by Fork and Swoon
What's your favorite find at the farmers' market right now?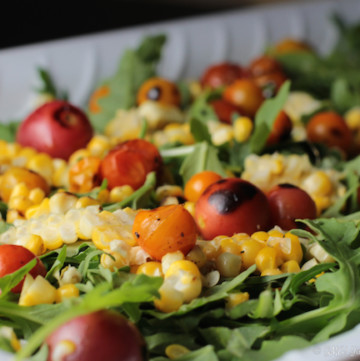 Blistered Tomato, Corn, and Arugula Salad
This simple salad that combines just four ingredients - tomatoes, corn, arugula, and basil will become a staple at your summer barbecues. It makes a beautiful buffet presentation or works just as well on an individual serving dish and it all comes together in very little time.
Ingredients
Salad
4-5

ounces

fresh arugula

2-3

ears of corn

husked

3/4-1

pint

cherry tomatoes

1/2

ounce

fresh basil

2

tablespoons

olive oil

salt and pepper
Dressing
2

tablespoons

balsamic vinegar

6

tablespoons

extra virgin olive oil

salt and pepper to taste

start with 1/4 tsp salt and 1/2 tsp pepper

chopped basil to taste

optional
Instructions
Dressing
In a small bowl, whisk together the oil and vinegar and then add the salt and pepper to taste as well as a bit of chopped basil if you are using it. Set aside.
Salad
Heat your cast iron pan to medium (or use your grill). While it's heating, brush the olive oil on the corn and sprinkle with salt and pepper. Place the corn in the cast iron pan or on the grill to create a char all over. This will take about 5 minutes.

After you take the corn out of the pan or off the grill, put in the tomatoes and do the same thing but this will happen quickly - maybe 1 or 2 minutes at the most. Take the tomatoes out of the pan.

Once the corn is cooled, use a sharp knife to take the corn kernels off the cob. It's ok if some of them remain stuck together, it looks good that way on the salad.

Chop or tear your basil into bite size lettuce-like pieces.

To assemble your salad, place the arugula and basil on the plate first. Then top with the corn and tomatoes. Sprinkle a bit more salt and pepper on the salad if you like. Dress it right before you serve it or pass the dressing separately.
Nutrition
Calories:
158
kcal
Carbohydrates:
7
g
Protein:
1
g
Fat:
14
g
Saturated Fat:
2
g
Sodium:
13
mg
Potassium:
219
mg
Sugar:
3
g
Vitamin A:
690
IU
Vitamin C:
14.1
mg
Calcium:
31
mg
Iron:
0.8
mg
If you're interested in the gluten-free menu presented by the other Bay-Area Food Bloggers group, go check out these posts!
Appetizer
Mozzarella & Tomato Caprese Skewers by The Heritage Cook
Salad
Warm Green Bean and Tomato Salad by Creative Mama, Messy House
Side Dish
Loaded Mashed Cauliflower by Nosh My Way
Entreé
Roast Pork Tenderlion with Mushroom Marsala Sauce and Roasted Potatoes by Crazy Foodie Stunts
Dessert
Raspberry Vanilla Pudding Bundt Cake by Fearless Dining