I find it especially difficult to prepare home-cooked healthy meals during the busy holiday season. Often, the slow-cooker solves this problem for me - the meal is brewing while I'm out running around all day and the house smells wonderful when we finally arrive home. But I never would have guessed that you can create carnitas, a traditional Mexican pork dish, in your crock pot. Traditionally, they are prepared in manteca (lard) in a copper pot, likely in your backyard.
In fact I was lucky enough to try them prepared this way last June, when my neighbors' daughter requested that her dad cook traditional carnitas for her college graduation party. You can see from this photo that dad honored her request. Food geek that I am, I quickly pulled out my iPhone to snap a photo.
The mom, on the other hand, was not nearly as excited as I was. She was appalled that her guests were standing in the side yard watching their dinner cook in a wheelbarrow. When the pork was done cooking, we carried it inside to the beautiful buffet and nobody (but his small audience) was any the wiser to its origin. And EVERYBODY gobbled the carnitas up, along with the homemade roasted pepper salsa served alongside. At the end of the party, not a shred of pork was left on the platter.
But in the reality of our busy, lard-free life the other 364 days of the year, how can we recreate this delectable traditional fare? That's where the slow cooker comes in to play.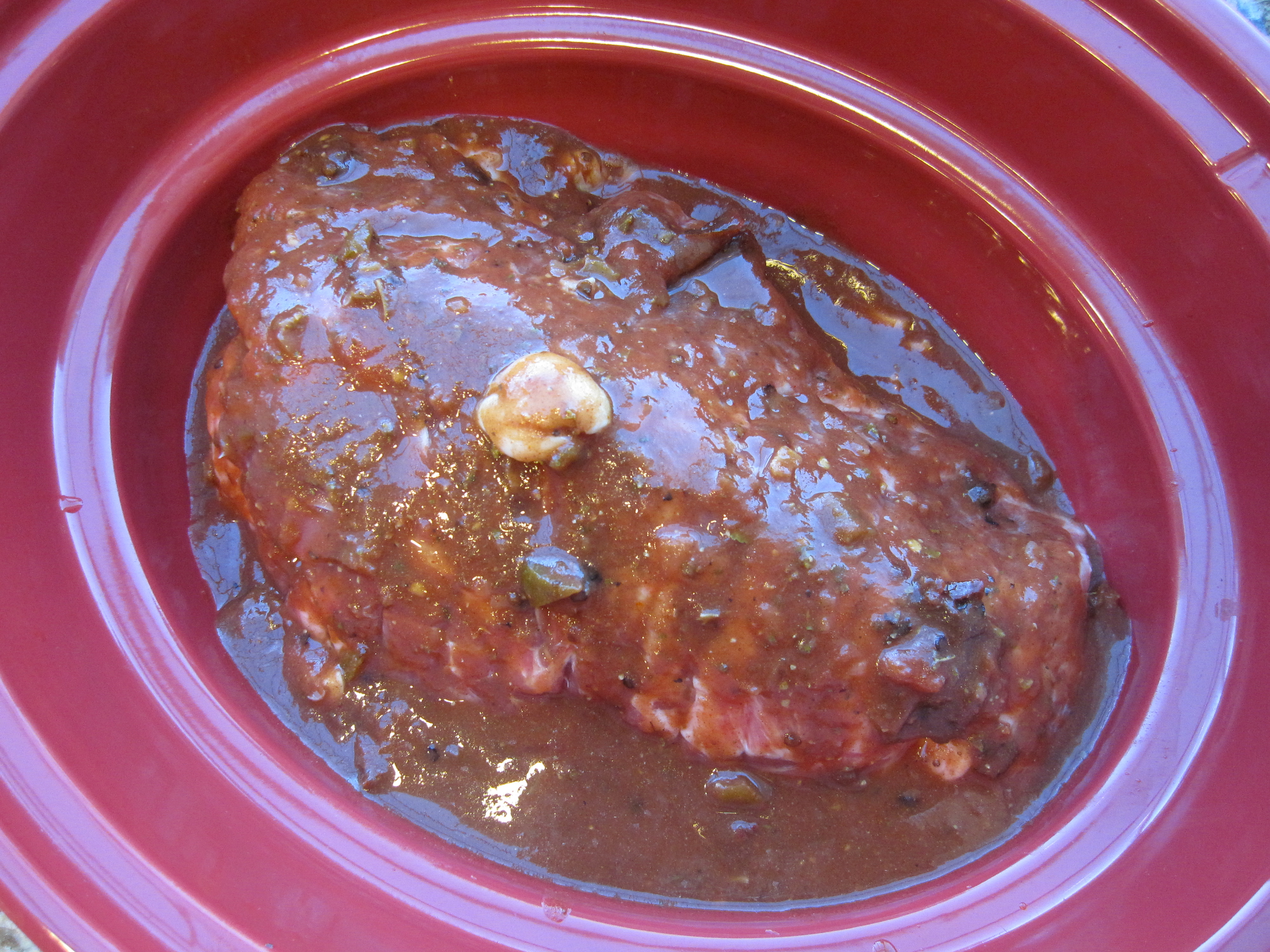 Recently, I happened upon a recipe from thekitchn.com espousing the use of the slow cooker to prepare carnitas. A bit incredulous, I gave it a try including just a few variations of my own. The results were remarkable and provide a busy family with at least two meals, perhaps more, of this spicy, succulent, satisfying taco filling. This recipe would be a great addition to a busy December schedule and even provide an easy buffet dinner for an impromptu holiday gathering.
Slow-Cooker Carnitas
Beth Lee
(adapted from the kitchn)
Ingredients
8

lbs

bone-in pork butt or approx. 6 lbs boneless

8

oz

can tomato sauce or ¾ cup tomato juice

Juice of 2 limes

¾

cup

orange juice

6

oz

beer

½ of a 12 oz bottle

¼

cup

salsa

any red salsa that you enjoy will work

2

tablespoons

coarse salt

1

tablespoon

cumin

1

tablespoon

freshly ground black pepper

1

tablespoon

dried oregano

1.5

teaspoons

ground cinnamon

1

teaspoon

cayenne pepper

or to taste

8

whole cloves garlic

smashed

4

chipotle peppers

canned or dried, roughly chopped
Instructions
Trim any excess fat on the exterior of the pork butt and then place it in the crock pot.

In a medium size bowl or 4-cup measuring cup, mix the next 13 ingredients together and then pour over the pork butt in the slow cooker. Cook on low for 8 - 10 hours. Or if you get a late start, cook on high for a couple of hours, then low for another 4 or 5. The pork is ready when you can put a fork in it and it feels like it will fall apart.

Remove the pork from the crock pot and place it on a large cutting board to cool. When cool enough to handle, shred it with two forks, removing any large chunks of fat you find along the way.

On a foil-lined jelly-roll pan, place a single layer of the shredded pork and drizzle the pork with a bit of the cooking juice. Turn on the broiler and place the pork under the broiler (about 6 inches away) and let it crisp up for about 5 minutes (time will vary depending on how far away from the broiler you place the pan and how hot your broiler is. Mine was set for convect broil at 450 degrees about 6 inches from the element.)

The pork will now have some of the crispness you traditionally find in fried carnitas.

Serve with corn tortillas and a variety of taco garnishings such as salsa, sour cream, avocado, fresh tomatoes, crisp lettuce, a blend of Mexican cheeses, cilantro or as a platter with refried beans, rice, and salad.

Nutrition
Calories:
642
kcal
Carbohydrates:
8
g
Protein:
86
g
Fat:
26
g
Saturated Fat:
9
g
Cholesterol:
272
mg
Sodium:
2373
mg
Potassium:
1769
mg
Fiber:
1
g
Sugar:
3
g
Vitamin A:
460
IU
Vitamin C:
15.7
mg
Calcium:
103
mg
Iron:
6.8
mg