Kalbi (galbi) marinade is the perfect complement to Korean style short ribs. But once you master this Korean sauce, you'll realize it's also versatile – try it with chicken, pork, other cuts of steak and even tofu!
You might also love my mandu (Korean dumplings) recipe!
For ease of browsing, here are all of my main course recipes in one place.
Hawaiian Food Recipes: Kalbi Marinade
When my mother-in-law was still alive, her food repertoire ranged from over-cooked, barely recognizable vegetables to painstakingly perfect classic Korean food cooked for New Year's Day. Mandu (Korean dumplings), Kon Namul (soy bean sprout salad), Sigeumchi Namul (spinach salad) and of course, Kalbi – Korean BBQ short ribs.
Unfortunately, when I had the chance to learn from her, I was too distracted with work and little kids. Luckily, her Hawaiian family came to the rescue. We had a feast with them the summer of 2016 and took pictures of the prized family recipes while we were there.
I've been practicing and studying their recipes since then and am now proud to share my variation of the Hong family Korean BBQ short ribs recipe with you. This post will cover the marinade and then you can check out my post on how to grill the flanken-style ribs (it's so easy!).
See my kalbi marinade web story for a quick visual guide to making this recipe!
Want to read more about our family's Hawaiian food traditions? Be sure to check out our super easy soy sauce eggs with rice and Portuguese sausage!
Do you need to soak the ribs before marinating?
Many recipes for Kalbi short ribs call for soaking or washing the ribs. Personally, I choose not to do this unless I see bone shavings all over the ribs. It's the traditional method but it goes against my instincts to leave meat sitting in water.
It does draw out excess blood but it's not clear to me why one would want to do that. It's fundamental to the meat. The only part that makes sense is to rinse them off if you see excessive bone shavings from when the meat was processed into flanken ribs. (Read more about this flanken cut of meat).
How to make the kalbi marinade
Once you have the right cut of short rib, marinating is the next step. Certain elements make this marinade quintessentially Korean – the garlic, sesame seeds and sesame oil and the sugar. Plus one ingredient that I often use – either a grated Asian pear or a mashed kiwi. Both help to tenderize the meat.
However, here's my little secret. The most recent time I prepared these I was out of Asian pear and kiwi. I do use a bit of sake (rice wine) in mine and that handled the tenderizing just fine. In fact, I thought that batch of ribs was one of my best ever – tasted just like I remembered when my MIL used to make them.
So no Asian pear or kiwi? No problem as long as you have some rice wine.
Steps to make the short rib marinade
Prep each ingredient per the recipe.
Add all the ingredients to a bowl or large measuring cup and whisk it together.
Then pour it over your ribs.
How long should I marinate the ribs?
I recommend 6-8 hours or overnight. If possible, turn them over once or twice to be sure they are completely and evenly soaked with marinade. In a pinch, a couple of hours could do the trick but then I would recommend the extra Asian pear or kiwi for tenderizing the meat.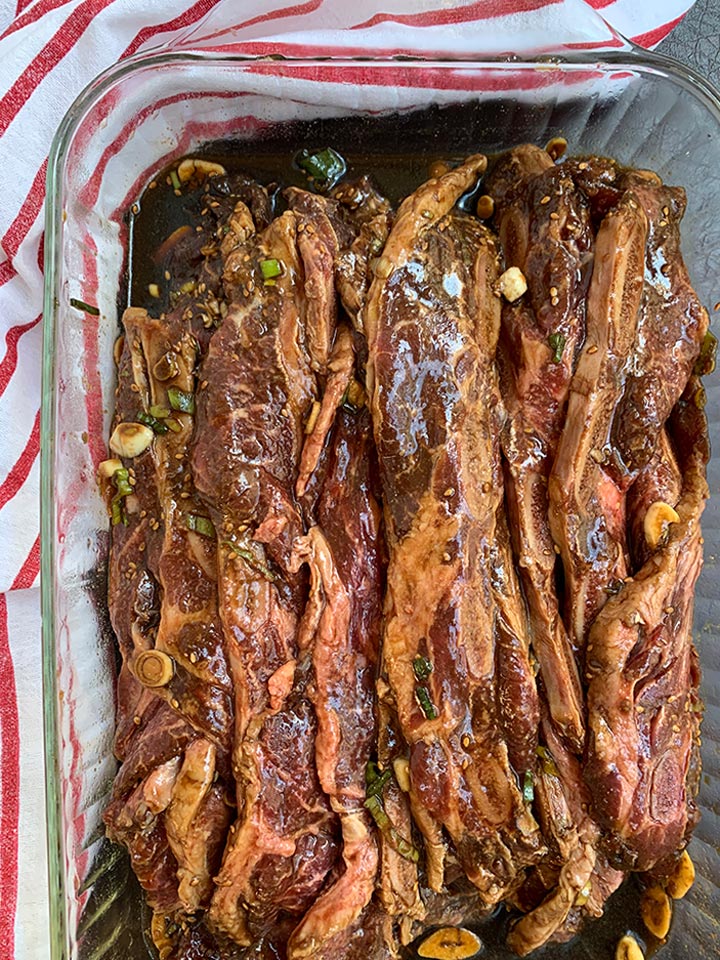 Adjustments to original Hong recipe
The original family recipe is:
1 cup shoyu (soy sauce)
½ – ¾ teaspoon sesame seed oil
1 – 2 cloves garlic, minced
1 – 2 stalks green onions, finely chopped
3 teaspoons roasted sesame seeds, slightly mashed)
2.5 – 3 tablespoons sugar
Dash of aji (MSG) optional
After quite a bit of experimentation, here are the changes I made to the original kalbi marinade recipe:
Reduced the soy sauce to ¾ cup
Added ¼ cup of rice wine (sake)
Increased the sesame oil to 2 teaspoons
Increased the garlic to 4 cloves
Increased green onions to 4 stalks
Reduced the sesame seeds to 2 teaspoons
Slightly reduced sugar to 2 tablespoons (my instinct is to not use sugar but it really is necessary)
Added ½ teaspoon of black pepper
Added optional ½ teaspoon of gochugaru (Korean red chili powder)
Added optional ½ Asian pear grated
Did not use the Aji (MSG)
It might seem like a lot of changes but I kept to the proportions of meat (three pounds) to marinade and the fundamental approach. If you search in cookbooks and online, you'll see that many people use onion and also a lot more sugar.
I prefer the more savory approach in this Hong family version. I can't say I've ever tried the onion, but am so happy with the flavor of this recipe, that I don't want to mess with it!
Can I use the marinade after the meat has been soaking in it?
The obvious answer is no – you never use a marinade that has had raw meat in it. But if you boil it up to a rolling boil and are sure it has reached at least 165 degrees or higher, the harmful bacteria will dissipate.
In addition, you'll see some light brown stuff rise to the top and when you discard that, you'll be left with a nice dark basting sauce for your rice or meat.
If this makes you nervous, just create a new sauce out of soy, rice vinegar, gochujang and if you'd like – some green onion and sesame. You can read more about this sauce in my mandu post. (coming soon)
What other proteins can I marinate with this recipe?
This recipe would pair well with chicken, pork, tofu and definitely other cuts of steak. So double the recipe and keep it in the refrigerator for another night of grilling!
Supplies for Korean short ribs marinade
This post contains Amazon affiliate links – if you click on one and purchase something, I receive a very tiny percentage of the sale. Your price is never affected.
Most of my must-have supplies for making this Hawaiian/Korean style marinade are food related. I prefer low-sodium soy sauce. A good bottle of sesame oil is always in my pantry. Sesame seeds come in handy for this recipe and bread baking and more. And finally, I love this glass baking dish with a tight fitting cover for marinating these ribs or when I need to transport a casserole style dish to another home.
Check out my Amazon shop that includes some of my favorite food and food-related products. I am always updating it – please visit often. And let me know if you need specific products recommendations – I am happy to help!

Reader Rave!
"I don't want to disparage my favorite Korean restaurant, Cho Sun Galbi, but this marinade is amazing. They really need to add this to their menu! Seriously, I make a lot of Asian food, but I usually don't make the sauces, I purchase them at the Korean or Japanese market, I decided to make this sauce bc the story behind it was so inspiring. It is really delicious and not that hard to make! I added extra Asian pear and marinated overnight. I didn't need extra sauce, the meat was so flavorful and tender. My teen daughter whom I call a carnivore loved it, and she is very picky so I feel so proud. I can't wait to make it again."
Jill L-R
Reader and Korean Food Lover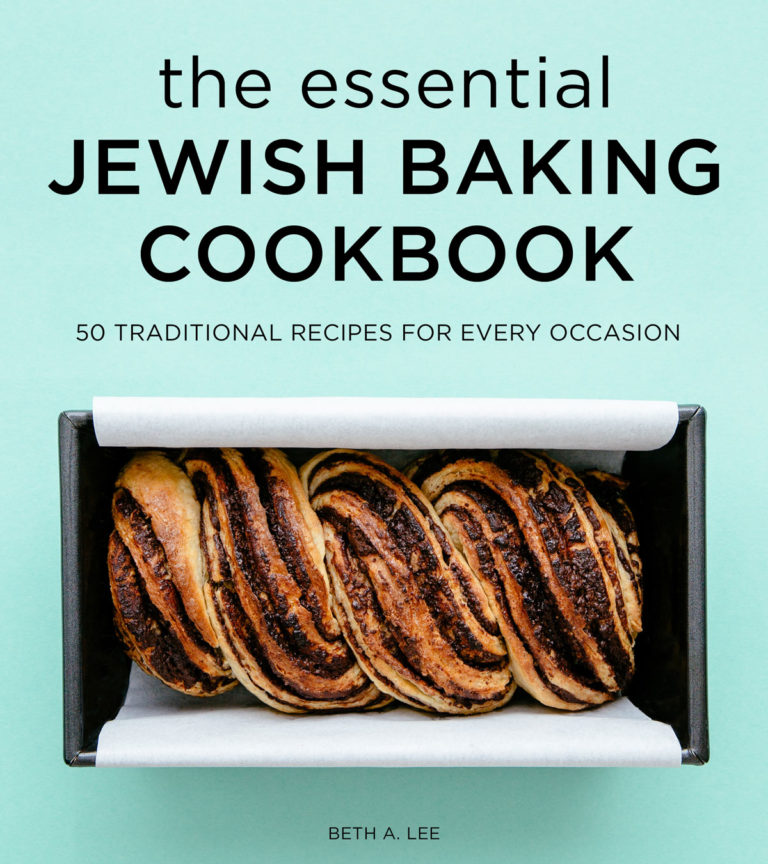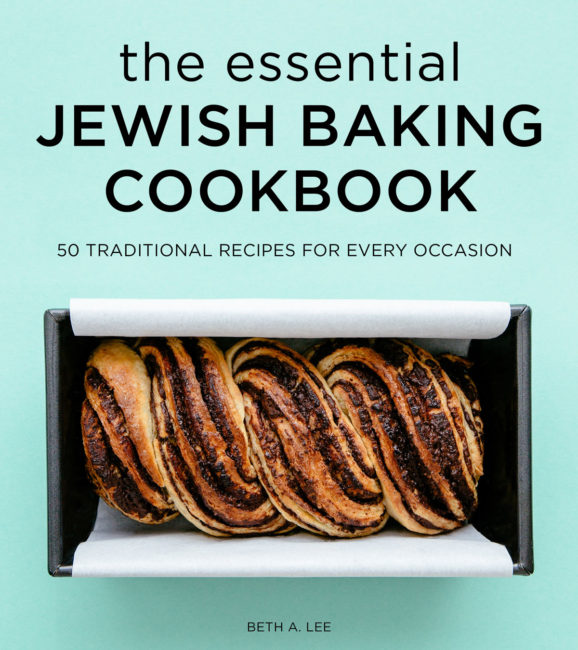 P.S. If you try this recipe, please leave a star rating and/or a review in the comment section below. I so appreciate your feedback! AND find more inspiration on Pinterest, Facebook or Instagram. Signup for my email list, too!
Yield: 1.5 cups
Kalbi Marinade
Kalbi marinade is the perfect complement to Korean style short ribs (flanken style cut). But once you master this Korean sauce, you'll realize it's also versatile – try it with chicken, pork, other cuts of steak and even tofu!
Total Time
8 hours
10 minutes
Ingredients
3/4 cup soy sauce, low-sodium recommended but not a must
¼ cup rice wine (sake)
2 teaspoons sesame oil
4 cloves garlic, minced
4 stalks green onion, finely chopped
2 teaspoon roasted sesame seeds, slightly crushed
2 tablespoons sugar
½ teaspoon pepper
½ Asian pear grated on fine grater or in blender or ½ kiwi, optional
1/2 teaspoon gochugaru (Korean spicy pepper powder), optional
Instructions
Place all ingredients in a medium sized bowl or at least 2 cup measuring cup.
Whisk together well.
Pour over ribs and let marinate 6 - 8 hours or overnight.
Notes
I prefer low sodium soy sauce, but regular will also work.
Toasted sesame oil is great but regular, not toasted, will also work.
Pre-toasted sesame seeds are also great but if not, just toss them in a small fry pan over medium heat for a few minutes and they will be toasted. Just don't walk away - it happens quickly!
Recommended Products
As an Amazon Associate and member of other affiliate programs, I earn from qualifying purchases.
Nutrition Information:
Yield:
1 cup
Serving Size:
1
Amount Per Serving:
Calories:

611
Total Fat:

24g
Saturated Fat:

3g
Trans Fat:

0g
Unsaturated Fat:

19g
Cholesterol:

0mg
Sodium:

6899mg
Carbohydrates:

67g
Fiber:

11g
Sugar:

35g
Protein:

25g