Korean short ribs, also known as kalbi or galbi made with kalbi marinade were my right of passage into my husband's Hawaiian and Korean heritage. They are also an easy way to feed a crowd and enjoy grilling season!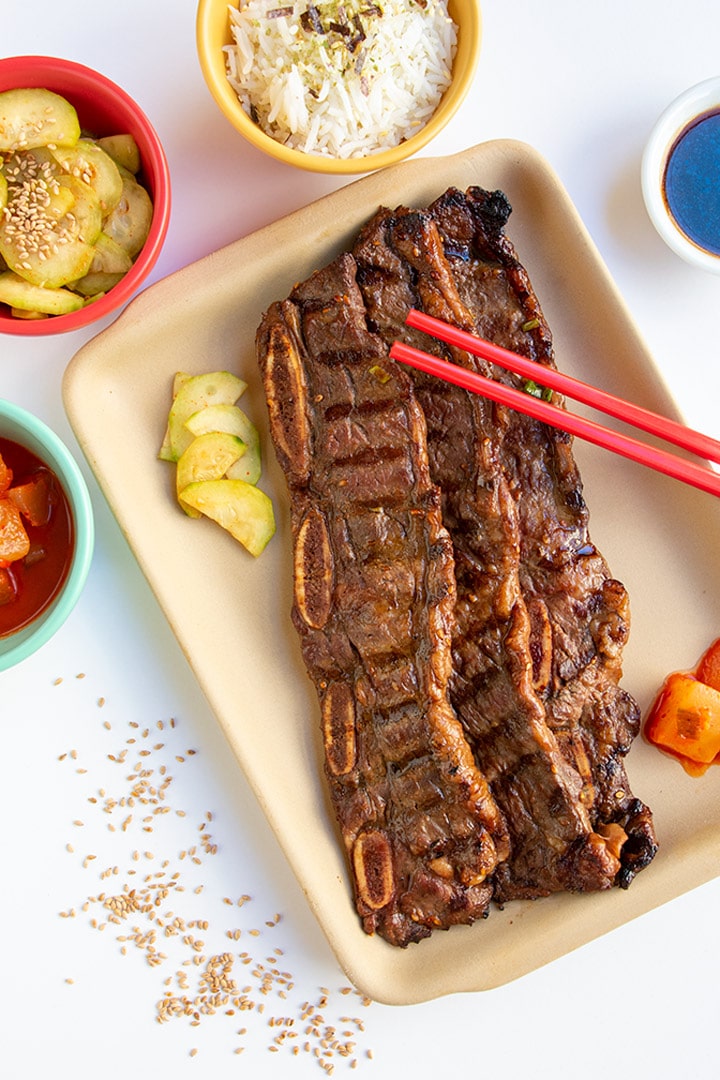 Hawaiian style BBQ short ribs
If you ask my husband if these are Hawaiian style or traditional Korean style – he'll quickly tell you they are Hawaiian style. But what does that mean?
Well, maybe it just means that my husband's mother was born in Hawaii and his grandmother moved to Hawaii (see her in the picture below) so this recipe is infused with two generations of Hawaiian influence. On his father's side, both his dad and grandmother were born in Hawaii.
Or perhaps it is the conspicuous absence in his family's recipe of Asian pear and onion. This is only speculation – I've researched many Korean and Hawaiian cookbooks and have yet to discern a pattern of differentiation. When I figure it out, I'll come back and update the post – I promise!
What is Korean barbecue/bbq?
Broadly, Korean barbecue is a style of eating small cuts of beef, pork, or chicken grilled on a charcoal or gas grill. In BBQ restaurants, each table will have their own table top grill for cooking.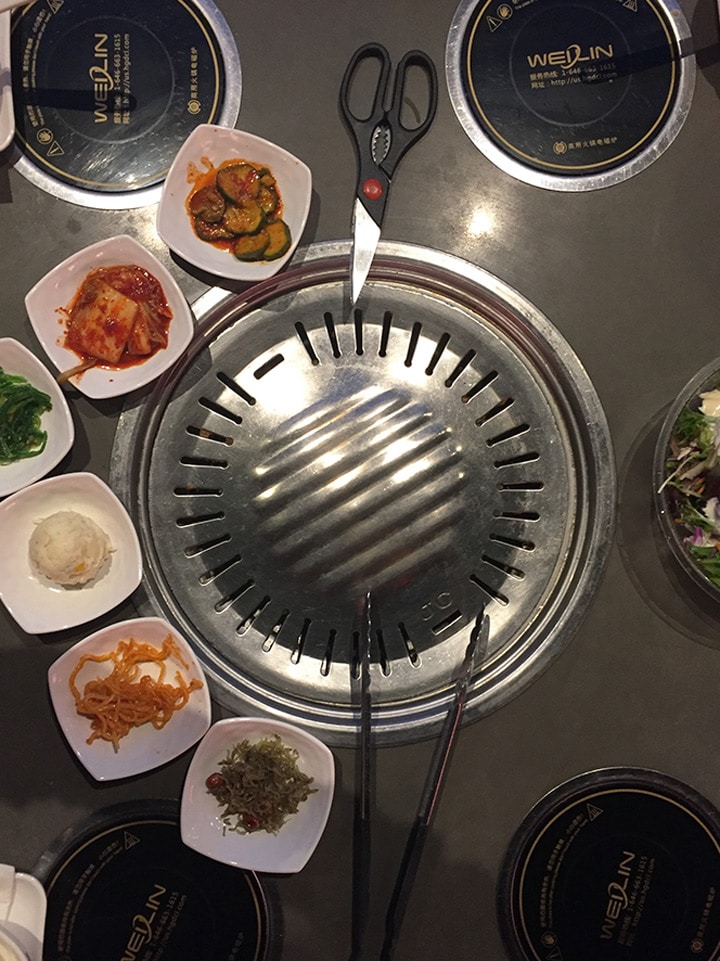 The most well-known meat is the steak. If boneless, it is known as bulgogi. If it's on the bone, it's known as kalbi or galbi. The two transliterations – kalbi and galbi – can be used interchangeably. Here in the United States, you might see this type of meat listed on a menu as Korean BBQ short ribs.
Types of short ribs (flanken vs English style)
The key to kalbi is the cut of the short rib. The two types of short rib cuts are English style and flanken. English style gives you a full bone with beef on it that can be braised for a long time.
Flanken-style is cut across the bone into 3/8 – 1/2 inch high thin slices of beef. Each piece has 3 – 4 bones in it. This thin cut grills up quickly and is not meant for braising slowly, like you can with the English cut.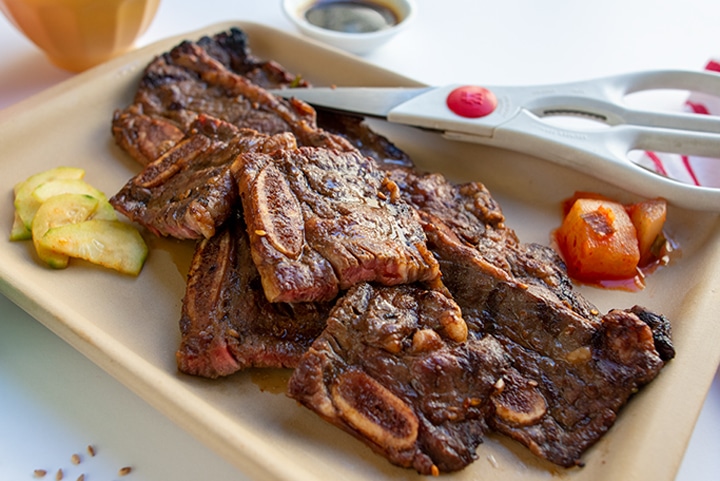 The little bones are perfect markers for cutting the pieces up post-grilling or even removing the meat from the bone entirely. You'll see me do this to make Korean street tacos (post coming soon).
Where will I find Korean style short ribs?
This cut of short rib has become more popular in the United States in the last few years. While I have not seen them at large grocery chains like Safeway, I have seen them at non-Asian groceries with a good butcher counter.
Of course, you can go to a Korean market if there is one near where you live. And sometimes I see them at Costco. The last Costco package I bought was cut really nicely and tasted great.
If you have a butcher who can cut them for you, then you can request the thickness you want – probably somewhere between 3/8 of an inch and 1/2 of an inch.
Marinating the ribs
The other key to these ribs is the marinade. You'll find all the details about making the marinade in my kalbi marinade post. My recipe is based on an old family recipe from my husband's Hawaiian Korean family.
Give the ribs time to soak up that flavor. 6 – 8 hours or overnight. If at all possible. See how the ribs change color after marinating for 8 hours? You want to see the same thing.
How to grill the short ribs
You can grill these with whatever grill you have available. We use an outdoor gas grill on high heat.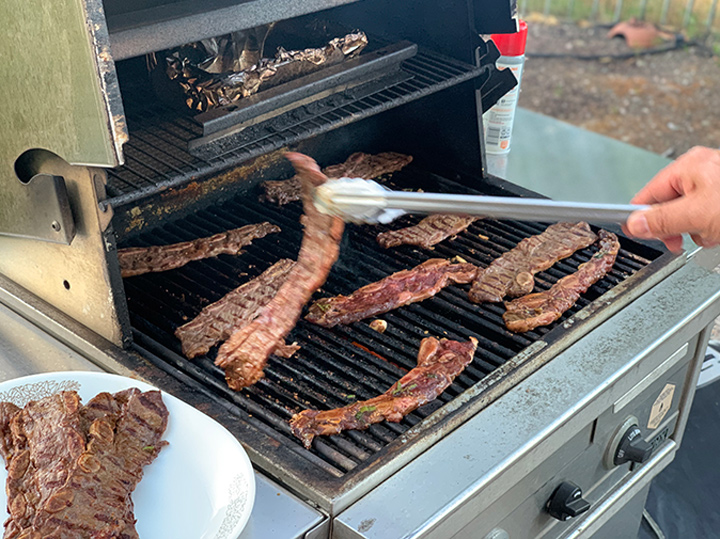 You can also use a charcoal grill.
BUT, I have done this indoors in a grill pan and they still tasted great!
Steps to grill the ribs
Drain the marinade (reserve if you want to boil it to serve with the rice and ribs).
You do not need to wipe the marinade off the ribs, just drain the marinade.
Put the ribs on a hot grill and don't walk away. If the ribs are 3/8 inch thick they'll be done in no more than two minutes per side.
If they are 1/2 inch thick, you may need three to four minutes per side.
They are ready to eat straight off the grill. If you want, you can use kitchen shears to cut them into small pieces between the bones. This is a nice way to feed a crowd and fun way to eat them. But it's up to you!
What to serve with Hawaiian BBQ short ribs
Traditionally, banchan (pronounced panchan) – little side dishes – are served along with rice. My MIL always made spinach (sigeumchi) namul and bean sprout (kon) namul. I also like cucumber namul (my recipe coming soon).
And of course you have to serve kimchi! Traditional cabbage kimchi can be found at most grocery stores. My husband likes the less common radish kimchi (koktugee) and for this, I need to visit my local-ish Korean market. Or make it myself.
Since this is grilled beef with Korean seasonings, rice is a must for my husband. But if you don't have kimchi or time to make side dishes, whip up a salad or broccoli or snap peas or grilled corn or cabbage. The key is some freshness to complement the umami-rich grilled meat.
This corn salad, minus the cilantro and if you're feeling a little spicy, plus some gochugaru (red pepper) would be a great side to feed a crowd or to have leftovers the next day.
Another way to serve this is with lettuce leaves – more traditional for bulgogi which is already off the bone. But you can easily take this meat off the bone and serve it with lettuce leaves to make wraps. I promise no one will complain!
Supplies for Grilled Korean Short Ribs
This post contains Amazon affiliate links – if you click on one and purchase something, I receive a very tiny percentage of the sale. Your price is never affected.
While many of us have outdoor grills, for those of you who live where it is not grilling weather year round or you don't have a backyard, an indoor grill pan is really handy. This cast iron grill pan is a good option or try this nonstick round grill pan (that's what I have). The other tool that's super handy is a set of grilling tongs – they are longer so if you are using a big grill outside you can get to the back of the grill and keep your hands far enough from the flame.
Also check out my Amazon shop that includes some of my favorite food and food-related products. I am always updating it – please visit often. And let me know if you need specific products recommendations – I am happy to help!

Yield: 12 servings
Korean Short Ribs (Kalbi or Galbi)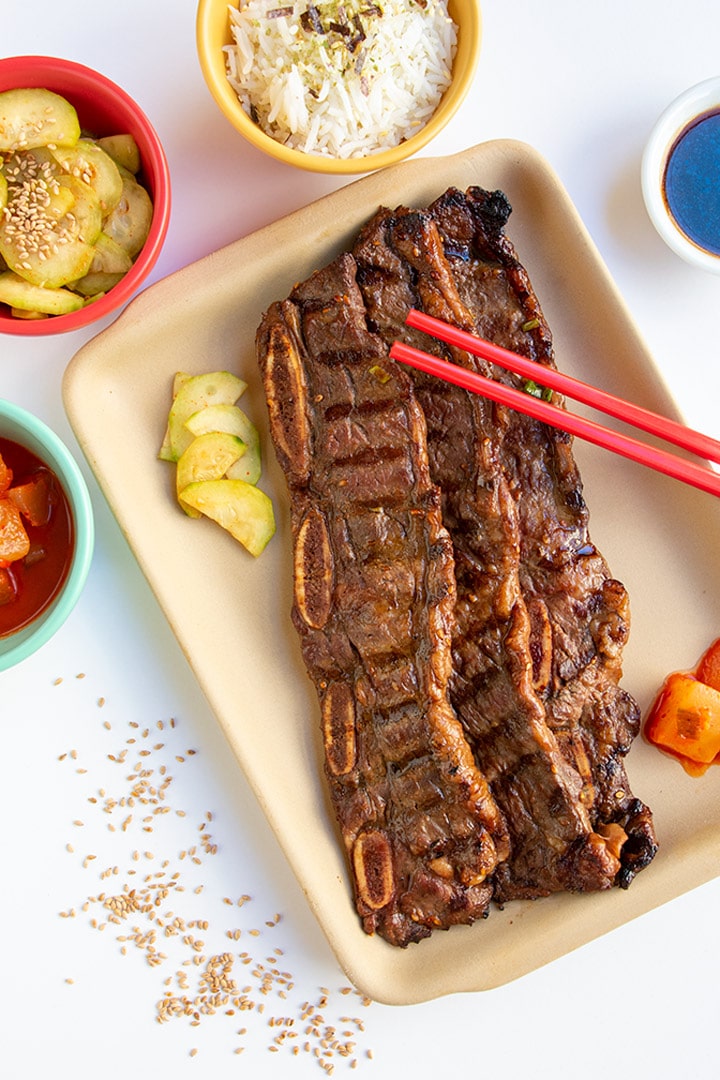 Korean short ribs, also known as kalbi or galbi, made with kalbi marinade were my right of passage into my husband's Hawaiian and Korean heritage. They are also an easy way to feed a crowd and enjoy grilling season!
Ingredients
3 pounds flanken style short ribs
1.5 cups Kalbi Marinade
Instructions
Remove ribs from the marinade
Reserve marinade if you want to boil it to use as a sauce for the rice and meat
Preheat the grill or grill pan - grill to high heat, grill pan to medium high heat (depends on the pan whether it has a finish that will take high heat)
Grill the ribs for 2 minutes per side if 3/8 inch thick and up to 4 minutes a side if 1/2 inch thick. Also depends on your desired temperature - we like our beef on the rarer side, but if you want it well done, leave it on a minute longer.
Serve with rice and side salads. You can serve whole or cut into pieces with kitchen shears.
Notes
You can cook these on any kind of grill and in a pinch, you could even broil them. So don't let your resources stop you from making these. The key is high heat and quick cooking.
These make fantastic leftovers so don't hesitate to make a big batch and enjoy them for days (though it is unlikely they will last that long).
Recommended Products
As an Amazon Associate and member of other affiliate programs, I earn from qualifying purchases.
Nutrition Information:
Yield:
12 servings
Serving Size:
12
Amount Per Serving:
Calories:

420
Total Fat:

31g
Saturated Fat:

13g
Trans Fat:

2g
Unsaturated Fat:

18g
Cholesterol:

119mg
Sodium:

601mg
Carbohydrates:

4g
Fiber:

0g
Sugar:

3g
Protein:

31g