Preserved lemon hummus will wow your taste buds with its extra depth of savory, tangy goodness. Still don't have a jar of preserved lemons ready at hand? Head over to my preserved lemon tutorial for photos, instructions and a video of me preparing them live!
What is hummus?
Hummus is a dip-like mixture made from chickpeas (garbanzo beans) and tahini and usually garlic and lemon. In the United States, we serve hummus as an appetizer but in the Middle East, it is generally a whole meal served with fresh pita bread and often other toppings on the freshly-made hummus.
The word hummus actually means chickpea in Arabic. So when you see "hummus" made from other beans than garbanzos, technically it is not hummus. My white bean basil "hummus" recipe is purposefully titled white bean hummus style dip.
The importance of tahini
Tahini is a ground sesame seed paste. Some call it the peanut butter of the Middle East. Buy the best tahini you can – it's worth the effort. You'll see some suggestions in my supplies section below.
When you visit a hummusiya (a restaurant that serves hummus) in Israel, the hummus may be as much as 50% tahini. As Mike Solomonov says in his cookbook Zahav, Israeli hummus is all about the chickpea and the tahini.
This recipe is not 50% tahini but you can absolutely make this your own and increase the amount if you want a stronger nutty note. That may be my next variation!
What are preserved lemons
In case you haven't heard me wax poetic about these salty tangy gems, here's a quick recap.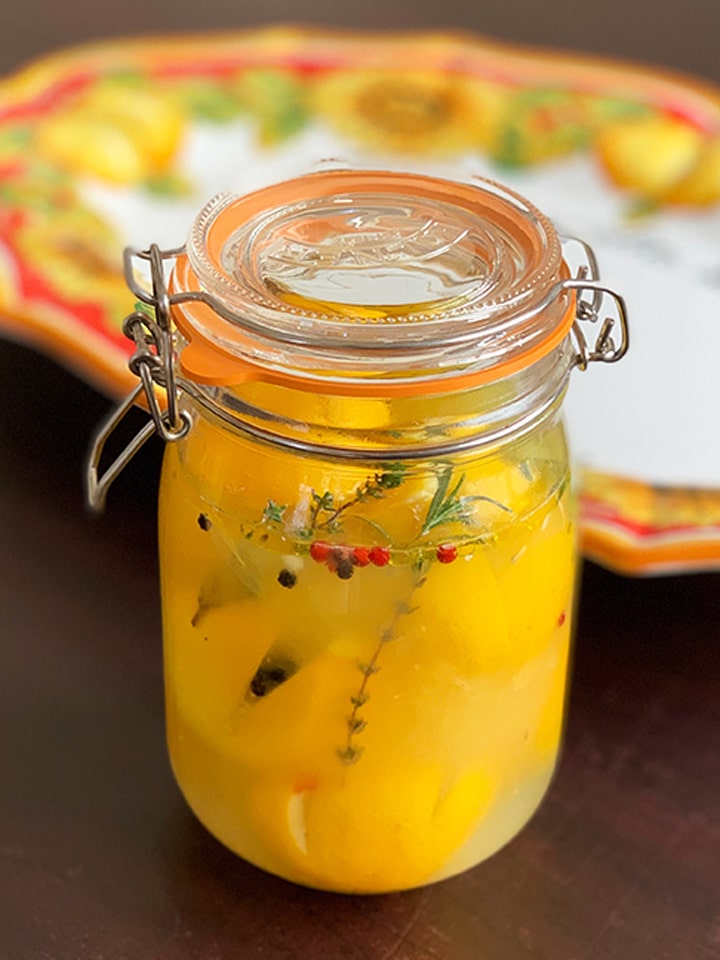 Preserved lemons are unwaxed lemons that have been salted, covered in lemon juice and left in a cool dry place to transform into a perfect preserved piece of citrus. When fully preserved, the tartness disappears and you are left with a lemony edible rind.
The origin of preserved lemons can be traced back to Morocco, Algeria and Tunisia – countries in North Africa and are still widely used in those cuisines. But several sources concur that the first recipe for preserved lemons actually appears in 12th century Egypt from a Dr. Ibn Jumay!
Canned vs dried beans
Yes, taking the time to soak dried chickpeas, cook them and then use them as the base for making your own hummus delivers a rich creamy result. But what if you don't even have time to make the garbanzos in an instant pot? Then canned beans are a great alternative.
I've been lucky enough to eat some of the best hummus in Israel, which certainly starts with dried chickpeas. But I'd be lying if I said I never bought store-bought hummus or started with canned chickpeas.
And that is why the preserved lemons play an even bigger role in this recipe. They add a tangy depth of flavor that turn even a dull can of chickpeas into a delicious and nutritious snack, lunch, appetizer or side dish.
How to make this hummus with preserved lemon
A food processor makes the preparation of this lemony hummus a snap.
Drain and rinse your canned chickpeas. Some people use the liquid from the can, called aquafaba, in hummus – I do not. I prefer a bit of olive oil, ice water and fresh lemon juice.
Prep all the other ingredients so they are right at hand next to the food processor.
Pulse the beans first to partially smash them up.

Then add all the other ingredients except the ice water and let it process for about a minute.

Add some of the ice water and let it process for 3-5 minutes. The lengthy processing does two things – it warms it up a bit which is how the hummus in the Middle East is generally served. But it also improves the texture to a more smooth and creamy state, similar to what you would see if you started with dried beans.

Finally, taste it for seasoning and check the thickness. If it needs more lemon or salt or ice water, add and process again to be sure it is incorporated.
If possible serve straight out of the food processor at room temp. Place in a nice bowl, add your toppings of choice and enjoy. Or store in a sealed container in the refrigerator until ready to use.
What toppings accent lemon hummus?
Adding toppings is one of my tricks for dressing up a dull store-bought hummus. In this case, it just elevates the flavor even more. But the toppings are not a must. This preserved lemon hummus overflows with flavor all on its own.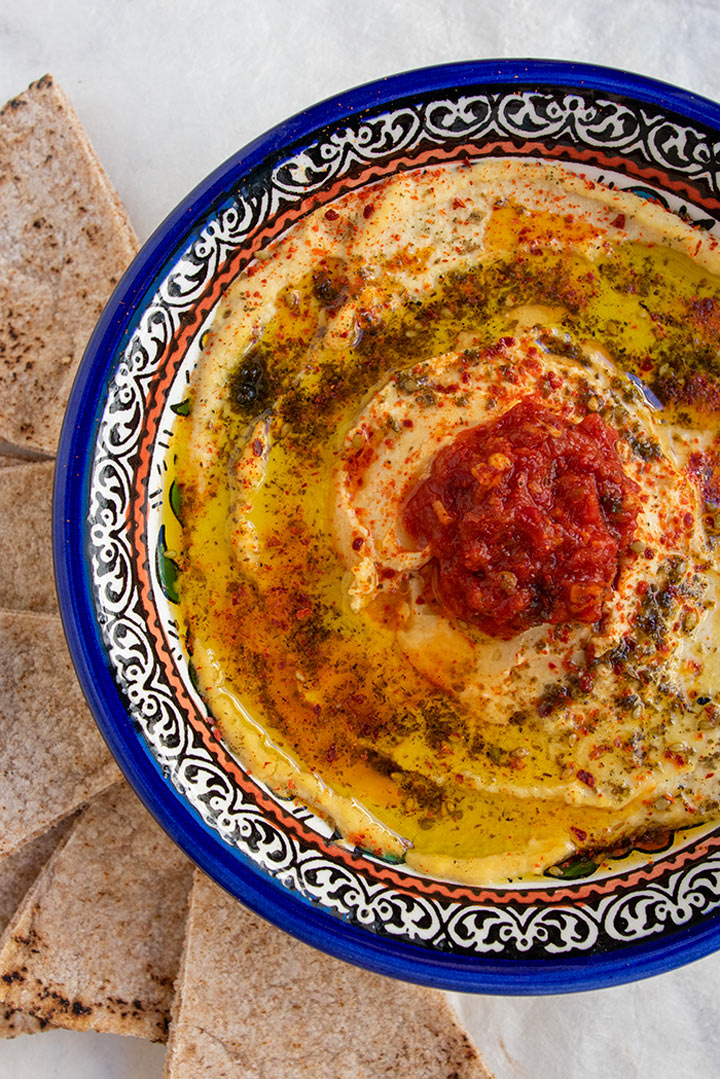 In this picture you can see za'atar, a Middle Eastern spice blend that was my entry point into learning everything I could about ingredients and cuisines of the Eastern Mediterranean.
I also sprinkled some Marash pepper – a Turkish red pepper with a smokier and less spicy flavor than the more common red pepper flakes you might sprinkle on pizza. It almost smells and feels like a ground up sun dried tomato with spice.
We like things spicy in our house so I also dolloped harissa on top – a red pepper paste of Tunisian origin. These days, you may find it in your grocery store's international aisle. Trader Joe's carries a spicy version I really like. But the best bet is to make your own – it's worth the time!
And of course, a heavy splash of olive oil is a must. Use the best extra virgin olive oil you have in the house.
What to serve with preserved lemon hummus
Chopped salad - When we were in Israel, our tour guide called ahead to a one-person lunch kiosk and asked if she would "chop a salad" for us. They eat a chopped salad at breakfast, lunch and dinner. I highly recommend chopping a salad as often as you can!
Totally enamored with your preserved lemons? (I understand) Then make this preserved lemon vinaigrette and use it on the chopped salad and serve it with the hummus!
Rose harissa - this spicy condiment really complements preserved lemons so treat yourself and make a jar of this!
Make it a hummus party with white bean hummus style dip. Why make only one bowl of goodness when you can have two?
A dollop of this hummus with harissa chicken and roasted vegetables -- yum!
Homemade pita - Samantha of the blog Little Ferraro Kitchen is a whiz at making this traditional accompaniment. Worth the effort to do it yourself, if you can. But full reveal, I always have some store-bought in the freezer.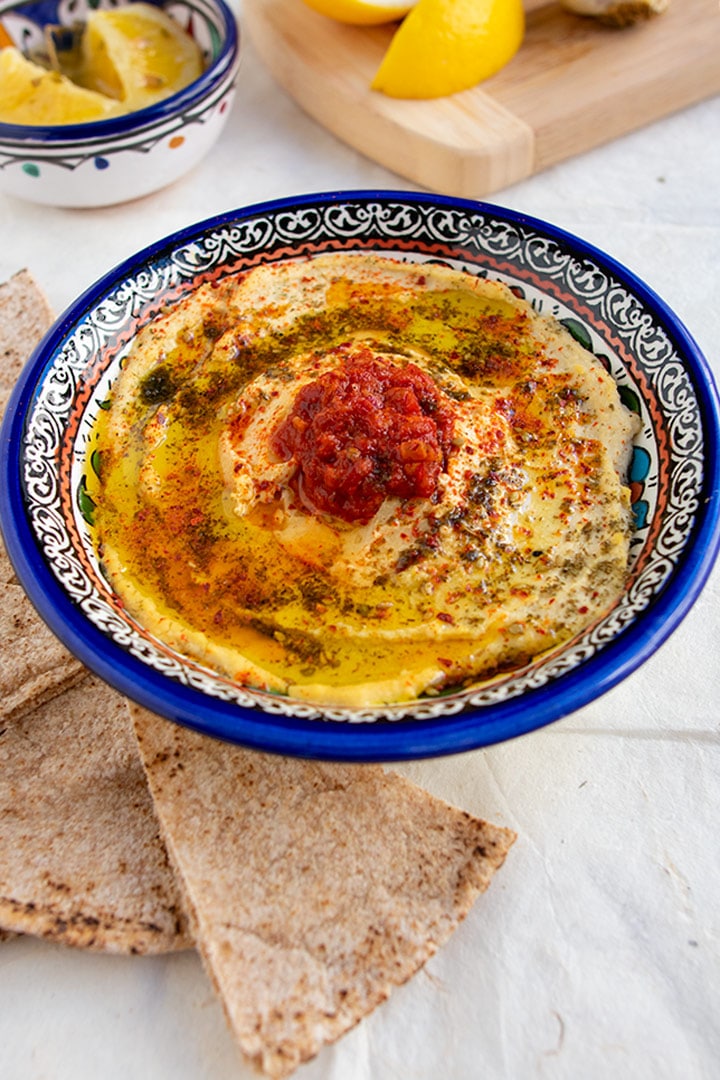 Supplies for preserved lemon hummus
This post contains Amazon affiliate links – if you click on one and purchase something, I receive a very tiny percentage of the sale. Your price is never affected.
You can find canned garbanzo beans at just about any grocery store. While you can buy preserved lemons, I highly recommend making your own. Follow the instructions in my preserved lemon tutorial post – it's easy – I promise.
For the hummus, a food processor is a must. Good tahini really adds depth to the flavor. Don't forget fun toppings like za'atar (see above), Marash pepper or Aleppo pepper and harissa. And, of course, some nice extra virgin olive oil.
Check out my Amazon shop that includes some of my favorite food and food-related products. I am always updating it – please visit often. And let me know if you need specific products recommendations – I am happy to help!

Other preserved lemon recipes on OMG! Yummy
Yield: 6-8 as an appetizer
Preserved Lemon Hummus
Preserved lemon hummus wows your taste buds with its depth of savory, tangy goodness. A simple can of chickpeas never tasted so good! A quick whir in the food processor and you have a delicious appetizer, snack, lunch or even a light dinner.
Ingredients
1 15 oz can of garbanzo beans, drained and rinsed
⅓ cup tahini (sesame paste)
1 tablespoon extra virgin olive oil
1 tablespoon preserved lemon juice
2-3 tablespoons fresh squeezed lemon juice
½ - ¾ preserved lemon, rinsed, seeds removed, rough chopped
1-2 cloves of garlic (raw or roasted)
¼ - ½ teaspoon cumin (if possible, use whole cumin seeds, toasted and ground)
¼ teaspoon pepper (or to taste)
3 tablespoons ice water
Optional Toppings
2 tablespoons extra virgin olive oil
2 teaspoons za'atar
½ teaspoon marash or Aleppo pepper
1 - 2 tablespoons harissa
Instructions
Pulse the garbanzo beans in the
food processor 10 - 15 times until partially mashed.
Add tahini, olive oil, preserve lemon and fresh lemon juice, preserved lemons, garlic, cumin and pepper to the food processor and continue to mix for 1 minute.
Pour in ice water and continue mixing for an additional 3 - 5
minutes until smooth and creamy. Taste for seasoning and texture, adjust if necessary, and pulse to combine.
To serve, spread hummus in a serving bowl and top with olive oil, za'atar, marash pepper and harissa if you like. Serve with fresh pita, pita chips, and/or vegetables for dipping.


Notes
You can make this ahead and refrigerate. Straight out of the food processor is best but when I was recipe testing, I made several batches that went into the refrigerator and let's just say nobody complained when they ate it :-).
Recommended Products
As an Amazon Associate and member of other affiliate programs, I earn from qualifying purchases.
Nutrition Information:
Yield:
8
Serving Size:
1
Amount Per Serving:
Calories:

214
Total Fat:

12g
Saturated Fat:

2g
Trans Fat:

0g
Unsaturated Fat:

10g
Cholesterol:

0mg
Sodium:

329mg
Carbohydrates:

22g
Fiber:

5g
Sugar:

6g
Protein:

7g