White bean hummus style dip with lemon and pine nuts is like a burst of sunshine in the winter and a perfect celebration of the season in summer. For another twist on hummus with lemons, try my preserved lemon hummus.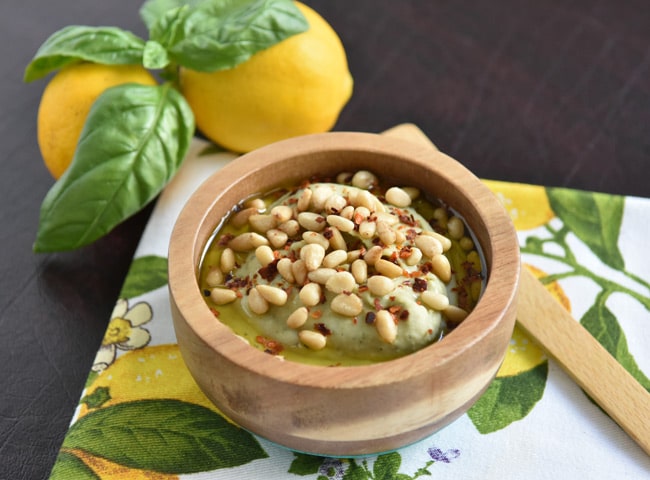 White Bean Hummus Style Dip - A New Twist on an Old Tradition
In the United States, hummus is generally eaten as a dip for carrots and pita chips. In Israel and other countries in the Middle East, hummus is a meal to be shared with friends and family, accompanied by pita bread fresh from the oven, bean or meat toppings on the hummus, and sometimes falafel and the ubiquitous Israeli chopped salad. I've served this dip as an appetizer but white beans are high in protein and you could certainly turn this into a vegan or vegetarian main course.
Is it Hummus if you use White Beans?
The word hummus, in both Arabic and Hebrew, actually means chickpea as well as denoting the spread made from the protein-filled bean. When I developed this recipe for white bean hummus and called it so, my social media friend and brilliant chef and co-author of Jerusalem: A Cookbook, Sami Tamimi was quick to correct me - if it's not made with chickpeas, it's not hummus. But what I do borrow from hummus, is the method for making it. Using ice water as part of the liquid and letting it whir in the food processor for several minutes - not just until smooth. I taught this dip to a cooking class and they were amazed by the change in texture from "just combined" to several minutes more of whizzing in the food processor.
Basil and Pine Nuts - A LOVEly Addition
But where does the aphrodisiac part of white bean hummus style dip come into play? Well according to some of my online research basil and pine nuts both fall in the "love food" category. And if you are already a pesto lover, you know they marry well together. As for finding basil year round, I have seen it here in Northern California even when it is far too cold to grow it, so I'm hoping you can rustle some up year round where you live too. If not, see if your grocer carries Gourmet Garden lightly dried herbs - you can substitute in some of their basil instead using the equivalents they suggest on the package - about half as much dried as fresh.

Optional Toppings and Delightful Dippers
Toppings are the best part of making this dip - use your creativity. Toasted pine nuts are highly recommended - adding great flavor and texture - but if your pantry includes some middle eastern spices - try za'atar, Turkish/Syrian peppers like marash and aleppo, sumac, and of course don't forget a good glug of your favorite olive oil - one that you would use in a salad dressing uncooked.
As for what to dip in it - fresh vegetables are perfect such as persian cucumbers, carrots, radish, snow peas. And some pita chips or fresh pita bread pairs beautifully as well. Leftovers? Don't forget to spread it on your sandwiches or make a really hip "toast" with this dip, some avocado, and finish it with za'atar, dukkah, or just some salt and pepper.
Hope you enjoy this month's #ProgressiveEats menu and have a LOVEly Valentine's Day.
White Bean Hummus Style Dip with Basil, Pine Nuts and Meyer Lemon
Beth Lee
This hummus-style dip is like a burst of sunshine in the winter and a perfect celebration of the season in warmer months. Using the method used by many modern chefs for making a super creamy hummus, you let this whiz in the food processor for far longer than it takes for it to "just combine". The result is texturally sublime, a perfect foil for fresh veggies, crispy pita chips or fresh baked pita bread.
Ingredients
2

15 ounce cans

cannellini or great northern beans or white kidney beans

drained and rinsed

⅓

cup

tahini

¼

cup

extra virgin olive oil

¼

cup

fresh squeezed Meyer lemon juice

regular lemon works too

1 - 2

cloves

garlic, roasted

roasting is optional

1

ounce

fresh basil

or to taste

½

teaspoon

cumin OR oregano

if possible, use whole cumin seeds, toasted and ground OR use dried oregano

1

teaspoon

kosher salt

or to taste

½

teaspoon

black pepper

or to taste

4

tablespoons

ice water
Optional Toppings
2

tablespoons

extra virgin olive oil

4

tablespoons

toasted pine nuts

4

teaspoons

za'atar

½

teaspoon

marash pepper

1

teaspoon

sumac
Instructions
Pulse the white beans in the food processor 10 - 15 times until partially mashed.

Add tahini, olive oil, lemon juice, garlic, basil, cumin (or oregano), and salt and pepper to the food processor and continue to mix for 1 minute. Pour in ice water and continue mixing for an additional 3 - 5 minutes until smooth and creamy. Taste for seasoning and texture, adjust if necessary, and pulse to combine.

To serve, spread hummus in a serving bowl and top with olive oil, za'atar, marash pepper, sumac, and pine nuts to taste. Serve with fresh pita, pita chips, and/or vegetables for dipping.
Nutrition
Calories:
149
kcal
Carbohydrates:
2
g
Protein:
2
g
Fat:
15
g
Saturated Fat:
1
g
Sodium:
238
mg
Potassium:
68
mg
Vitamin A:
200
IU
Vitamin C:
1.5
mg
Calcium:
24
mg
Iron:
1.3
mg
Love Foods: Aphrodisiac Foods / Foods for Valentine's Day
Cocktails
Appetizers
Main Courses
Desserts