"Call it serendipity. At a small Lebanese restaurant in downtown Palo Alto, I had a chance encounter with a flavor of another kind. My notes in my iPhone list it as "zater", my best guess at the spelling after interrogating the waiter at length about the ingredient mixed in with the olive oil."
I wrote this about my first experience with za'atar, a spice mix I've been enamored with ever since, in the Spring 2014 issue of Edible Silicon Valley.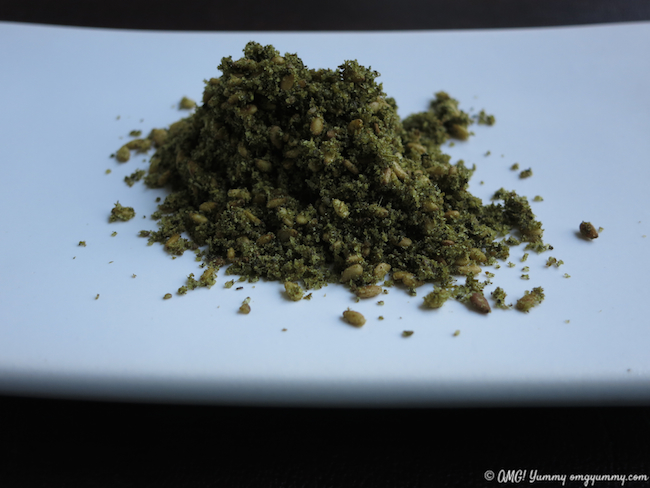 So for this month's Tasting Jerusalem topic, Sarene and I couldn't resist exploring this tangy, nutty Middle Eastern spice blend that tells a story in each of its variations about the culture and region from which it originates.
In Morocco, if you say za'atar, people think you're talking about the plant, also called hyssop, that grows wild in the mountainous areas of Israel and surrounding areas, and has been used for millennia to spice bread. It tastes like a blend of oregano and marjoram, writes Mourad Lahlou in Mourad: New Moroccan
 cookbook.  In Jerusalem: A Cookbook, Ottolenghi and Tamimi take the description a step further saying that the flavor "hovers in the general area where herbs like oregano, marjoram, sage or thyme reside but is quite unique. Za'atar is sharp, warm and slightly pungent…and almost at one with the smell of…dare we say it, sweat."
To most people, though, za'atar is the Middle Eastern spice blend whose recipe varies by country.  Lahlou says that za'atar is great for adding "complex acidity" when you don't want to use lemon juice or vinegar.
The spice blend features sumac and sesame seeds as fixtures, and one or more of the following: thyme, za'atar and/or oregano. From there, it diverges by cook and country.
"Lebanese za'atar may have dried orange zest; Israeli za'atar (adopted from Arab communities much like the American adoption of salsa) often includes dried dill," writes Max Falkowitz at seriouseats.com.
Jordanian za'atar is heavier on sumac and described as zestier.
Lahlou's recipe uses sesame seeds, sumac and oregano, in nearly equal parts.  Ottolenghi and Tamimi list the ingredients as za'atar leaves, ground sumac, toasted sesame seed and salt. There are recipes that include pepper and cumin as well.
Ottolenghi and Tamimi write that za'atar is an important ingredient in Palestinian cuisine and is central to modern Israeli cuisine.
Za'atar is a staple in Syria, Lebanon, and Jordan and is in every kitchen, writes Mercedes in the blog Desert Candy. "Usually za'atar is mixed with olive oil (za'atar ul-zayt), and this mixture is spread on flat breads, rolled up in pita bread, served as a dip, or drizzled over sliced tomatoes. Za'atar makes the filling for croissants, the seasoning on breadsticks, a compliment to yogurt, and the seasoning for stews. Children are often given za'atar sandwiches before a test because it is thought to awaken the mind."
Lahlou offers some other ideas for incorporating za'atar into dishes:
Sprinkle on flatbread (or pizza) dough before cooking
Drizzle goat cheese or feta with olive oil and sprinkle with za'atar
Marinate chicken in plain yogurt and za'atar. (Scrape off most of the marinade before grilling or roasting.
Add to aioli.
Sprinkle on tomatoes and cucumbers and garnish with lemon basil.
Add to yogurt dips.
Sprinkle on fried or deviled eggs.
Read more about za'atar in David Lebovitz's blog post about a visit to a za'atar farm in Lebanon.
July Za'atar Recipes from the Cookbook Include:
Roasted butternut squash with tahini and za'atar page 36: Featured also in June's tahini exploration, this is one of the simple classics from the cookbook and written up in Ottolenghi's Guardian column back in 2011. It's a perfect make-ahead dish for a dinner gathering that will wow your guests with the powerful and unique combination of roasted vegetables, sweet squash, savory onion, and the bold combination of tahini and za'atar. If you haven't already made this dish, add it to your must-try list.
Puréed beets with yogurt and za'atar page 53: This is one of the most popular dishes at Ottolenghi's restaurants and showcases the versatility of the beet to marry with spicy and savory flavors as well as sweet.
Parsley and barley salad page 81: This perfect sharp and light salad to accompany a heavy meat-based dish or serve as a wonderful addition to a vegetarian meal. The authors suggest that the barley can easily be replaced with ancient grains such as spelt, farro, or wheat berries.
Hummus kawarma (lamb) with lemon sauce page 118: Za'atar is part of the spice mixture that coats the lamb. This photo from the blog The Little Ferraro Kitchen shows the lamb coated and ready to roast.
Braised eggs with lamb, tahini, & sumac, page 205: Featured in sumac month (our very first month), this dish is stunning and so flavorful, it is irresistible – za'atar is not among the listed ingredients but is mentioned in the headnote of the recipe as a typical Jerusalem ingredient that you can use and will find in many versions of this recipe.
Acharuli khachapuri page 252-53: Sarene made these cheese and egg filled biscuits during cheese month. Associated with Jerusalem's Georgian Jewish community, this baked good is perfect for the "one the go" eating mentality of a busy lifestyle.
Remember that za'atar is very versatile and marries beautifully with tomatoes, olive oil, and so many other vegetables and meats. You'll find yourself reaching for it over and over again during grilling season and all year round.
Welcome to Tasting Jerusalem
If you're new to the group, here are our "rules" (there really aren't any except to cook and share your experiences.)
Group Guidelines:
How often will we cook: We'll pick a new set of recipes monthly to allow us all to fit in the cooking when we can and to find any ingredients that might not be available at your typical grocery store stop.
Do I need to cook all the recipes?: We offer up several recipes to fit your taste buds, menus, schedules – cook as many or as few as you desire. But once you start cooking from this book, you probably won't stop!
What do I need to participate: Jerusalem: A Cookbook Plus an interest in cooking, willingness to try new flavors, and an electronic device that communicates via the Internet. We will always post the month's information in a blog post via omgyummy.com so you can subscribe to Beth's blog to be guaranteed to receive it or just check in frequently via the Facebook page or Twitter hashtag #TastingJrslm
How to share what you cook: Tasting Jerusalem is open to anyone. You do not have to be a blogger or food professional of any sort. But if you have a camera, we encourage you to share photos of your dishes on Twitter or the Facebook page or Instagram, using the hashtag #TastingJrslm – we all love to see the results of your kitchen adventures. New to these types of social media? Just drop me an email beth (at) omgyummy (dot) com – I'll be glad to help you get started.
What recipes can be published and how to publish: We expect to cook through most, if not all, of the recipes in the cookbook over time. As such, for those of us blogging or writing about our experiences in any way, it's important that we don't include the recipe in our blog posts, unless Ten Speed Press has approved its use. The goal of the group is to learn together and enrich our experience using this cookbook, not create an online version of it. We are in touch with Ten Speed Press to find out which recipes we can post. For an example of another group that writes about their cooking but doesn't post each recipe, please visit French Fridays with Dorie. If you legitimately change a recipe, rewrite the headnote and instructions, and choose to share it, please say you've adapted it, giving credit to the source including a link to purchase the cookbook.
What if I have questions? Sarene and I will be monitoring the Facebook page and Twitter hashtag #TastingJrslm almost continuously so just leave us a note there. If you see a question and know the answer, jump on in before us. Part of the fun of the group will be each of us sharing our own knowledge, perspectives and ideas.
What to include if you write a blog post: If you do post about what you cook, please let us know – we will link to it. And feel free to post it on the Facebook page and Twitter with the #TastingJrslm hashtag. We'd also appreciate it if you would include this verbiage in the context of your post:
"Tasting Jerusalem is a virtual cooking community exploring the vibrant flavors and cuisine of the Middle East through the lens of Jerusalem: A Cookbook by Ottolenghi and Tamimi published by Ten Speed Press. You can follow along and cook with us by subscribing to omgyummy.com, following the hashtag #TastingJrslm on Twitter and Instagram, liking our Facebook page or joining our Google+ Community and finally checking out all of our groups' dishes on Pinterest."