Cardamom Flavor Profile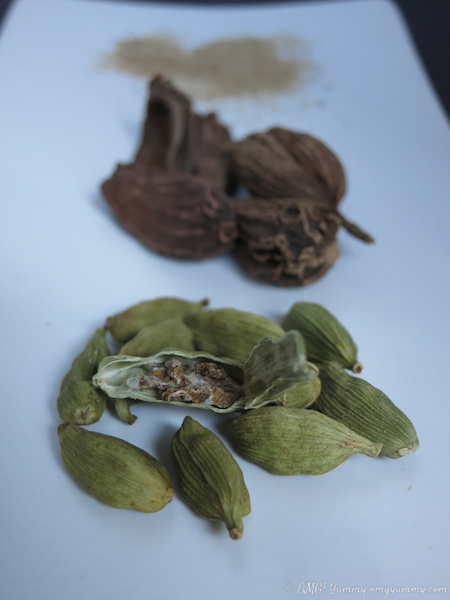 Thirteen dishes in "Jerusalem: A Cookbook" include cardamom, ranging from salads to main courses and from desserts to condiments. Clearly, it is a versatile spice and flavor, almost chameleon-like, fitting in with so many different flavor profiles to enhance the essence and depth of a dish.
Cardamom's nose hints of floral, with overtones of nutmeg and ginger. It's in the family of "warm" spices, like cinnamon and allspice, that are slightly pungent and quite flavorful. (Meaning that they can overpower a dish if added too liberally.)
Types of Cardamom
When you shop for cardamom, you will find green pods, ground up cardamom, as well as the seeds from the inside of the pod sometimes sold unground. Green cardamom is most often used in India and Western Asia in desserts and tea, and some savory dishes. In Arab countries, it's used to spice coffee. In Scandinavia and Germany, you'll find it quite often in baked goods. It's also popular to chew the green pods as a breath fresher, and they are said to be good for the digestion.
You will also find black cardamom, a much larger pod with a stronger, more pungent flavor that's described as smelling like camphor. This cardamom is generally more suited to stews and other savory dishes, along with vegetables and pickles. In Afghanistan, it's used in pilafs. It's rarer to see it used in desserts. (though a member of our group managed to do just that!) Thanks for this eye candy David Peck.
Both black and green cardamom are used in the Indian spice blend garam masala.
Origin of Cardamom
Cardamom originates in Southern India but is now also grown extensively in Sri Lanka and Guatemala. In fact, in Guatemala, the cardamom crop has surpassed the coffee crop as Guatemala's leading export!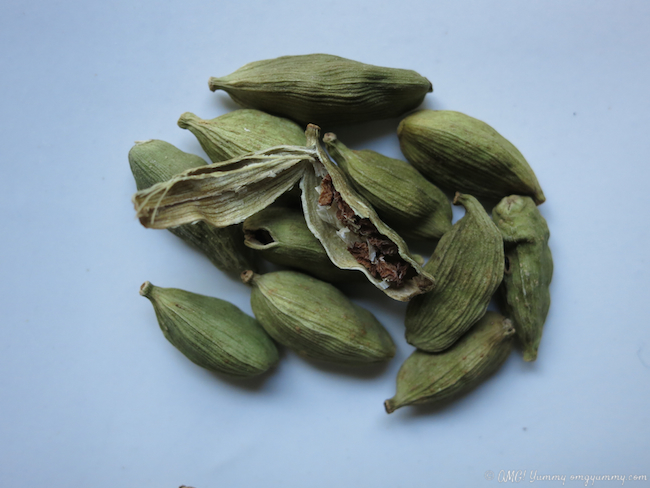 Cardamom pods are hand-picked before full ripening to ensure freshness, a labor-intensive process, resulting in a fairly high price to the consumer, though not nearly as costly as saffron. In small quantities, it is a reasonable addition to your spice cabinet.
March Cardamom Recipes from the Cookbook Include

:

Spiced chickpeas and fresh vegetable salad, page 56: Michelle of the blog Daily Waffle made this during our salad month and was pleasantly surprised by how much she enjoyed it, with the garbanzos and sherry vinegar-based-vinaigrette giving it a real boost. The cardamom is in the spice mixture that coats the chickpeas.
Falafel, page 99: This is a great recipe to pair with the spiced chickpea salad as well as a way to use last month's condiment, zhoug. Look what Sue Busch of the blog Couscous and Consciousness did with the falafel recipe by adding favas in with the garbanzos.
Basmati rice and orzo, page 103: The basic recipe does not use cardamom but the headnote mentions that the Bukharan Jews make a pilaf with lots of spices in it including cardamom.
Cannellini bean and lamb soup, page 135: Also mentioned last month because it shines with a dollop of zhoug on top. In this recipe, the pods are crushed and added. They can be left in for serving or fished out as is your preference. They are fully edible but many prefer not to leave them in the dish for serving.
Lamb-stuffed quince w pomegranate and cilantro, page 155: Another repeat performance from our pomegranate molasses month, the pods are once again used. You can sub sturdy pears or apples for the quince since they are not currently in season. Also consider sautéing fruit separately, rather than the time-consuming stuffing.
Ruth's stuffed Romano peppers, page 165: Previously discussed during baharat month, the ground cardamom is mixed in with the stuffing for the peppers. In addition, the baharat spice mix itself includes whole pods that are ground into a powder with the rest of the spices.
Chicken w caramelized onion and cardamom rice, page 184: This is the recipe that the NY Times studied for the July 2013 Recipe Lab that ultimately featured our group in the Dining section write-up! Through all the discussion of the recipe, three standout issues to watch: amount of liquid needed for rice; rice cooking time vs chicken cooking time; leaving whole pods in dish vs fishing them out. But, overall reviews of tastiness and willingness to make it again were generally 5 star.
Lamb shawarma, page 211: Here the pods are pan-roasted with many others and then ground up in a spice grinder. This mixture is combined with some other ingredients and rubbed all over the outside of the lamb. Samantha of the blog Little Ferraro Kitchen prepared the shawarma last month with zhoug. Are you hungry yet?
Grilled fish skewers, page 226: Here the cardamom is in the Hawayej spice mix that coats the fish. Hawayej is a Yemini spice mix, same origin as the zhoug discussed in February.
Graybeh, page 260: This recipe does not officially include cardamom but in the headnote he mentions that there are many variations and one of Yemenite descent includes cardamom. A similar Persian cookie called koloocheh also includes cardamom – more on these cross-cultural cookies in this post about date and walnut thumbprints.
Poached pears in white wine and cardamom: Simple recipe, elegant result, and uses 15 cardamom pods. Here is Yumivore's version:
Cardamom rice pudding with pistachios and rose water, page 270: This recipe covers three months of ingredients – pistachios, rose water, and now cardamom. Comforting, cozy, and conducive to your own spin on a classic.
Walnut and fruit crumble cream, page 276: This is an amalgam of so many familiar ingredients and recipes – part fruit crisp, part yogurt parfait, and all the while hearkens to both middle eastern flavors and the tropics with a guava and plum compote. The cardamom is in the cream along with …. (drumroll) star anise, bringing an Asian flavor to the table as well. Wow.
Helbeh (fenugreek cake), page 290: This does not have cardamom in it but the authors point out that if you like cardamom, you may very well like fenugreek and this cake.
Baharat, page 299: Their version has 8 spices in it, including cardamom pods.
Zhoug, page 301: Fresh in your minds from February, this version is light on garlic and incorporates cumin, cardamom, and cloves which you don't always see in other recipes. The amounts are small and really just barely come through but add an element of surprise to the condiment.
Welcome to Tasting Jerusalem
If you're new to the group, here are our "rules" (there really aren't any except to cook and share your experiences.)
Group Guidelines:
How often will we cook: We'll pick a new set of recipes monthly to allow us all to fit in the cooking when we can and to find any ingredients that might not be available at your typical grocery store stop.
Do I need to cook all the recipes?: We offer up several recipes to fit your taste buds, menus, schedules – cook as many or as few as you desire. But once you start cooking from this book, you probably won't stop!
What do I need to participate: Jerusalem: A Cookbook Plus an interest in cooking, willingness to try new flavors, and an electronic device that communicates via the Internet. We will always post the month's information in a blog post via omgyummy.com so you can subscribe to Beth's blog to be guaranteed to receive it or just check in frequently via the Facebook page or Twitter hashtag #TastingJrslm
How to share what you cook: Tasting Jerusalem is open to anyone. You do not have to be a blogger or food professional of any sort. But if you have a camera, we encourage you to share photos of your dishes on Twitter or the Facebook page or Instagram, using the hashtag #TastingJrslm – we all love to see the results of your kitchen adventures. New to these types of social media? Just drop me an email beth (at) omgyummy (dot) com – I'll be glad to help you get started.
What recipes can be published and how to publish: We expect to cook through most, if not all, of the recipes in the cookbook over time. As such, for those of us blogging or writing about our experiences in any way, it's important that we don't include the recipe in our blog posts, unless Ten Speed Press has approved its use. The goal of the group is to learn together and enrich our experience using this cookbook, not create an online version of it. We are in touch with Ten Speed Press to find out which recipes we can post. For an example of another group that writes about their cooking but doesn't post each recipe, please visit French Fridays with Dorie. If you legitimately change a recipe, rewrite the headnote and instructions, and choose to share it, please say you've adapted it, giving credit to the source including a link to purchase the cookbook.
What if I have questions? Sarene and I will be monitoring the Facebook page and Twitter hashtag #TastingJrslm almost continuously so just leave us a note there. If you see a question and know the answer, jump on in before us. Part of the fun of the group will be each of us sharing our own knowledge, perspectives and ideas.
What to include if you write a blog post: If you do post about what you cook, please let us know – we will link to it. And feel free to post it on the Facebook page and Twitter with the #TastingJrslm hashtag. We'd also appreciate it if you would include this verbiage in the context of your post:
"Tasting Jerusalem is a virtual cooking community exploring the vibrant flavors and cuisine of the Middle East through the lens of Jerusalem: A Cookbook by Ottolenghi and Tamimi published by Ten Speed Press. You can follow along and cook with us by subscribing to omgyummy.com, following the hashtag #TastingJrslm on Twitter and Instagram, liking our Facebook page or joining our Google+ Community and finally checking out all of our groups' dishes on Pinterest."