Growing up I ate cheesy biscuits and I loved them. Not cheddar cheesy but cheap-and-processed cheesy. You know those blue tubes that explode open with the firm press of a spoon, making you wonder what exactly lives inside? I adored them hot out of the oven with butter and honey.
But now it's 2015 and we know eating too much processed, packaged food is unhealthy; so I walk past those blue tubes at the store, despite the taste memory they evoke every single time.
Here is a homemade alternative for you that's faster than driving to the store to buy the tube, definitely healthier, and nearly as simple to prepare.
My first attempt at biscuits, last November, was inspired by a recipe for Sage and Cheddar Biscuits in the newspaper insert Relish magazine. They had no butter in them at all – just a ½ cup of yogurt. Motivated by @dormantchef's love for biscuits and gravy and my slight obsession with baking with yogurt, I gave them a try. Loved the sage cheddar combo but they lacked that tender flakiness you expect from a biscuit. But baking them in the cast-iron pan was just so sexy (yes - I just called cast-iron sexy - you read it here first). With a brush of melted butter on top, I think they turned out better looking than the ones in the magazine!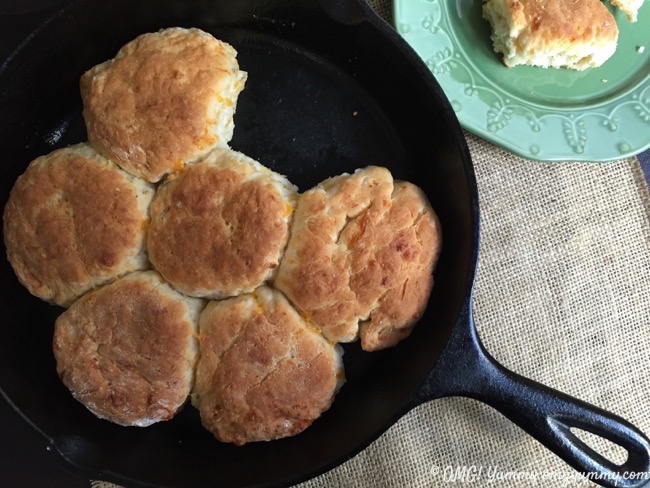 Then we headed to New Orleans in December, where we were sampling biscuits for five days and I landed a local restaurant, GW Fins', biscuit recipe. So back to the biscuit baking in 2015. I searched through many recipes online in addition to referring to the GW Fins recipe before settling on the following method.
I retained the yogurt for the healthy protein and lovely texture it imparts in baked goods but I added two tablespoons of shredded butter from a frozen stick of butter to add back in some flakiness.
I wanted to create a grab and go breakfast in a biscuit so I added bacon to the mix. After multiple tries with different amounts of the fatty meat (@dormantchef's term), including taking it out entirely, I decided to leave it in with the conclusion that the tastier the bacon, the more impact it has on the biscuit. And I suspect the residual fat it adds doesn't hurt the flavor either.
The other change from round 1 to round 2, 3 and 4, was switching to a drop biscuit method. Forming the dough and cutting out the biscuits is fun and not difficult, but it's an extra step that, on some days, it's nice to eliminate. Drop biscuit dough is a bit wetter so you can DROP the biscuit dough on the baking sheet easily.
Let your imagination go wild with these biscuits – change up the cheese, add herbs – they are really just a blank slate for your kitchen creativity.
And if, like me, you like the idea of using yogurt in your cooking and baking, grab a copy of Cheryl Sternman Rule's new cookbook, Yogurt Culture, due out April 28, available for pre-order now.
Cheesy Yogurt Drop Biscuits with Bacon
Beth Lee
To be prepared to make this recipe, keep a stick of butter in the freezer for grating, then you can just cut off a couple tablespoons when you need it. The more flavorful the bacon and cheese are, the bigger impact they will each have on the final taste. Experiment with different add-ins -- these are really a starting point for your creativity.
Ingredients
4

slices

bacon

any bacon will do but applewood smoked is really nice here

2

cups

all-purpose flour

1

tablespoon

baking powder

1

teaspoon

baking soda

2

teaspoons

sugar

½

teaspoon

salt

use 1 teaspoon if you don't use bacon

1

cup

Greek Yogurt

I use full fat but you can use lowfat

¾

cup

milk

I used low fat Lactaid milk

2

tablespoons

grated frozen butter

¾

cup

grated cheddar cheese
Instructions
Preheat the oven to 425 degrees with the rack in the center. Line a sheet pan or cookie sheet with parchment or a silicone mat.

Cook your four pieces of bacon first so they can cool off before you chop them and add them into the batter. I just microwaved mine but however you like to cook your bacon is fine - pan, broil, microwave.

In a medium sized bowl, whisk together the flour, baking powder, baking soda, sugar, and salt.

In medium size liquid measuring cup or bowl, whisk together the yogurt and milk. I put the yogurt into a measuring cup, then poured the milk right on top - the yogurt is thick enough to stay put and it saves me a dish or two.

Finely chop the bacon. (don't go crazy here - a little texture is ok).

Grate the two tablespoons of frozen butter, directly into the flour mixture if you want. Use a whisk or fork to combine it into the flour mixture, then add the cheddar and bacon pieces and be sure the mixture is well-combined.

Now pour in the yogurt/milk mixture and use a small fork to incorporate and then a spatula to turn the dough over a few times to be sure you have all the flour and liquid combined. Don't over mix but make sure it is thoroughly combined. The dough should be a little moist but not at all runny. If it seems too dry to drop onto a sheet pan, then add a tablespoon or two of milk or buttermilk to moisten it up.

Now let the dough rest for 5 minutes or longer if you have time.

Using an ice cream scoop or large spoon drop a little under a ¼ cup of dough for each biscuit on to the parchment lined baking sheet. Leave about 1.5 inches between each one so they cook evenly and crisp up. Bake for 10 minutes, then move to a cooling rack. Eat them warm out of the oven if possible but they reheat nicely the next day.
Nutrition
Calories:
174
kcal
Carbohydrates:
18
g
Protein:
7
g
Fat:
7
g
Saturated Fat:
4
g
Cholesterol:
19
mg
Sodium:
311
mg
Potassium:
188
mg
Sugar:
2
g
Vitamin A:
155
IU
Calcium:
133
mg
Iron:
1.1
mg