Challah braiding is so much easier than you think. From a 3-strand braid to a 4-strand braid to a knotted roll, you'll be an expert in no time. Post includes visual and written instructions.
For ease of browsing, find all of my Jewish recipes in one place.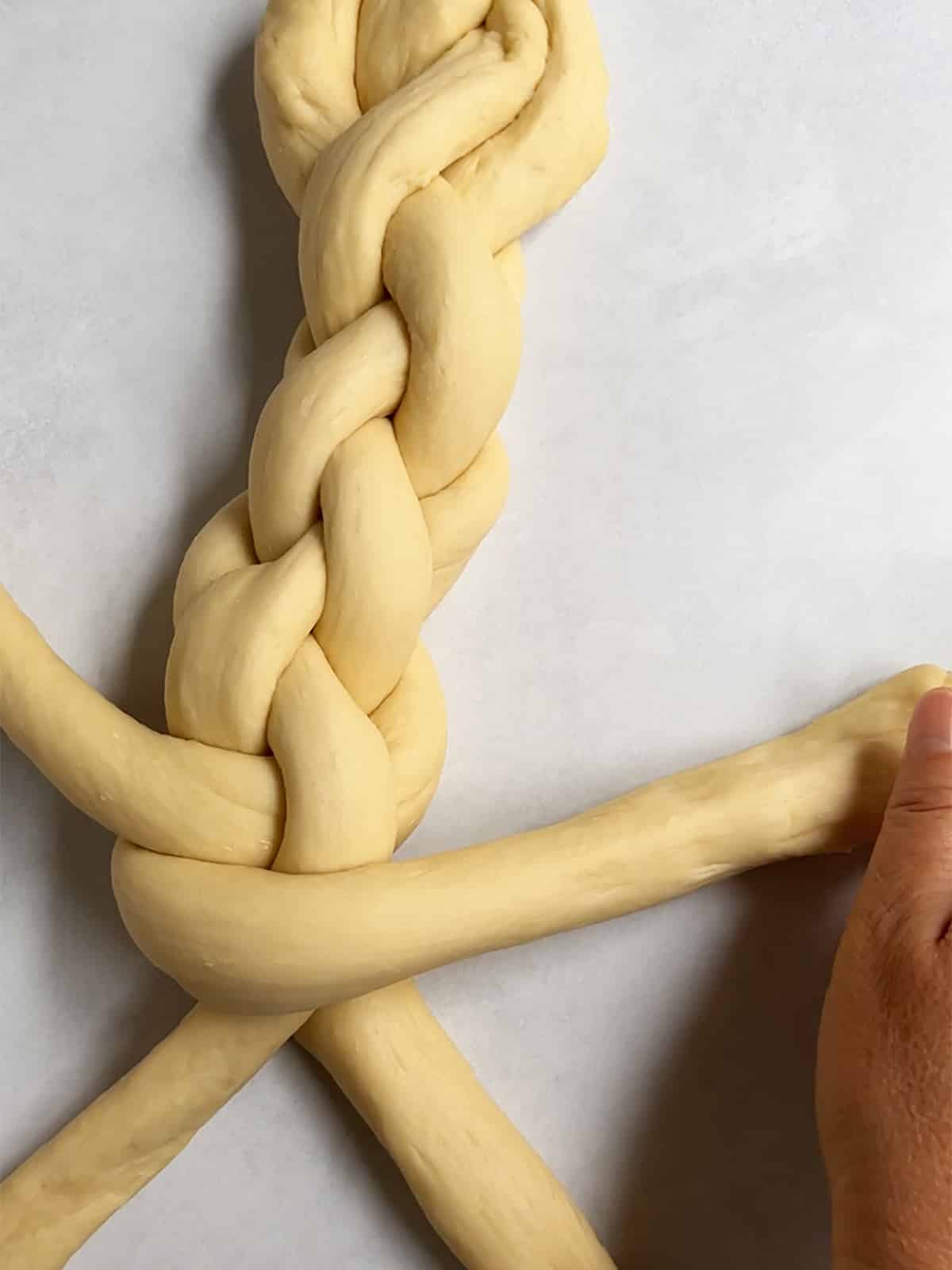 This post contains Amazon affiliate links – if you click on one and purchase something, I receive a very tiny percentage of the sale. Your price is never affected.
Braiding Challah is Fun!
Great challah braids start with great dough, here are 3 wonderful dough recipes on my blog or use the Bubbe's challah dough in my book on pg. 22!
Easy Challah recipe with a hint of citrus (almost no rise time required)
Challah Rolls (you can make a braided challah from the dough or shape as rolls)
In the early days of my blog, dough was my nemesis. If there was yeast or kneading or lots of butter and flour involved, my baking blood pressure rose. Once I conquered my dough anxiety, next came the shaping unknowns.
How should I divide up the dough? What should each piece weigh? How long should each strand be? How many strands do I need? What kind of braid? or no braid at all? Round or oblong or roll?
While I can't cover every single possible permutation in one post, by the end of this challah braiding treatise, you'll be ready to tackle shaping challah dough with calm confidence!
And remember, despite starting off with a fear of dough, I've now written a book on baking full of so many different doughs. If I can do this, so can you!
Basic 3-strand Braid
Length of strands: 14 – 16 inches for a small loaf, 20 – 22 inches for a larger loaf
Small loaf strand weight: 150 grams each
Large loaf strand weight: 200 grams each
For this challah braid, start by connecting the dough strands together at the top end. Then spread the strands apart.
This technique is akin to braiding hair. But for those of you that aren't familiar with braiding hair, here is another way to think about it. Place the right strand over the middle, then the left over middle (or vice versa).
Doesn't matter which side you start on. As the outside strand moves over the middle, you'll notice that you are creating a new middle!
Just continue on down until you run out of strand and press the ends together and fold them under.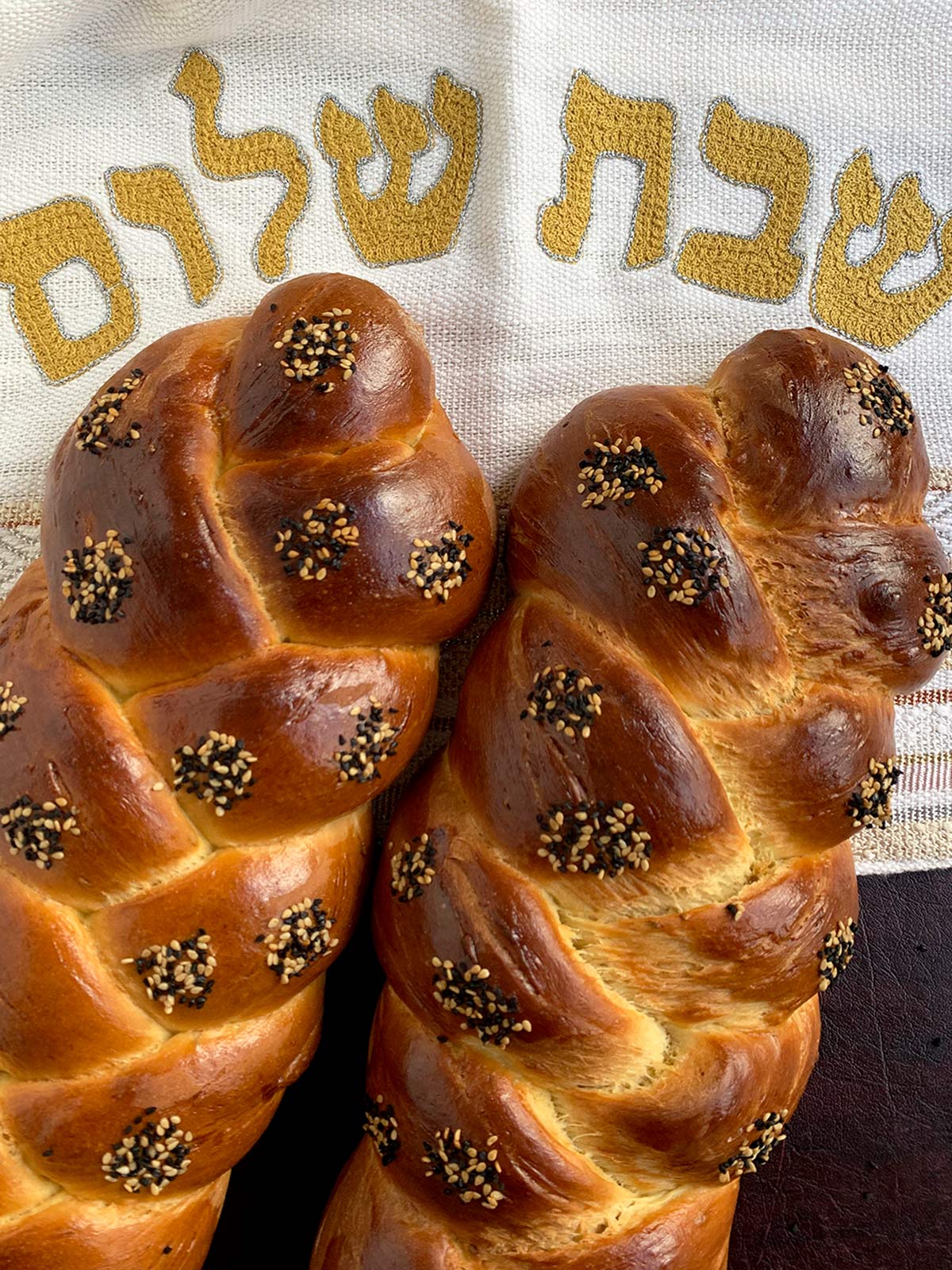 Basic 4-strand Braid
Length of strands: 14 – 16 inches for a small loaf, 20 – 22 inches for a larger loaf
Small loaf strand weight: 150 grams each
Large loaf strand weight: 200 grams each
As lovely as a 3-strand braid is, the extra strand in this version does give the loaf a bit more depth and shape. It's quite lovely.
For this braid, I like to keep the concept simple. Think about only two strands at a time. Count 1, 2 from the right and 1,2 from the left. The song in my head is "2 up, 1 over. Then count 1,2 on the other side and repeat "2 up, 1 over." Continue "singing" this tune as you repeat this from side to side.
As with the 3-strand challah braid, connect the strands together at the top. Starting on the right or left, bring the second one UP and over the 2 strands to its left and bring the first strand OVER the strand that is now adjacent to it. In the fourth photo below I am using my hand to count 1,2 from the right to remind myself which strands to use next.
Just keep repeating in your head: 2 UP, 1 OVER until you reach the end of the strands; then press the last bit of dough together and fold it under. Now you have a lovely 4-strand challah braid! Bake it as a loaf or form it into a circle, connect the two ends and you have a challah in the round. Or put an oven-proof ramekin in the center for a honey pot! Check out my Round Challah for Rosh Hashanah post for all the details.
Below is a 4-strand challah that was baked in a circle around an oven-proof ramekin. Remember, you can do this with a 3-strand or 6-strand as well!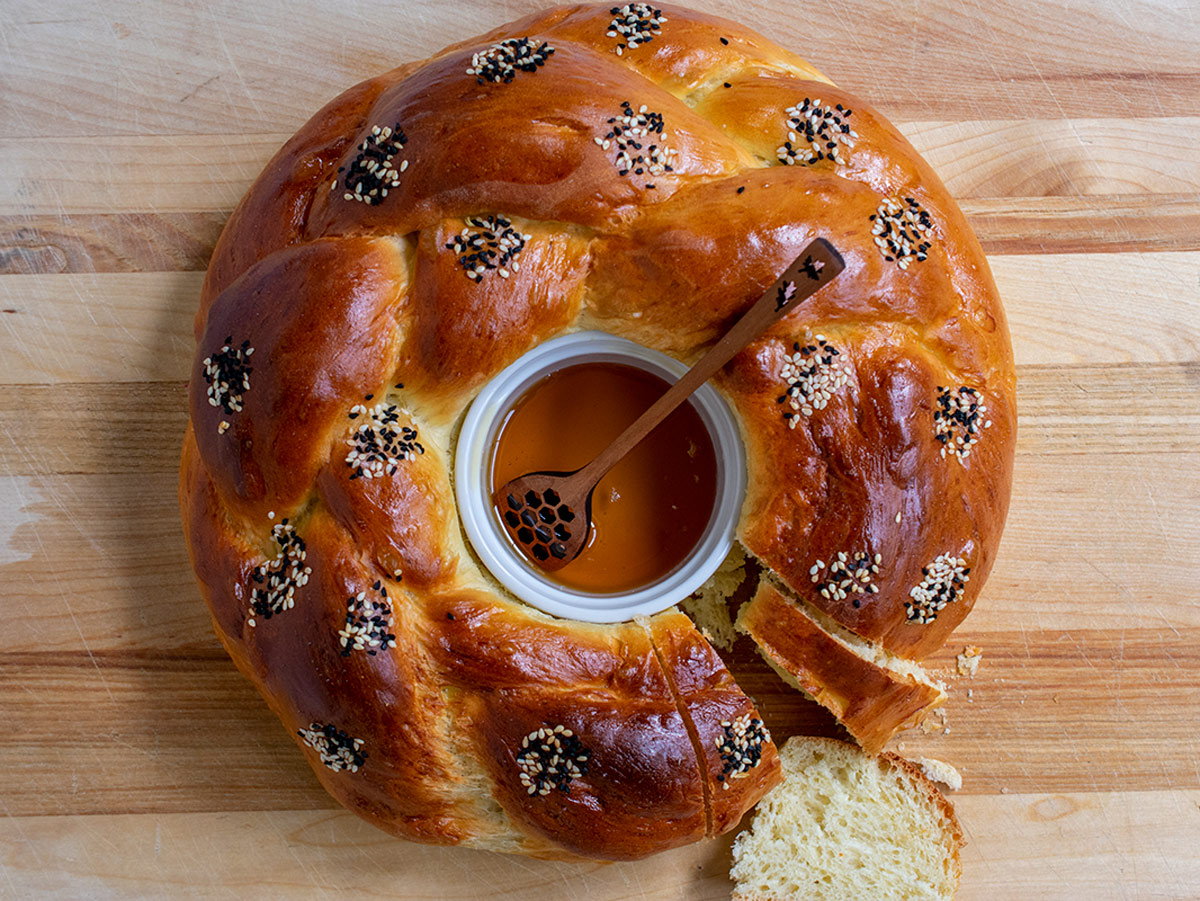 Challah Roll Knot
Length of strand: at least 9 inches
Strand weight: 100 grams each (1/2 for mini rolls)
Challah rolls are lots of fun to make and eat. This braiding technique is really just a knot with connected ends. Form a ribbon shape by folding your challah strand in half and placing the right end over the left. Then grab the end that is underneath and bring it up and through the center hole.
Next, take the other lonely end and connect it to the end that just went through the center. You now have a knotted challah roll.
Here is an Instagram video showing this technique!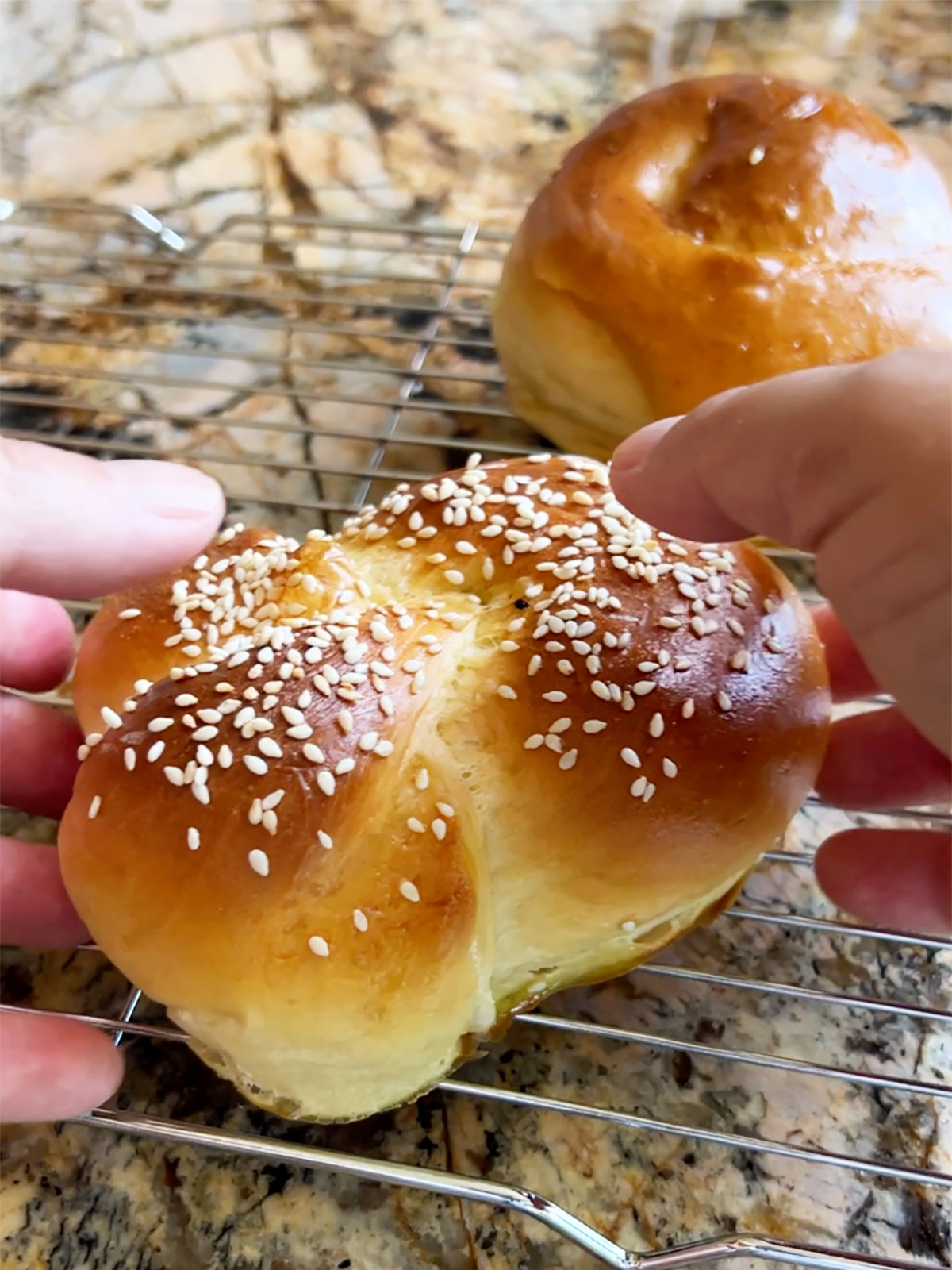 Basic 6-strand Braid PREVIEW
Check out this easy challah recipe that is inspired by a recipe from Joan Nathan. In the post, there is a video showing Joan making a 6-strand braid at a class I attended with her. Even she has to think about it for a minute but ends up with a beautiful loaf.
With a good dough and a positive attitude, challah braiding is easy and fun!