This easy challah recipe scented with orange and anise requires virtually no rise time, unlike traditional challah recipes! You can even make this on a busy day. It also cooks up in the round beautifully for your Rosh Hashanah celebrations.
Another delicious recipe are my challah rolls with apples and currants.
For ease of browsing, here are all of my baking and dessert recipes in one place.
The Tradition of Challah Bread
Every Friday night, Jews around the world celebrate Shabbat. At sundown, 24 hours of rest and reflection begin in a ritualistic way – with candle lighting, breaking and sharing of the challah bread, and blessing and drinking of the wine.
Traditionally, a home-cooked dinner with fresh baked bread is served on Friday night, prepared before sundown. But modern frenetic life gets in the way of this wonderful ritual. In reality, many of us just want to go out for dinner or order in pizza by the time Friday rolls along. And making challah bread from scratch that requires two rises? That just isn't realistic in most busy homes.
Why this recipe is a great alternative
This simple challah recipe is the solution to modern hectic schedules. I learned how to make it from the doyenne of Jewish cooking, Joan Nathan, in a private cooking class at the home of my friend and fellow blogger, Dana of Foodie Goes Healthy. Joan learned this recipe in France while writing her cookbook Quiches, Kugels, and Couscous.
And what a revelation it is. We made this bread in the course of the cooking class from dough prep to fully baked while prepping three other dishes. Why? You can make the dough in a mixer, let it rest for ten minutes, form it into a loaf and put it straight into the oven. Really! And it works every time.
Ingredients for this recipe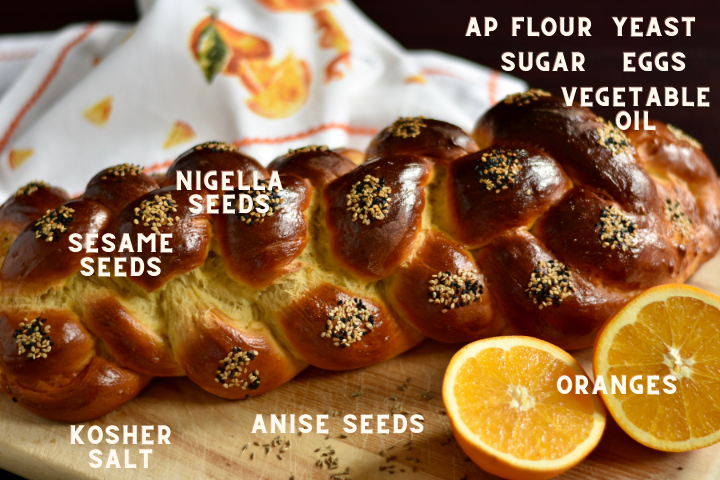 Challah is an egg-based bread, at its most basic. And usually sugar or honey is added for sweetness. Some recipes use bread flour, this one use all-purpose (AP) flour.
Everything is Better with Citrus
My contribution to this recipe is the addition of orange. Anise and orange marry well together – confirmed by a quick look in The Flavor Bible. And while challah bread is ritualistic for Shabbat, this eggy loaf is perfect for so many meals. It's wonderful for sopping up extra juices and oh does it taste good with a dab of butter. Did I mention leftovers make the best French toast and bread pudding you will ever eat?
For this orange version of the loaf, I reduced the amount of anise from the original recipe to allow the orange to shine a bit more. I also used Cara Cara oranges because they were available, but it is not necessary – do not run from store to store trying to find them. Any orange will do the trick.
Growing Accustomed to Anise
I was skeptical when I first saw anise in the recipe. Anise tastes like licorice, which was not my favorite flavor. But in this bread, it perfectly complements the eggy sweetness in an almost mystical way, nearly disappearing during the baking process. Most people taste the bread and can't quite place the flavor but can't stop eating it.
Be sure to buy anise and not star anise, which is a spice that actually looks like a star and is often used in Chinese cooking.
Seedy Alternatives
As for the seeds on top – Joan taught us how to make those fun circular dots but you can skip the seeds entirely, use different seeds, or just sprinkle them on. I incorporate a seed called nigella along with the light sesame seeds. They are often used in Middle Eastern and Indian cooking (you'll see them in Indian stores labeled "kalonji"). Poppy would work well too and is the more obvious choice.
How to make this easy challah recipe
Prep the dough
1. Get the yeast foaming in the mixing bowl. Note that if you are using instant yeast instead of active dry yeast, you don't even need to wait for it to foam.
2. Add the eggs and oil to the yeast mixture and whisk in by hand
3. Now add 7 of the 8 cups of flour, the kosher salt, sugar, anise seeds and orange zest* and let the dough hook do its magic.
4. Watch and listen as it turns around in the bowl – you'll see it transform before your eyes into a supple, stretchy mass. Use your gut and your senses to know when it's done. Feel it – too sticky? Add a bit more flour. Does it spring back when you touch it – it is probably done.
5. Put the dough on a piece of parchment or floured counter top, form it into a round blob, poke a hole in the middle of it and walk away, letting it rest uncovered for about 10 minutes.
*PRO TIP: you can rub the orange zest into your sugar (I learned this from Dorie Greenspan) and that helps it not clump up when you mix it into the dough.
Braid the dough
1. After it rests, divide the dough into equal pieces to braid your loaf. There are many options here – simple 3 strand, 6 strand, divide it into two loaves, make mini loaves. Decide ahead of time what you plan to do and then split it up accordingly. You can eyeball it or if you have a perfectionist tendency and a scale, you can weigh the pieces. For even more ideas on braiding, check out my challah braiding post!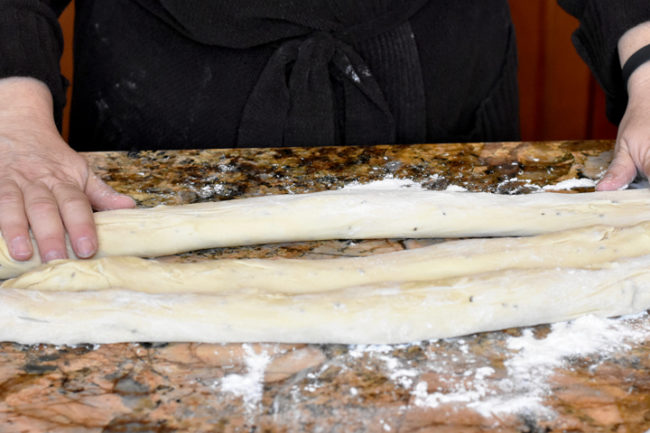 2. Roll out each strand to the same length (20 inches if forming one 3-strand loaf from the dough) and braid, pinching the ends together at the beginning and the end.
Bake the bread
1. If proceeding to bake right away, egg wash the dough and add the seeds. Seeds are optional but they do make a dramatic looking loaf and they are tasty too. You can simply sprinkle them on or use Joan's technique and make the circles by dipping your finger in the egg wash, then the seeds and then onto the loaf.
2. Have time to make the dough but not bake it? No problem, form the loaf, cover it with plastic wrap and put it in the refrigerator. Bake it later. Or put the dough in the fridge unformed, take it out later and form it, egg wash it, and bake it.
3. Follow the instructions in the recipe card for bake times and when it's done, move it to a cooling rack and let it cool before diving in (if you can wait!)
Tips and FAQ

Can you freeze baked challah and/or challah dough?

You can definitely freeze a baked challah – just make sure it is wrapped well to keep the air out and pop it in the freezer. When you defrost it, you may want to put it in a hot oven to crisp it back up.

There are differing opinions about freezing challah dough. But most people agree you should freeze it after the first rise. With this recipe, we don't really let it rise, so I would form it and then freeze it if I were going give freezing a try.
Can you refrigerate the dough?

Yes, I mention in the step-by-step instructions and the recipe, you can definitely form the challahs and pop them in the fridge if you are not ready to bake them yet.
Can you make challah dough the night before?

Yes, you absolutely can – I would form it into your loaf, cover it and pop it in the fridge
Can you make this into a round loaf for Rosh Hashanah?

This recipe makes a gorgeous round loaf for Rosh Hashanah. The simplest method is to braid your loaf as you normally would and then connect it end-to-end in a circle. Want to really impress your guests? Put an oven proof ramekin in the center so when you serve it, you can put honey or butter in the center. It never fails to impress. I didn't invent this idea - just implemented it. You can do it too!

What else can you make with this challah bread?

Challah is a wonderful accompaniment to any meal where there will be gravy or yummy juices to sop up with a piece of bread. It also makes fantastic French toast and the best bread pudding!
How do you pronounce challah?

The CH is pronounced like a guttural h. It is not pronounced like the CH in chair.
What else to serve or make with this recipe
All the briskets!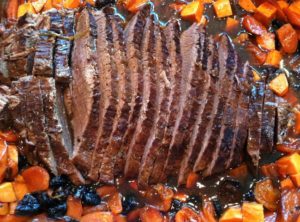 Grab a Slice of Life
Bread is often called the staff of life. I just know it makes the house smell good, warms your soul, and always brings people to the table. Don't let time stand in your way. Try this recipe and you'll be baking bread every week whether you celebrate Shabbat or not.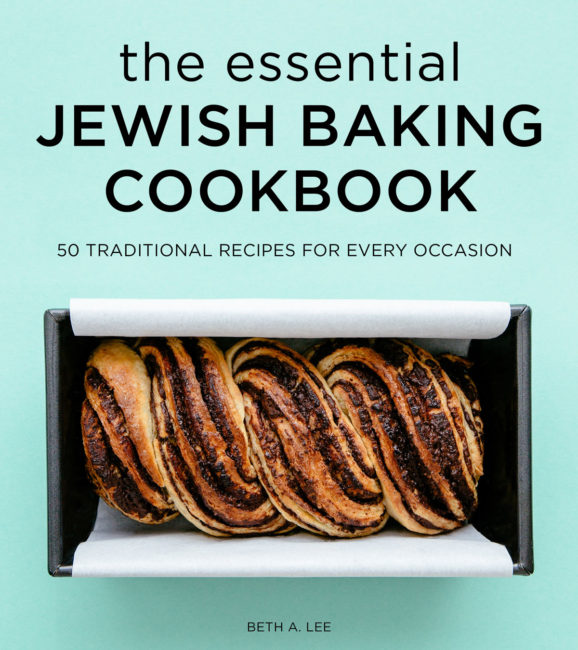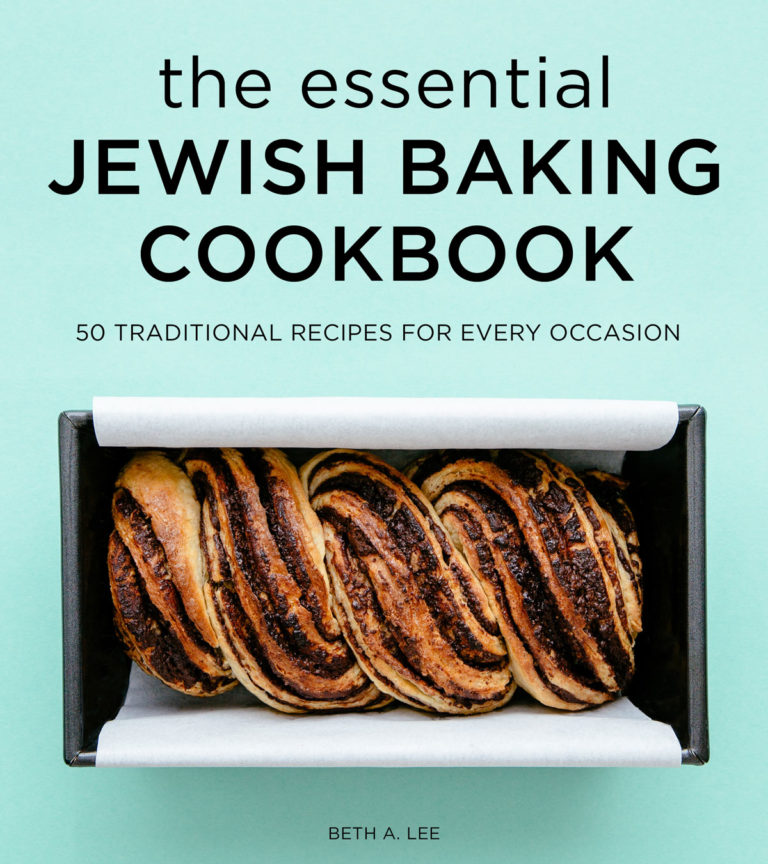 P.S. If you try this recipe, please leave a star rating and/or a review in the comment section below. I so appreciate your feedback! AND find more inspiration on Pinterest, Facebook or Instagram. Signup for my email list, too!
Easy Challah Recipe with a Hint of Citrus
Beth Lee
This easy challah recipe scented with orange and anise requires virtually no rise time, unlike traditional challah recipes! You can even make this on a busy day. It also cooks up in the round beautifully for your Rosh Hashanah celebrations.
Ingredients
.5

oz

active dry yeast

2 envelopes

1

cup

hot water

2

medium

oranges

to make 1 cup of orange juice and 1 tablespoon of zest

3

large

eggs

1 reserved for the egg wash

½

cup

vegetable oil

7-8

cups

flour

plus more for dusting

1

tablespoon

kosher salt

⅓

cup

sugar

1

teaspoon

anise seeds

1

tablespoon

roasted sesame seeds

1

tablespoon

black sesame seeds, nigella seeds, or poppy seeds
Instructions
Prepping the Dough:
Position oven racks in the upper and lower thirds of the oven if you plan to bake two loaves at once or in the center of the oven for one; preheat to 375 degrees, and line 1 or 2 large baking sheets with parchment paper.


Put the yeast in the bowl of a stand mixer equipped with a dough hook, and pour in the orange juice and water. Whisk it (by hand) so the yeast dissolves. Let this stand for a couple of minutes to be sure you see some bubbles or action in the yeast mixture so you know your yeast is alive and well. Then whisk in (by hand) 2 eggs and the oil.

Add 7 cups of the flour, the salt, sugar, anise seeds, and orange zest to the bowl, and beat with the dough hook for a few minutes, until the dough is smooth and elastic, adding flour as necessary. I always end up using just the 7 cups of flour. In my heavy duty mixer, it takes only a minute or two for the dough to come together. But don't go by time, go by look and feel. If you poke it, does it spring back? Does it feel smooth or wet and sticky? If too wet and sticky, add a bit more flour.

Remove the dough from the mixer bowl, form into a round loaf, then poke a 1-inch hole all the way through the center. Let the dough rest uncovered on a floured surface for about 10 minutes.


Use a knife or bench scraper to divide the dough into 6 equal pieces. You can just eyeball it. (Short on time? Make one large loaf with a simple 3 braid look and in this case, just divide it into 3 pieces at this point.)

Braiding the Dough (multiple variations):
If needed, re-flour the work surface. Flour your hands.

If you made 6 equal pieces, roll each piece of dough into a rope about 14 inches long. I form the dough into a cylinder then roll it out with the palms of my hands to about 14 inches long. If it's uneven, I just squish it with my hands to even it out a bit but it doesn't have to be perfect. Repeat with all 6 pieces so you have 6 ropes of dough. Now you can create two loaves of 3 stranded braids each or one large loaf using the 6 strand braid method.

If you divided the dough into 3 equal pieces, roll out each piece into a rope about 20 inches long.

Now braid your challah – whether doing 3 strands or 6, start by pressing together the ends of the strands at one end. Then braid as you would braid someone's hair until you reach the end of the strands. Then squish the ends together and fold under if you want to hide them. Move the braided loaf onto the parchment lined baking tray. Don't be afraid to manipulate the loaf to even it out. It all ends up looking beautiful no matter what!

If you want to do a 6-stranded braid, I included the video of Joan teaching us how to do it in my blog post above.
Baking the Bread:
If you are baking the bread right away, continue with the egg wash and seed placement. If not, cover it with plastic wrap and place it in the fridge until you want to bake it. (Note – if you put it in the fridge, I recommend taking it out and bringing it to room temperature before you egg wash it and bake it.)

Beat the extra egg in a bowl and brush it all over the loaves. Sprinkle the seeds on top or put your mixture of seeds into a small bowl. Then dip your finger into the leftover egg mixture, then into the seeds, then place the seeded finger onto the loaf to create the dots. It's fun and looks great but if you are short on time, just sprinkle the seeds on and that will look fantastic as well.

Bake for 10 minutes at 375 degrees, then reduce the temperature to 350 degrees and bake for 30 minutes longer. If baking two loaves at once, 15 minutes into the 350 degree baking time, rotate the baking sheets top to bottom and front to back. Bake for 15 minutes more, or until the loaves sound hollow when tapped.

Cool before serving.

Notes
Closely adapted from a Joan Nathan recipe
Tips for prepping the orange juice and zest.
To make a full tablespoon of zest you'll probably need to zest more than one orange, depending on the size.

If you zest both and have extra zest, you can put the excess in a small container or Ziploc bag and freeze it for future use.

Squeeze the juice from the oranges – it should come close to 1 cup. If not, you can add store-bought orange juice to make a cup or just use a bit of extra water.

Add hot water to the orange juice to equal up to two cups. Mixing the hot water with the cold juice should yield lukewarm liquid, which is what you want to mix with the yeast.
Nutrition
Calories:
308
kcal
Carbohydrates:
50
g
Protein:
7
g
Fat:
8
g
Saturated Fat:
5
g
Cholesterol:
26
mg
Sodium:
448
mg
Potassium:
142
mg
Fiber:
2
g
Sugar:
7
g
Vitamin A:
105
IU
Vitamin C:
17
mg
Calcium:
31
mg
Iron:
2.9
mg