Rosh Hashanah, the Jewish New Year, is a celebration of hope for a sweet new year. And of course, food is the center of family celebrations. Here are Rosh Hashanah menu ideas including main courses, desserts, sides and more.
Celebrate the Jewish High Holidays with Food
Despite lofty aspirations to have all menu planning, shopping and some cooking completed early, I usually rush around at the last minute to prepare for our annual Jewish New Year gathering.
Guessing that I am not the only who finds herself in this situation, I've put together recipes, tips, and tricks to make your last-minute rush to prepare a little less frantic.
The Main Course for the Jewish New Year
Beef Brisket
If brisket is part of your Rosh Hashanah menu, my recipes are tried and true methods that easily feed hungry, temple-weary eaters. And remember, brisket can be prepared several days in advance or can be frozen for weeks.
Roasted Chicken
Rather serve chicken? Chicken also can be made ahead of time and frozen or you can prep your chicken in the roasting pan in the morning or a day ahead, and just cook it right before dinner. Here are several recipes to try:
Vegetarian Options for Rosh Hashanah Dinner
Offer hummus (homemade or store-bought) with fresh salads – perhaps one leafy, one vegetable based and one grain-based. All of these dishes do double duty as sides for your meat eaters as well. Want to serve something hot? How about a hearty soup or vegetable wellington that is always a huge hit at Thanksgiving but works anytime of the year.
Apples and Honey
Apples and honey are traditionally eaten as a symbol of a sweet new year. They are also the simplest of appetizers or desserts to offer your guests. Add some extra interest to your platter by trying a new variety of apple from the farmers' market or a local raw honey. Still just as simple to serve but a chance to experience some new flavors and textures.
Round Challah
Challah in the round is the traditional bread during Rosh Hashanah – the circular loaf symbolizes the cycle of the seasons and life. You can make your regular challah recipe and just prepare it in the round. You can also augment with a touch of honey or some raisins and cinnamon. Here are three recipes – one is traditional, the other is a no-rise method that you can prepare even when you are short on time and the third is a challah roll recipe I developed during the pandemic and is included in my new book!
But if baking is just not an option, Trader Joe's usually carries some excellent challah. Check other local stores like Whole Foods or your nearest bakery — you might find they are carrying the special round loaves as well.
Kugels – Sweet and Savory
Traditional sweet noodle kugels with or without cheese (depending on your desire to keep the meal strictly kosher) are often served at Rosh Hashanah or for break the fast at the end of Yom Kippur. They are also a big hit with picky kid eaters in the mix. Here is an old article written by Cheryl Sternman Rule showing three different kugels – one without dairy that is appropriate for a kosher meal with meat, one traditional and creamy and one in the Jerusalem style using very thin noodles like cappellini.
Want a savory kugel instead? Try my potato kugel. The year I developed this recipe and served it at our annual dinner, not a morsel was left.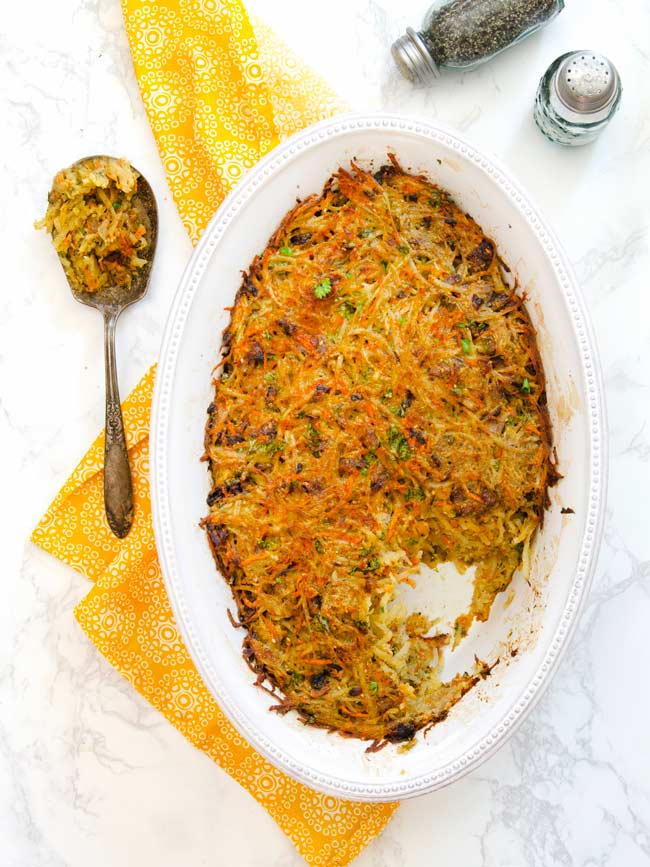 Side Dishes for Rosh Hashana Meals
Pomegranates are a fall fruit and also symbolize good deeds. They are a wonderful addition to your Rosh Hashanah meal – from a decoration on your table to all the delicious dishes you can create using the seeds, the juice, and the derivatives you can make from the juice – like syrup and molasses. Check out my pomegranate molasses page and Family Spice's pomegranate page for lots and lots of ideas for seasonal pomegranates.
Figs are also in season in late summer and fall – don't forget the figs! And they pair well with pomegranate.
Rosh Hashanah Desserts
The classic choice is a honey cake or an apple cake. Figs and pomegranates are also stars at this holiday. But since I am all about learning the tradition and then riffing from it, I developed a pear cake recipe.
And think about short cuts – poached or baked apples would be an easy make ahead option. Sprinkle them with some pomegranate seeds and they'll be gorgeous! Or throw together an apple strudel by using puff pastry – a quick and easy way to prepare a hot-out-of-the-oven dessert without much advanced preparation.
I hope these ideas turn your rush into Rosh Hashanah into a calmer, peaceful, sweet start to the new year. What's your best tip for preparing for a family gathering on short notice?