"… the minute you taste the saffron in a dish, there is too much."
(Michel Richard, Citronelle, Wash DC quoted in "The Flavor Bible")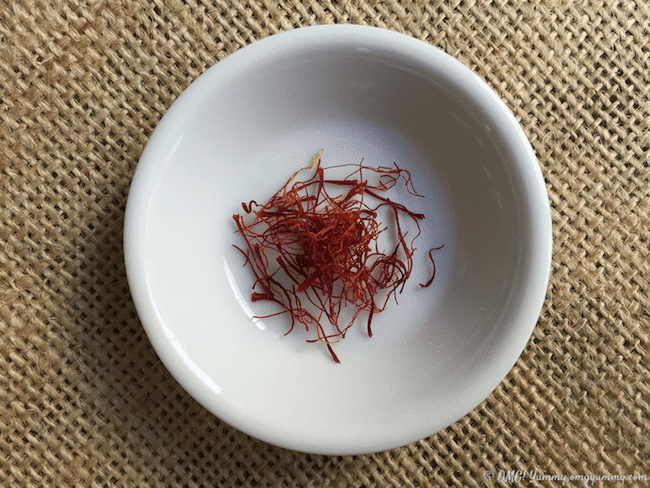 Well that's good to know since this colorful, aromatic spice can cost as much as $3,000 per pound! Yet it is on Louisa Shafia's list of essential Persian ingredients in her book The New Persian Kitchen. Saffron has such a distinct, delicate, flowery taste, Shafia says. "Light, fluffy, perfectly cooked rice is a part of almost every Persian meal, and rice is almost always seasoned with saffron."
Ottolenghi and Tamimi use it in seven dishes in Jerusalem: A Cookbook and Ottolenghi calls it out in four dishes in Plenty More. So for November 2014, this exotic spice is the topic – make it a splurge for your elegant holiday meals.
In case you are not already familiar with this pricey, orange-red spice, it is actually the red stigma you see when you look at a crocus flower. Each strand has to be hand-picked and it can take as much as 70,000 flowers to make just 10 pounds of dried saffron.
Alan Davidson's The Oxford Companion to Food describes saffron as having a "spicy, pungent, bitter taste and tenacious odour."
In just the right small amount, it imparts a wonderful flavor and stunning color to a dish.
Two Types of Saffron
When you shop for saffron, you will usually find two types – either of Persian origin or from Spain. According to The Oxford Companion to Food: It was first cultivated in Western Asia, particularly Persia. Cultivation dates back to the 3rd century. In the 13th century, cultivation spread to Italy, France and Germany.
Expert Advice on using Saffron
From Paula Wolfert's The Food of Morocco: For the best flavor, saffron should be brittle before being pulverized. To do this put in a warm pan on a very low heat. When brittle, they're ready to be pulverized with a mortar and pestle. Wolfert recommends turning saffron into saffron water—saying it's economical and brings out more of the aroma and flavor than adding the threads to a dish. To make it, dry ½ teaspoon crumbled strands in warm skillet. Crush, then soak in 1 cup hot water. Store up to a week in the fridge. (You can also freeze it into ice cubes)
Similar to Wolfert, Shafia says: "Grind up the saffron in a mortar and pestle and let it steep in hot water, milk, butter, or stock before using."
Further confirming Wolfert and Shafia, an article from the Huffington Post by Julie R. Thomson says that saffron begins to release its flavor in hot liquid in 20 minutes but continues to do so for 24 hours and that's why many dishes with saffron in them taste even better the next day.
Saffron Recipes from "Jerusalem":
Fava Bean Kuku, pg 39 (photo courtesy of Yumivore)
Saffron rice with barberries, pistachio and mixed herbs, pg 105
Seafood and fennel soup, pg 136
Pistachio soup, pg 138
Roasted chicken with Jerusalem artichoke and lemon, pg 180 - this is an approved recipe to print from Ten Speed Press so see below for the recipe in case you don't have the book! This would be a lovely main course for a holiday gathering like the Jewish New Year (Rosh Hashanah) or any festive or regular dinner where chicken fits the bill.
Saffron chicken and herb salad, pg 188
Poached pears in white wine and cardamom, pg 267 (photo by Orly - @yumivore on Twitter/Instagram)
Saffron Recipes from "Plenty More":
Saffron, Date, and Almond Rice, page 49
Zucchini and Fennel with Saffron Crumbs, page 140
Crispy Saffron Couscous Cakes, page 205
Winter Saffron Gratin, page 271
Roasted Chicken with Jerusalem Artichoke & Lemon
Beth Lee
The combination of saffron and whole lemon slices not only makes for a beautiful-looking dish but also goes exceptionally well with the nutty earthiness of the artichokes. This is easy to prepare. You just need to plan ahead and leave it to marinate properly.
Ingredients
1

lb

Jerusalem artichokes (450 g)

peeled and cut lengthwise into 6 wedges ⅔ inch / 1.5 cm thick

3

tablespoon

freshly squeezed lemon juice

8

skin-on

bone-in chicken thighs, or 1 medium whole chicken, quartered

12

banana or other large shallots

halved lengthwise

12

large cloves garlic

sliced

1

medium lemon

halved lengthwise and then very thinly sliced

1

teaspoon

saffron threads

3½

tablespoon

olive oil

50 mL

⅔

cup

cold water

150 mL

1

tablespoon

pink peppercorns

lightly crushed

¼

cup

fresh thyme leaves

10 g

1

cup

tarragon leaves (40 g)

chopped

2

teaspoon

salt

½

teaspoon

freshly ground black pepper
Instructions
Put the Jerusalem artichokes in a medium saucepan, cover with plenty of water, and add half the lemon juice. Bring to a boil, lower the heat, and simmer for 10 to 20 minutes, until tender but not soft. Drain and leave to cool.

Place the Jerusalem artichokes and all the remaining ingredients, excluding the remaining lemon juice and half of the tarragon, in a large mixing bowl and use your hands to mix everything together well. Cover and leave to marinate in the fridge overnight, or for at least 2 hours.

Preheat the oven to 475°F / 240°C. Arrange the chicken pieces, skin side up, in the center of a roasting pan and spread the remaining ingredients around the chicken. Roast for 30 minutes. Cover the pan with aluminum foil and cook for a further 15 minutes. At this point, the chicken should be completely cooked. Remove from the oven and add the reserved tarragon and lemon juice. Stir well, taste, and add more salt if needed. Serve at once.
Notes
Reprinted with permission from Jerusalem: A Cookbook by Yotam Ottolenghi and Sami Tamimi, copyright © 2012. Published by Ten Speed Press, a division of Random House, Inc.
Nutrition
Calories:
557
kcal
Carbohydrates:
47
g
Protein:
35
g
Fat:
27
g
Saturated Fat:
5
g
Cholesterol:
139
mg
Sodium:
1347
mg
Potassium:
1594
mg
Fiber:
7
g
Sugar:
17
g
Vitamin A:
775
IU
Vitamin C:
42.9
mg
Calcium:
250
mg
Iron:
10.9
mg
Want to Learn more about Middle Eastern Ingredients?
I started a virtual cooking group with my lifelong friend Sarene Wallace in 2013 to explore the unique flavor profile and recipes of Middle Eastern cuisine through the lens of Jerusalem: A Cookbook by Yotam Ottolenghi and Sami Tamimi, published by Ten Speed Press.
We picked a different ingredient each month to learned all about it by sharing information in these posts and by cooking the recipes that used it. Sarene and I believe that learning about new-to-us ingredients develops the courage to try new cuisines and recipes. We continue to be inspired by the flavors introduced in the iconic Jerusalem cookbook. And clearly we are not the only ones. Middle Eastern ingredients are on the rise in usage both at home and in restaurants.
You can find all the deep dive posts about the ingredients here. To join our ongoing conversation about the latest delicious happenings in the world of Middle Eastern cuisine, follow our Facebook page or join our newly-formed cooking group, where you can ask questions, brag about your creations, and join the conversation with other like-minded cooks throughout the world. If you are on Instagram or Twitter, use our hashtag #TastingJrslm. Or find Beth under the handle @omgyummy and Sarene @fringe.food .
All levels of cooks are welcome from novice to chefs – the only requirement is an interest in ingredients, cooking, and the cuisines of the Middle East! So join the conversation as we explore the vibrant flavors of the Middle East.