Learning to dry brine turkey will change your Thanksgiving game forever. This method yields a juicy bird every time and cooks up with a crispy beautiful skin you'll be proud to present to your guests every time.
Fourth Installment of Thanksgiving Basics
Welcome to episode four of Thanksgiving Basics – How to Dry Brine Turkey. I kicked off this much-anticipated series with Homemade Turkey Stock, followed by the simple but game-changing DIY Stuffing Cubes. Then I put them together in our family's tried and true Sage Sausage, Cornbread, and Challah Stuffing.
Now we dive into the meat of this subject – how to put a juicy bird on the table every Thanksgiving. No uncooked giant turkeys placed into coolers filled with ice water. No basting every half hour. Or turning the bird upside down in a 400 degree oven. After years of trying all of the above and still ending up with overcooked, undercooked, (or both) turkeys, we took extreme measures and tried something new – a dry brined turkey.
I happened upon Russ Parson's article in the Los Angeles Times explaining how the late Judy Rogers of San Francisco's Zuni Café dry brines her famous chicken. He extrapolated that technique to turkey and the quality of our Thanksgiving Day meal has never been better.
What is a Dry Brined Turkey?
A dry brine turkey is essentially a salted bird. You use approximately one tablespoon of salt for every five pounds of turkey. So a fifteen pound turkey requires about three tablespoons of salt. If your weight doesn't divide equally into multiples of five, no worries. You can make an educated guess and it will work out fine.
You can add other flavors in with the salt such as citrus zest and dried herbs and spices. (more on that below). Then you use your hands or a mortar and pestle to mix it all together before you rub it on the turkey.
How to Dry Brine Turkey
Four days before Thanksgiving prepare your salt mixture. You really just need kosher salt but I like to add some flavor to it – smoked paprika and orange zest. You can also add other flavors like sage or rosemary or thyme. But the salt is really doing all the work – drawing moisture out of the skin and concentrating moisture in the breast meat where you need it the most.
Just rub a bit of the salt mixture inside the cavity and then rub the rest all over the exterior.
Put the turkey in a large bag, rest it in a roasting pan, and place it in the fridge.
Then just let it sit. The day before the big day, turn it upside down on its breast.
The day of — remove it from the bag when you wake up, turning it breast side up, and let it sit uncovered in the fridge until an hour before you plan to cook it.
If you are more of a visual person – here's all that broken down in a nice chart showing you what to do leading up to the big feast day. Once you put the turkey in the bag, you are done with prep and can focus on other things! (double click on the chart for a printable pdf)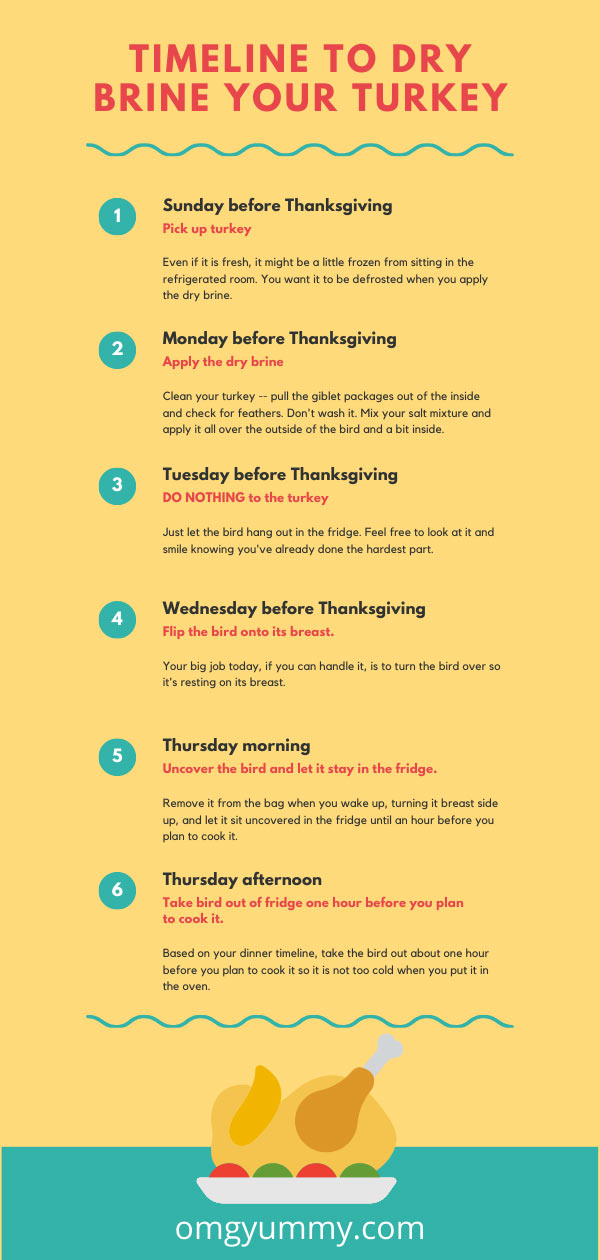 Will a Dry Brined Turkey Taste Salty?
No it will not taste salty at all. In fact you can't even feel the salt on the bird by Thanksgiving Day. And you do not need to rinse it! Can I repeat that for emphasis? You do not need to rinse the turkey before you cook it.
Does a Dry Brined Turkey Cook Faster?

OR Can you run a 5K on the day of Thanksgiving and still host 15 people?

Why yes it does and yes you can! Make your guests bring some side dishes, prepare your stuffing ahead of time, and with this method, your 18-20 lb turkey is ready in about 2 hours. While it rests, we cook the sides and finish making the gravy. So go ahead and sign up for your local Turkey Trot 5K.
Tips and Tricks to Dry Brine and Roast your Turkey
For the brine:
Plan to pick up your turkey the Sunday before Thanksgiving so you can start the dry brine process Sunday night or Monday morning.
Even if you order a fresh turkey, it is sometimes partially frozen so leave yourself a little time to make sure it is completely thawed.
Do not buy an injected or pre-brined turkey for this method. You want a turkey that has nothing added to it.
That pack of extra turkey parts? Don't throw it out. You can use everything but the liver to make stock. If you already have your stock, freeze the parts for another time.
I am lucky to have an extra refrigerator in the garage to put the turkey in while it brines. If you don't, clear a spot before you start the process where it can sit for a few days.
I buy plastic brining bags to place the turkey in after I salt it – if you are making a turkey smaller than 18 – 20 pounds, you can probably use a Reynolds roasting bag as you see in my pictures and just cinch it up with a twist tie. But I usually buy the bags meant for wet brining because they are large enough to easily fit a bigger turkey, are heavy duty, and close up nicely.
For the roasting:
For roasting, I use a pan that my husband can also use to make the gravy. When the turkey reaches temperature, we take it out, carefully move it to a cutting board, then put the roasting pan on the stove top for the gravy making. My husband uses the goodies that have collected on the pan bottom to add even more flavor to his gravy.
We tried many ways of roasting, but have settled on an Alton Brown-inspired method starting with high heat for 20 – 30 minutes. Then we turn it down, cover the breast with a pre-sized piece of foil, set the temperature probe and forget about it until it hits 151 in the thickest part of the breast. (see note in recipe about our choice to remove it at 151 degrees – best practices suggest breast meat should be 165 degrees when fully cooked. For a large bird, we find it reaches temp perfectly when we remove it at 151 degrees and let residual cooking bring it up to temp. Many recipes suggest between 155 and 160 as the target to remove it from the oven.)
Recommended Products to Dry Brine a Turkey:
This post contains Amazon affiliate links – if you click on one and purchase something, I receive a very tiny percentage of the sale. Your price is never affected.
Also check out my Amazon shop that includes some of my favorite food and food-related products. I am always updating it – please visit often. And let me know if you need specific products recommendations – I am happy to help!
Thanksgiving Recipes to Accompany the Turkey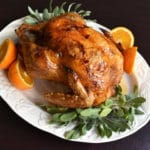 Dry Brine Turkey - The Easiest Method for Perfect Turkey Every Time
No more messy wet solutions or dry white meat on Thanksgiving Day. This method is full-proof and easy, delivering juicy, perfectly-cooked turkey each and every time.
Total Time
2
hours
45
minutes
Ingredients
1

18-20 pound

turkey

or any size you choose
Brine
3.5

tablespoons

kosher salt

(1 tablespoon for every 5 pounds of turkey)

1

teaspoon

smoked paprika

zest

half of an orange

1

teaspoon

dried sage, thyme, or rosemary

optional
Roasted Turkey
1-2

quartered

oranges

a few

sprigs

sage, thyme, or rosemary

1-2

tablespoons

high heat oil

such as canola or grapeseed
Instructions
To Dry Brine:
Prepare your salt mixture based on the ratio of 1 tablespoon of kosher salt to every 5 pounds of turkey. If you are adding other flavors as I suggest, mix them all together in a small bowl using your hands to infuse the salt with the herbs and spices. Or you can put it in a mortar and pestle to combine.

Be sure you have your brining bag ready to go and your pan fits in your fridge and is big enough for the turkey.

Clean your turkey. I check for feathers and remove the neck and giblet packets. Generally the turkey I buy is clean and ready to go. I used to give it a rinse but recommendations now are to not rinse your raw chicken or turkey. I still pat it dry and then apply the salt mixture. First to the bottom of the bird and then all over the breast, sides, wings, and thighs. Rub it on especially well all over the breast area.

If there is another human in the house, have them open up the bag nice and wide so you can slip the turkey in. Close it up, put it in the roasting pan and put it in the fridge breast side up. (I put it in a pan so it is easy to move around and I'm not trying to hold onto an oddly shaped bird)

The day before Thanksgiving, flip it onto its breast.

The day of Thanksgiving, flip it back to breast side up, take it out of the bag and let it sit in the fridge uncovered until 1 hour before you plan to roast it.

You do not need to rinse the salt off the turkey. Place it on a rack in your roasting pan.
To Roast the Turkey:
Preheat the oven to 450 degrees convect or 475 degrees conventional. Be sure your racks are set so the turkey pan will fit!

Rub some oil over the outside of the turkey to aid in browning.

Put some aromatics in the cavity – the sliced oranges and herbs of choice.

Before you put the turkey into the oven, form a foil cover that fits the breast so you can protect it from burning after the high heat portion of the cooking.

When the oven comes to temperature, place the turkey in and let it brown for up to 30 minutes. I like to check it at 20 minutes. Remember every oven is different. You want to see it getting brown all over the outside and start hearing the sizzling of some fat dripping off.

Then turn the oven down to 325 convect or 350 conventional. Place the foil protector on the breast, insert the temperature probe if you are using one and let it cook until the breast reaches 151 degrees. **

When you remove the bird and let it rest, it will continue to cook. We have found 151 to yield a perfectly cooked turkey all over from breast to dark meat, year after year.
Recipe Notes
** The recommendation for safe temperature for cooked turkey meat is 165 degrees internal temperature. And most recipes tell you to take it out between 155 degrees and 161 degrees. For us, 151 degrees works. A large bird keeps cooking even more than a smaller one and we usually let it sit as long as 45 minutes because of cooking sides and gravy. Thanks to the dry brine, it is harder to end up with a dry bird. But you have to adjust your final cooking temperature to your size bird and oven. For sure - once it reaches 151, the temp goes up very quickly. So watch it closely at the very final stage.