Just as cauliflower comes in more than just beige, it also lends itself to many cooking methods. This post will show you my favorite method – roasting - with a focus on a gorgeous head of green cauliflower!
I first wrote about roasting vegetables in 2010 as I was cooking my way through a heat wave. I am so enamored of roasting vegetables and fruit that I'll roast cauliflower or any type of produce all year long – whether it's icy cold or horribly hot.
Another great side dish is my braising broccolini recipe.
For ease of browsing, here are all of my side dish and soup recipes in one place.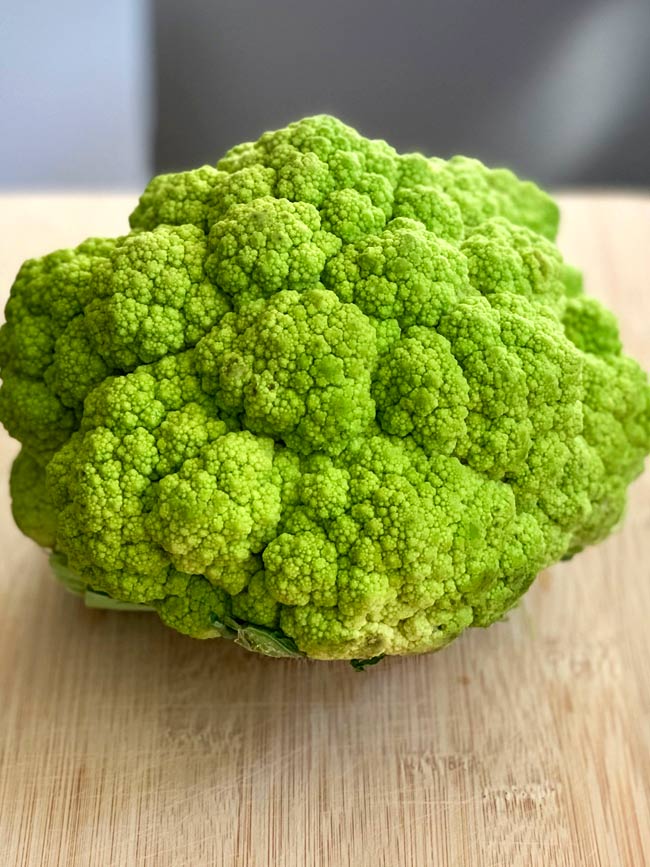 This post contains Amazon affiliate links – if you click on one and purchase something, I receive a very tiny percentage of the sale. Your price is never affected.
Green Cauliflower: Inspiration from the Farmer's Market
On a visit to the farmer's market, I realized not everyone thinks of popping their cauliflower in the oven. A woman was staring at the gorgeous cauliflowers in green, purple, and off white, pondering her purchase.
I struck up a conversation and she asked me how to cook the cauliflower. I suggested roasting and she looked at me a bit surprised. "Really? What do you flavor it with and how long do they need to cook?"
Well since you asked ….
How to Cook Green Cauliflower (or any color)
Preheat your oven to 400 degrees or 375 degrees convect
I start by cutting the heads into florets.
Then I pop them on a parchment-lined pan (a huge timesaver for clean-up), drizzle them with olive oil, salt and pepper.
Then I place them in the oven on 375 degrees convect roast or 400 degrees regular bake. About 15 minutes later they will be ready – a bit crunchy on the outside, just tender on the inside, and completely devoured by the end of dinner.
When I take them out of the oven, I drizzle them with lemon juice (normally I have meyer lemons). Then we usually grab them straight from the parchment to add to our dinner plates.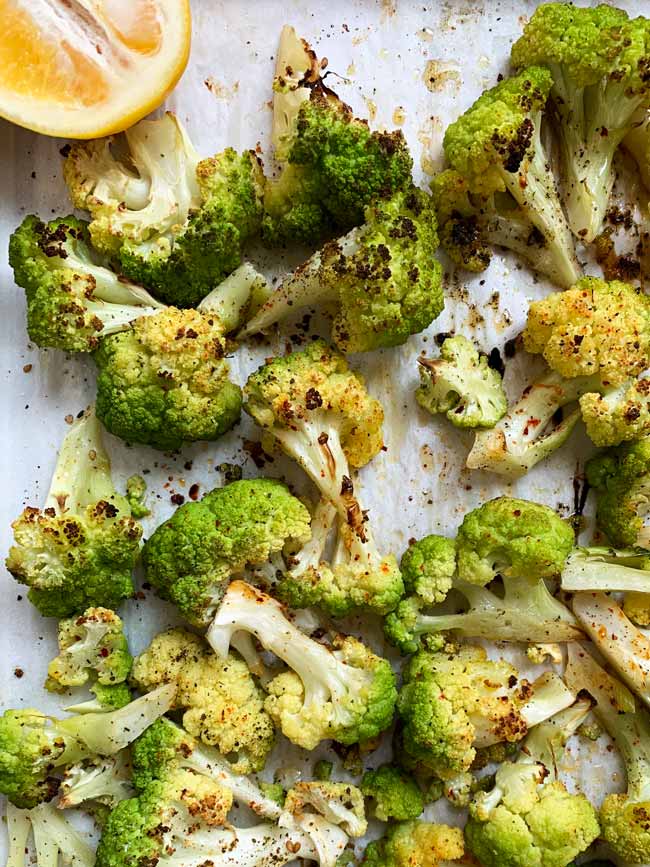 How should I flavor my cauliflower?
Other flavor choices could be za'atar – a middle-eastern spice blend – which tastes glorious on cauliflower. Parmesan cheese added before or after roasting marries beautifully with the lemon juice. Or how about a bit of that pistachio dust from the cookbook RIPE by Cheryl Sternman Rule?
You can also add other veggies that will cook in similar time frames such as broccoli or carrots. Think about what your main course is, what's in your veggie and spice drawer and just draw inspiration from those elements.
But honestly, the olive oil, salt, pepper, and lemon juice will work with almost any main course and bring out the best of the cauliflower every time.
What's the Difference between Green Cauliflower and Romanesco?
Both green cauliflower and romanesco are sometimes called broccoflower, both originating as hybrids of broccoli and cauliflower. Romanesco looks like a head of green cauliflower with elegant pointy adornments added on. If you are into math, you'll appreciate that many compare the look of romanesco to fractals.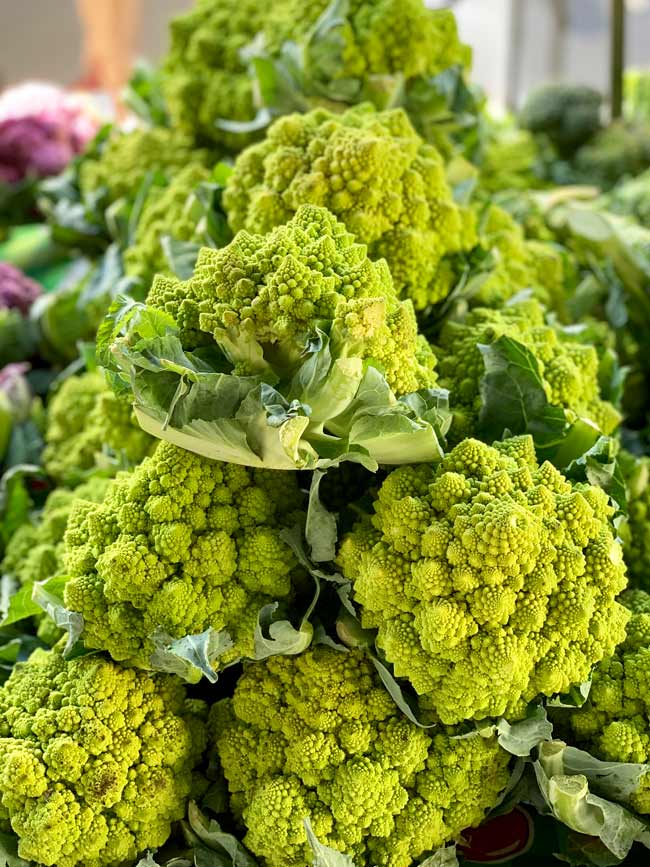 Different Colors, Same Taste?
Taste-wise, both green cauliflower and romanesco taste milder than regular white cauliflower, making them both good candidates to eat raw on a crudites platter. For the sake of cooking, though, you can use romanesco and green cauliflower almost interchangeably with any other color of cauliflower in a recipe. To be honest, if I did a blind taste test, I'm not sure I could tell the difference.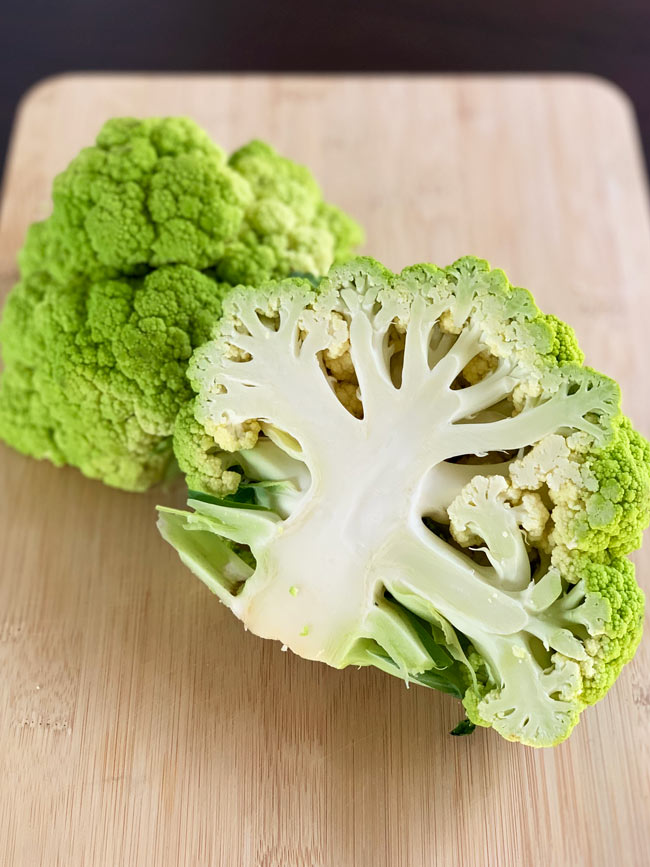 But, the more vibrant colored cauliflowers - purple, yellow and green - contain more antioxidants. So go ahead and eat the rainbow, as they say, it's good for you!
Don't forget roasted cauliflower when preparing your holiday dinner menus - it makes a nice side dish with so many proteins and pairs so well with other vegetables.
More Cauliflower Recipes!
Roasted Cauliflower and Brussels Sprouts
Roasted Whole Cauliflower with Za'atar
Roasted Whole Cauliflower with Alfredo Sauce
Orange and Purple Whole Roasted Cauliflower
Cream of Cauliflower Soup with Browned Butter
What's your favorite cauliflower preparation? Have you ever roasted it? Have you ever tried the other colors and do they taste the same to you as white? Leave a comment below - let's talk about cauliflower!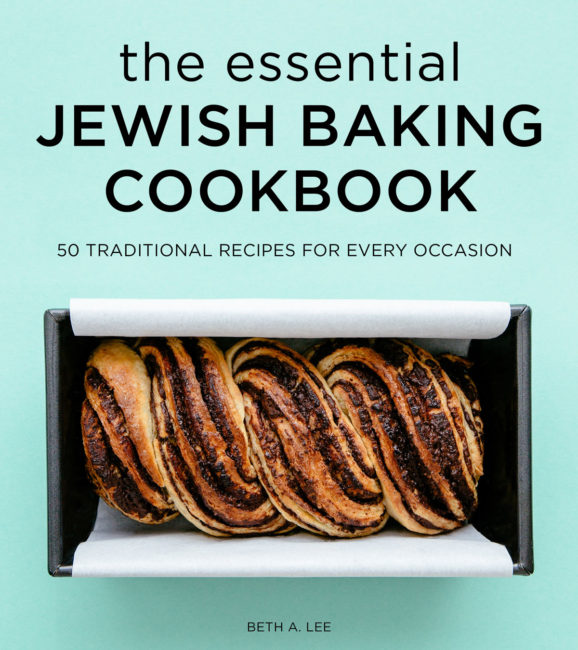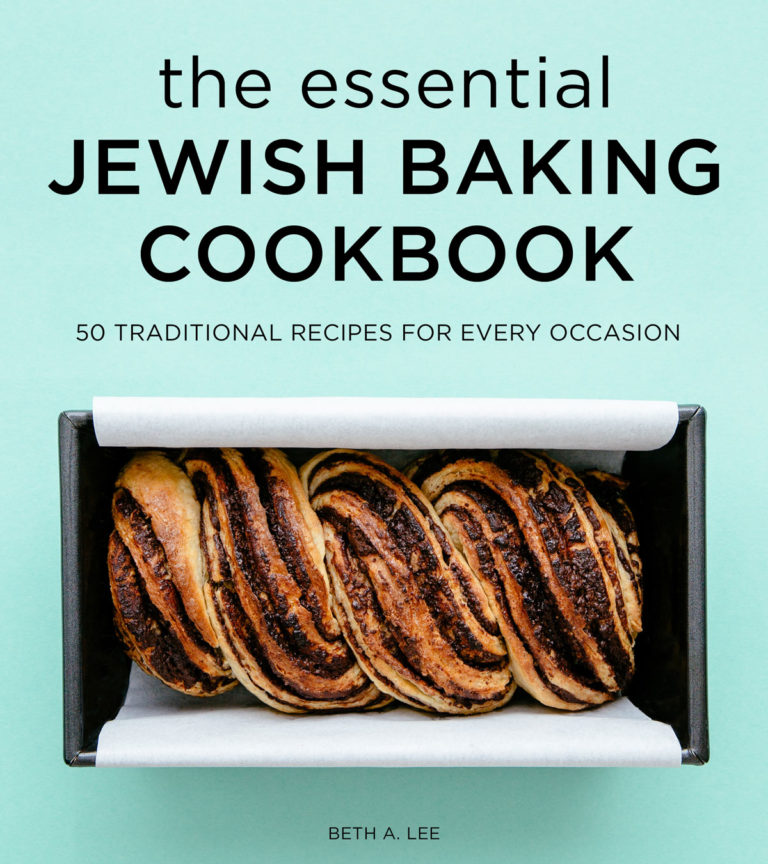 Also check out my Amazon shop that includes some of my favorite food and food-related products. I am always updating it – please visit often. And let me know if you need specific product recommendations – I am happy to help!
P.S. If you try this recipe, please leave a star rating and/or a review in the comment section below. I so appreciate your feedback! AND find more inspiration on Pinterest, Facebook or Instagram. Signup for my email list, too!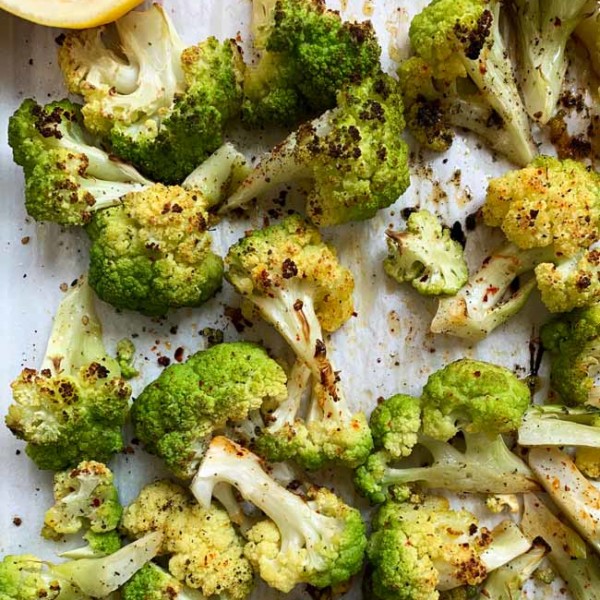 Roasted Green Cauliflower (or any color!)
Beth Lee
Roast your way to a delicious side dish with this simple preparation - versatile enough to use with many other vegetables as well.
Ingredients
1

large head cauliflower or 2 small

2

tablespoons

olive oil

1

teaspoon

kosher salt

1

teaspoon

pepper

2

tablespoons

meyer lemon juice

from half a medium lemon
Instructions
Preheat the oven to 400 convection roast (if you have this setting) or 425 degrees regular cook.

Cut the cauliflower into florets - relatively the same size. Spread them on a parchment-lined sheet pan.

Drizzle about 2 tablespoons of olive oil all over. Sprinkle with salt and pepper to taste (about 1 teaspoon each) then mix the florets around a bit to be sure they are evenly coated with the oil and salt and pepper. If you want to add other spices such as za'atar or cayenne, now is the time to do so!

Cook for about 10 - 12 minutes, open the oven door, and check for tenderness with a fork and move them about with some tongs. Cook for about 5 - 8 minutes more depending on how hot your oven is and how large you cut the florets. Remove from oven when crisp but tender (pierce with a fork to check).

Drizzle all over with lemon juice immediately, then serve piping hot or let sit until the rest of the meal is ready. They are delicious even at room temperature.
Nutrition
Calories:
101
kcal
Carbohydrates:
8
g
Protein:
3
g
Fat:
7
g
Saturated Fat:
1
g
Polyunsaturated Fat:
1
g
Monounsaturated Fat:
5
g
Sodium:
625
mg
Potassium:
444
mg
Fiber:
3
g
Sugar:
3
g
Vitamin A:
3
IU
Vitamin C:
72
mg
Calcium:
35
mg
Iron:
1
mg