Chocolate Rugelach is our family's trademark baked good. Over the years, we perfected our techniques. But you don't need years to learn – just read this post or my orange cranberry rugelach recipe and you'll be a rugelach expert in no time at all! (Post first published Dec 2010, updated Dec 2019)
Award Winning Chocolate Rugelach
Everybody has a food story. If our family had to choose just one story – it would be about these chocolate rugelach with currants and apricot jam. We've been making them since December 1990 when we found the original recipe in a Hanukkah article in Food and Wine by Susan Shapiro Jaslove.
When our chocolate rugelach won our favorite cookie baker's stamp of approval we knew we would have to make these little rolled pastries forever. We've tweaked the technique over the years and I've experimented with different ingredients for the filling. But the combination of a chocolate-based filling with the tangy apricot jam is always our family favorite.
What does the word Rugelach mean?
Rugelach is a Yiddish word that means "little twists". Some believe that the origin is the Polish word "rogal" that means royal. I'm going with the little twists definition because it just makes sense to me.
How do you Pronounce Rugelach?
There is an alternative spelling with an "a" – rug.a.lach. Many pronunciation guides suggest it's a long U in "ru", then a short E or A "ge" or "ga", and then a "la" (as in fa la la) with a guttural CH sound at the end. I'll admit I may not always pronounce it correctly as you can see by the name we gave our rugelach one year: Uncle Dougalah's Rugelach. No matter how you pronounce it, just make some – they're addicting and delicious.
What is Rugelach?
Rugelach is a traditional Jewish pastry, small enough to be eaten in one or two bites, with a rich butter, cream cheese, and in this case sour cream dough. This chocolate rugelach is filled with a mixture of nuts, currants, chocolate, and cinnamon sugar and lined and topped with apricot jam. But it turns out that rugelach dough is not always cream cheese-based.
What makes Rugelach Dough Different than other Doughs?
Rugelach dough, as we know it in the United States, is cream cheese-based with no yeast. The use of cream cheese in dough apparently was a marketing effort by Kraft (Philadelphia Cream Cheese) and Borden as a way to simplify the dough making process. Who exactly made the first cream cheese dough rugelach is not clear but it happened around 1939. If you are a food history buff, you can read more details in this Tablet article.
The original rugelach style pastries were yeast-based and originated in Eastern Europe. Interestingly, If you go to Israel today, rugelach there is still made with yeast. They look like mini chocolate croissants with a shiny glaze.
Another unique element of rugelach dough is that it has very little or no sugar in it. This less sweet dough balances a sweeter and very flavorful interior.
What is the Difference between Rugelach and Schnecken?
My rugelach dough recipe has a bit of sour cream in it based on the original recipe in Food and Wine. Upon doing more research on the origin of cream cheese rugelach dough. I discovered a German pastry called Schnecken. Schnecken means "snail" and refers to the rolled-up style of the schnecken pastry that some believe is similar to a rugelach.
But schnecken dough is sour cream based! Perhaps this dough's origin was influenced by a schnecken dough with sour cream in it. In any case, I love the texture and tang of the dough with both the cream cheese and sour cream and have never wanted to make it any other way.
What is the Classic Rugelach Filling?
The most common filling includes nuts, cinnamon, and sugar and possibly some raisins or currants. But the addition of chocolate takes these to a whole new level. And the jam, whether apricot or raspberry or a whole host of other choices adds another layer of complexity to each little bite.
What is the Traditional Holiday for Chocolate Rugelach?
To be honest, there isn't one. We started making them at Hanukkah time because of that article we read way back in December 1990. Once we started making them, we never stopped because they are so beloved and so darn good! Some people make them around Rosh Hashanah – the Jewish New Year. But honestly, these mini pastries are a perfect match for your morning coffee, your afternoon tea and also are superstars on a holiday cookie swap table. And you certainly don't need to be Jewish to enjoy them.
Can you Freeze Rugelach?
The other reason you should eat these beautiful little pastries year-round is that they freeze so well. Wrap them securely before you freeze them and they should last at least three months in your freezer. But I'll be honest, I once found some a bit older than that and ate them, and they were still quite good.
What Kind of Chocolate, Jam, Cream Cheese and Butter is Best?
For the chocolate, I generally use semi-sweet and I admit I take a short cut. Yes, buying a chunk of high-quality chocolate and chopping it up is ideal. But when you are making a lot of these beauties, mini chocolate chips work so well! Just use the best quality minis you can find.
As for the jam, if I don't have homemade jam available, I find the Bonne Maman apricot jam is outstanding (not an ad – just what we use).
For the cream cheese, use any brand of brick-style cream cheese, not whipped.
And for the butter, I use standard unsalted sticks, not a European style of butter. This recipe is not proportioned for the different fat content of European style butter and it will not work well using it (we know from experience).
Tips for making Chocolate Rugelach
Make the dough the day before, cut each single recipe of dough into 4 pieces, wrap, and refrigerate overnight. I make a double batch of dough and figured out that each dough ball should weigh about 5.75 ounces when I portion them out. No need to be that precise but if you are into precision, there you have it.
When rolling out the dough, only take one piece out of the refrigerator at a time. If possible, roll out on marble or granite and use a marble rolling pin or a cold rolling pin. If you are working in a team of two or more (recommended but not required) you can try to roll out two dough rounds at a time. But don't try this the first time – wait until you are used to handling this very rich, melty dough.
To save time, buy mini semi-sweet chocolate chips – eliminates the time and mess of chopping chocolate. Do the same with walnuts – buy them already chopped.
Buy good quality apricot preserves – they taste great and spread the easiest.
Use a pizza cutter to cut the dough circles into the 12 pie-shaped pieces for rolling.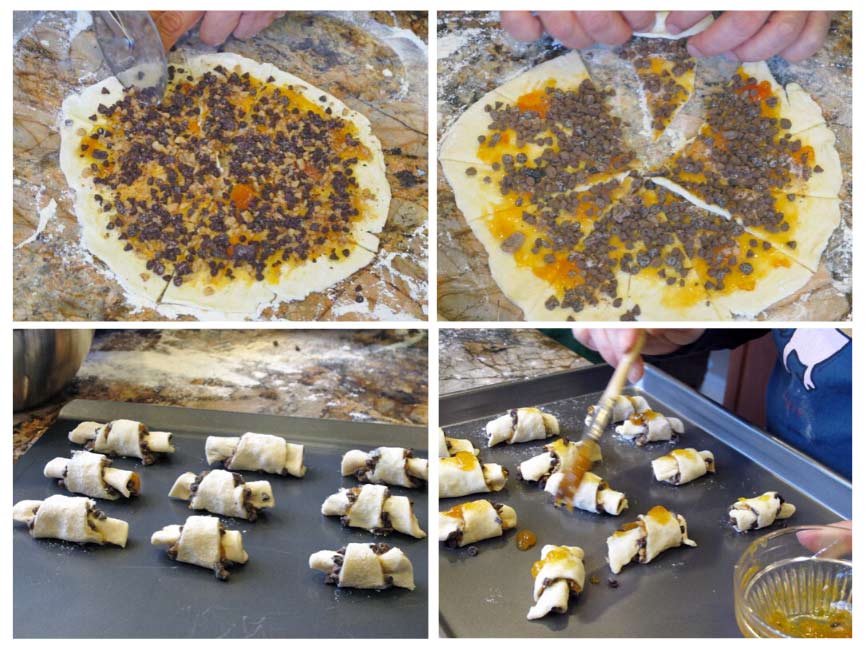 Just use regular unsalted butter – don't use the fancier butters that are available at gourmet stores – the fat content is different and the dough doesn't come out right. We learned that the hard way.
These freeze really well. Don't hesitate to double the dough recipe and make extra.
Bake on parchment or silicone mats. So much easier when they come out of the oven.
After you have a sheet pan of rugelach ready to be baked, pop them in the fridge to firm up. They bake up so much better if you take the time to do this.
Break this process up into parts or invite a friend over to help roll. I've done it both ways – all alone in steps or with my family and/or friends helping. Remember you can make the dough and refrigerate overnight or longer. You can make the filling and keep it in a cool dry place.
Before you start rolling out the dough and forming the rugelach, get all your tools and ingredients ready to go and then get the assembly line going!
If you need to make a nut-less version for someone with a nut allergy, be sure to make that batch first, before you begin the nut-filled assembly line.
As my daughter once said when I complained that I'd only had one rugelach and they were almost gone: "You have to be aggressive, Mom, if you want to eat rugelach." They will disappear fast so enjoy every bite, but do it quickly!
Be sure to check out my cranberry orange rugelach as well – a recipe I developed in honor of my aunt who loved cranberry orange anything!
Supplies for Making Chocolate Rugelach with Apricot Jam and Currants
This post contains Amazon affiliate links – if you click on one and purchase something, I receive a very tiny percentage of the sale. Your price is never affected.
Also check out my Amazon shop that includes some of my favorite food and food-related products. I am always updating it – please visit often. And let me know if you need specific products recommendations – I am happy to help!
Chocolate Rugelach with Apricot Jam and Currants
Chocolate rugelach will become your family's favorite cookie for the holidays. Filled with nuts and chocolate and currants and apricot jam, this tiny rolled pastry is full of big flavor all year long.
Total Time
1
hour
40
minutes
Ingredients
Dough:
2

sticks of unsalted butter

(room temperature)

4

ounces

cream cheese

(room temperature)

1/2

cup

sour cream

2

tablespoons

sugar

1 3/4

cups

unbleached all purpose flour
Filling:
8

ounces

semisweet chocolate

(chopped or use mini chips for a short cut)

1

cup

walnuts

(toasted and chopped)

1/3

cup

currants

1 1/2

teaspoons

cinnamon

3

tablespoons

sugar

3/4

cup

apricot preserves

(homemade or store-bought)
Instructions
The Dough
In a large bowl, beat the butter and cream cheese with an electric mixer on high speed until soft and creamy, about 1 minute. Mix in the sour cream and 2 tablespoons of the sugar until well combined, about 1 minute. Stir in the flour by hand until well blended. (I use the mixer to fold in the flour but it can get messy so be careful.)

Put the dough on your work surface (could just be parchment) and separate out into four equal pieces (eyeball it or use a scale) Wrap each piece in plastic wrap and refrigerate for at least 2 hours, overnight, or even a few days. Or freeze.
The Filling
In a medium bowl, combine the chocolate, walnuts, currants, cinnamon, and the remaining 3 tablespoons of sugar. Set aside at room temperature. (make ahead or combine right before you roll the rugelach)
Rolling the Rugelach
Preheat the oven to 350 degrees. Remove one dough ball from the refrigerator. On a lightly floured surface, form the dough into a ball and flatten it out. Roll the dough into a circle about 10 inches in diameter and 1/8 inch thick.

Brush 2 tablespoons of the apricot preserves over the dough. (If the preserves are bit thick, add a bit of water, heat briefly in the microwave and mix well to loosen them up.) Sprinkle 2/3 cup of the chocolate mixture evenly over the dough and press down gently. Cut the dough into 12 triangles using a pizza cutter. Starting with the first triangle, roll the dough tightly, but carefully, from the wide end toward the point. Roll tightly but gently at the same time.

Place the rugelach, with the pointed side underneath, on a large ungreased cookie sheet lined with parchment paper. Roll up the remaining triangles in the same manner and arrange them on the sheet, about ½ inch apart. Repeat with the remaining dough, preserves and chocolate mixture; the rugelach will fit on 2 large cookie sheets.

Lightly brush the tops of the rugelach with the remaining apricot preserves. As each pan of rugelach is completed, pop it in the refrigerator to chill back up. It will help them bake without flopping open.
Baking the Rugelach
Bake, switching the sheets after 20 minutes, for 35 to 40 minutes, or until well browned. Immediately transfer the rugelach to a rack to cool. (The rugelach can be frozen, well wrapped, for up to 3 months; let return to room temperature before serving.)