Orange Cranberry Rugelach is the perfect pastry for the holiday season. Originally developed for my Aunt Marilyn who loved orange cranberry muffins, this riff of my chocolate rugelach will delight you and your guests from Thanksgiving to Hanukkah and all year long.
If you love cranberry and orange together, try my cranberry orange jam!
For ease of browsing, here are all of my baking and dessert recipes in one place.
Orange Cranberry Rugelach - for Thanksgiving, Hanukkah and All Year Long
In our family, Thanksgiving and Hanukkah are both filled with food traditions. Extended family visits and no matter what else we do - gift-giving, candle-lighting, dog-walking, hiking, game-playing, it's the food we look forward to the most. Thanksgiving is the very reason we bought a dining room table to fit 14!
In 2013, Hanukkah started on the eve of Thanksgiving. Remember that once-in-a-lifetime tradition the Internet labelled Thanksgivukkah? Well I felt compelled to create a new recipe to bring the two holidays together. And that's how orange cranberry rugelach were born.
Extending the Hanukkah Rugelach Tradition
My family's "award-winning" rugelach, always present on the Hannukah dessert table, seemed like a natural starting point for a crossover holiday tradition. It has a rich history which you can read about here, but I was stuck on how to incorporate the Thanksgiving flavors – pumpkin? pecans? apples? cranberries? Then my son, inspired by a memory of my late Aunt Marilyn, suggested the magical combination of orange and cranberry. And a new rugelach came to life.
Aunt Marilyn's Zest for Cranberry Orange Muffins
When Aunt Marilyn was near the end of her life, we all flew to Florida to spend a few special days together. Each person holds his own memory of that visit, but my son fondly recalled her love for a Starbucks orange cranberry muffin. You can even see one in a bag by her hospital bed in one of our photos. Inspired by my son's special memory, I was finally motivated to create a Thanksgivukkah pastry that I know Aunt Marilyn would have been excited to eat.
What Makes these Rugelach Taste of Orange Cranberry?
For a burst of orange flavor, I infused the dough with orange zest and use a swipe of citrus marmalade for topping. For the tangy tart cranberry taste, I replaced our traditional currants with dried cranberries in the filling and used homemade cranberry jam to line the inside of the dough.
Don't let the cranberry jam scare you off – it is simple to make and will be so welcome on your turkey sandwich leftovers. But a stand-in of raspberry jam will not hurt either. For the citrus marmalade, I splurged on an Italian mixed citrus version but any good-quality orange marmalade will do.
Prepare the Rugelach in Stages
I cannot tell a lie - rugelach is not as quick to make as one-bowl brownies. But with a bit of planning, you can prep them in steps and fit in parts of the process when you are able.
Dough can be made ahead and refrigerated for a day or two or even frozen.
Filling can be mixed and left covered at room temperature for a day in a cool dry place.
You can freeze unbaked or baked rugelach for later use.
You can bake in partial batches - no need to make all 48 at the same time.
OR, get a helper, make a double batch of dough, set up an assembly line and make a mountain of rugelach in one afternoon.
For even more detailed step-by-step photos of the process, be sure to check out my original post on rugelach.
I promise, no one will complain if these little gems appear for dessert at Chanukah or Thanksgiving or anytime you take a break and pour yourself a hot cup of coffee or tea.
Cheers to warm memories recalled and new traditions created at your family's dinner table.
Supplies for Making Orange Cranberry Rugelach
This post contains Amazon affiliate links – if you click on one and purchase something, I receive a very tiny percentage of the sale. Your price is never affected.
Also check out my Amazon shop that includes some of my favorite food and food-related products. I am always updating it – please visit often. And let me know if you need specific products recommendations – I am happy to help!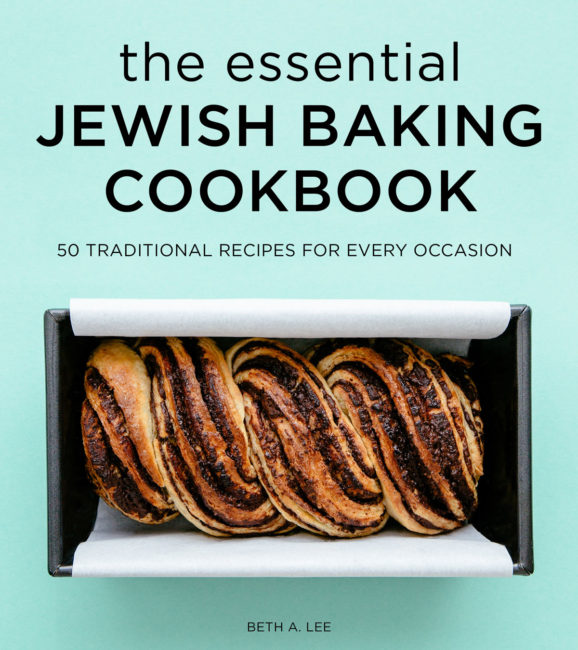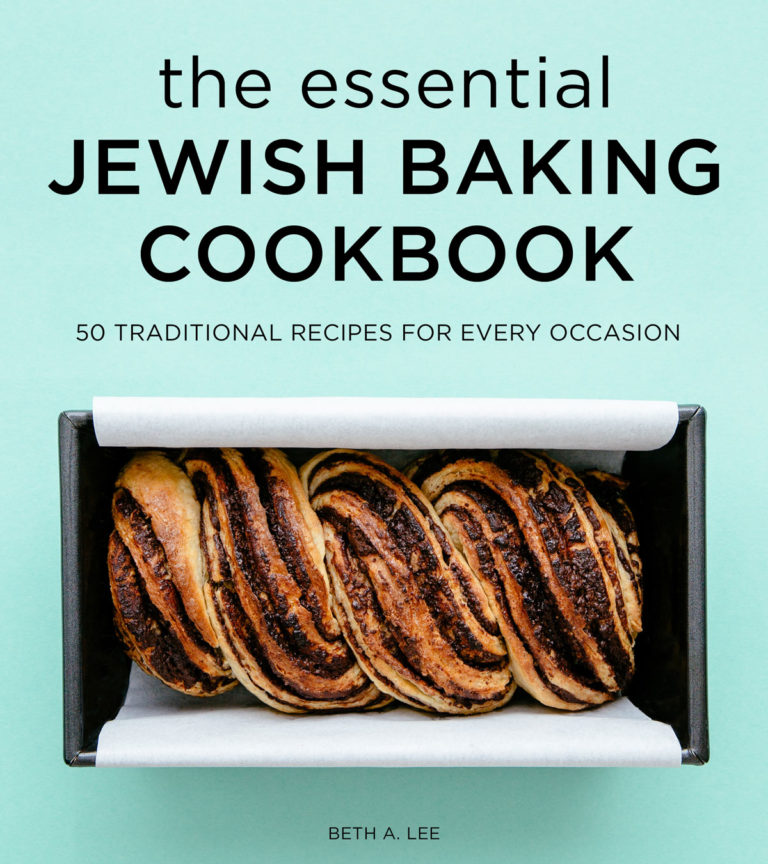 P.S. If you try this recipe, please leave a star rating and/or a review in the comment section below. I so appreciate your feedback! AND find more inspiration on Pinterest, Facebook or Instagram. Signup for my email list, too!
Cranberry Orange Rugelach
Beth Lee
A rugelach combining an orange-scented dough with dried cranberries, dark chocolate, toasted walnuts, and homemade cranberry jam - it's a burst of Thanksgiving and Hannukah goodness in every bite.
Ingredients
Dough:
2

sticks

unsalted butter

(8 ounces, at room temperature)

4

ounces

cream cheese

(at room temperature)

½

cup

sour cream

2

tablespoons

sugar

1

tablespoon

orange zest

(about 1 ½ medium oranges)

1 ¾

cups

all-purpose flour
Filling:
6

ounces

dark chocolate

(medium fine chop)

1

cup

toasted walnuts

(about 4 ounces, medium fine chop)

⅓

cup

dried cranberries

(about 1 ½ ounces, chopped to about the size of currants)

4

tablespoons

sugar

½

teaspoon

orange zest

½

cup

cranberry orange jam

2

tablespoons

orange or citrus marmalade

(my marmalade was quite spreadable – if yours is a bit thick – you can heat it for 10 seconds at a time in the microwave with a bit of water to loosen it up if necessary)
Instructions
Make the dough:
Zest your orange(s) to accumulate 1 tablespoon of zest (if preparing the filling immediately following the dough, zest an extra ½ teaspoon for the filling) – I use a microplane to do this – you want to be sure to get only zest, no white pith. Put the 2 tablespoons of sugar into a small bowl, add in the zest, and combine with your hands until the sugar is fragrant with the zest. (I learned this technique from Dorie Greenspan – it is a great way to infuse citrus and herb flavors into baked goods.)

In the bowl of your stand mixer, beat the butter and cream cheese on medium high speed until soft and creamy, about 1 minute. Mix in the sour cream and 2 tablespoons of orange-zested sugar until well combined, about 1 minute. Add flour and use mixer on low speed to carefully mix in OR stir in the flour by hand until well blended. In both cases, be careful not to over-mix or knead. Just combine until the flour is mixed in and the dough can be pulled together into a ball. Form it into a ball, wrap the dough in plastic wrap and refrigerate for at least 2 hours or overnight.
Make the filling:
In a medium bowl, combine the chopped chocolate, toasted and chopped walnuts, chopped cranberries, 4 tablespoons of sugar, and orange zest. Set aside at room temperature. (can prepare ahead of time by a few hours or even a day)
Roll the rugelach:
The key to rugelach making is to get organized. Preheat the oven to 350 degrees. Put your jam(s) into small bowls each with a pastry brush for spreading. Have your flour available for dough preparation. Pizza cutter at the ready. ½ cup measure ready for filling. Cookie sheets lined with silicone mat or parchment nearby. Divide the dough into 4 equal portions; refrigerate all but 1.

On a lightly floured surface, form the dough into a ball and flatten it out. Roll the dough into a circle about 10 inches in diameter and ⅛ inch thick.

Brush 2 tablespoons of the cranberry jam over the dough. Sprinkle a generous ½ cup of the filling mixture evenly over the dough and press down gently. Cut the dough into 12 triangles using a pizza or dough cutter. Gently but firmly roll each triangle up starting at the wide end. Place the rugelach, with the pointed side underneath, on a large cookie sheet lined with a silicone mat or parchment paper. Roll up the remaining triangles in the same manner and arrange them on the sheet, about ½ inch apart.

Brush each rugelach with a dab of the orange or citrus marmalade, then refrigerate the pan for 15 – 30 minutes before baking. This step seems to help then hold their form when baking.

Repeat with the remaining dough, preserves and filling mixture; the rugelach will fit on 2 - 3 cookie sheets, depending on how large your sheets are. Do not overcrowd them.
Bake the rugelach:
Bake up to two sheets at a time, switching the sheets after 20 minutes, for 35 to 40 minutes, or until the edges start to brown and filling starts to ooze a bit. I found if I baked one sheet at a time, it took just under 30 minutes in a 350 degree oven. Once out of the oven, transfer the rugelach to a rack to cool. Store in a closed container for several days or the rugelach can be frozen, well wrapped, for 2-4 weeks; let return to room temperature before serving.
Nutrition
Calories:
104
kcal
Carbohydrates:
7
g
Fat:
8
g
Saturated Fat:
4
g
Cholesterol:
14
mg
Sodium:
12
mg
Potassium:
46
mg
Sugar:
5
g
Vitamin A:
165
IU
Vitamin C:
0.6
mg
Calcium:
12
mg
Iron:
0.5
mg