Pear Cake with olive oil, candied ginger and cinnamon is a perfect choice for pear season, autumn gatherings, and Rosh Hashanah. Need other ideas for the Jewish New Year? You'll find many more in this Rosh Hashana round-up.
Another cake recipe you might enjoy is my maple blueberry cake.
For ease of browsing, here are all my baking and dessert recipes in one place.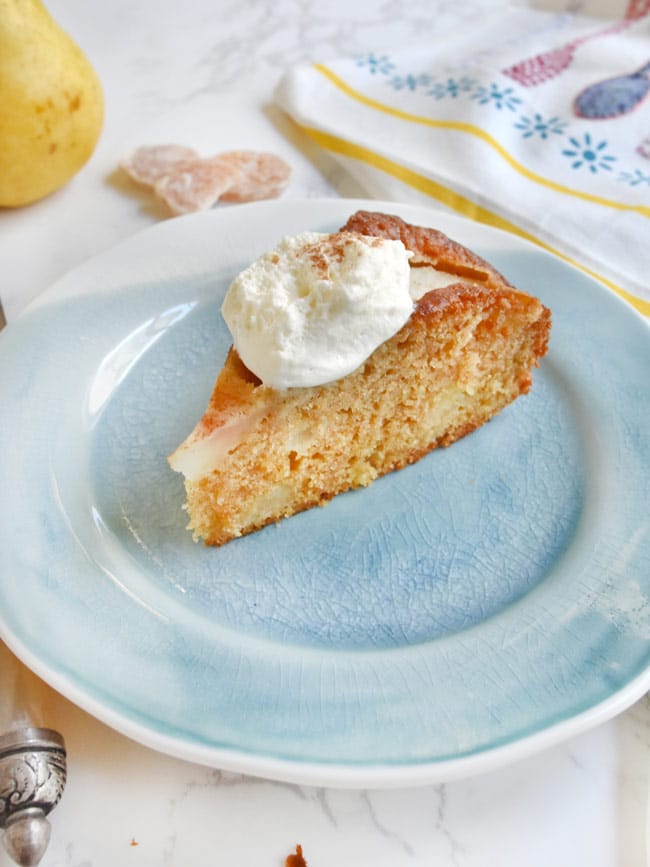 Olive Oil Pear Cake - Perfect for Fall and the Jewish New Year
There is nothing quite like fresh-picked fruit. When my neighbor generously shared a bounty of hand-picked Bartlett pears from Ukiah, I immediately started thinking about pear everything. When I saw the Kosher Camembert's post about her super simple apple cake for the Jewish New Year – I wondered: could I use pears instead?
Turns out you absolutely can. Influenced by the flavor choices in this skillet pear cake, I added crystallized ginger, cinnamon, and salt to the original apple cake recipe and gave it a try. The result was described by one Rosh Hashanah dinner guest as "next level". This olive oil cake with pears was served right next to an expertly baked cake from the Ottolenghi/Goh cookbook Sweet. And it held its own, mightily.
Why are Apples Traditional for Rosh Hashanah?
Eating apples and honey, in their basic form or in the dishes you cook for the Jewish New Year is one of the ubiquitous food traditions of Rosh Hashanah. Honey is traditional for its sweetness – symbolizing the Jews' hope for a sweet new year.
But why do we dip apples and make apple cakes? Why not another fruit? Well, apples are generally sweet (and crunchy), so that's the practical answer. In addition, the sweetness of the apple is mentioned in the bible in Song of Songs in a story of Solomon and G-d's relationship with the Jewish people, something we contemplate during the Jewish High Holiday season.
Can you Bake this Cake with Apples instead of Pears?
You absolutely can bake this cake with apples. The original recipe that inspired me to create this pear version was made with apples. Note in the original recipe that Gayle does let the apples macerate for half an hour in a bit of sugar and lemon juice to soften them up – a step that is less critical with naturally softer pears. (lemon juice is still necessary just not the half hour to soften up)
Can you Freeze Olive Oil Cake?
I learned from Gayle's apple cake recipe that you can make the cake ahead and freeze it. I did this for the pear version the first time I made it – careful to wait until it was completely cool and wrap it airtight. It defrosted perfectly and served up so well. Make this cake ahead of time and freeze it with confidence knowing you'll have a delicious cake to serve the day you need it.
Steps for Making this Pear Cake with Olive Oil
Prep your round cake pan.
Measure your dry ingredients.
Dice the crystallized ginger.
Whisk the eggs and sugars together.
Whisk in the olive oil and vanilla.
Peel your pears. Dice one to add to the cake batter. Slice the other two.
Add the diced pears, crystallized ginger and dry ingredients to the wet ingredients and combine.
Pour the batter into your cake pan. Decorate the top with the sliced pears and cinnamon sugar.
Bake!
Freeze or eat!
How to Serve this Olive Oil Pear Cake
This cake is lovely to eat just as it is, but a dollop of freshly whipped cream flavored with vanilla or orange liqueur or orange zest is a wonderful addition. Or serve it in the afternoon with tea. Or if you're like me, eat a slice with your morning coffee.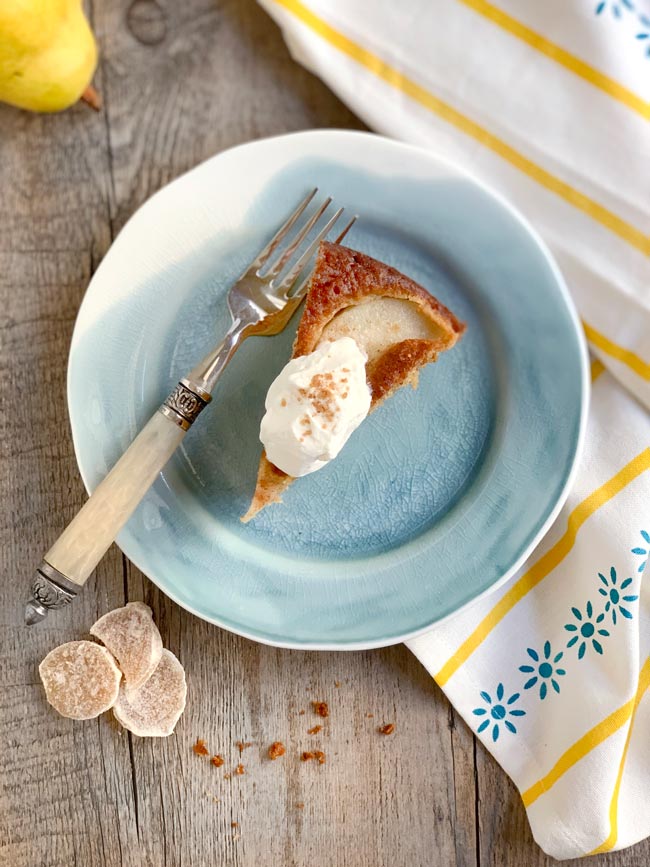 Helpful Supplies for Making this Olive Oil Cake with Pears
This post contains Amazon affiliate links – if you click on one and purchase something, I receive a very tiny percentage of the sale. Your price is never affected.
Here are helpful supplies for making this pear cake. A good Springform Pan is a great choice for this cake but a regular 9 inch cake pan will work as well. I prefer non-stick in both cases but if your pans are not, just grease them well. The crystallized ginger is available at Trader Joe's but if you are an online shopper, I included an option for you. And finally, I don't pull out the mixer for this cake (though you could) so I included an ergonomic OXO whisk as well.
Also check out my Amazon shop that includes some of my favorite food and food-related products. I am always updating it – please visit often. And let me know if you need specific products recommendations – I am happy to help!
Other Recipes for your Rosh Hashanah Menu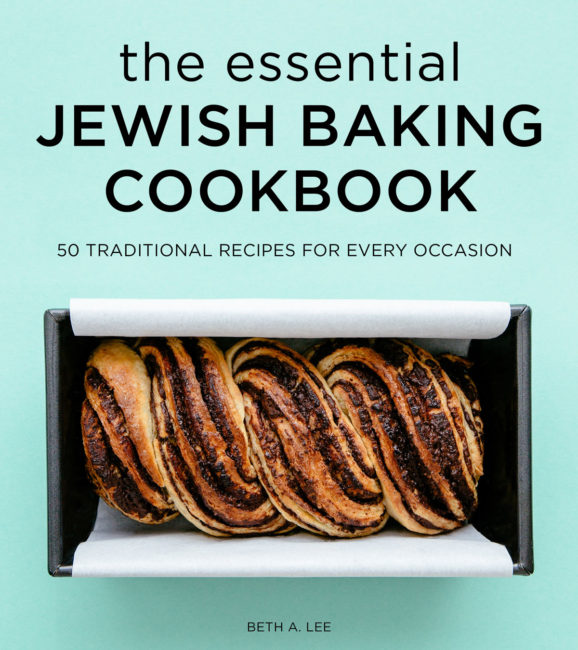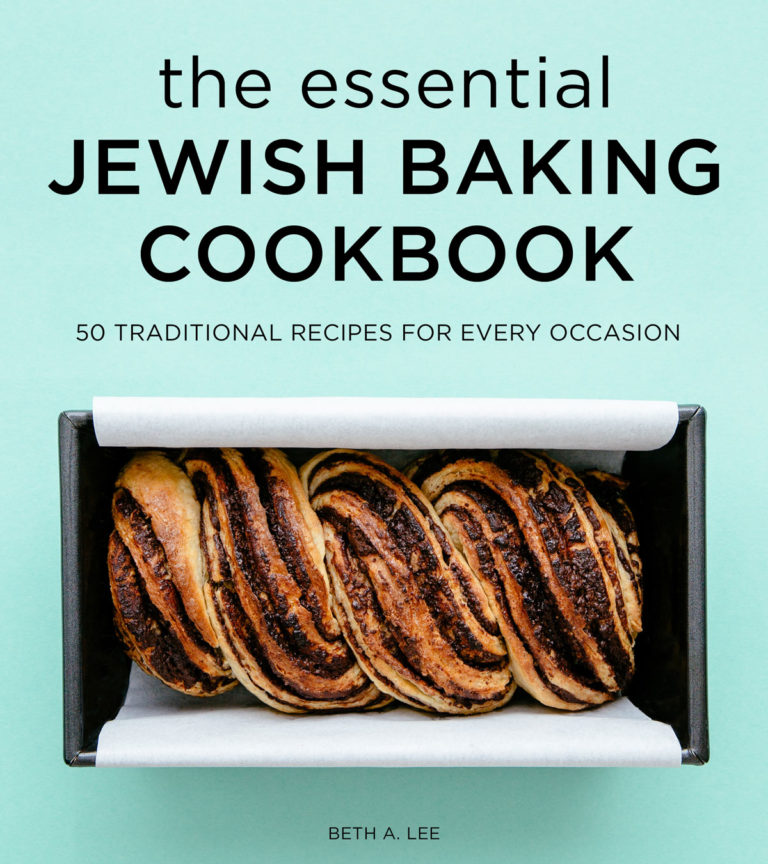 P.S. If you try this recipe, please leave a star rating and/or a review in the comment section below. I so appreciate your feedback! AND find more inspiration on Pinterest, Facebook or Instagram. Signup for my email list, too!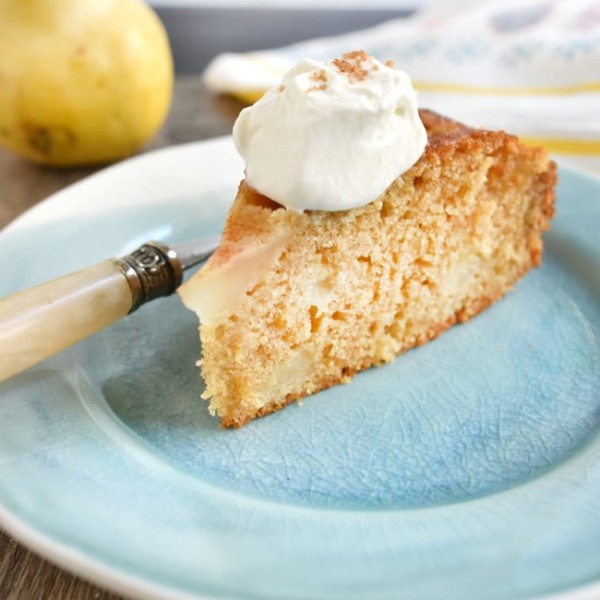 Pear Cake with Olive Oil
Beth Lee
This pear cake, a close cousin to a traditional Rosh Hashanah apple cake, is simple to make but will wow your guests with its unique twists and flavor profile. Sure to become a fall favorite!
Ingredients
2

cups

flour

1 cup All Purpose, 1 cup White Whole Wheat (2 cups AP ok too)

2

teaspoons

baking powder

½

teaspoon

salt

1

teaspoon

cinnamon

4

eggs

½

cup

white sugar

½

cup

brown sugar

1

cup

olive oil

no need to use your best finishing oil

2

teaspoons

vanilla

1.3

pounds

Bartlett pears

about 3 medium sized or 2 large, peeled (chop one pear for batter - about 1 cup, the balance sliced)

1

tablespoon

candied ginger

chopped

½

lemon

for squeezing on pears after chopping/slicing
Optional
1

tablespoon

course sugar

1

teaspoon

cinnamon
Instructions
Preheat oven to 350 degrees.

Prep your 9" round cake pan (springform if possible) with non-stick spray and a dusting of flour. Add a piece of parchment on the bottom if you have any concern that it might stick.

Measure your dry ingredients and combine them in a small bowl.

In a medium sized bowl, whisk the eggs and sugars together.

Then whisk in the olive oil and vanilla into the egg/sugar mixture.

Add the diced pears, crystallized ginger and dry ingredients to the wet ingredients and combine.

Pour the batter into your cake pan. Now decorate the top with the sliced pears and a sprinkling of the coarse sugar and cinnamon if you like.

Bake at 350 degrees for 55 – 60 minutes – top should be golden brown and a cake tester should come out clean

Cool and serve with fresh whipped cream. Or wrap well and freeze for later use.
Nutrition
Calories:
260
kcal
Carbohydrates:
50
g
Protein:
5
g
Fat:
4
g
Saturated Fat:
1
g
Cholesterol:
65
mg
Sodium:
147
mg
Potassium:
206
mg
Fiber:
3
g
Sugar:
27
g
Vitamin A:
112
IU
Vitamin C:
3
mg
Calcium:
67
mg
Iron:
2
mg