Third Installment of Thanksgiving Basics
Welcome to episode three of Thanksgiving Basics. I kicked off this much-anticipated series with Homemade Turkey Stock, followed by the simple but game-changing DIY Stuffing Cubes . This year let's put them together in our family's tried and true Sage Sausage, Cornbread, and Challah Stuffing.
Evolution of a Stuffing Recipe
When we began hosting Thanksgiving in the stone age a long time ago, we used The Silver Palate Cornbread Sausage stuffing recipe and honestly, if I deviate too far from it, the natives get restless. But as with all recipes, things evolve. Influenced by a 2001 Sheila Lukins recipe in Parade Magazine, I started using dried cherries and apricots in my stuffing, in addition to fresh apples. I also began making my own bread cubes. Since then, I have tested new combinations of bread, variations on the sausage, improved my stock but the apple never falls too far from the tree. This recipe's roots are still visible in the Silver Palate recipe and Lukins Parade magazine version. But I think you'll see a very visible imprint from our family traditions in both the ingredients and techniques.
Helpful tips and tricks for Sage Sausage, Cornbread, and Challah Stuffing:
This recipe can be completely prepared the day before so all you have to do is pop it in the oven while your turkey is resting. We are able to "run" the 5K Turkey Trot on Thanksgiving day because the only thing left to do is cook the turkey which is already prepped and bake all the sides while the bird rests.
You can absolutely cut corners and buy store-bought stock, but really, make your own turkey stock. It can be done well in advance and refrigerated or frozen and it just tastes better.
Make your own bread cubes – this step is a must. It is not hard and they taste so good. The variety is up to you. I have used up to three kinds of bread but we always use cornbread (I make my own and just let it sit on the counter and dry out a bit.) But even if you use a packaged mix or can find a store that has prepared cornbread, it will work fine. In addition to the cornbread, I used to use white bread and whole wheat but tried challah bread a few years ago and have become a convert. Challah and cornbread is now our standard. If you are not familiar, challah is an eggy Jewish bread that is fairly easy to find year round at Trader Joe's and generally on Friday's at bakeries in both grocery stores and specialty stores or you can make mine or my friend Lonni's recipe.
For the sausage – I use Jimmy Dean's Breakfast Sausage with Sage. I have asked a meat department to make some for me or occasionally they will have it in the meat case, but Jimmy Dean's can be purchased ahead and well, it tastes fantastic in the stuffing. But apparently we're not the only ones that think so because stores often run out near Thanksgiving. Plan your shopping accordingly.
Don't forget Thanksgiving Basics Post 1, 2, and 4!
How to Make your own Stuffing Cubes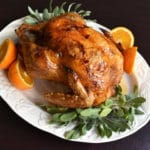 This post contains Amazon affiliate links – if you click on one and purchase something, I receive a very tiny percentage of the sale. Your price is never affected. This income helps to offset the cost of maintaining OMG! Yummy. I truly appreciate your support.
Also check out my Amazon shop that includes some of my favorite food and food-related products. I am always updating it – please visit often. And let me know if you need specific products recommendations – I am happy to help!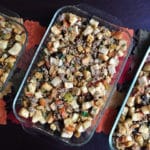 Sage Sausage, Cornbread, and Challah Stuffing
A riff of the Silver Palate Cornbread Sausage Stuffing Recipe and a 2001 Sheila Lukins recipe from Parade Magazine, this stuffing/dressing is layered with flavor starting with the homemade stuffing cubes which are enhanced with sage sausage, dried cherries and apricots, fresh seared apples, and toasted pecans. A mouthful of Thanksgiving flavor in every single bite.
Total Time
1
hour
30
minutes
Ingredients
16

cups

bread cubes

1 ½

pounds

breakfast sausage with sage

either Jimmy Dean's which will sell out close to Thanksgiving or get your butcher to make it

1/2

cup

dried apricots

chopped

1/2

cup

dried cherries

1 ½

cups

pecans

coarsely chopped and toasted

2

onions

chopped, about 2.5 cups

3

tart apples

chopped and not peeled

4

tablespoons

butter

1/2 stick

2 - 3

teaspoons

dried thyme

or about double if fresh

1 -2

teaspoons

dried sage

or about double if fresh

½

cup

Italian parsley

chopped

1 - 2

cups

turkey stock

Salt and pepper

to taste
Instructions
Have a giant bowl ready for mixing it all up and to put the ingredients in as you saute them. I keep the sausage separate in case I have to make a small pan of stuffing without sausage in it.

Also prep your stuffing pans - probably not necessary but a little greasing couldn't hurt.

Brown sausage and drain. I leave a bit of drippings in the pans for flavor to kickstart the onions in the next step. (unless you are making a pan of stuffing vegetarian)

Saute the onions in 2 tablespoons of the butter - low and slow - I like to add some salt and pepper and thyme here to again layer the flavors. You want the onions translucent but not brown. They'll take a while - you can prep other stuff while they are working - just stir occasionally and make sure they are not browning.

Remove the onions from the pan and add the other 2 tablespoons of butter for sautéing the apple. Turn heat up to high or at least medium high. You want to sear the outside of the apples without turning them to mush. I add a pinch of thyme and sage to the apples.

Remove the apples to your bowl and now, totally optional, saute the dried fruit in the remains of the apple pan just to soften them up and use the flavor in the pan.

Mix everything together in the large bowl including adding the chopped parsley, sage, thyme, and salt and pepper. After thoroughly mixed, add about 1.5 cups of broth and mix again.

Put the stuffing in your stuffing pans, cover with foil and refrigerate. I always do this the day before. I usually bake them after the turkey has come out - at 375 for about 30 minutes. Check once for moistness. Can always add some stock. Also, if you like crisp edges, take foil off near the end and let it finish cooking "topless".
Recipe Notes
A loaf of Semifreddo's challah purchased at Trader Joe's will yield about 10 cups of bread cubes. 6 slices of store-bought sourdough bread will yield about 4 cups of bread cubes. One 8X8 pan of cornbread will yield 9 - 12 cups of bread cubes.