Matzo farfel kugel is a perfect side dish for Passover. If you like a kugel with a touch of sweetness, you'll love the apples, cinnamon and sugar in this recipe. Find more of my Passover tips here and more matzo recipes here!
For ease of browsing, find all my Passover recipes here.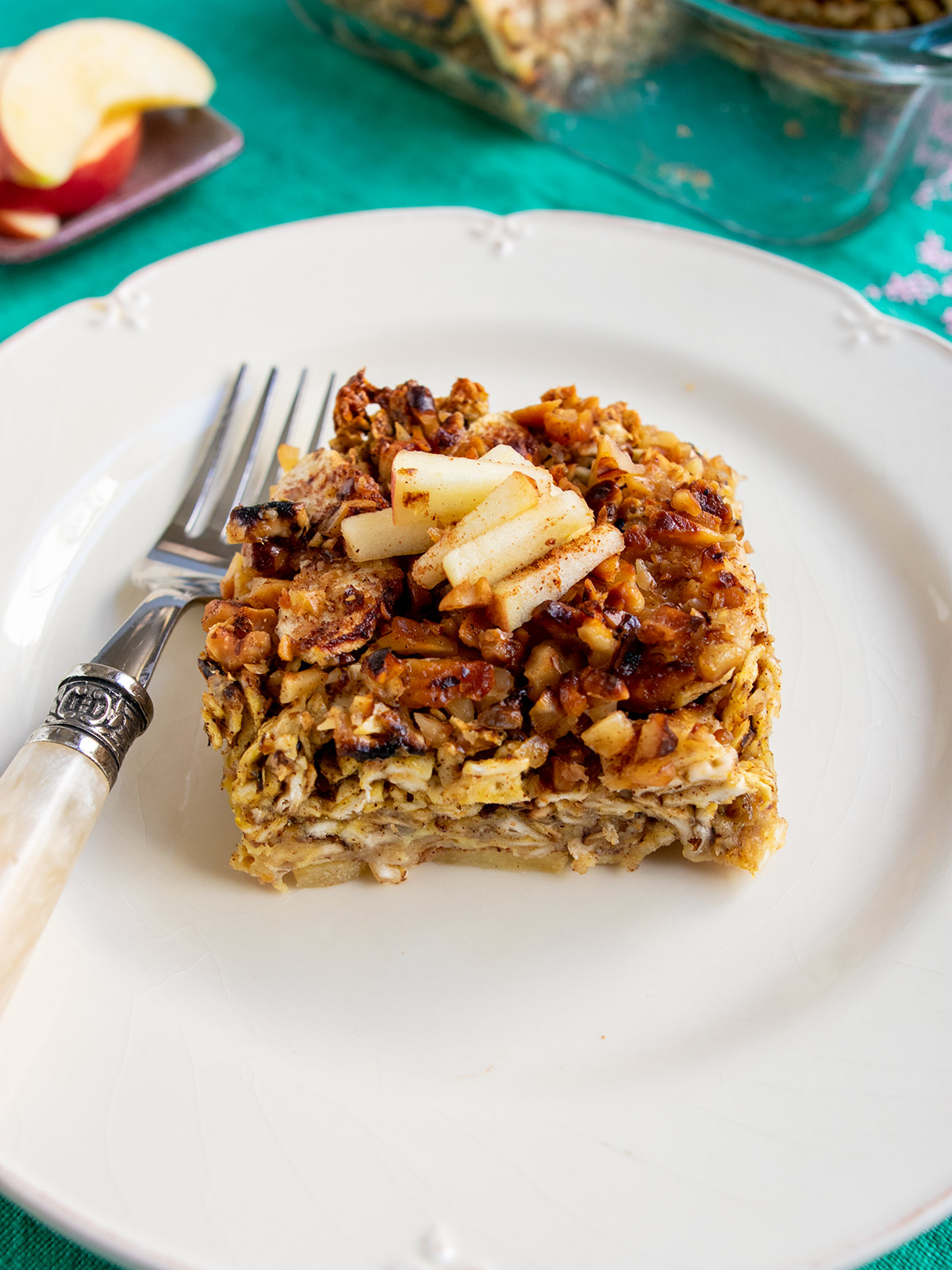 This post contains Amazon affiliate links. As an Amazon Influencer, I earn from qualifying purchases. Your price is never affected.
What is kugel?
Kugel is a Yiddish term referring to a sweet or savory pudding usually prepared with noodles or potatoes. Kugels are very common side dishes at many Jewish holiday celebrations. On Passover, when we traditionally remove all products made with flour from our diet, other than unleavened matzo, matzo farfel kugel often replaces a traditional noodle kugel.
A matzo farfel kugel, like a noodle (lokshen) kugel can be savory or sweet. This post explores a sweet version using apples, raisins, cinnamon and nuts.
This recipe was inspired by the apple kugel from The Jewish-American Kitchen (by Raymond Sokolov).
What is matzo farfel?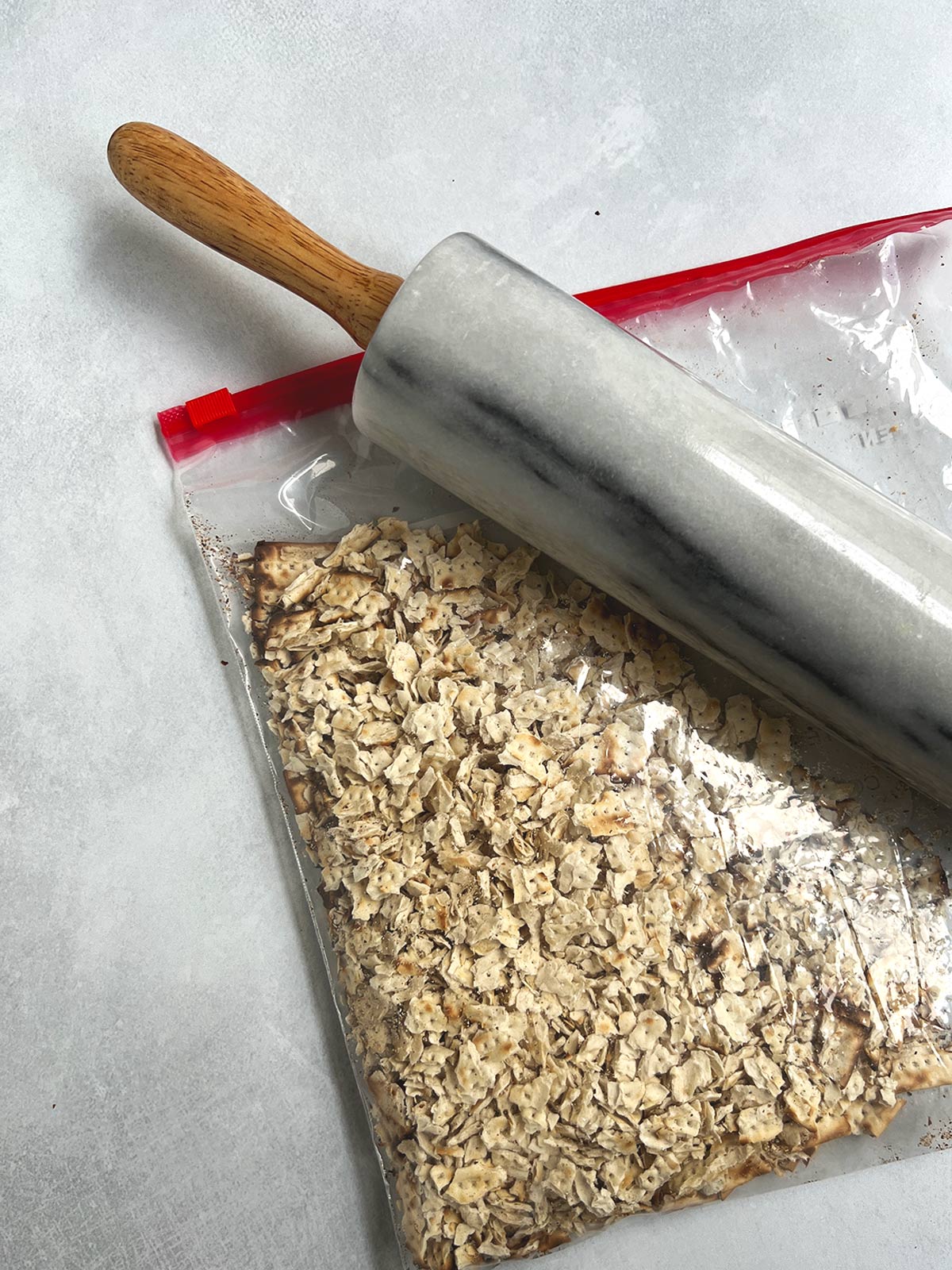 Matzo farfel is just matzo broken up into small pieces. For years, I purchased packages of matzo farfel in the Kosher for Passover section of my local grocery stores. When I started researching how to make a matzo farfel kugel, I realized all I needed to do was roll over some boards of matzo with a rolling pin, and voila – I had matzo farfel!
How do you make this recipe?
It's easy to make a matzo farfel kugel - I promise.
Crush that matzo, as instructed, for your farfel.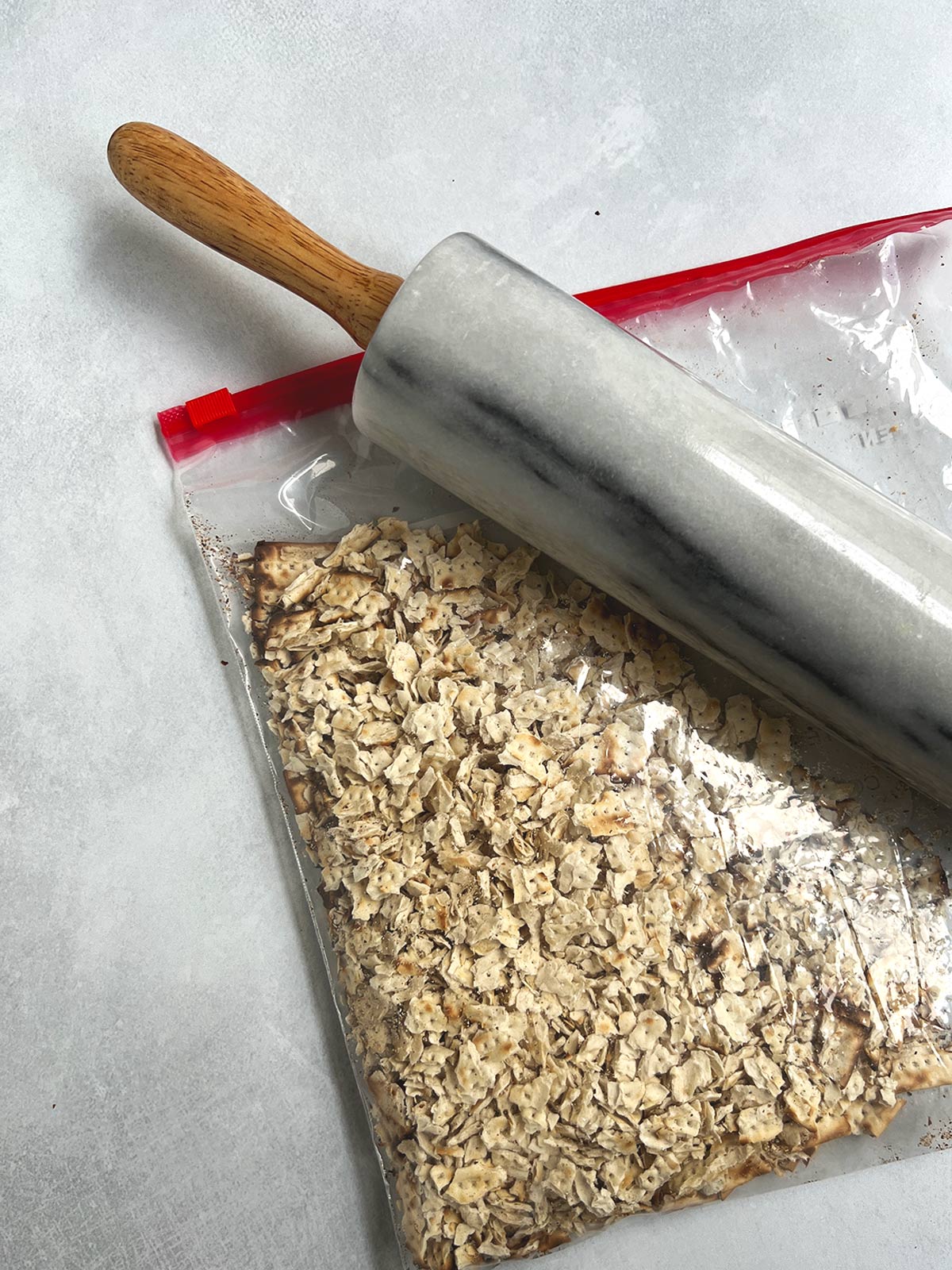 Then the farfel is sauteed in a pan with some of the eggs to crisp it up.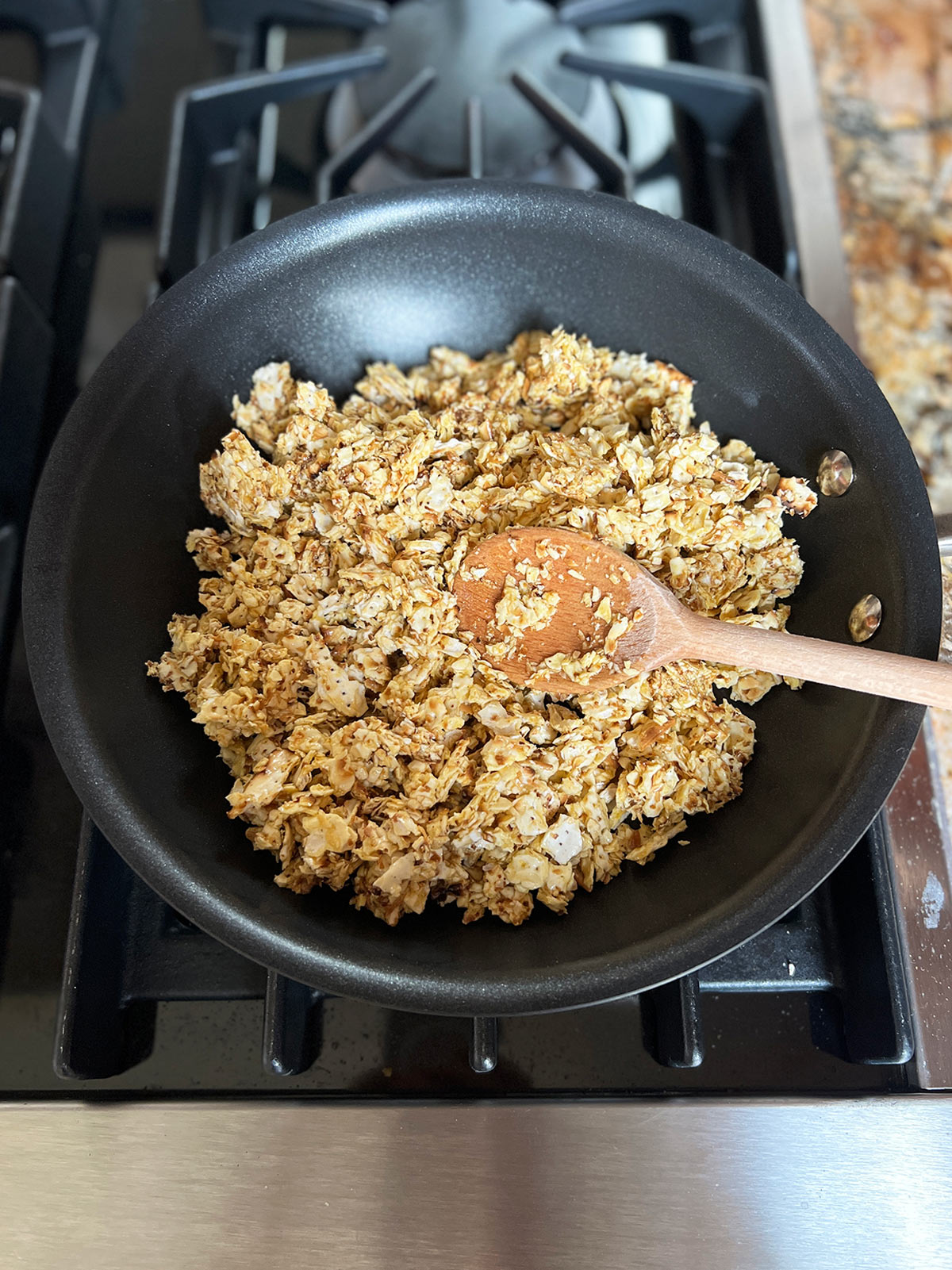 Meanwhile prepare your apples and nuts and whisk the wet ingredients.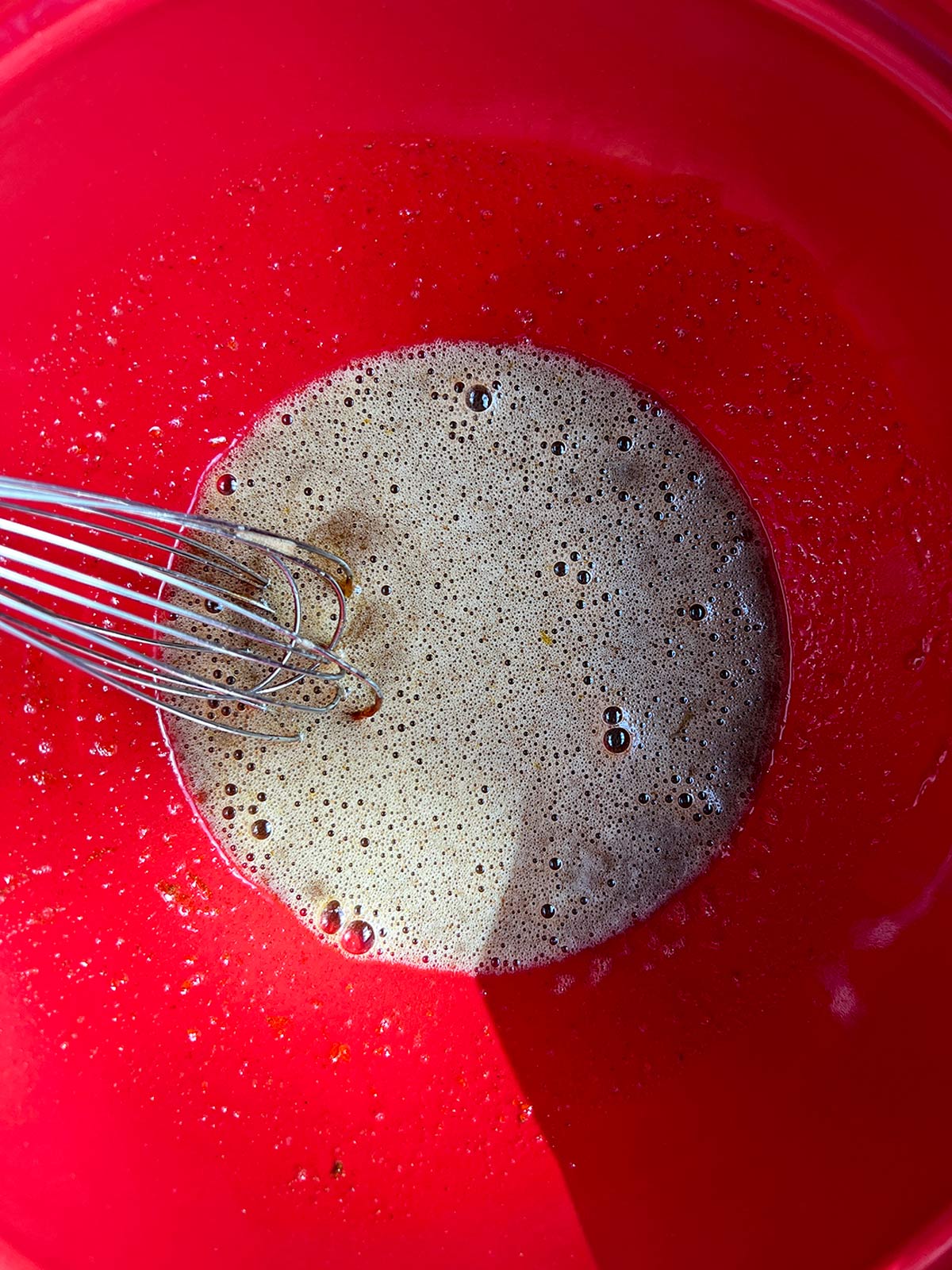 Mix the cooked farfel with your wet ingredients.
Layer apples, then farfel, then more apples and top with butter or margarine and nuts.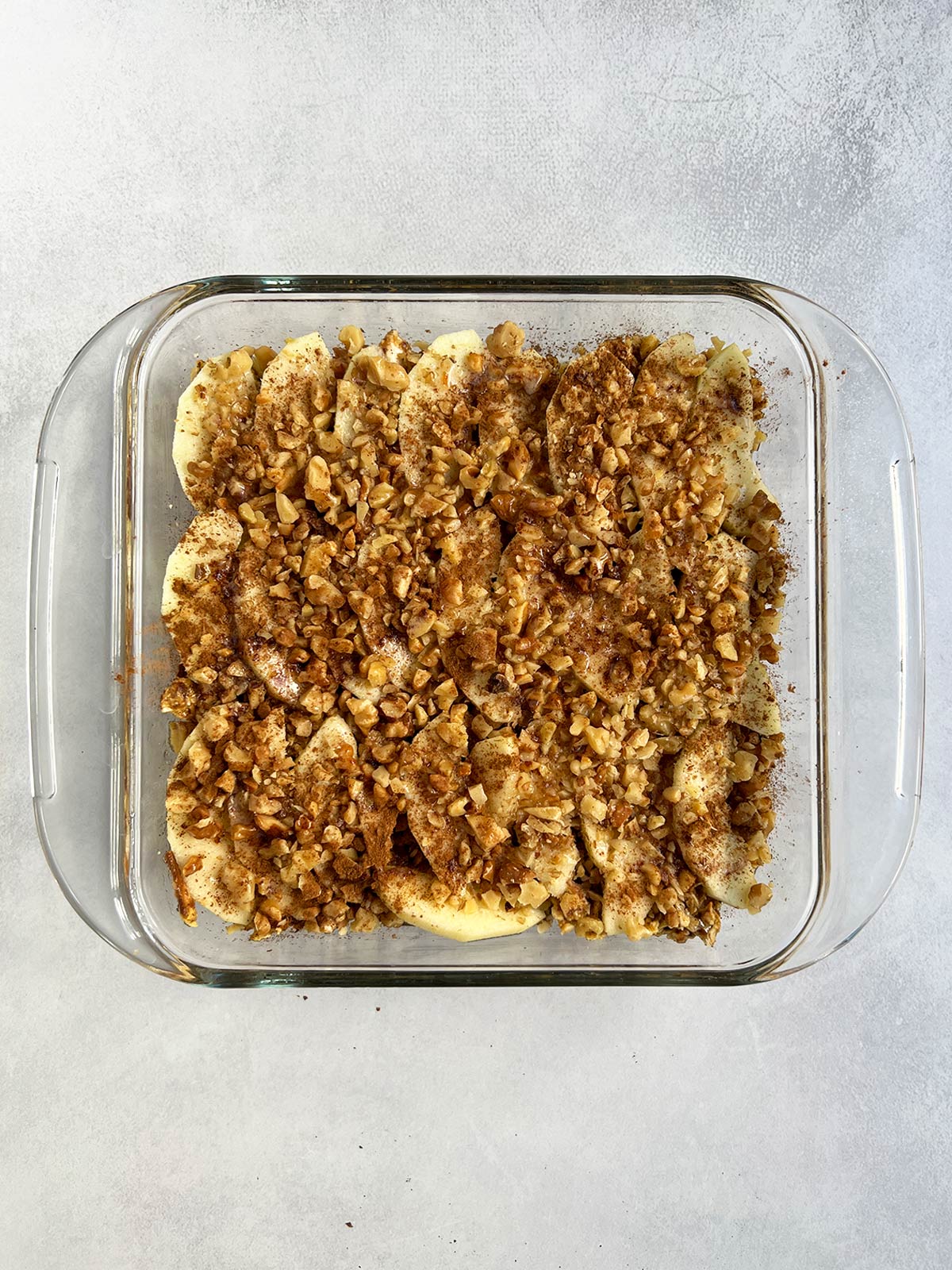 Moisture in a matzo farfel kugel
Moisture is especially important in a farfel kugel since matzo doesn't give off any moisture as a potato does or noodle might. Nor does it have any natural starch residue to hold the kugel together.
So please don't arbitrarily reduce the eggs – they are needed in this recipe as glue and moisture. See my savory kugel recipe and my other sweet kugel recipe for ideas about how to make a kugel with less eggs.
Tips to help you make this farfel kugel

:
I added cinnamon and my son suggested a hint of nutmeg would be nice too. If you flavor each element – the apples, the farfel, and the nut topping – the kugel really shines.
Adding ½ – 1 cup of raisins and/or dried apricots to the farfel mixture is another way to add flavor, texture, and moisture. Cover the raisins (and apricots) with hot water or some orange juice or sweet red kosher wine – just enough to cover help soften them. Then let them cool and add the liquid and raisins to the farfel mixture. This liquid can replace part of the water called for in the recipe.
I use real butter when I make kugels because I don't keep kosher and will mix meat and dairy. But if you are keeping kosher, the recipe does call for margarine, not butter and you should substitute accordingly.
Don't buy matzo farfel in a box. It couldn't be easier to crush up yourself and is much cheaper and fresher. Just put the boards in a plastic bag or between some parchment paper and roll over them with a rolling pin. I found that two standard size matzo boards equal about one cup of matzo farfel.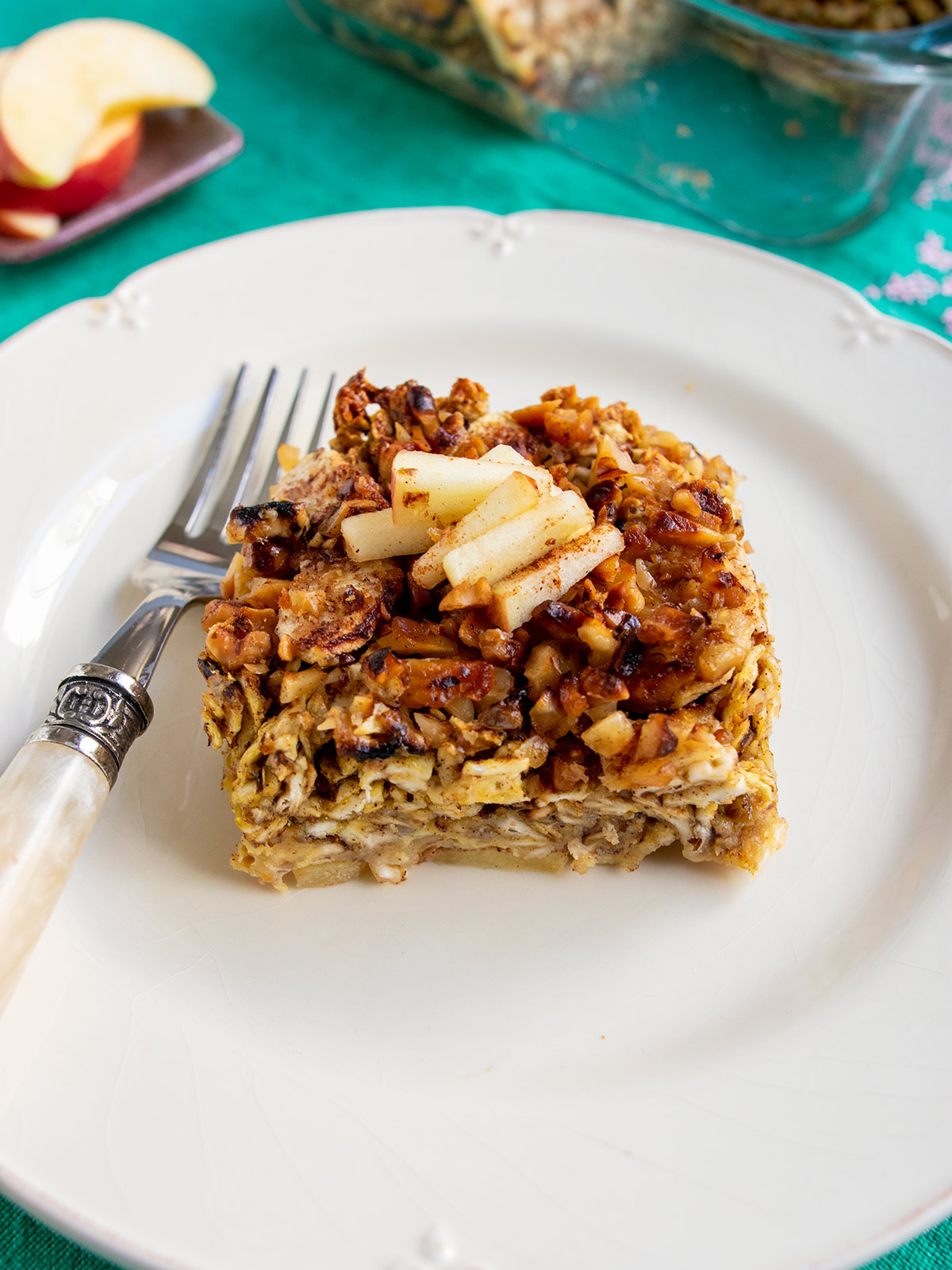 Supplies for making matzo farfel kugel
The supplies and tools for making this kugel are pretty basic. Good matzo, a rolling pin, and a square baking dish are key!
Also check out my Amazon shop that includes some of my favorite food and food-related products. I am always updating it – please visit often. And let me know if you need specific product recommendations – I am happy to help!
More Passover recipe inspiration:
Check out my Recipe and Resource Guide for Passover for more seder menu ideas.
Apricot Apple Matzo Farfel Kugel 
Passover Potato Kugel with a Twist
Matzo Meal Pancake (also called a Bubula or Chremslach)
Instant Pot Sweet and Sour Brisket
Instant Pot Brisket with Pomegranate Molasses
Chocolate Covered Matzo with Toasted Nuts and Sea Salt
Recipes on other blogs:
Dairy Free and Nut Free Passover Apple Cake
Gluten Free Passover Apple Cake
And if you have any beloved favorites that always find their way to your Passover table, please share them in the comments below! Chag Sameach!
P.S. If you try this recipe, please leave a star rating and/or a review in the comment section below. I so appreciate your feedback! AND find more inspiration on Pinterest, Facebook or Instagram. Signup for my email list, too!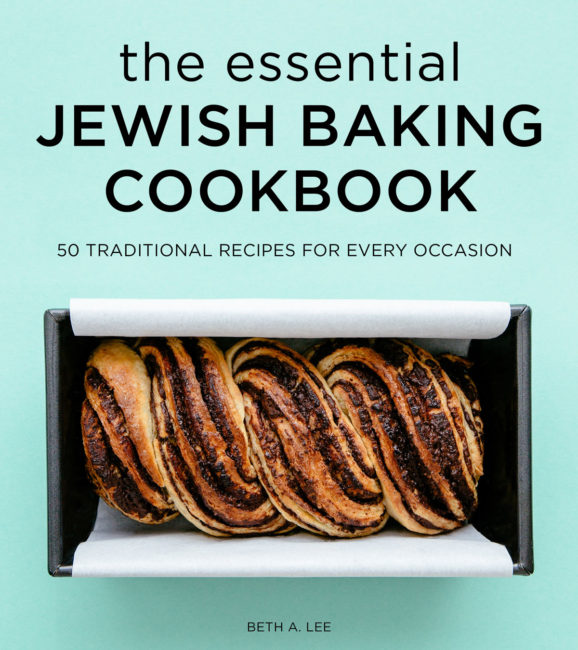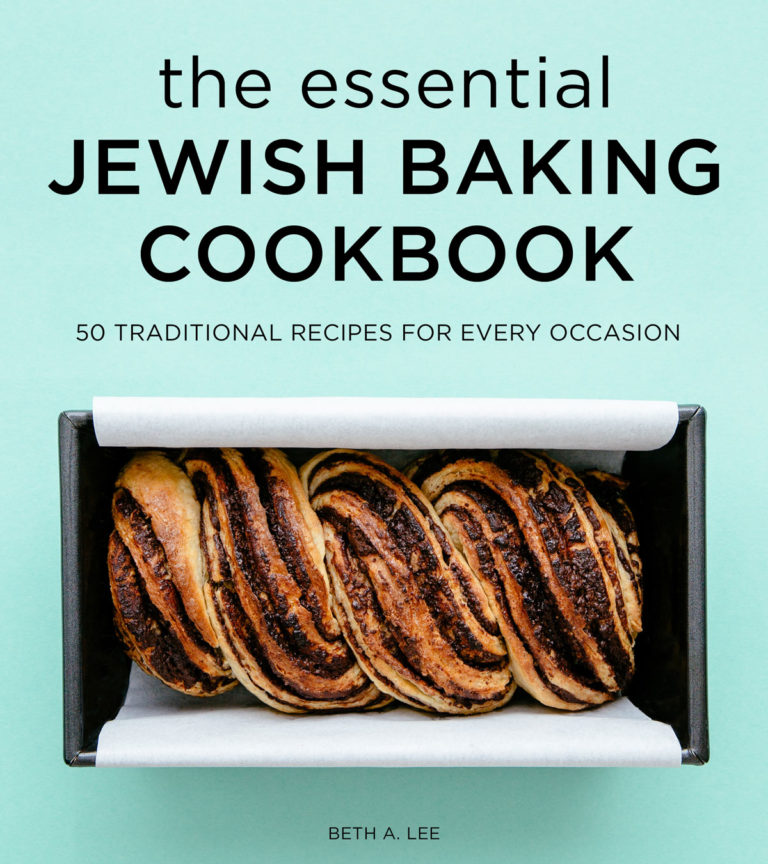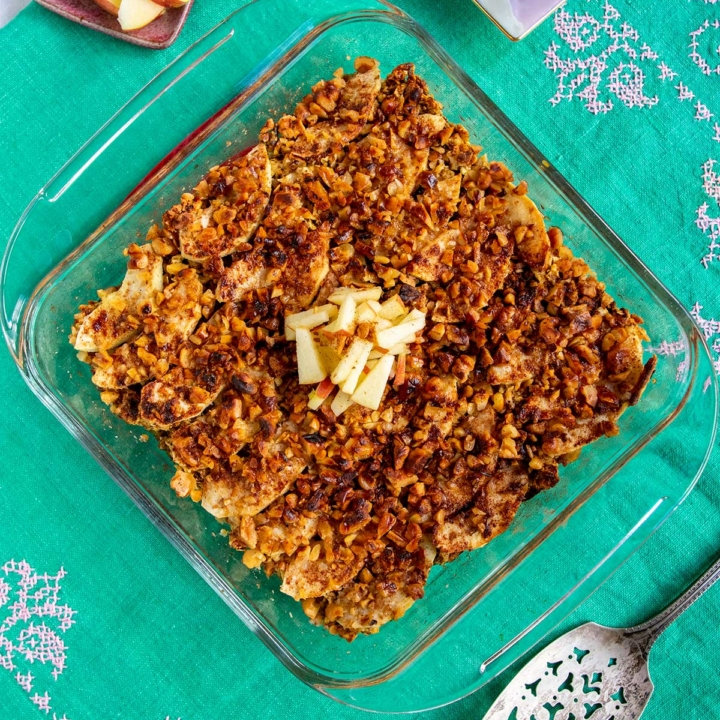 Apple Matzo Farfel Kugel
Beth Lee
A traditional kugel recipe for Passover where the matzo farfel (small pieces of matzo) stand in for the usual noodles. The key is enough liquid to offset the delicious but dry matzo farfel.
Ingredients
2

cups

matzo farfel

about 4 boards of matzo

4

eggs

¼

cup

sugar

2

teaspoons

cinnamon

½

teaspoon

nutmeg

2

teaspoons

kosher salt

5

tablespoons

unsalted margarine or butter

melted and cooled

½

cup

water

3

medium or 2 large apples

peeled, cored, and sliced

1

teaspoon

lemon juice

½

cup

toasted ground walnuts or pecans

½

cup

raisins or dried apricots

optional
Instructions
Preheat the oven to 350 degrees and grease an 8 X 8 baking dish or pie pan equivalent to a 1 quart pan.

Instead of buying pre-made farfel, simply place a few boards in a ziploc bag and use your rolling pin to break them up into little pieces. 2 boards will yield 1 cup of farfel.

Mix the farfel with 2 of the eggs and a teaspoon of the salt and then toast the mixture over low heat in a heavy skillet, mixing frequently to be sure the pieces brown and separate. I found medium low heat worked better than low. Set the pieces aside while you:

In a medium bowl, beat the remaining 2 eggs with the sugar, 1 teaspoon of salt, 1 teaspoon of cinnamon, ½ teaspoon of nutmeg, and 3 tablespoons of the melted and cooled butter or margarine. Add in the toasted farfel mixture and ½ cup of water.

In your greased baking dish, layer ½ the apple slices and sprinkle them with the lemon juice and a dusting of cinnamon, then add the matzo farfel mixture and then top with the remaining apples. Then sprinkle with the toasted ground nuts and dust it with a bit more cinnamon and pour over the remaining melted butter or margarine.

Bake for approximately 30 minutes.
Notes
Adapted from a recipe in The Jewish American Kitchen
Don't buy matzo farfel in a box. It couldn't be easier to crush up yourself and is much cheaper and fresher. Just put the boards in a plastic bag or between some parchment paper and roll over them with a rolling pin. I found that two standard size matzo boards equal about one cup of matzo farfel.
Nutrition
Calories:
341
kcal
Carbohydrates:
46
g
Protein:
7
g
Fat:
14
g
Saturated Fat:
5
g
Cholesterol:
100
mg
Sodium:
676
mg
Potassium:
174
mg
Fiber:
3
g
Sugar:
13
g
Vitamin A:
375
IU
Vitamin C:
3.4
mg
Calcium:
35
mg
Iron:
1.8
mg