Whether you are preparing for your first Passover seder or your 31st, this post is full of tasty Passover recipes, tips, and holiday information to help you gather, learn, and celebrate with your friends and family. Want to deep dive into matzo, check out my matzo page.
What is Passover?
At Passover (or Pesach in Hebrew), Jewish people around the world celebrate the freeing of the Israelites from Egyptian slavery. We tell much of the story symbolically through food. The seder, the Passover meal eaten on the first two nights of the holiday, requires planning and preparation but it is worth the effort.
What is a Haggadah?
The Haggadah is the book used to run the seder meal and tell the story of Passover. Jewish and non-Jewish guests enjoy how the food becomes part of the storytelling and how the seder meal becomes interactive as we read through the Haggadah. Haggadahs have come a long way since the free Maxwell House version we suffered through when I was a kid. These are a few of my favorites:
(This post contains Amazon affiliate links – if you click on one and purchase something, I receive a very tiny percentage of the sale. Your price is never affected.)
A Different Night, The Family Participation Haggadah
by David Dishon and Noam Zion
This creative haggadah offers a myriad of choices of how to conduct each section of the seder, drawing on alternative views and interpretations as well as art, humor, modern societal relevance and so much more. This version is flexible, instructive, educational, and always encourages lively conversations.
Why on This Night?: A Passover Haggadah for Family Celebration
by Rahel Musleah
A great option if you have young kids or an interfaith family, this book offers a modern retelling of the Passover story at a level that your elementary age children or really impatient family member will appreciate.
The Feast of Freedom
by Rachel Anne Rabbinowicz
The conservative movement's updated approach to the seder including extensive commentaries in the margins, Hebrew and English readings (no transliterations though) and beautiful artwork.
The Marvelous Mrs. Maisel Limited Edition Passover Haggadah
But wait – you like your Maxwell house haggadah but would like a more updated version? You are in luck – Maxwell house has developed a new Marvelous Mrs. Maisel Edition in 2019
. Just don't order it on its own – the price is high. Order a Maxwell house coffee product, and then it's free. Only available on Amazon.
.
Symbolic Foods for Passover
The center of the seder table is the seder plate, with small indentations for symbolic foods. For example, we dip parsley in salt water. The parsley represents the coming of spring and the salt water represents the tears that were shed.
We eat a fruit and nut mixture called charoset which represents the mortar the Israelite slaves used for brick-building. We eat matzo crackers to symbolize how quickly the Israelites fled, leaving no time for the bread to rise. Instead, they baked it unleavened and hence the flat, crispy matzo crackers or as it is often called: the bread of affliction.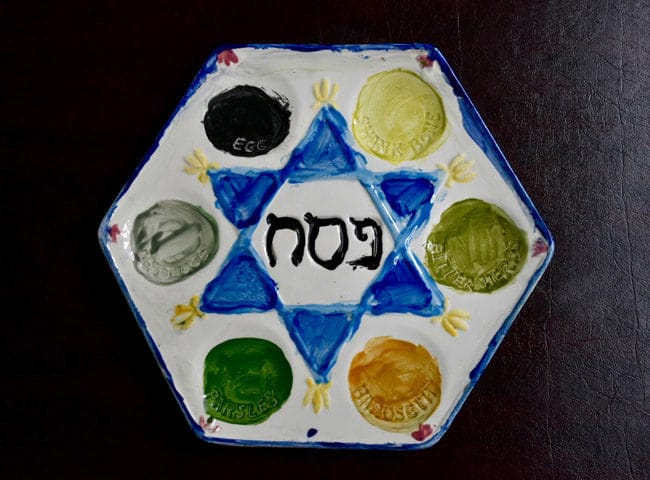 Beyond the Seder – Keeping Kosher for Passover
If you keep kosher for Passover, then you have 21 or 24 meals plus snacks to eat "chametz" free. Chametz is food that contains:
wheat
barley
oats
spelt
rye
When these grains come in contact with water and ferment for longer than 18 minutes, they are considered "leavened". Why does this matter?
The story is that when the Jewish people fled Egypt and slavery, they left in a hurry without time for their bread to rise and matzo was born. That's why matzo, the traditional unleavened bread eaten on Passover, is watched over to be sure it is baked in under 18 minutes or before the flour can begin to rise. Need even more detail about all the matzo products available for Passover – check out my Matzo page for the unleavened truth!
Passover Recipes
Whether you prefer a traditional passover meal or an updated variation, these Passover recipes will help you conquer the challenge of creating a seder menu, bringing a dish to another host's home, or just feeding your family throughout the 7 (or 8) days of Passover.
I also have an Amazon shop that includes some of my favorite food and food-related products. I am always updating it – please visit often. And let me know if there are specific products for which you would like recommendations – I am happy to help!