A Romantic Weekend in Portland Oregon?
At best, my husband was dubious when I told him we were heading to Portland, Oregon for our anniversary trip. I suppose few would use the descriptor romantic if given three words to describe this eclectic, energetic, and weird (their term) city.
Of course, when you've been raising kids for 19 years, just being away from home without the offspring is romantic, even if it's Barstow.
But I'd say Portland provided all the necessary elements for a fabulous romantic weekend getaway - tantalizing food, luxurious libations, stunning views, and a variety of activities for everyone's tastes. Feel free to tweet @dormantchef and see if he agrees.
Here are the highlights (we barely scratched the surface of all the wonderful recommendations we received from fellow food-obsessed friends and acquaintances):
Dinner Friday Night
Cabezon - a fish market during the day and fish-focussed restaurant at night
Oysters are romantic right?
Smoked sturgeon
Mussels w frites and saffron aioli with a spicy white wine sauce
Monkfish
Cioppino
Sturgeon with farro
Coffee!
Stumptown Coffee - a short walk from our downtown hotel and the coffee lived up to its stellar reputation
The variety of fresh produce, local-made food products and fresh food vendors was inspiring. For food-obsessed people like me, a visit to this market will have you dreaming of moving to Portland. We decided on our next visit we would rent an apartment so we can buy more of the local food and cook and enjoy it at our leisure.
Biking Two Ways!
A bike ride through Washington Park and a visit to the stunning and expansive rose garden
A taxi bike over the bridge to Burnside Brewing Company
Of course we bought the drivers a beer!
This "Cohiba Cigar" appetizer at Burnside - Oxtail, Crispy Crepe, wrapped in a Collard Green was as tasty as it was creative
Bar hopping and dinner Saturday night!
One of many moody and romantic bars in Portland, The Secret Society, where we happily waited for our table at the neighboring Spanish tapas restaurant Toro Bravo
At Toro Bravo, we enjoyed a traditional Basque country wine called txakolina that must be poured from on high and was the perfect drink on a hot summer night in PDX
Ice Cream!
We headed over to the restaurant-studded SE Division St. to stroll around and I found room to share a pint of Salt and Straw Sea Salt Caramel Ribbon ice cream. A hint if you find a line as long as we did, just head over to the pre-packaged section, pick out what you want and they'll check you out immediately.
Doughnuts and Brunch!
Before we headed out to experience the required Sunday brunch, we waited in line for a few Voodoo Doughnuts. Were they worth it? Voodoo doughnuts reminded me of the doughnuts I ate at midnight in high school. Next visit? I'd skip the wait and try one of the many fantastic bakeries in Portland such as Kim Boyce's Bakeshop.
Brunch is a thing in Portland - perhaps as a hangover antidote, given the extensive libation offerings throughout the city. The meal at this close-to-our-hotel spot called The Imperial did not disappoint and yes, that was a virgin Mule.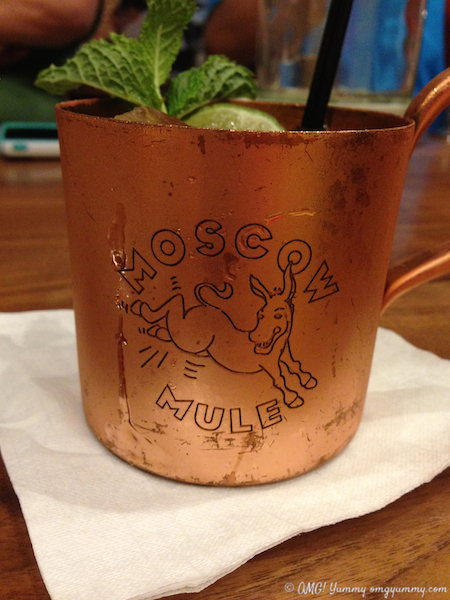 Books!
Then a quick run to Powell's Books. A mistake, the quick part that is. There is no way to visit this massively well-stocked bookstore quickly. Plan for half a day so you can truly appreciate the combination of used and new books stocked on the shelves. In the cookbook section, their endless bookshelves provide you with a historical perspective for each cuisine as you peruse the 50 year old books alongside today's newest offerings. My words and photos do not begin to capture the enormity, depth, and expansiveness of Powell's book collections.
Hiking!
And then it was time for more calorie burning in Forest Park, where we hiked until we found this view
Then we walked across the bridge to find the "blues brothers" playing a little brunch music
Back to our hotel for our luggage and one last food stop - Lardo, where our friends said we just had to try the dirty fries - sorry they were all gone before I could snap a photo!
Portland - you stole our hearts and our waistlines and we can't wait for our next visit, when yes, we decided we just have to bring the kids along!
If you've been to Portland, what is your favorite food or activity?