Sharon's Cheese Blintzes reign supreme. Learn how to make them and how she won the second year of the Battle of the Blintz.
Note: Since this post was first published in 2011, much has changed. My son tragically passed away in 2017. But his blintz legacy lives on as Sharon makes her incredible blintzes for us each and every year. I have also created a jam in his honor – please read more about him and my new jam recipe in his memory: Gregory's Jam.
In 2010, my brave and kitchen-savvy teenage son challenged his uber-talented Aunt Sharon to a blintz-off for our annual break-the-fast meal on Yom Kippur. It ended in a tie with Sharon's crepes taking the lead but my son's filling getting top nod.
In case you aren't familar with cheese blintzes, a blintz is a cheese-filled pancake usually pan-fried in butter and served with jam and sour cream. The word blintz is derived from the yiddish word "blintze"  which is derived from the Russian word "blinyet", which means little pancake. (Thanks to the Manischewitz web site for that linguistics lesson.)
Yom Kippur is the Day of Atonement that comes ten days after the Jewish New Year, Rosh Hashanah. Traditionally, Jews fast and ask for forgiveness for their sins to start the year off with a clean slate. Come sundown, Jews across the globe scramble to the dining table to end their 24-hour hunger strike with dairy-based menus.
How the Cheese Blintz Battle Began
Two years ago, we couldn't attend Aunt Sharon's annual gathering and my son decided he wanted her mouth-watering blintzes anyhow. So he headed to his infinite cookbook of the 21st century, the Internet, and found Tyler Florence's Ultimate Blintz Recipe and proceeded to cook. They came out so well, he decided to make them again last year to compare to his Aunt Sharon's (which are quite frankly a legend in our time – they are that good!) Low and behold – he almost won the battle but the crowd called it a tie.
Battle of the Blintz – Round 2
When our annual invitation arrived this year, I checked with my son and he quickly agreed to take part in Round 2 of the Battle of the Blintz. Despite his outstanding prep technique (see below), Sharon prevailed this year. He once again attempted to oven bake (yes, you can blame me) instead of fry and with her much improved filling over last year and her thin, crispy blintz leaves pan-fried in butter, the nod went her way. But even she admitted, his filling is OMG! Yummy (meyer lemon zest and ricotta soprafina take it over the top).
And the homemade strawberry jam he served with his blintzes almost elevated the outcome to a tie. (Disclosure: I made the jam – a mother will do almost anything to help her offspring – right?!) The jam was studded with a little fresh fig, vanilla, and a few splashes of a Mexican orange liqueur called 43.

The Winning Cheese Blintzes Recipe
Now onto the winning recipe and some more detailed photos and videos of my son's blintz-making technique.
Sharon explained that this recipe is from a series published in 1983, called Cooking with Bon Appetit, specifically the volume called "Breakfasts and Brunches." Her mom gave her the series of books when she was first learning how to cook (must have been a dozen books, maybe more). She only kept two in her collection — this one, and one on breads.
The person who first showed her the recipe and served it to her was her best friend's dad. "He made them for us to eat one day when I was in St. Louis for Betsy's wedding which, as you know, was a million years ago! I make them in large batches and freeze them. Usually, I have about 3 dozen in the freezer, which we'll eat between now and the end of the year. I usually fry up some over Thanksgiving weekend, when we often have guests."
If you are now yearning for blintzes (and you should want to eat blintzes, trust me), then here's a visual how-to of my 16-year old's blintz-making techniques:
Have you ever prepared blintzes? Do you have a favorite recipe? Do you make something similar but with a different name and cultural background? Share your stories in the comments below.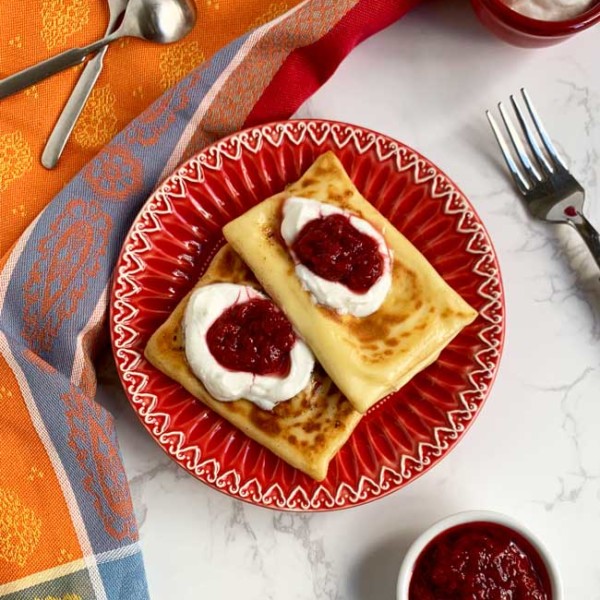 Sharon's Cheese Blintzes
Originally from an old Bon Appetit mini cookbook, this Russian Grandma's Cheese Blintz recipe is easy to prep ahead and cooks up in a flash on the stovetop. Perfected and made her own by a dear family friend - Sharon - these blintzes are legendary in their own time.
Ingredients
Crepes
4

eggs

2

cups

water

¼

cup

milk

2

tablespoons

butter

melted

1 ¾

cups

all purpose flour
Filling
2

cups

cottage cheese

8

ounces

farmer cheese

6

ounces

cream cheese

6

tablespoons

sugar

1

egg

1½

teaspoons

vanilla
Instructions
Crepe Batter
Place eggs, water and milk in blender and mix until combined.

Then add slightly cooled melted butter and flour and blend until smooth.

Refrigerate the crepe mixture for 1 -2 hours or even overnight.
Blintz Filling
Add the cheeses, sugar, egg and vanilla to the bowl of a food processor and blend well. (You can also do this by hand - Aunt Sharon always does, Gregory used the processor.)

This can also be prepared ahead of time and refrigerated for a few hours or overnight.
Make Crepes
Use an 8-inch non-stick frying pan (or crepe pan if you have one). Heat skillet over medium heat until a drop of water bounces off the surface. (For extra insurance, you can also brush with a bit of melted butter.)

Add a scant 1/4 cup of batter to pan when it is ready. Quickly swirl it around to cover the bottom of the pan and let it cook until the edges begin to curl and brown. Do not flip the crepe.

If you are new to blintz-making, place crepes browned side up on a towel (place a piece of wax paper or parchment in between each just to be 100% sure they don't stick together) and cover lightly. Repeat with remaining batter - be sure to keep cooked ones covered as you make the balance of the crepes.

When you are confident in your crepe-making, see notes below for Aunt Sharon's tips on speeding up the process.
Fill and Fold Blintzes
To fill and fold each blintz, place 1 heaping tablespoon of filling down the center of the crepe. Tuck two sides toward the center. Then fold the two remaining sides like an envelope. Place seam side down on a parchment-lined tray or platter. Repeat with remaining crepes and filling.

Now you can either cook them, refrigerate them covered, or freeze them for later use.
Cook Blintzes
Heat two tablespoons of butter in a large skillet over medium heat or until butter is bubbly. Place blintzes seam side down in pan - do not crowd. Heat until browned on both sides. Serve immediately.
Recipe Video
Recipe Notes
Sharon fills and folds the bilntzes as she make the crepes. This makes life easier, as you don't have to layer the crepes with the wax paper. Here is how she does it. Make crepe. Turn cooked crepe onto clean dish cloth, cooked side up. Pour batter into pan and cook next crepe. While it cooks, fill and fold blintz. Put blintz on cookie sheet lined with wax paper or parchment. Freeze one sheet at a time, and then you can layer frozen blintzes in freezer container. Generally, she does this by herself, but a helping hand is always nice.