Fruit compote is such a simple recipe to pull together on a whim. Whether you are out of maple syrup for your pancakes, using up excess fruit or adding just the right finishing touch to a sweet or savory dish, you'll become a devoted fan of this fancy-sounding but super simple way of creating a sauce with fruit. (This post was first published in 2013, updated June 2019)
For ease of browsing, here are all my breakfast recipes in one place.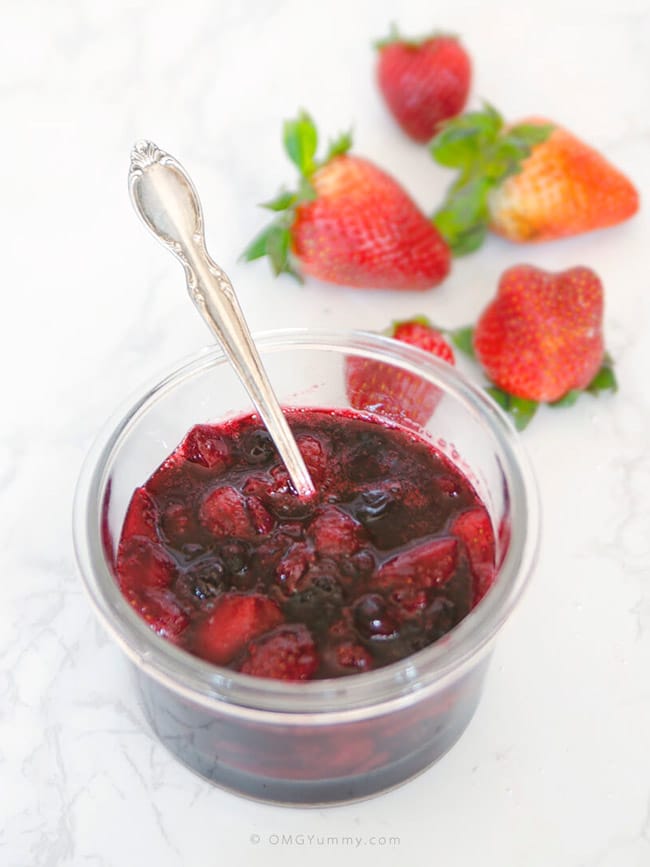 Out of maple syrup on Pancake Sunday - what is a good mom to do? Make an omelette? Serve fake syrup? Go out?
Motivated by a 3-bag-full trip to a new farmer's market and a post about blueberry compote from the blog Blue Kale Road, I created a fruit compote instead using the beautiful fresh berries purchased the day before.
What is a Fruit Compote?
Compotes are simply fresh or frozen fruits cooked with a bit of sweetener and spices to create a syrupy, chunky fruit dessert. Think of it as cooking fruit to create a sauce. It is one step simpler than preparing jam.
You cook it for less time and it will thicken up. But you are not looking for a spreadable end result, just a pourable or spoonable texture.
What Makes a Compote Thicken Up?
The natural pectin in the fruit will aid the thickening. As the mixture boils and the liquid reduces, the fruit will break down and create texture and continue to thicken. If it seems too runny, just let it continue to cook until it's a syrupy, pourable consistency.
How Do you Make a Fruit Compote?
Compote-making is a simple process.
Wash and slice your fresh fruit or measure your frozen berries.
Put the fruit in to a medium-sized saucepan.
Add some sugar or sweetener of choice.
Zest in about half of a medium sized lemon (meyer if you have it) as well as a tablespoon of lemon juice and a teaspoon of vanilla. Here you can be creative with your flavors - use alternate citrus such as oranges or limes, add cinnamon, ginger, allspice, cardamom. You are only restricted by your spice drawer or imagination.
Turn the stove to medium until the mixture begins to boil (about five minutes), then turn to medium low and let it simmer for about another ten minutes. Taste for sweetness and flavor - I added the very last teaspoon of maple syrup at the end for just a touch more sweetness and hint of maple flavor. If it's too thick, extra juice from the citrus you used can be added.
Let it cool down before using - it will thicken up a bit more as it does. Serve the fruit sauce over my Bubbie's bubula (matzo meal pancake) - you'll love it. I promise.
If you have any leftover compote (unlikely), the flavor just keeps improving. So this is a recipe you can make ahead for a brunch or gathering of any sort.
What Should you Serve with this Fruit Sauce?
Compote is an obvious fit for breakfast - on pancakes, waffles, french toast, or yogurt. Even a sidekick to scones or hearty toast.
Don't forget to try my friend Sharon's Russian grandmother's blintz recipe with this compote.
But don't stop there - it will thicken up when you refrigerate it. Go ahead and spread it on a sandwich, or reheat it and serve it as a side dish to a pork tenderloin or roast chicken. Or the simplest dessert with just a dollop of whipped cream, ice cream, or yogurt on top.
Bubbe's Bubula - A Matzo Meal Pancake
Whole Wheat Chocolate Chip Waffles
Grandma's Homemade Cheese Blintzes
Homemade Pecan Coconut Granola
And a special thanks to Family Spice's publisher, photographer, chef, and two-time cookbook author Laura Bashar for recipe testing and photographing this fruit compote recipe. Her flavor combinations and photography are inspiring - please pop over and check out her blog and buy!! her cookbooks here:
This post contains Amazon affiliate links – if you click on one and purchase something, I receive a very tiny percentage of the sale. Your price is never affected.
Other Supplies for Making Compote
Also check out my Amazon shop that includes some of my favorite food and food-related products. I am always updating it – please visit often. And let me know if you need specific product recommendations – I am happy to help!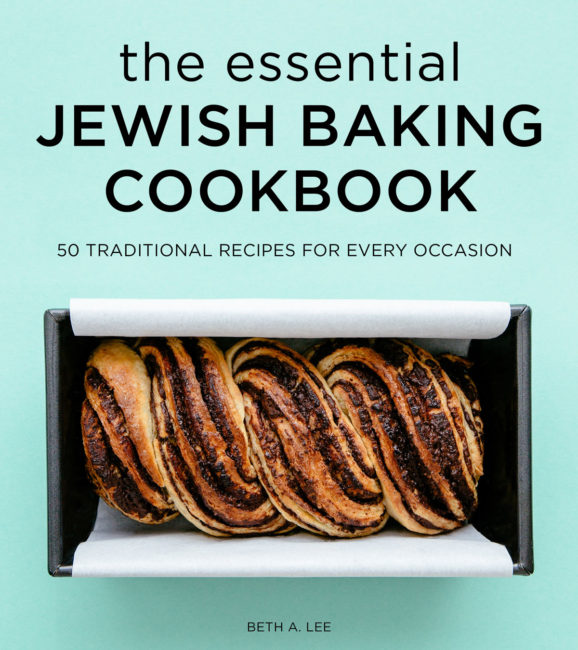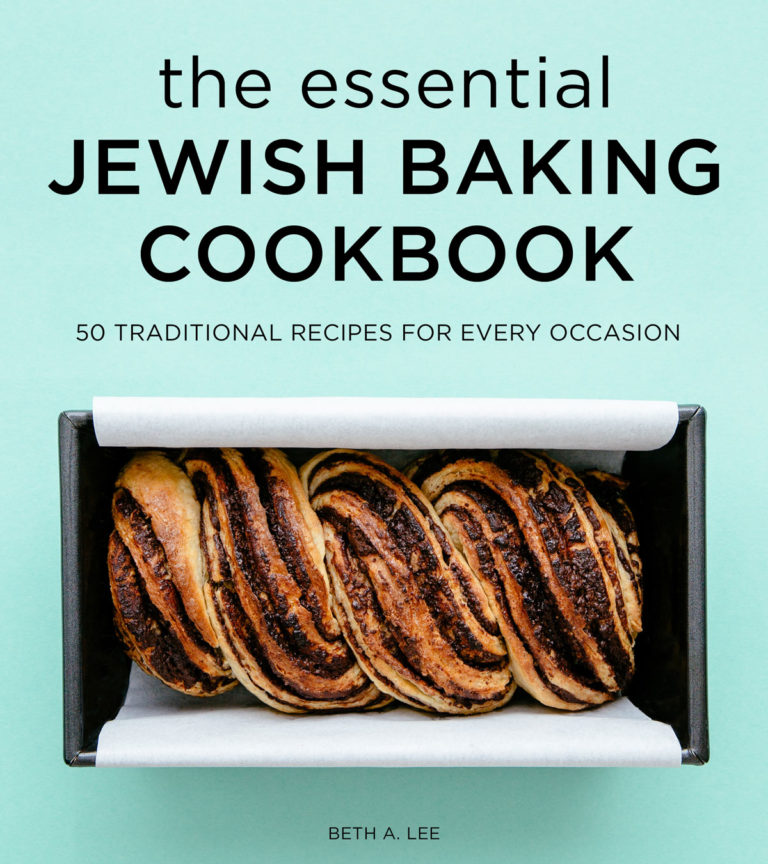 P.S. If you try this recipe, please leave a star rating and/or a review in the comment section below. I so appreciate your feedback! AND find more inspiration on Pinterest, Facebook or Instagram. Signup for my email list, too!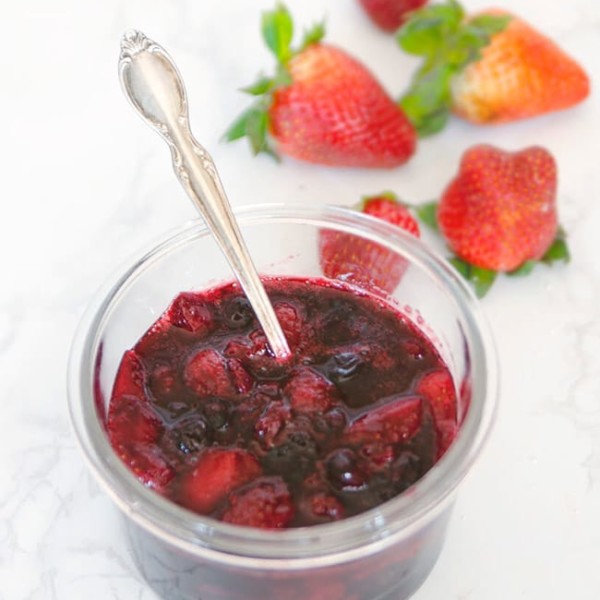 Fruit Compote
A simple technique - similar to jam-making but quicker and less sugar - the idea is to have nice chunks of fruit remain and to preserve the flavor of the fruit, in this case strawberries and blueberries.
Ingredients
1

pint

strawberries

cleaned and quartered

1

cup

blueberries

washed

2

tablespoons

sugar

could also use honey, maple syrup, agave nectar, etc

zest of ½ of a medium lemon

1

tablespoon

juice from the lemon

1

teaspoon

vanilla

1

teaspoon

maple syrup
Instructions
Combine all the ingredients in a medium size saucepan and bring to a boil on medium heat. This should take about 5 minutes.

Turn down to medium low and let slowly simmer/boil for about 10 more minutes until the fruit is starting to break down but is still whole.

Take off heat and let it cool down a bit before using. It will thicken up a bit as it does.
Nutrition
Calories:
45
kcal
Carbohydrates:
11
g
Potassium:
104
mg
Fiber:
1
g
Sugar:
8
g
Vitamin A:
15
IU
Vitamin C:
37.3
mg
Calcium:
9
mg
Iron:
0.3
mg