olive oil granola
loaded with pecans, coconut and pumpkin seeds
,
you will never buy granola again. So easy and so versatile -- top your yogurt, grab a handful as a snack or sprinkle on a bowl of ice cream! Be sure to check out my
pumpkin pie granola
too!
The origin of this olive oil granola recipe
I originally developed this granola when I couldn't decide between two great recipes from Cheryl Sternman Rule and Melissa Clark. Of course, as my friend and co-conspirator in my Tasting Jerusalem group Sarene Wallace reminds me – that's how new recipes are born.
All I know is that I am so glad I started making my own granola. I can control how much sweetener I use, what kind of sweetener I use and of course what add-ins – nuts, seeds, dried fruit, and other flavorings I incorporate.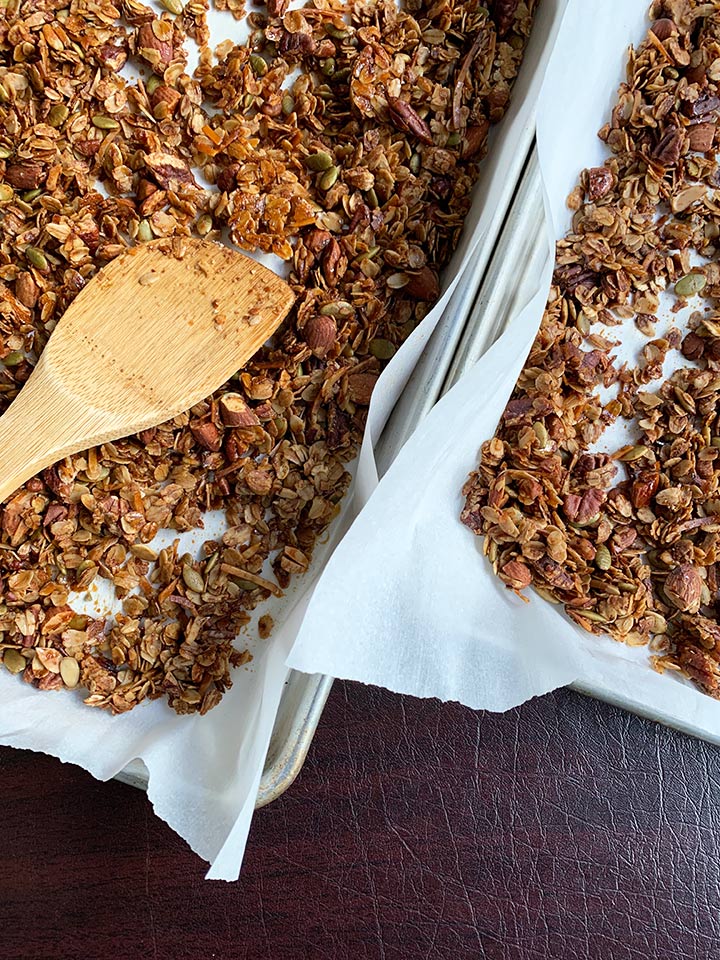 Make this pecan granola recipe your own
Granola is one of those creations that you'll soon find yourself preparing in your own style, barely glancing at a recipe. But to understand the technique and figure out your family's sweetness quotient, start somewhere and yes, I recommend this recipe as a perfect place to begin. Then take notes on the raves and criticisms and adjust it to your own style and what you have on hand.
Sweetener options for olive oil granola
Cheryl's recipe used agave nectar to sweeten it, while Melissa's used maple syrup and a little brown sugar. Agave has a lower glycemic index than other sweeteners and packs a sweeter punch, so you use a bit less. I don't always have agave on hand. And since I developed this recipe, some research suggests that it may not be a good choice of sweetener despite its lower glycemic index. So use what you prefer. I usually use a combo of maple syrup and honey.
Other ingredient substitutions
For the oil, Cheryl used canola, while Melissa used olive oil in the NY Times version and coconut oil in her Cook This Now version. I always use olive oil because I am a big fan. But use whatever oil you have or what you like best.
As for the dried coconut and pumpkin seeds – I keep raw pumpkin seeds around just for granola making or salad topping. I also keep coconut around just for granola but if you don't have it, make this recipe anyways. If you do use the coconut, be careful about using sweetened vs. unsweetened. If you use sweetened coconut, you'll need to cut down on the sweetener in the granola. I keep unsweetened coconut around for flexibility. You'll find it at Trader Joe's or in most baking aisles.
How to make homemade granola
Making granola is a bit like putting together a quick bread.
Have two parchment-lined ½ sheet pans ready.
Combine the dry ingredients in a large bowl.
Combine the wet ingredients in a measuring cup or smaller bowl.
Then pour the wet into the dry and combine well.
Pour half of the mixture onto each pan and spread it out.
Bake on two shelves in a 325 degree oven, mixing each pan and rotating the shelves they are on every 10 minutes.
After 30 minutes, you have granola!
I recommend leaving the two sheet pans out to cool untouched – the granola will stick together a bit and the bigger pieces are fun to eat. This recipe also works well if you double it or make 1.5 batches. Store it in a sealed container in your pantry. But I warn you, it won't last long!
What about adding dried fruit?
If you like dried fruit in your granola, add it after the granola is cooked, not before. Just toss it on the trays when they come out of the oven and mix it around if you'd like. You can add raisins, cranberries, currants, barberries, apricots, cherries or whatever dried fruit you have.
How to serve this granola
Serving granola atop yogurt is the most obvious way to use this crunchy oat and nut mixture.
If you are used to eating sweetened yogurt, try unsweetened Greek or regular yogurt and let the granola add the sweetener for you. And of course you have to add fresh fruit along with the yogurt and granola.
Or add this super simple fruit compote - it's a perfect combination!
Here's a fun variation on a yogurt parfait - Pomegranate Yogurt Parfait with Blueberries
You can also use it like any other cold cereal and eat it with milk and fresh fruit. That is one of my go-to comfort foods.
When I bring a batch to my parents' house, they like to just grab a handful and snack on it.
And one of my favorite uses? For dessert atop your favorite ice cream!

Try this super simple no churn ice cream - it's a snap to make and requires only 4 ingredients!
Supplies for making this olive oil granola
This post contains Amazon affiliate links – if you click on one and purchase something, I receive a very tiny percentage of the sale. Your price is never affected.
Obviously oats are the key ingredient. As for supplies, I love my half sheet pans and use them almost daily for baking and roasting. I also use parchment paper all the time. You can buy rolls of it or if you use it a lot, these pre-sized sheets are fantastic. Of course, a good set of mixing bowls and measuring cups are important for this recipe and in any well-used kitchen!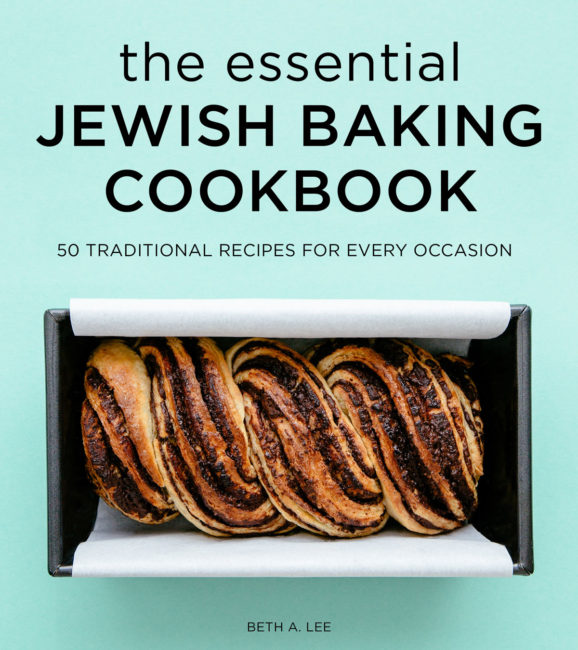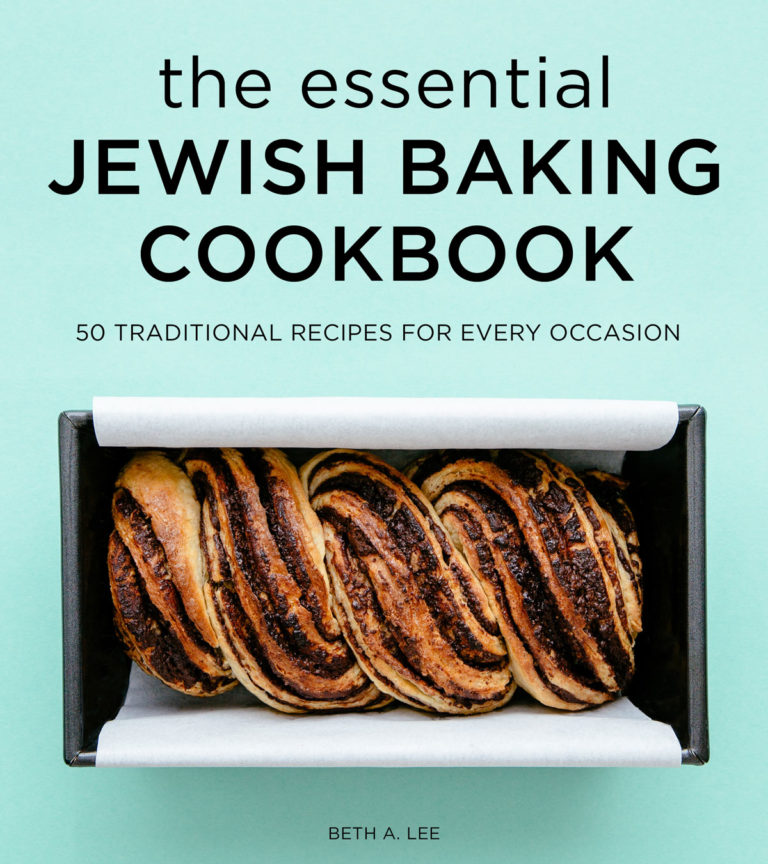 P.S. If you try this recipe, please leave a star rating and/or a review in the comment section below. I so appreciate your feedback! AND find more inspiration on Pinterest, Facebook or Instagram. Signup for my email list, too!
Also check out my Amazon shop that includes some of my favorite food and food-related products. I am always updating it – please visit often. And let me know if you need specific products recommendations – I am happy to help!
Olive Oil Granola with Pecans, Coconut and Pumpkin Seeds
Beth Lee
Once you make this homemade olive oil granola loaded with pecans, coconut and pumpkin seeds, you will never buy granola again. So easy and so versatile -- top your yogurt, grab a handful as a snack or sprinkle on a bowl of ice cream!
Ingredients
4

cups

old-fashioned rolled oats

not quick cooking

1 ½

cups

or more roughly chopped raw pecans

walnuts and almonds work well also

½ - 1

cup

hulled pumpkin seeds

optional

1

cup

unsweetened coconut

optional

1

teaspoon

cinnamon

1

teaspoon

kosher salt

½

cup

olive oil

can use canola oil

½

cup

maple syrup or honey

can also use agave nectar (slightly less)

1

teaspoon

vanilla extract

½

teaspoon

almond extract

optional
Instructions
Preheat oven to 325 degrees, or 300 convect.

Have two sheet pans ready, lined with silicone mats or parchment paper (optional).

In a large bowl, stir together the first six ingredients – oats, coconut, pumpkin seeds, nuts, cinnamon, and salt

In a smaller bowl, stir together the oil, maple syrup (or honey), vanilla and almond extract. Add this mixture to the larger bowl and combine well.

Spread in an even layer on the two sheet pans. Bake for approx. 30 minutes, stirring every 10 minutes or so. Note the color before you place them in the oven – it's done when it has noticeably darkened. It will be soft when you first take it out. Let it cool on the sheet pans. It will harden as it does. Store in a glass jar, cereal holder, or Ziploc bag. (Remember to add the dried fruit as soon as it comes out of the oven if you are using any.)

Eat alone as a snack, top your favorite yogurt, add bananas, strawberries, and milk or sprinkle on your favorite frozen yogurt or ice cream.
Notes
Dried fruit options: cherries, apricots, raisins, currants, barberries, cranberries. If you use dried fruit, add it in after the baking is done, as soon as it comes out of the oven. We prefer our granola crunchy, not chewy and leave out the fruit.

Another good add after the granola comes out of the oven? Chia seeds. Or you can mix in some flax seed before you cook the oats.
Nutrition
Serving:

1

g

Calories:

298

kcal

Carbohydrates:

24

g

Protein:

6

g

Fat:

21

g

Saturated Fat:

5

g

Sodium:

150

mg

Potassium:

211

mg

Fiber:

4

g

Sugar:

7

g

Vitamin A:

5

IU

Vitamin C:

1

mg

Calcium:

33

mg

Iron:

2

mg

Once you make homemade