Barberries or in Persian, zereshk, are a tart and tangy dried berry about the size of a currant. A featured ingredient in our Tasting Jerusalem group and a must-have on an Ottolenghi pantry list, you will love these little jewels once you try them!
This post contains Amazon affiliate links – if you click on one and purchase something, I receive a very tiny percentage of the sale. Your price is never affected.
What are Barberries
Barberries are a tiny edible dried red berry that resembles miniature cranberries or a red version of a currant. The berries come from a plant known as Berberis Vulgaris, which is common in Europe, North Africa, the Middle East, and central Asia, and has more recently been introduced in North America.
Most barberries you find in stores are imported from Iran. Zereshk are a frequent ingredient in Persian cuisine. Unlike cranberries, zereshk are sold with no added sugar -- just the tart pucker-worthy berries they are meant to be.
How to Use Barberries
The most popular Persian dish they are featured in is called zereshk polo (polow) – which means barberry rice. But you can add these little bursts of tartness to so much more than rice – add them to chicken dishes for example (chicken is often paired with zereshk polo).
Or egg-based dishes like frittatas. There is a Persian dish called kuku, similar to a frittata but very herb-forward which often features barberries.
Any time you can imagine a hint of tart would accentuate or complement a dish, think of barberries. To tone down the tartness, you can sauté them with a bit of sugar. But I love their tangy flavor au naturel.
They also work well if you want to create a sweet and sour taste. There is a celebratory Persian rice dish – wedding rice – that features barberries, almonds, pistachios, raisins, orange peel, saffron, butter and sugar for a sweet-tart effect.
What do Barberries Taste Like?
Once rehydrated, the tiny berry looks like a little jewel -- a jewel with the color of rubies and a bold tangy flavor bigger than its size. Apparently for centuries the barberry was used in Europe much the same way citrus peel or zest is used.
I added some to my persimmon bread along with apricots and cranberries and raisins. I've made a cocktail cookie with them instead of using cranberries. They have the chewiness of a raisin or cranberry but the tartness and acidic flavor of citrus.
How to Prepare Barberries for Use
Barberries are harvested from a bush and often have stems or sand or tiny stones that you'll want to remove. So grab the amount you need and spread them out to easily see the stems or other unwanted matter. Then soak them in warm water and any dirt will release and fall to the bottom.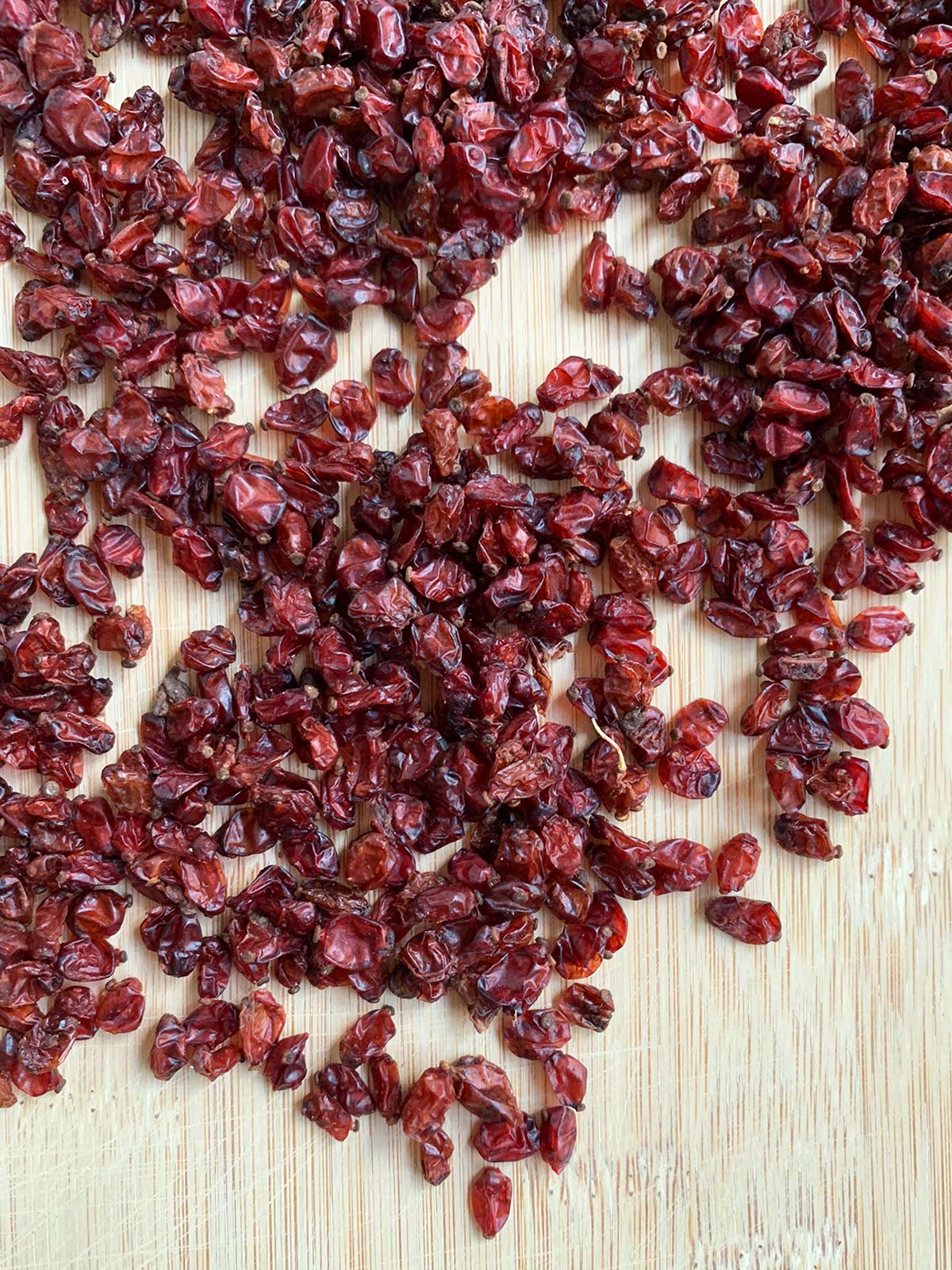 If you will be sautéing them as you might for barberry rice, I would also dry them off after draining so the excess water doesn't splatter in the hot pan.
Substitutes for Barberries
Can't find barberries? Or want to make a dish calling for them right now but don't have any in your pantry? You can use cranberries. If the size matters, chop the cranberries into smaller pieces.
Currants are another good substitute. According to Yotam Ottolenghi, you can soak the currants in some lemon juice and they'll pick up some of that tang of a barberry. You can also substitute chopped dried sour cherries (like the ones from Trader Joe's).
Where to Buy Barberries
Iran is the largest producer of barberries, so you'll find them readily available at Middle Eastern grocers. Or purchase them online through various spice suppliers such as USimplySeason or TheSpiceWay or Sadaf.
Recipes that Use Barberries
Instant Pot Barberry Rice - this gorgeous dish is simplified by making the rice in the Instant Pot. You'll love the tangy berries and golden-saffron hued topping.
Tasting Jerusalem is a virtual cooking community exploring the vibrant flavors and cuisine of the Middle East. You can join the conversation by liking our Facebook page. and joining our Facebook group.