Persimmon bread – the perfect way to use up all that gorgeous hachiya persimmon pulp. This recipe will make two loaves or 16 mini loaves so you can get ahead on your holiday gift giving. Also a perfect addition to your Thanksgiving feast.
Persimmon Bread – A Unique Quick Loaf for Fall and Thanksgiving
This all started with a bowl of hachiya persimmons gifted to me from a friend. But what to do with them? I researched the myriad possibilities and decided to make a variation on James Beard's famous persimmon bread.
What is the Difference between a Fuyu and a Hachiya Persimmon?
Fuyu (the short squat persimmon) is firm and crisp and is generally eaten like an apple. The hachiya, on the other hand, is ripe when it becomes soft. You extract the pulp and use it for cooking and baking.
How to Extract the Pulp from a Hachiya Persimmon
Using Hachiya persimmons takes patience – you must wait until they are soft. Once they become squishy, then the pulp is ready to be used.
Wash them, cut them in half through the equator, and just scoop out the pulp with a spoon. You can puree the pulp in a blender or food processor – I like it a bit chunky so I just used a hand potato masher.
If you don't have an immediate need for the hachiya persimmon pulp, put it in containers and freeze it.

How to Make Persimmon Bread
Here's a quick run-down of how I modified James Beard's recipe.
I used 2 cups of white whole wheat flour and 1 ½ cups of unbleached flour instead of 3 ½ cups of one kind of flour
instead of one teaspoon of nutmeg, I used ¼ tsp nutmeg, ¼ tsp ground cardamom, ¼ tsp. allspice, and a generous ¼ tsp of cinnamon.
I was also out of my regular organic sugar so I used 1 ½ cups of Coconut Palm Sugar and ½ cup of organic.
I used less raisins and nuts than called for plus I soaked the raisins in some warm orange juice and cinnamon before adding to the mix. I think you can add even more raisins (loved how they tasted)
You might back off on the cognac to ½ cup from 2/3 to make it a little more friendly for the young crowd (not that they didn't eat and enjoy it anyhow).
I also grated about 1/2 tablespoon of orange zest into the sugar and rubbed it in to incorporate the flavor, before I added the sugar to the flour mixture.
After taste-testing a mini-loaf and gathering feedback from family and neighbors, I tucked a large loaf away in the freezer for use on Thanksgiving day. It was a lovely addition to the buffet – providing complementary flavors to the rich, sweet, and savory aromas of the day.
Traditions start somewhere, sometime – how about starting one right in your own kitchen this Thanksgiving?!
We've added some new dishes to our Thanksgiving table over the years while keeping our must-have food traditions alive. Here are some new and old traditions that are indelibly etched in our evolving family Thanksgiving tradition.
Our Newer Thanksgiving Traditions
Soup Shooters as a stand-up first course. Pictured is a squash soup but we have also made a pumpkin soup with cranberry creme fraiche – a Bobby Flay recipe.
Orange Thyme Cocktail Cookies – a savory cookie appetizer served with a cocktail – fun fun fun!
I haven't served this at Thanksgiving but if you want to wow your guests or your host, try Dorie Greenspan's Pumpkin Stuffed with Everything Good. It's a beautiful addition to the buffet and a mighty tasty and flexible side dish as well.
Our Original Thanksgiving Traditions
How to Make Stuffing Bread Cubes
How to Make Sage, Sausage, and Cornbread Stuffing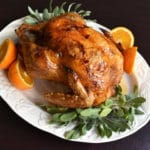 More Thanksgiving Recipes to Inspire you
Roasted Delicata Squash with Pomegranate Molasses
Traditions start somewhere, sometime – how about starting one right in your own kitchen this Thanksgiving?!
What's your favorite must-have dish at the Thanksgiving table and what would you change if your family would let you?
James Beard's Persimmon Bread
This is a boozy, moist bread with deep luscious fall color and flavors. This recipe makes enough for yourself and a gift for someone special.
Total Time
1
hour
35
minutes
Ingredients
3 ½

cups

sifted flour

I used 2 cups white whole wheat flour and 1 1/2 cups of Bob's Red Mill Unbleached White Flour

1 ½

teaspoons

salt

2

teaspoon

baking soda

1

teaspoon

ground nutmeg

I used 1/4 tsp. freshly grated nutmeg, 1/4 tsp allspice, 1/4 tsp. cardamom, and a generous 1/4 tsp. cinnamon

zest from one medium orange

2

cups

sugar

I used 2 cups with a 1/2 tblsp. of orange zest rubbed into it - I used coconut palm sugar and organic sugar because that's what I had in the house

1

cup

melted unsalted butter

cooled to room temperature

4

large

eggs

at room temperature, lightly beaten

2/3

cup

Cognac

bourbon or whiskey (back off to 1/2 cup if younger kids are going to eat the bread)

2

cups

persimmon puree

from about 4 squishy-soft Hachiya persimmons**

2

cups

walnuts or pecans

toasted and chopped (I used about 1 1/2 cups.)

2

cups

raisins

or diced dried fruits (such as apricots, cranberries, or dates) - I used raisins soaked in orange juice and cinnamon - about 1 cup)
Instructions
Extract the pulp from the hachiya persimmons: Wash them, cut them in half through the equator, and just scoop out the pulp with a spoon. You can puree the pulp in a blender or food processor - I like it a bit chunky so I just used a hand potato masher.

If you need to toast your nuts, start that process now as well as macerating the raisins if you plan to add this step. If you macerate the raisins - just add enough orange juice to immerse them and about a tsp. of cinnamon - pour out most of the juice before you use them.

Butter or spray 2 loaf pans. Line the bottoms with a piece of parchment paper or dust with flour and tap out any excess. (I used one loaf pan and one 8 compartment mini-loaf pan).

Preheat oven to 350 degrees.

Sift the first 4 dry ingredients in a large mixing bowl. Add the orange-zested sugar and combine.

Make a well in the center then stir in the butter, eggs, liquor, persimmon puree then the nuts and raisins.

Bake 50 - 55 minutes or until toothpick inserted into the center comes out clean. (the mini loaves took 30 minutes and the large loaf took 50 minutes)

Storage: Will keep for about a week, if well-wrapped, at room temperature. The Persimmon Breads freeze well too.
Recipe Notes
**I removed the pulp from 17 persimmons which yielded 4 cups of pulp - I froze the other 2 cups in one cup containers for later use.