For all you feminists reading this post – let me say right up front – I did not make the name of this cookie up myself.  Not surprisingly, the recipe dates back to the 50's – the era of cake mixes, TV dinners, canned peas, McDonald's, condensed soups and the lonely housewife filling up her days with cookie-making and other exciting tasks while she waited for her man to come home.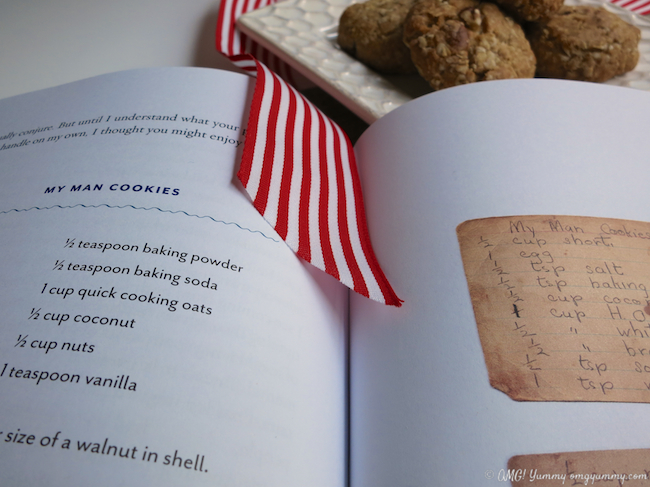 Oh just writing that makes me cringe. @DormantChef and I hardly have a My Man, My Woman kind of relationship. And it might be true that I have been heard saying "I am not your maid" to members of my household on more than one occasion. My mother was not the happiest of people in the '50s and '60s and I suspect I wouldn't have been either.
I happened upon this cookie recipe while working on a freelance article about a cookbook called "Compromise Cake: Lessons Learned from my Mother's Recipe Box
" by Nancy Spiller (Counterpoint Press, 2013). The recipe caught my eye for its unexpected moniker and the ingredients. Filled with oats, coconut, and nuts, I was hoping these might fill the bill for @Dormant Chef's request that I make oatmeal raisin cookies (though none in the original recipe). And my son adores coconut in any form. So I decided this would be the recipe for my article.
Motivated by her mom's abandoned recipe box circa the 1950s, Nancy Spiller's book is mostly memoir, part cookbook . She uses the recipes as a springboard to share the tales of her 4th generation California family as well as the often rocky relationship with her troubled mom that was somehow always grounded when they were in the kitchen.
Neither Nancy's write-up or my research could uncover exactly how these cookies ended up with this antiquated, pre-feminist name, but Nancy does imagine they were the perfect cookie to hand "your man" after a hard day's work.
Nancy's description of the cookies lured me in even further: "Like too many marriages from that era, the cookies sounded dull…" She goes on to say: "Coming out of the oven they looked as boring as I feared they would…Then I bit into one." She describes them as rough on the outside, tender on the inside and proceeds to relate that description to some of her cranky relatives. Delightful.
These cookies are a simple combination of white and brown sugar, an egg, shortening (replaced by coconut oil at the suggestion of the author), flour, salt, baking powder, baking soda, vanilla, finished off with chopped nuts, coconut, and quick-cooking oats.
Nancy discusses at length her desire to find a suitable substitute for shortening. First she tried lard and ended up with cookie dough that smelled like bacon but baked up beautifully. Not enjoying the idea of pigs dying so she can make cookies, she moved on to coconut oil and felt that really hit the spot. I had some in my pantry waiting to be used and so I tried the same.
The recipe in the book is the original from her mother's box and lacks some details that I usually include in my recipe instructions. I'm guessing that was not unusual in those days. But for any novice baker, the instructions could be a little brief. I have adapted the recipe with modified instructions below.
I also baked the cookies longer than suggested – I would leave this up to you. They were probably fine at the 13-15 minute mark but I wanted that little bit of extra color and crunch.
The first batch I rolled into balls but ended up flattening with a spatula at the end of the cooking time as they didn't flatten out on their own. Second tray went in flattened.
I'm not sure that these crunchy, coconut-enhanced oatmeal nut cookies will be exactly what "my man" was envisioning when he asked for oatmeal raisin cookies. But they are a lovely simple treat to enjoy with your afternoon tea or coffee or to round out your kids' lunch box goodies.
Give them a try despite their name and dish them up to your family because sometimes we all need to be served.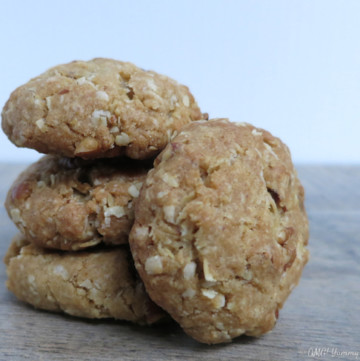 My Man Cookies
These simple "working man's" cookie with oatmeal, nuts, and coconut will delight men, women, and children alike with tea, coffee, or as the perfect lunchbox treat. This yields about 25 cookies and could easily be doubled to serve a crowd.
Ingredients
1

cup

flour

1/2

teaspoon

kosher salt

1/2

teaspoon

baking powder

1/2

teaspoon

baking soda

1/2

cup

white sugar

1/2

cup

brown sugar

1/2

cup

shortening or coconut oil

1

egg

1

teaspoon

vanilla

1

cup

quick cooking oats

no quick cook in the house? just grind up some regular oats in the food processor

1/2

cup

unsweetened coconut

1/2

cup

chopped nuts

I used pecans and toasted them first
Instructions
Preheat the oven to 350 degrees.

In a small bowl, combine the flour, salt, baking powder and soda.

In a medium size mixing bowl, cream the sugars and shortening or coconut oil together by hand or in a stand mixer with a flat paddle. Beat in the egg and vanilla just until combined. Add the flour mixture to the wet ingredients and mix until combined. Then add the oats, coconut, and nuts. This will be a fairly sturdy cookie dough. I used my hands to get it all combined after adding the oats, coconut, and nuts.

I made walnut sized balls for the first pan of cookies but they didn't really flatten on their own so for the second batch, I formed them as flat discs for baking.

The suggested time is 15 minutes at 350 degrees. I actually left them in about 2 minutes longer but I think 13 - 15 minutes is right on the mark for a crunchy exterior with a soft interior.
Notes
Adapted from Nancy Spiller's Compromise Cake Cookbook
Nutrition
Calories:
400
kcal
Carbohydrates:
47
g
Protein:
5
g
Fat:
22
g
Saturated Fat:
6
g
Cholesterol:
20
mg
Sodium:
229
mg
Potassium:
164
mg
Fiber:
2
g
Sugar:
26
g
Vitamin A:
30
IU
Calcium:
41
mg
Iron:
1.8
mg