This time of year, cookie recipes and tips are everywhere you look – your local newspaper's food section, the morning news shows, Buzzfeed, HuffPost, Bon Appetit, and of course, on your favorite food blogs. But Hermine, my favorite cookie baker of all time, would say this: Just get in the kitchen and bake – it's the best way to learn and improve your skills and techniques.
And that's exactly what 8 of us were doing last week as we prepared for the 3rd Annual Hermine Memorial Cookie Exchange. We arrived with a platterful of one or two of her holiday cookie creations and then left with a platterful of all of them.
My task was the rugelach (which we use my recipe for since Hermine crowned it worthy) and I was also assigned her Oatmeal Bittersweet Chocolate Chunk Cookie — see below for recipe.
After sipping on champagne and cosmos, taste-testing the cookies and a few cheeses, we settled in for a bowl of chili and some salad to round out the comfort food-filled evening.
We toasted Hermine, while her daughter reminded us that the tradition started with just one cookie jar full of chocolate chip cookies and grew quickly from there to this multi-cookie production that Hermine managed all on her own year after year. Now it takes a village but it's a labor of love that I am certain Hermine would be proud we undertake.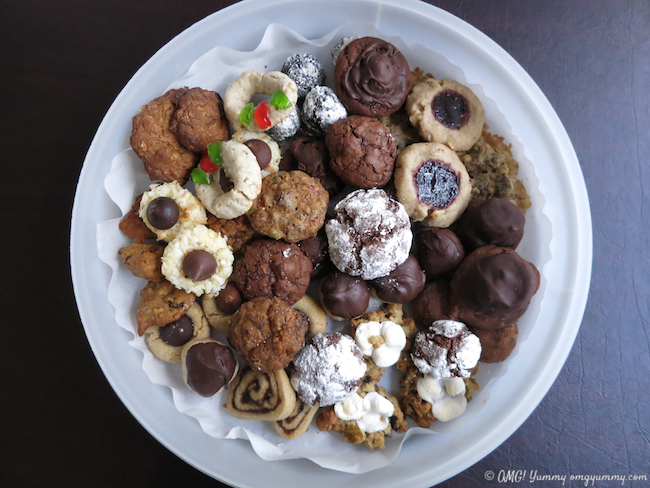 So try your hand at a batch of cookies this season and share them with your friends and family. It's amazing how restorative a 15 minute break with a couple of cookies and some hot coffee, tea, or hot chocolate can be, especially during this busy, chilly, festive time of year.
What is your favorite sweet during the holiday season – to bake or just to eat??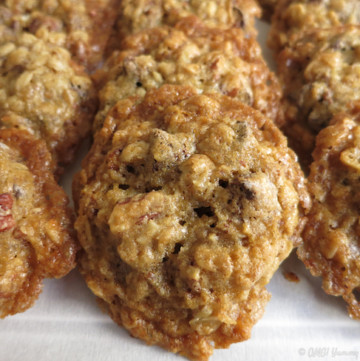 Hermine's Oatmeal Bittersweet Chocolate Chunk Cookie
One of Hermine's classics - a simple cookie dominated by chocolate and oatmeal - a combination that really never gets old or overdone.
Ingredients
2

sticks

unsalted butter

1

cup

packed dark brown sugar

1

cup

granulated sugar

2

teaspoons

vanilla

1

teaspoon

salt

2

eggs

1

teaspoon

baking soda

2

teaspoons

water

1 1/2

cups

flour

1 1/2

cups

old fashioned rolled oats

1 1/2

cups

coarsely chopped toasted walnuts or pecans

16

oz

about 2 cups coarsely chopped bittersweet chocolate (I used high quality chocolate chips)
Instructions
ln large bowl combine the butter, brown sugar, sugar, vanilla and salt. Beat with a spoon until fluffy - I did it by hand but a stand mixer would be great here.

Beat in the egg, baking soda and 2 tsp water.

Stir in the flour, oats, walnuts, and chocolate. Transfer to a bowl just large enough to hold the dough, cover and refrigerate until firm, about 4 hours or overnight. (I think you can skip this step if you want or just refrigerate for an hour or so. BUT, it is a great make-ahead dough if that helps with time management.)

Preheat oven to 350° regular or 325 convect. Line 2 baking sheets with silicone mats or parchment paper. Using 1-2 Tbsp of dough for each cookie, shape the dough into balls and space them out on the cookie sheet with 1.5 - 2 inches of space between each dough ball.

Bake for 10-12 minutes, until the cookies spring back when very lightly touched. Do not overbake or the cookies will dry out.

Cool on the sheets for 2 minutes then transfer to racks to cool. Repeat the baking procedure with cool baking sheets.
Notes
Adapted by Beth Lee from Hermine's Cookie Files.
Nutrition
Calories:
271
kcal
Carbohydrates:
38
g
Protein:
4
g
Fat:
11
g
Saturated Fat:
6
g
Cholesterol:
14
mg
Sodium:
171
mg
Potassium:
195
mg
Fiber:
1
g
Sugar:
23
g
Vitamin A:
20
IU
Vitamin C:
0.2
mg
Calcium:
78
mg
Iron:
1.2
mg