This hamantaschen recipe shines once a year – at Purim. But why not eat these 3-sided filled cookies all year round? Whether it's Purim and whether or not you celebrate this fun Jewish holiday!
Another great cookie to try are my date and walnut thumbprints.
How I recreated my Bubbe's orange-scented hamantaschen recipe
This hamantaschen recipe is a long time in the making. I first wrote about these three-sided cookies or hamantaschen in a very early blog post in March of 2010.
As a child, I remember eating the baked scraps of orange-scented cookie dough voraciously with all three of my brothers. We didn't even care about the fillings.
But my grandmother's "recipe" is scrawled on the back of a piece of paper with imprecise measurements. So I have been experimenting on and off trying to replicate that memory flavor.
During one round of testing, I had orange olive oil in the pantry and decided to try it. My thinking? My grandma always made these cookies with vegetable oil so why not olive oil?
And sure enough, it worked. But orange scented olive oil is not a prerequisite. Regular olive oil enhanced by orange zest works quite nicely. In fact, I use some zest for an extra hit of citrusy aroma even with the orange olive oil.
What are hamantaschen?
Hamantaschen are filled three-sided cookies traditionally eaten for the Jewish holiday, Purim. On Purim, we remember the story of wicked Haman and the hero Queen Esther who saved the day for the Jewish people.
Many stories have been woven to explain the name of these cookies. One among them is that "tasch" means pocket so these are Haman's pockets. Another is that the triangular shape represents Haman's hat.
What doughs are used to make hamantaschen?
Not only is there no consensus about what the name means, but there is no agreement on the best kind of dough. Hamantaschen dough falls into 3 categories:
yeast-based dough
butter or margarine-based dough
and an oil-based dough.
The dough for this recipe is inspired by my grandmother's oil-based dough. She used vegetable oil. I use olive oil. This dough has a tendency to be very soft – a little refrigeration helps with that as does some flour on your work surface.
What fillings to use for this hamantaschen recipe?
Since there is a pocket that forms when you fold these cookies, they are really all about the fillings, (despite my childhood memories of just eating the cookie dough). Almost anything will work from traditional fillings like poppy seed or prune (lekvar) or unexpected fillings like Nutella, chocolate ganache, or any jam of your choice.
One recipe I discovered places cookie dough in for the filling so you end up with a cookie in a cookie. Favorites in our house are jams of any kind. My most favorite jam, of course, is Gregory's jam.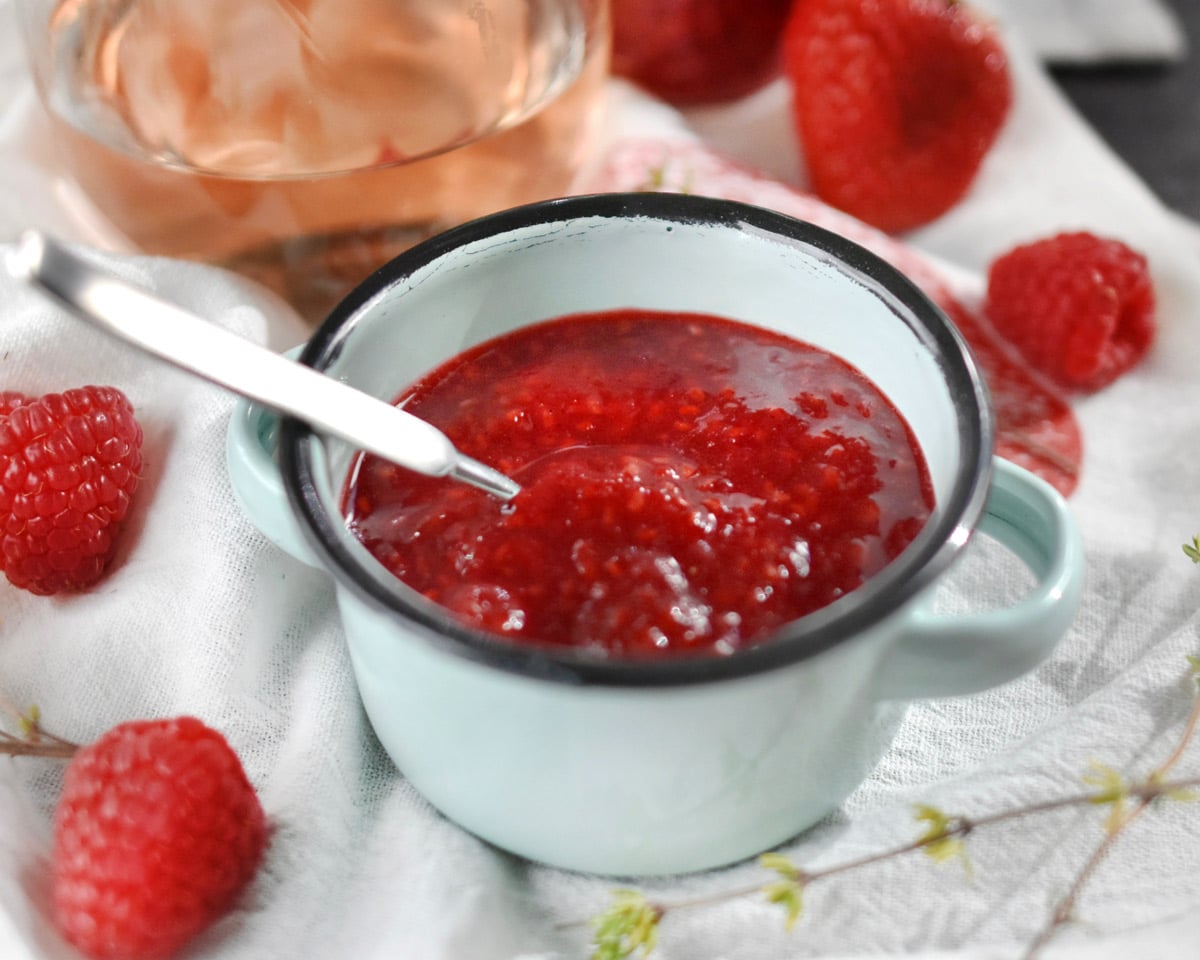 Another option is to make your own fillings. Traditional prune butter or lekvar. Or something similar made with apricots is outstanding. Many people love poppy seed filling – it's not my cup of tea but it's not hard to make, if you like it.
These kinds of fillings are a bit sturdier than jams and you can really control the sweetness.
Here is a short video showing how the circular pieces of dough are cinched up to make the triangles:
Steps to make this hamantaschen recipe
Prepare the dough as directed – the order is important. You can prepare the dough in advance and refrigerate for a few hours or overnight.
Get all your fillings and a prep area set up. You'll need to roll out the dough, cut it out in circles, place the circles on a baking sheet, egg wash them, then fill and close them and egg wash them again.
Roll out half the dough at a time and I highly recommend rolling it out in between parchment paper. If you don't have any, flour your rolling pin and work area well.
After rolling out, use your round cookie cutter – size of your choosing – to cut out circles of dough. Place the circles on a parchment-lined cookie sheet.
To put a cookie together, egg wash the circle, put a scant teaspoon of filling on it, then pinch up the three corners (see video).
I also egg wash the outside of each cookie and if you want a little crunch, sprinkle some finishing sugar on each one.
This is a great recipe to get your kids or friends involved. It is not hard but the assembly goes much more quickly with helpers!
Check out my hamantaschen web story for a step by step visual guide to make this recipe!
Is there such a thing as savory hamantaschen?
Yes! I would start with a yeast-based savory dough. I first tasted savory hamantaschen at Breads Bakery in New York City February 2018.
Also, my friend and cookbook author Emily Paster makes savory hamantaschen – you can check out her recipes on her blog. I recall a pizza version at Breads Bakery and Emily has a vegetarian filling, lamb filling and beef filling. I bet za'atar, tomato and feta would be a good combination!
Be sure to visit my Purim Pinterest board with lots of creative ideas for hamantaschen and other Purim goodies to fill your Mishloach Manot. Mishloach Manot are the traditional baskets of goodies that people leave for friends and family during this festive spring holiday.
What others are saying about this hamantaschen recipe
"Made again this year as Beth's recipe is a family favorite."
"Beth, I made a double batch of this recipe last weekend and Bruce and I delivered cookies to friends and family. The reviews are in – make these again!"
Have you eaten or baked hamantaschen before? What type of dough do you use and what are your favorite fillings?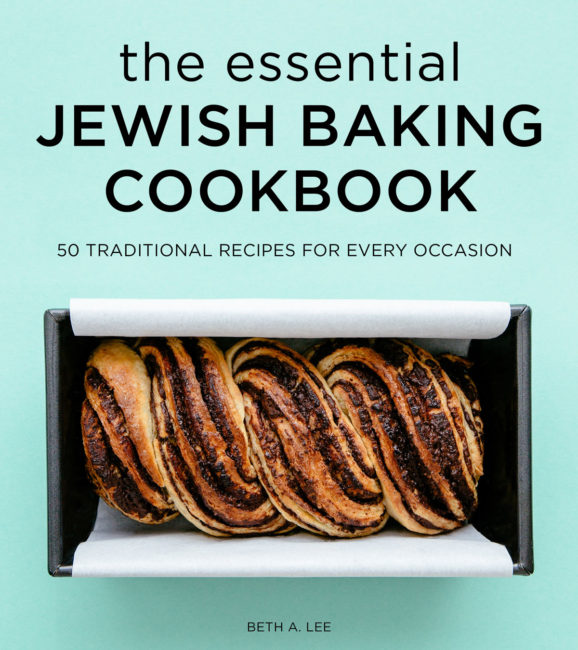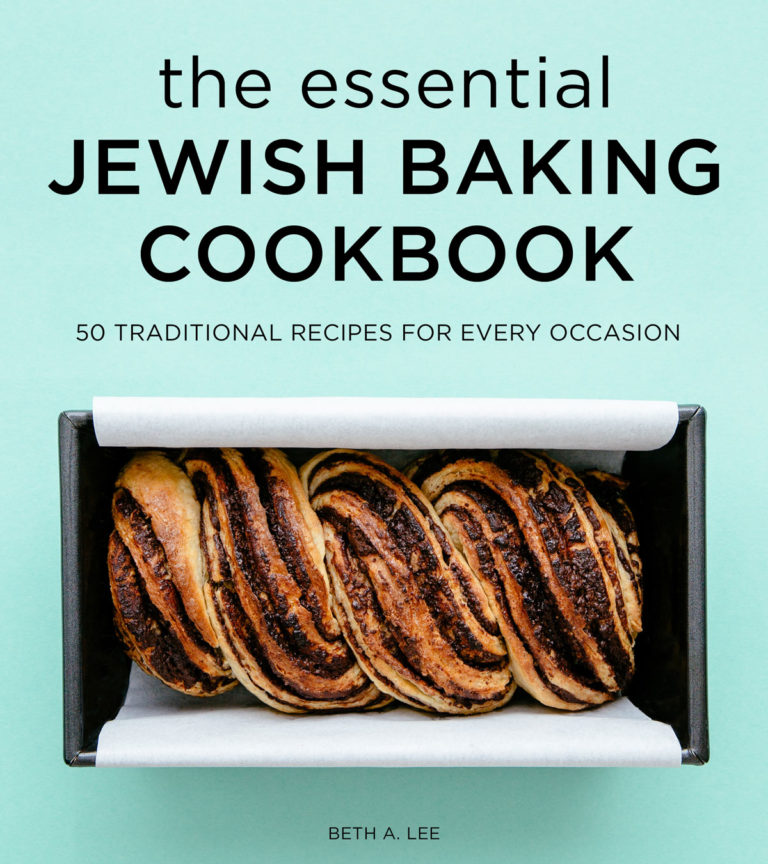 P.S. If you try this recipe, please leave a star rating and/or a review in the comment section below. I so appreciate your feedback! AND find more inspiration on Pinterest, Facebook or Instagram. Signup for my email list, too!
Orange Olive Oil Hamantaschen
This hamantaschen recipe, inspired by my grandmother's recipe-less baking, is perfumed with citrus. The olive oil-based dough surrounds your choice of fillings in a cookie-like crunchy wrapper.
Ingredients
Dough
2 ½

cups

all purpose flour

½

tablespoon

cornstarch

½

teaspoon

kosher salt

1

teaspoon

baking powder

¼

teaspoon

baking soda

½

cup

sugar

zest of 1/2 an orange or whole orange

(1/2 if using orange olive oil, whole if using regular olive oil)

1

egg

⅓

cup

orange or regular extra virgin olive oil

¼

cup

orange juice

(can use the juice from the zested orange)

1

teaspoon

vanilla
Fillings:
Use jams you have in the house or Nutella or Nutella mixed with tahini or homemade jam or my homemade prune butter.
Instructions
Preparing the dough:
In a medium sized bowl, whisk together the flour, cornstarch, salt, baking powder and baking soda.

In another medium sized bowl, add the sugar and orange zest and use your fingers to rub the zest into the sugar until thoroughly combined. To the sugar mixture, add one egg, olive oil, orange juice, and vanilla and whisk until thoroughly combined.

Add the wet mixture into the flour mixture to form a dough. Use a wooden spoon or spatula to combine before kneading the dough with your hands. It will come together easily. It may be a bit wet – that's ok. Form the dough into two balls, wrap in plastic wrap and refrigerate it for at least a half hour or even overnight.
Fillings and Egg Wash
While the dough is chilling and resting, prepare your cookie sheet with parchment or a silicone liner. Prepare your fillings and wash. Preheat the oven to 350 degrees.
Forming and Baking
Take out one half of the dough at a time from the refrigerator and roll it out between parchment paper or on a well-floured work surface to about 1/8 inch thick – really as thin as you can roll it without it falling apart. It doesn't have to be perfectly shaped as you roll it, just fairly even in thickness.

Use a 3" or 2.5" round cookie cutter to cut out as many circles as you can and place them on a parchment-lined cookie sheets. Using a pastry brush, brush each circle with egg wash and then place a scant teaspoon of filling in the center. Cinch up the dough to form a triangle (see the video above) and be sure to close each corner firmly.

After your have filled and formed each one, refrigerate the tray for about half an hour. This ensures they stay closed while baking. While the cookies are chilling, preheat the oven to 350°F.

Remove the tray, egg wash each cookie and sprinkle a bit of sugar on each (optional). Bake at 350 degrees for 18 minutes. Remove and place on a cooling rack. Enjoy with a cup of coffee or tea or deliver to your friends in a festive Mishloach Manot basket.
Notes
To make your own prune or apricot filling – check out my recipe for lekvar.
Be sure to chill your dough before working with it.
Don't overfill your circles and remember to egg wash the interior.
Refrigerate your formed cookies before baking as a last step to ensure perfectly baked hamantaschen!
Nutrition
Calories:
117
kcal
Carbohydrates:
17
g
Protein:
2
g
Fat:
4
g
Cholesterol:
16
mg
Sodium:
79
mg
Potassium:
49
mg
Sugar:
5
g
Vitamin A:
30
IU
Vitamin C:
1.6
mg
Calcium:
14
mg
Iron:
0.8
mg