November Ingredient: Pistachios
Tasting Jerusalem is going nuts. No, not crazy, just nuts. November's ingredient is the ancient and beguiling pistachio. While its history dates back to ancient civilization, it proves to be a worthy ingredient in modern cooking, especially Middle Eastern cuisines.
"While Iranians prize their dried fruit and nuts—which are often sold in upscale boutiques comparable to chocolate shops in the United States—pistachios are possibly the most beloved treat of all." – Louisa Shafia, "The New Persian Kitchen" (Ten Speed Press, 2013).
Green and delicately sweet, pistachios are ancient nuts native to Iran. In fact, pistachios are mentioned in the Old Testament (Genesis 43:11). They have a storied history that includes the Queen of Sheba, Nebuchadnezzar (the ancient Babylon king), and Roman Emperor Vitellius, among others. According to Moslem legend, Adam is said to have brought pistachios to Earth (www.pistachiohealthinstitute.org).
The word "pistachio" comes from the Latin pistacium and the Greek pistakion.
Used plentifully in Middle Eastern cuisine, pistachios are also common in Indian and Italian cooking. The nuts appear in meals --from appetizers to dessert-- in dishes like rice pilafs, sauces, as part of a nut crust for chicken or fish and in puddings, cakes, ice creams, pastries and candy. Soups, too, with the Pistachio Soup on page 138 in the Jerusalem: A Cookbook
and Cold Pistachio Soup with Mint and Leeks in Shafia's cookbook.
Known as the "smiling nut" in Iran and the "happy nut" in China, pistachios are prized for their flavor and for being high in minerals, vitamins and fiber. They may reduce a body's biological response to stress, be heart-healthy and help with weight loss. For details on pistachio's health benefits, visit www.pistachiohealthinstitute.org.
When buying pistachios, look for plump, darker green nuts. Shafia suggests buying nuts still in their shells because they're the freshest. Use already shelled ones for recipes, she writes, because they're more convenient.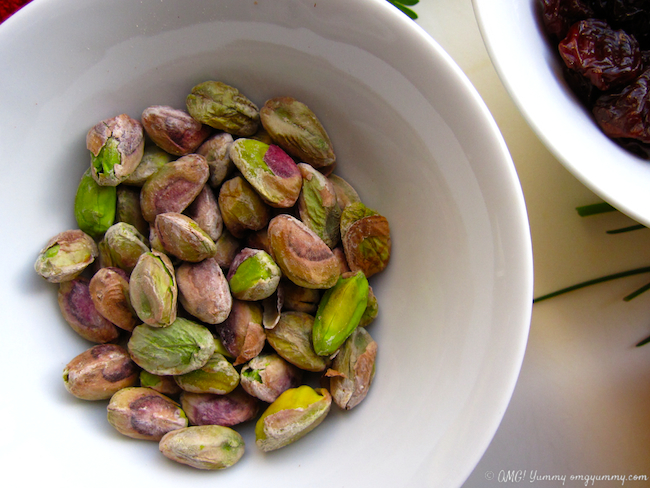 To remove the skin and reveal the green kernel, quickly dip the nuts in boiling water. The skin can be left on, if desired.
Nearly all the domestic pistachios are grown in California (about 98%). One California grown brand we like is Santa Barbara Pistachios (http://santabarbarapistachios.com). Pistachios are also widely available in stores. Just make sure to buy them from a retailer that rotates its stock often so the nuts are fresher.
November Pistachio Recipes Include:
Ghraybeh, pg 260, which we also talked about in our February topic, rose water
Sweet filo cigars, pg 258-9
Cardamom rice pudding with pistachio and rose water, pg 270-1, also from February rose water month
Yogurt pudding with poached peaches, pg 268 – used as garnish
Muhallabieh, pg 274-5, thick sweet drink, used as garnish
Muttabaq, pg 262, used as garnish – wow do these look delicious!
Ma'amul, pg 288, traditional cookie eaten at the end of Ramadan – recipe calls for walnuts but they say you can sub in pistachios as is traditional in Nablus and Galiliee
Saffron rice with barberries, pistachios, and mixed herbs, pg 104-5, a returning recipe from barberry month
Polpettone, pg 202-3, an Italian inspired meatloaf from Yotam's Nonna with a sauce inspired by his Dad
Pistachio Soup, pg 138 – already prepared and enjoyed by our fearless co-leader Sarene
Braised Eggs with Lamb and Sumac, pg 204-5, from our January topic, sumac
Here are our "rules" for the group (there really aren't any except to cook and share your experiences.)
Group Guidelines:
How often will we cook: We'll pick a new set of recipes monthly to allow us all to fit in the cooking when we can and to find any ingredients that might not be available at your typical grocery store stop.
Do I need to cook all the recipes?: We offer up several recipes to fit your taste buds, menus, schedules – cook as many or as few as you desire. But once you start cooking from this book, you probably won't stop!
What do I need to participate: Jerusalem: A Cookbook Plus an interest in cooking, willingness to try new flavors, and an electronic device that communicates via the Internet. We will always post the month's information in a blog post via omgyummy.com so you can subscribe to Beth's blog to be guaranteed to receive it or just check in frequently via the Facebook page or Twitter hashtag #TastingJrslm
How to share what you cook: Tasting Jerusalem is open to anyone. You do not have to be a blogger or food professional of any sort. But if you have a camera, we encourage you to share photos of your dishes on Twitter or the Facebook page or Instagram, using the hashtag #TastingJrslm – we all love to see the results of your kitchen adventures. New to these types of social media? Just drop me an email beth (at) omgyummy (dot) com – I'll be glad to help you get started.
What recipes can be published and how to publish: We expect to cook through most, if not all, of the recipes in the cookbook over time. As such, for those of us blogging or writing about our experiences in any way, it's important that we don't include the recipe in our blog posts, unless Ten Speed Press has approved its use. The goal of the group is to learn together and enrich our experience using this cookbook, not create an online version of it. We are in touch with Ten Speed Press to find out which recipes we can post. For an example of another group that writes about their cooking but doesn't post each recipe, please visit French Fridays with Dorie. If you legitimately change a recipe, rewrite the headnote and instructions, and choose to share it, please say you've adapted it, giving credit to the source including a link to purchase the cookbook.
What if I have questions? Sarene and I will be monitoring the Facebook page and Twitter hashtag #TastingJrslm almost continuously so just leave us a note there. If you see a question and know the answer, jump on in before us. Part of the fun of the group will be each of us sharing our own knowledge, perspectives and ideas.
What to include if you write a blog post: If you do post about what you cook, please let us know – we will link to it. And feel free to post it on the Facebook page and Twitter with the #TastingJrslm hashtag. We'd also appreciate it if you would include this verbiage in the context of your post:
"Tasting Jerusalem is a virtual cooking community exploring the vibrant flavors and cuisine of the Middle East through the lens of Jerusalem: A Cookbook by Ottolenghi and Tamimi published by Ten Speed Press. You can follow along and cook with us by subscribing to omgyummy.com, following the hashtag #TastingJrslm on Twitter and Instagram, liking our Facebook page or joining our Google+ Community and finally checking out all of our groups' dishes on Pinterest."