Sangrita – it's not a misspelling! It's a wonderful complement to tequila – perfect for celebrating Cinco de Mayo or any time tequila is the drink you serve or the drink you crave. 
Sangrita – The Perfect Complement to Tequila
In 2010 we celebrated our 20th wedding anniversary at The Grand Velas Resort in Playa del Carmen Yucatan Peninsula Mexico, During our decadent stay at this all-inclusive resort, we learned about a drink called SangriTa. A discovery we made in the pool bar one lovely afternoon…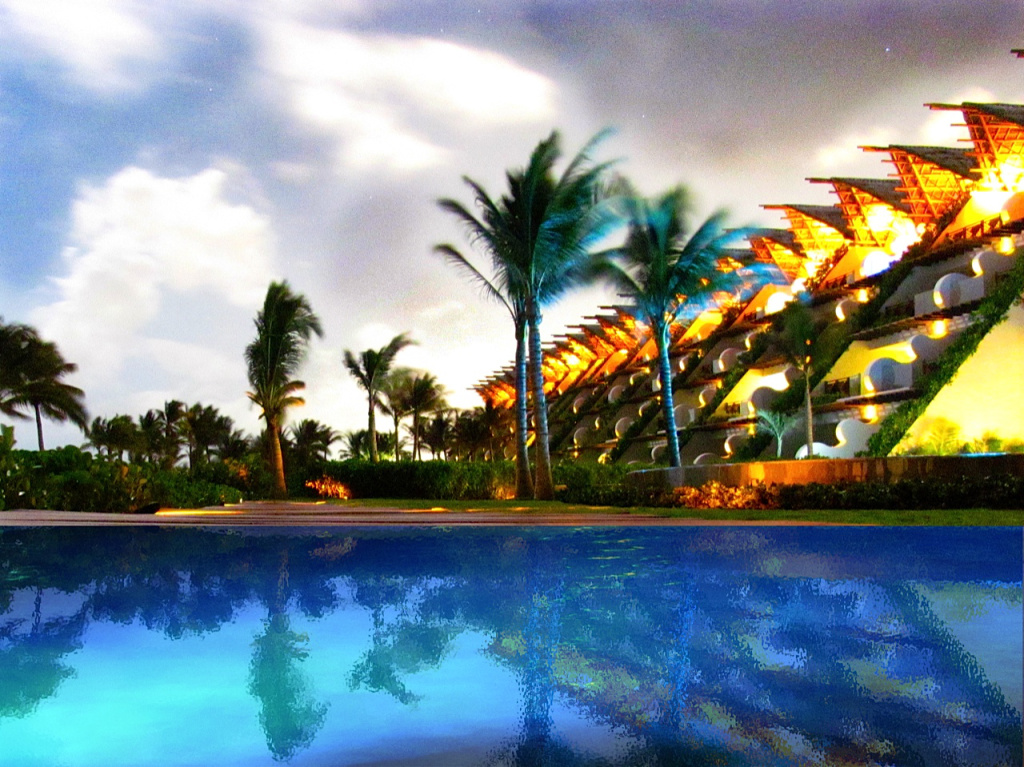 What is the Difference between Sangria and Sangrita?
Bartender extraordinaire, José, was generously pouring our afternoon tequila shots, when he asked: Would you like some sangrita? I heard the question as: Would you like some sangria? Sangria, as you may know, is a wine-based punch with fresh fruit and spices – so refreshing on a hot summer afternoon. But we were enjoying our tequila on this trip so I quickly said thanks, but no thanks. He stood firm. You really should try this sangrita if you like the tequila. It's how we drink our tequila in the Yucatan – it's called Completo. Ok – well José had not steered us wrong on the tequila so we acquiesced.
What is Sangrita?
Turns out sangrita is like the bloody part of bloody mary. In fact, sangrita means "little blood". Drinking tequila this way is akin to a deconstructed bloody mary with tequila in place of the vodka.
In the Yucatan, where we were, the sangrita is made with tomatoes in some form, lime juice, orange juice, and some type of spicy pepper. In other regions, the sangrita is made with grenadine and orange juice with a dash of lime and spices – the grenadine making it red.
There are also fruit based versions. Sometimes pomegranate juice is used to mimic the look of grenadine. Or as a reader told me, sometimes it is made from the drippings from fruit salad combined with red chili spice.
Whatever version you choose, the idea is to create a flavor to complement the tequila.
How do you Serve Sangrita?
To serve, use two shot glasses, one filled with sangrita, one with tequila. You take a sip of sangrita, then a sip of tequila. It's a little slice of tequila heaven – refreshing like a great bloody mary at brunch. Hmmm…tequila at Mother's Day brunch. I like that idea.
What is the Best Tomato Base to Use?
Many versions of tomatoes can serve as your base: tomato juice, bloody mary mix, canned pureed tomatoes, fresh tomatoes or even a good fresh salsa. Then add fresh lime juice, fresh orange juice, and your choice of fresh peppers or dash of tobasco-like hot sauce(s). I tried a couple of different versions with my Dormant Chef husband as the tester. His favorite version is the recipe I share below.
I made another version with organic tomato juice as a base instead of bloody mary mix, clementine juice instead of orange juice, some cucumber and medium hot habanero lime salsa. He didn't prefer it — it had an almost gazpacho quality which is not his favorite. I thought it was very fresh tasting and enjoyed it with the tequila.
Flavor Balance
The idea is to provide a complement, a balance to the tequila. The best recipe is the one that you and your palate enjoy with the tequila you are serving. My next version will be with pomegranate juice – maybe even a dash of pomegranate molasses!
We enjoyed so many aspects of our trip to The Grand Velas in the Yucatan Peninsula but this unexpected drink discovery at the pool bar was one of our most memorable highlights of the vacation. Thanks José!
What to Serve with Sangrita and Tequila?
My Slow Cooker Carnitas are so easy to make and serve a crowd very easily!
or
Stuffed Mini Peppers from Fearless Dining
or
Instant Pot Beef Carnitas from Pastry Chef Online
or
Chili Lime Grilled Artichokes from Family Spice
Sangrita
Makes about 1 3/4 cups. Can be doubled.
Ingredients
1

cup

bloody mary mix

any brand you prefer

1/2

cup

fresh squeezed orange juice

store-bought could work

1/4

cup

fresh lime juice

1/2

serrano pepper

rough chopped (I left the seeds in)

Fresh ground pepper to taste

2-3

splashes

Worcestershire sauce

to taste
Instructions
Add first 4 ingredients to blender and liquefy for a few seconds. Taste and then add ground pepper and worcestershire to taste.
Nutrition
Calories:
57
kcal
Carbohydrates:
14
g
Protein:
1
g
Sodium:
23
mg
Potassium:
437
mg
Sugar:
10
g
Vitamin A:
670
IU
Vitamin C:
62.9
mg
Calcium:
19
mg
Iron:
0.6
mg