Once you taste these Ottolenghi preserved lemons and realize how easy they are to make, you'll wonder where this deeply flavorful condiment has been all your life!
For other amazing recipes, check out my Tasting Jerusalem section here.
When Life Gives you Lemons, Preserve Them!
This post contains Amazon affiliate links – if you click on one and purchase something, I receive a very tiny percentage of the sale. Your price is never affected.
My husband once scolded me for telling someone a recipe using preserved lemons was really easy. Because, he concluded, who has preserved lemons in their refrigerator except you? The goal of this post is to change that!
I co-lead an online cooking community, originally inspired by the Ottolenghi and Tamimi cookbook Jerusalem, where we've been talking about Middle Eastern ingredients since 2013. Follow the Facebook page and join the Facebook group – we'd love to have you learn with us.
But this Ottolenghi-inspired condiment needs to be in your fridge now, whether you cook Middle Eastern food or not. If you like citrus, this umami*-rich version of a lemon will wow your taste buds.
*(umami is a Japanese term for savoriness and often referred to as the 5th taste in addition to sweet, sour, salty, and bitter)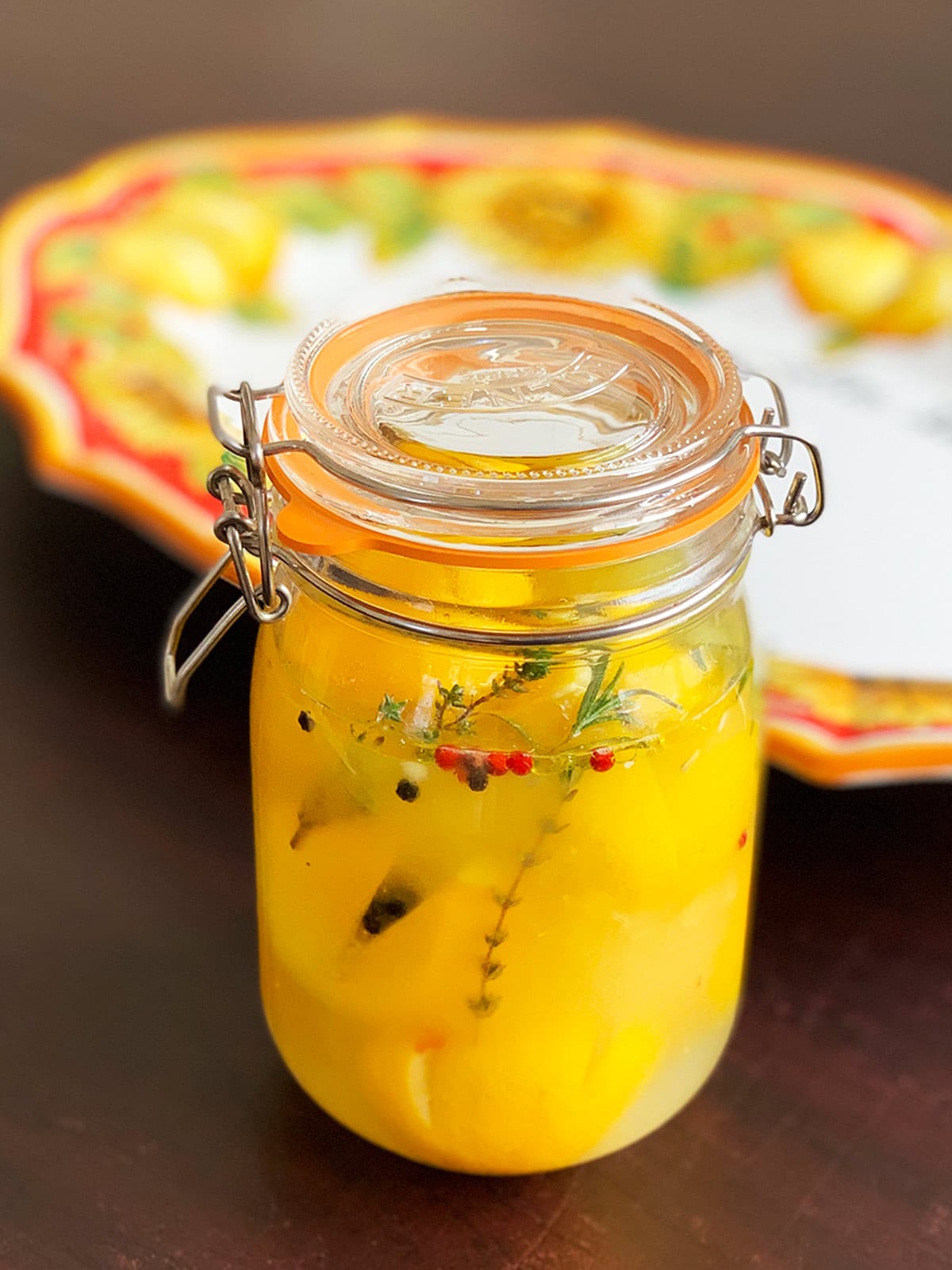 What are preserved lemons?
Preserved lemons are whole lemons, of any variety, that have been packed with salt and lemon juice and left to pickle in a cool dark place for at least a month. Over time, the tartness of the lemon all but disappears but the intense lemon flavor found in the peel remains, making this a deeply flavored condiment.
Though very common in Moroccan and Middle Eastern cuisines, this ingredient is a welcome addition to many dishes.
Pasta
Marinades
Stews
Grilled meats
One of my favorite quick weeknight dinners is to mix some preserved lemon with rose harissa and a touch of olive oil, rub it on chicken, and roast it with some veggies. Deeply, deliciously flavorful and so easy!
Check out my preserved lemons web story for a quick visual guide on how easy it is to prepare a jar of preserved lemons.
Are preserved lemons the same as pickled lemons?
Pickled lemons and preserved lemons are essentially the same thing – since pickling by definition is letting something marinate in a salty liquid. However, as Ottolenghi and others have figured out, if you cut the lemons up much smaller, you can create a quick pickled lemon that will carry some of the flavor profile of the month-long preserved lemons but in much less time.
What type of lemons should I use to make Ottolenghi preserved lemons?
Any type of lemon will work. While many use Meyer lemons – beloved for their less sour and acidic juice and more nuanced zest, they do have less acid and a thinner skin than other lemons. Some people prefer the thicker, meatier skins of lemons like Eurekas or Lisbons.
If you use Meyers and want to add more acid to the jar, just use lemon juice from a Lisbon or Eureka lemon when you top off. If you buy your lemons at the store and suspect they are waxed, just give them a scrub with a vegetable brush after dousing them with hot water. You may lose a bit of oils in the rind during this process but it will remove the wax.
How do I make preserved lemons?
Use the lemon variety that you prefer. (see section above) Most recipes including Ottolenghi's suggest using unwaxed lemons.
Grab a quart size sterilized glass jar with a lid that seals tightly.
Cut a slit two ways in the lemon about ¾ of the way through it to create a space to stuff with salt.
Use kosher salt, adding about one tablespoon to each lemon – more or less depending on the size of the lemon.
Place them in the glass jar, squishing them in as tightly as possibly without smashing them.
At this stage you can follow the Ottolenghi preserved lemons method and just close the jar and wait a week. Or you can follow the Mourad Lahlou method and add enough lemon juice to cover and let it sit for a week, shaking it every day to distribute the salt.
If following the Ottolenghi preserved lemons method, after a week, add enough lemon juice to cover and any flavorings you want to add such as a spicy pepper, rosemary, or thyme. Whatever sounds good to your palate.
Now wait 3 more weeks, leaving the jar in a cool, dry, dark-ish place. After a month, place the jar in the fridge. They will last for a long time except that you will use them so much, that in actuality, they won't last long at all.
Update April 2020 - a "live" recorded video
I went live on Instagram to show you how to make these lemons so start a batch with me!
Reader Rave
Fantastic new condiment! These are so easy to make, and add zip and complexity to so many dishes. I cook with lemons all the time, and this variation on the flavor is incredible. I used it on my Thanksgiving turkey and wowed the crowd. I just ran out of the first batch that I made, and I am back for more. My lemon tree is in full fruit, so I will make some additional jars as Christmas presents for my friends who love to cook!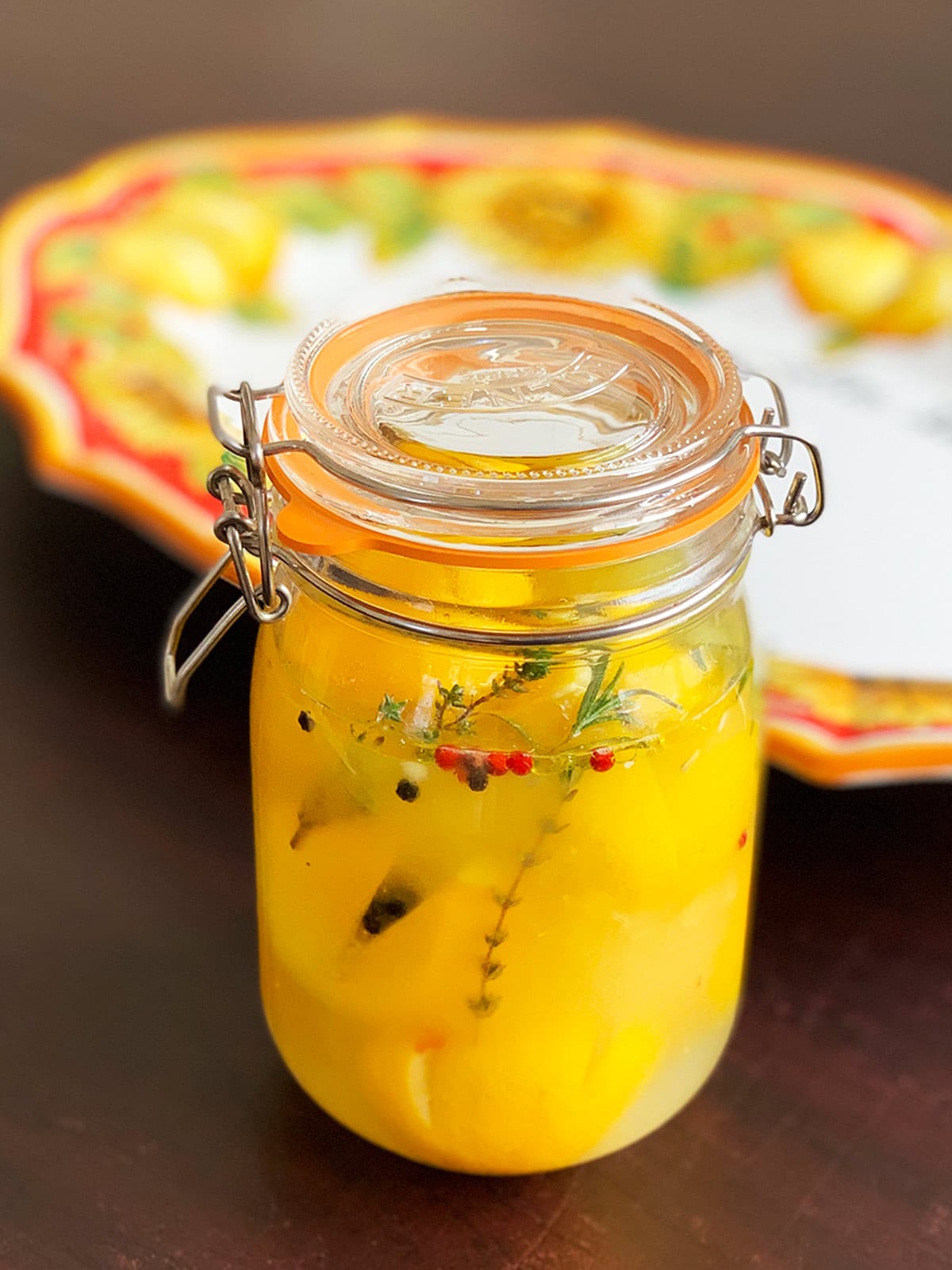 Mary
Reader and Preserved Lemon Lover, Dec 2022
Do I use the whole preserved lemon or just the rind when cooking?
Most people suggest removing all of the pulp (and of course the seeds) and just using the rind. Personally I see no real downside to using the pulp if you are preparing something like a dressing or marinade.
Also, remember there is a saltiness to the liquid and the lemon. So either reduce the salt of the dish you are making or you can rinse off the lemon to remove some of the salty flavor. Taste it so you can gauge.
Is there a substitute for preserved lemons?
If you don't have time to even quick pickle some lemons, try lemon zest and salt. Muddle them together in a mortar and pestle or on a cutting board, but only as a last resort. Preserved lemons have a lot more complex flavor than the zest provides.
What kind of salt should I use to make preserved lemons?
Use kosher salt. Not all salts are the same flavor-wise or texturally. Kosher salt is the perfect choice to make these lemons.
How long do preserved lemons keep?
After the one month incubation period, place the jar of preserved lemons in the fridge and they will last almost indefinitely, at least up to a year. And when the lemons are gone, save the liquid to either start your next batch or to put in dressings, marinades, and sauces or both.
What can I cook with preserved lemons?
The only limit to using these preserved lemons is your imagination. But start with marinades, dressings, a topping for hummus or other dips, pasta, chicken, fish. Here are a few recipes to get you started:
Harissa Chicken with Preserved Lemons
Roasted Asparagus Salad with Preserved Lemon
Roasted Harissa Potatoes with Preserved Lemon Gremolata
Chicken Salad with Preserved Lemons and Basil from Blue Kale Road
Farro Salad with Preserved Lemon Vinaigrette from West of the Loop
Moroccan Chicken with Preserved Lemons and Olives
P.S. If you try this recipe, please leave a star rating and/or a review in the comment section below. I so appreciate your feedback! AND find more inspiration on Pinterest, Facebook or Instagram. Signup for my email list, too!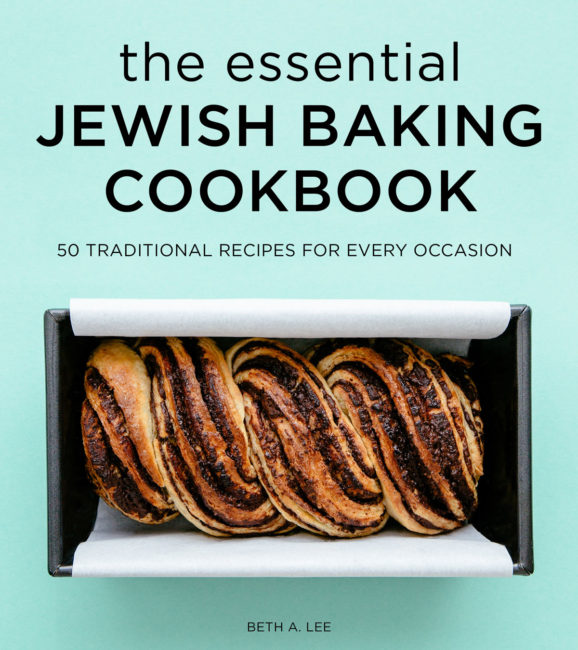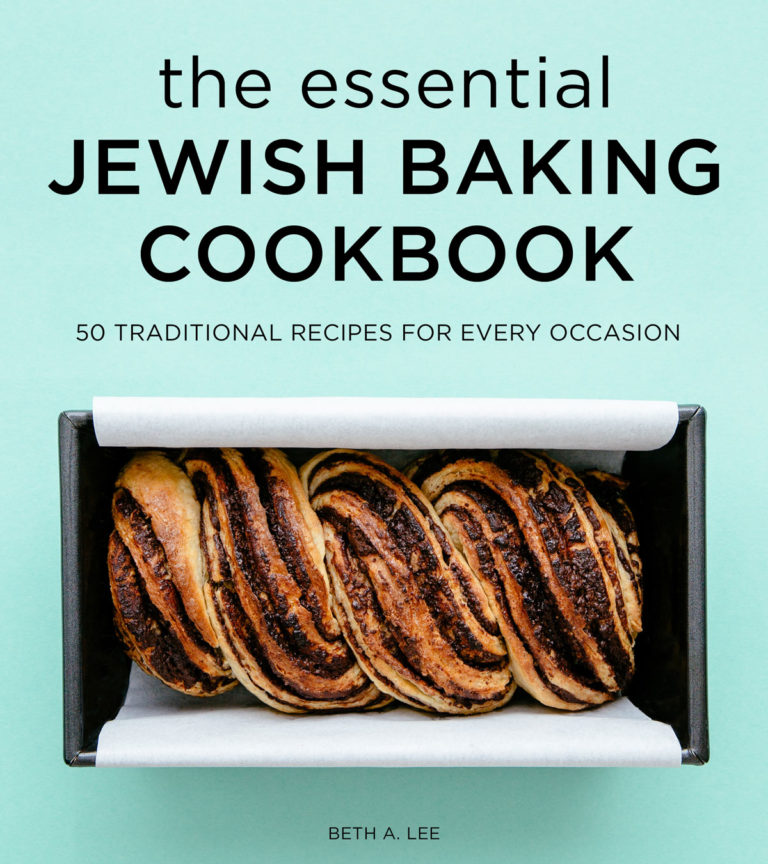 Also check out my Amazon shop that includes some of my favorite food and food-related products. I am always updating it – please visit often. And let me know if you need specific product recommendations – I am happy to help!

Ottolenghi Preserved Lemons
Beth Lee
Once you taste this umami-rich citrusy condiment called preserved lemons, you'll wonder why you waited this long to start cooking with them.
Ingredients
6 - 8

lemons

Meyer, Eureka, Lisbon

6 - 8

tablespoons

kosher salt

1

cup

lemon juice

approximately - enough to cover the lemons in the jar after one week

1

sprig

rosemary

optional

2

sprigs

thyme

optional

10

peppercorns

optional

1

spicy red pepper

optional

2

tablespoons

olive oil
Instructions
Sterilize your 1 qt glass jar canning jar (run through dishwasher, run under very hot water, use your instant pot) - just make sure it is clean.

Cut 2 slits in each lemon to create a well to put the salt in, being careful not to slice all the way through. If you do, no big deal, many people preserve quartered lemons. It will work too.

Add about 1 tablespoon of kosher salt to each lemon.

Place the lemons in the glass jar fitting them in as tightly packed as you can.

Close the jar and let them sit in a cool dry place for about a week. You'll notice juice beginning to accumulate in the jar.

After a week, open the jar, add your aromatics of choice - thyme, rosemary, peppercorns, coriander, cardamom, star anise, cinnamon, a whole pepper - your taste buds can be your guide. Then cover the lemons and aromatics with enough lemon juice to cover them all and close it up. Let it sit out in that cool dry place for 3 or 4 more weeks. You can occasionally shake it about if you'd like. Right before you refrigerate, top with a seal of olive oil, then place in the refrigerator and start experimenting!
Notes
Some recipes for preserved lemons add the juice to cover the lemons from the very beginning along with the aromatics, rather than waiting a week.  This works too!
Use organic, unwaxed lemons if at all possible. If not, be sure to scrub the outer skins well to remove any coating.
Remember to store the jar in a cool place, preferably under 70 degrees, until you refrigerate them. Warm environments are not optimal for preservation. 
If white mold develops on any of your lemons, it is generally harmless - just remove/rinse it off. Other colors of mold are not good and if you see that, toss the lemons. I have never had any issues except a touch of white mold once. And it was indeed harmless.
Nutrition
Calories:
4
kcal
Carbohydrates:
1
g
Sodium:
194
mg
Potassium:
15
mg
Vitamin A:
15
IU
Vitamin C:
7.4
mg
Calcium:
1
mg