This shakshuka recipe will be a new favorite in your meal plan rotation. Are you a fan of Middle Eastern and North African flavors? Then you'll love this shakshuka and might even want to try this homemade rose harissa to go with it.
Another great dish is my flexible frittata recipe.
For ease of browsing, here are all my breakfast and brunch recipes in one place.
This post contains Amazon affiliate links. As an Amazon Influencer, I earn from qualifying purchases. Your price is never affected.
When my kids were younger, we ate breakfast for dinner at our house frequently. In 2013, I took a deep dive into Middle Eastern ingredients and soon discovered a new egg recipe called shakshuka (sometimes spelled shakshouka). Eggs are poached in a savory, soul-satisfying spicy red tomato sauce base. It's simple but this shakshuka recipe is infinitely flexible and works for any meal of the day.
What is Shakshuka?
Shakshuka (say it three time fast) is of Tunisian descent but is also a very popular breakfast and brunch food in Israel. You'll find similar dishes in other cuisines.
For example, growing up my mom used to make what she called Spanish omelettes – they had a savory tomato filling. In Turkey, they serve a dish called menemen which has many similarities to shakshuka. And I don't think it's a stretch to see similarities in huevos rancheros.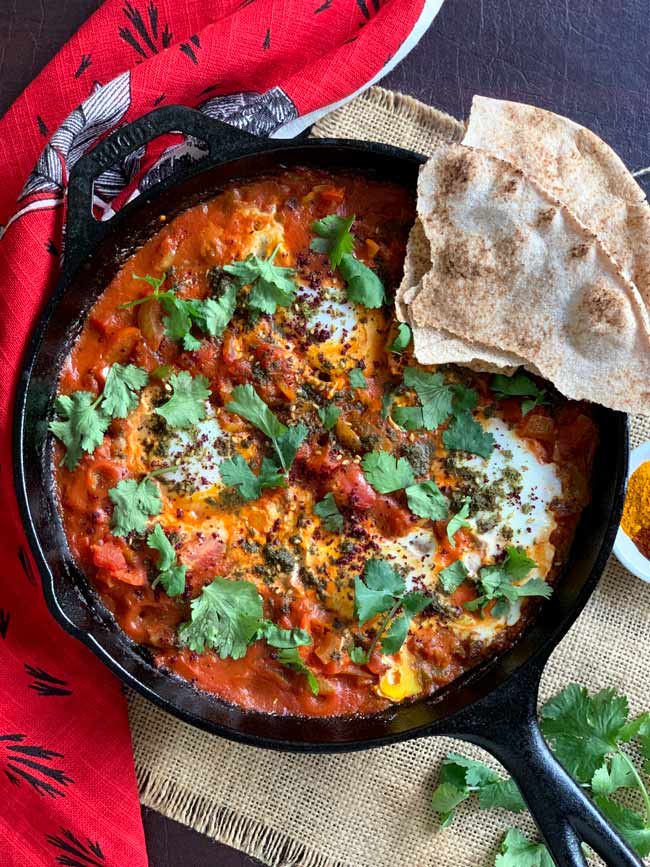 What is Matboucha?
To make this shakshuka recipe, you create a spicy tomato mixture, called matboucha, that forms the bed for cooking the eggs. Matboucha consists of fresh or canned tomatoes, bell and spicy red or green peppers, smoky and/or sweet paprika at its most basic.
This mixture comes together quickly on the stovetop, then you make wells for the eggs, add them in, and just wait for the eggs to cook and your meal is ready.
Can Shakshuka be Prepared Ahead of Time?
Shakshuka could be prepared ahead of time, in part. The matboucha or tomato base can be refrigerated or frozen and then used on demand for a quick meal. If needed, thin the sauce with a bit of water when you reheat. If you have leftover sauce after serving it, reheat the next day and add another egg or two!
How Do you Serve Shakshuka?
Traditionally, serve your shakshuka with pita bread for dipping or accompany it with yogurt or yogurt cheese called labneh topped with a bit of olive oil and za'atar spice mix. For dinner, accompany this dish with a nice green salad or an Israeli salad and everybody's taste buds and bellies will be happy.
How Flexible is this Shakshuka Recipe?
Shakshuka is a blank slate for creativity. Add some greens. Add some meat – lamb is an especially good accompaniment. Add some chickpeas. Sprinkle feta cheese on top. Some people even make a "green" shakshuka with a base of various green vegetables instead of tomatoes.
When we were in Tel Aviv in 2017, we went to a very famous shakshuka restaurant called Dr. Shakshuka. Here is a photo of their shakshuka menu – you can see they have many accompaniments you can order.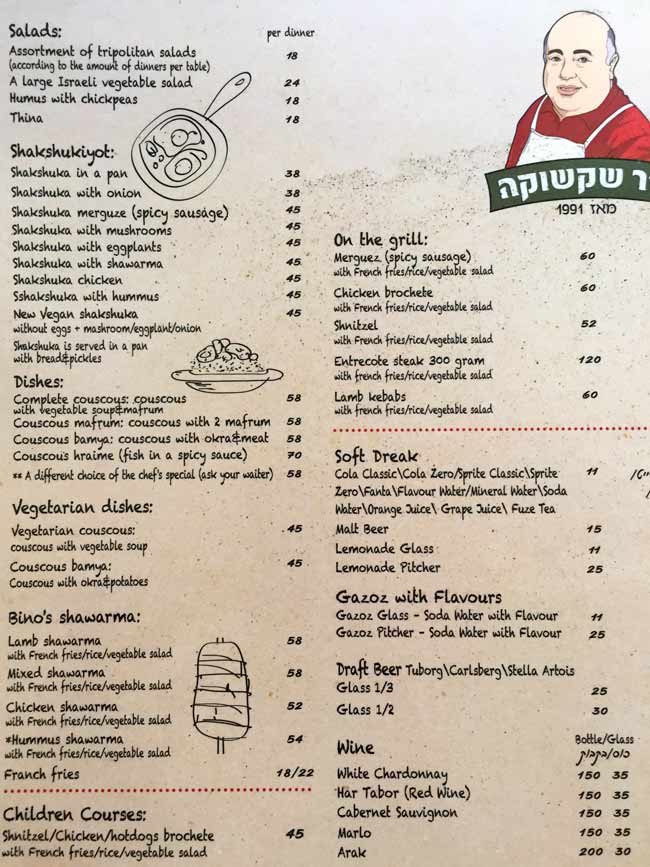 Can you make Substitutions in this Shakshuka Recipe?
Use jarred roasted red bell peppers instead of fresh red bell pepper, if you're out.
No whole tomatoes? Used two cans of diced tomatoes.
Don't like it spicy? Leave out the harissa or hot dried chili flakes or be sure to take the seeds and membranes out of the fresh spicy red or green pepper.
Want to add more protein or leafy greens? Throw them into the matboucha (spicy tomato base).
No pita bread? Use whatever bread you have or skip the bread completely if you are watching your carbs.
Optional Flavor Additions
Loving these North African and Middle Eastern flavors? Then the optional harissa, za'atar and sumac are for you!
Harissa
Harissa, like shakshuka, is of Tunisian origin. It is a spicy condiment, made even more popular by the rise in popularity of Eastern Mediterranean ingredients since Yotam Ottolenghi's cookbooks have grown so popular.
In fact, in his cookbook SIMPLE, he recommended a variation on traditional harissa called rose harissa. But it's hard to find in the states; many of his fans pointed that out. No fear - if you want to try it, you can make it yourself! I developed a recipe with my Tasting Jerusalem cohort Sarene Wallace just for you.
Prefer to just buy a jar? See my suggestions below or you can even find harissa in Trader Joe's these days. Always test the spice level before deciding how much harissa to add.
Sumac and Za'atar
Za'atar is a beguiling middle eastern spice blend that was my gateway into Middle Eastern cuisine. And sumac (not the poisonous kind) is a ground tart red berry that adds a lemony zing to dishes without adding the liquid of a lemon.
You can read more about za'atar here and sumac here. Neither is necessary on this dish but both add a zippy finishing touch if you have them.
Steps to Make Shakshuka:
Gather ingredients and chop vegetables.
Saute the onion and peppers until soft and translucent.
Add your dry spices and harissa.
Pour in the tomatoes.
Let it simmer for 20 – 30 minutes.
Carefully add the eggs and cover.
When eggs are cooked, take off heat. Top with sumac and za'atar (if using), fresh cilantro (if using) and serve!
Love the flavors of shakshuka? Explore the ingredients of the Middle East by joining our virtual cooking community Tasting Jerusalem on our Facebook page or in our Facebook group.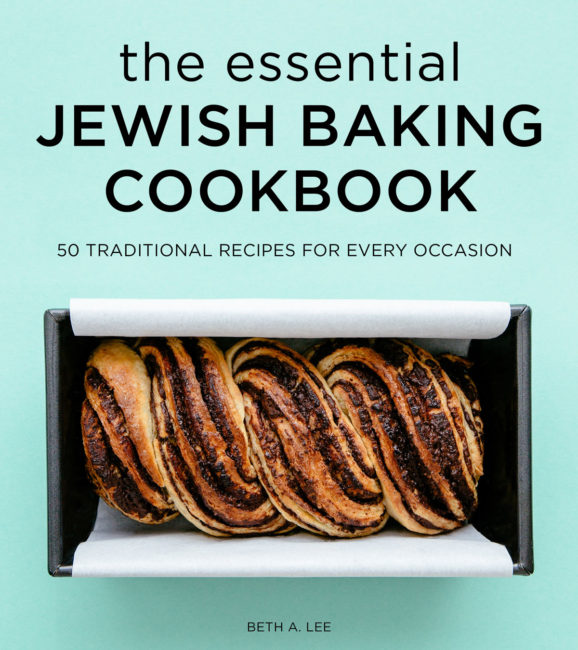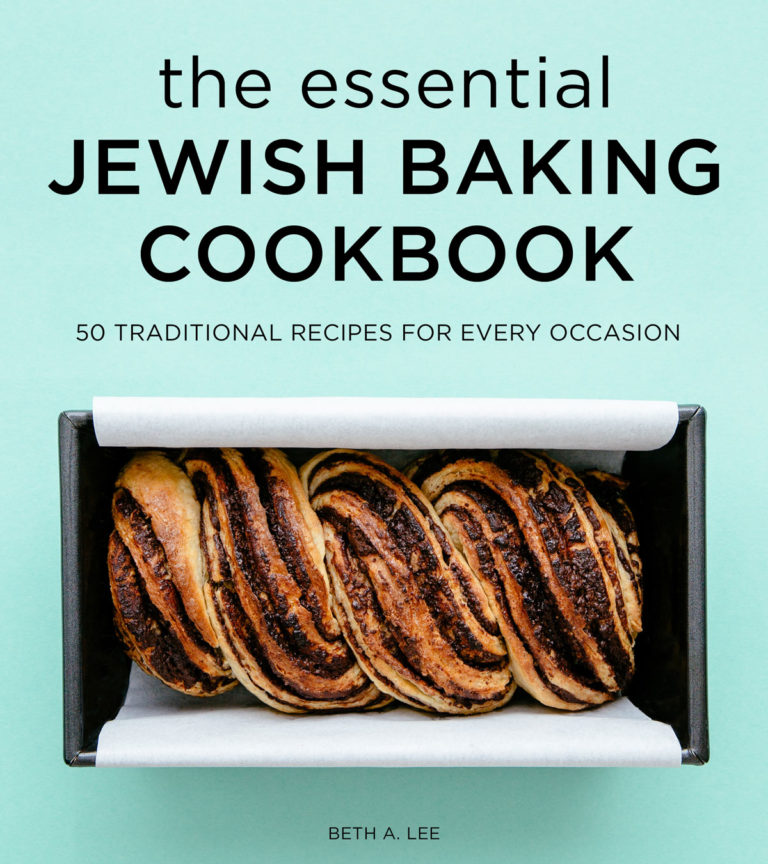 P.S. If you try this recipe, please leave a star rating and/or a review in the comment section below. I so appreciate your feedback! AND find more inspiration on Pinterest, Facebook or Instagram. Signup for my email list, too!
Shakshuka
Beth Lee
This is a versatile dish you can eat for any meal of the day. If serving a crowd with mixed tolerance for spicy, up the flavorful non-spicy ingredients and reduce the hot peppers. Short on time? Prepare the tomato mixture when you can, refrigerate, and then just reheat and add the eggs.
Ingredients
one small onion or ½ of a large one - white or brown

red onion or shallots could work as well

½

of a large red bell pepper

finely diced

½

of a spicy red pepper

finely diced

2

tablespoons

olive oil

½

teaspoon

turmeric

½

teaspoon

cumin

½

teaspoon

sweet or smoked paprika

½

teaspoon

red chili flakes

optional

2

tablespoons

homemade or store-bought harissa

optional

14

oz

can of whole tomatoes

14

oz

can of fire-roasted diced tomatoes

mine were flavored w green chilies

6

eggs

kosher salt and pepper to taste

sumac or za'atar for sprinking

optional

fresh parsley or cilantro for sprinkling

optional
Instructions
Saute the onions and red peppers in the olive oil in a large frying pan on medium heat until the onions are transluscent and softened and just starting to show some color.

Add the spices and harissa and combine with the pepper/onion mixture.

Pour in the tomatoes, breaking up the whole tomatoes a bit with your hands.

Stir and let it cook on low heat partially covered for about 20 minutes, tasting it as it cooks to adjust for seasoning. When the tomatoes have broken down a bit and the flavors are blended, you're ready for the eggs.

Make 6 wells or indentations to pour the eggs in. I cracked my egg in a separate bowl and poured it in to ensure no shells. Put the heat on low to medium low, cover the pan and let the eggs set - this should take about 8 - 10 minutes. When the yolk is still soft but the white is just set, you're ready to serve. At this point, you can sprinkle with a bit of sumac or za'atar if you have some and also some fresh chopped cilantro or parsley.

Serve with soft bread for dipping. I also served some crisp veggies and labneh (yogurt cheese) topped with olive oil which my daughter used as a dip for the veggies.
Nutrition
Calories:
142
kcal
Carbohydrates:
8
g
Protein:
6
g
Fat:
9
g
Saturated Fat:
2
g
Cholesterol:
163
mg
Sodium:
329
mg
Potassium:
236
mg
Fiber:
1
g
Sugar:
4
g
Vitamin A:
1090
IU
Vitamin C:
26.2
mg
Calcium:
65
mg
Iron:
2.1
mg
This post was part of a group called Progressive Eats, a virtual version of a Progressive Dinner Party. This month was hosted by Carol Borchardt, the founder of the blog From A Chef's Kitchen. We featured all kinds of dishes prepared with eggs.
A Spring Eggstravaganza
Breakfast
Appetizer
Bread
Main Courses
Side Dishes
Desserts