If you're looking for the best latke recipe, you're in the right place! Confused by all the different "must try" techniques for making crispy potato pancakes? Don't be! This post explains the "why" for each one. Besides, you have eight days of Hanukkah, why not try all the recipes, starting with mine!
A great side dish to serve with latkes is apricot jam chicken!
For ease of browsing, here are all my Hanukkah recipes in one place.

This post contains Amazon affiliate links – if you click on one and purchase something, I receive a very tiny percentage of the sale. Your price is never affected.
Is there really a best latke recipe?
After doing a lot of research, I have concluded that there are as many opinions about the best latke recipe as there are viewpoints about how to make a fluffy matzo ball! Fortunately, you needn't waste your breath arguing over what method works best. Just sort through the choices below or jump straight to my recipe at the end of the post. If you can't decide, there are eight days of Chanukah – try them all.
Tips and tricks for the best potato latke ever!
Each method and recipe offers at least one key component that makes it work. Below are my summaries of these helpful tips with an OMG! Yummy perspective included.
Check out my latke recipe web story for a visual guide on how to make the crispiest latkes ever!
1. The onion/potato ratio:
Many people suggest that it is the magic of the ratio of potato to onion that makes it all just right. In this recipe on the James Beard website, Mitchell Davis says that it is his mother's ratio of onion to potato (two potatoes, 1 onion) that is key to its success. I don't personally subscribe to this 2 to 1 ratio, but more fried onion sounds like a pretty good thing, don't you think?
2. Hand grating vs food processor:
Many potato pancake experts insist you must hand grate your potatoes on a box grater for the ultimate potato flavor and texture for your pancakes. In this Guardian article by Dave Bry, you can digest all the pros and cons of this heated debate then decide for yourself. In my view, if hand grating means you won't bother to make them, then pull out the food processor!
3. Sideways in the food processor, cheesecloth and reheating:
And then there's Deb Perelman from Smitten Kitchen, who suggests putting the potatoes sideways in the food processor to get the closest approximation to hand grated. She offers two other helpful tips: strain the potato/onion mixture in cheesecloth (rather than a kitchen towel).
And most importantly, you can reheat latkes to their crispy state – a true revelation if you are trying to feed a crowd and might actually like to visit with them while they eat your latkes.
4. Oil temperature, dry potato mixture, and timing of salt:
And from my good friend Dana of the blog Foodie Goes Healthy, we have her Grandma Shirley's recipe. Dana also shares many tips and tricks including the crucial element of keeping the oil hot. If you crowd the pan or don't let the oil reheat between each batch, you will end up with soft pancakes that soak up too much oil.
She also reminds us to strain as much liquid out of the potato and onions as you can before mixing in the other ingredients and frying. And one last tip from my friend Cheryl Sternman Rule, be sure to salt them right after you take them out of the pan so the latke and salt become one with each other. Do this please! (You'll thank me.)
5. Flour or matzo meal to bind your potato latke:
Not sure whether to use flour or matzo meal to hold the pancakes together? So many opinions. I like to use matzo meal and in this analysis of the "perfect" potato latke on Epicurious, they draw the same conclusion.
It also makes your pancakes Passover ready, if that matters to you. But should you panic if you don't have matzo meal and have to use flour? — NO! Go for it, many latke mavens use flour and serve crispy pancakes year after year.
And if you celebrate Passover and didn't quite finish that can of matzo meal – here's your chance!
6. Corn starch instead of flour or matzo meal = gluten free:
From executive chef Robert Soriano of Bernard's Market, who is of Tunisian descent, we have the tip of using corn starch which not only helps the latkes crisp up, but provides the added benefit of making them gluten free.
7. Use starch from the bottom of the bowl:
How could I not check out what The Kosher Channel had to say about frying potato latkes? They espouse the use of the starchy liquid that accumulates at the bottom of the bowl after squeezing the juice from the potato/onion mixture. The accumulated starch should help to crisp up the latkes.
8. Use baking powder to make them lighter:
And last, but certainly not least, from a very thorough post on a barbecue website called Amazing Ribs (really) about the various steps and techniques to achieve latke perfection, we have the use of baking powder to lighten them up. But if you prefer dense, leave it out.

Best oil for the best latke recipe?
These recipes offer many different suggestions for what oil to use to fry these crispy pancakes – from peanut oil to canola oil to olive oil. And the amounts range from a couple of tablespoons to a depth of 1/8 to 1/4 inch.
My potato latke recipe uses canola or vegetable oil, both of which can handle high heat. But more and more information suggests that olive oil can also withstand the temperature needed to fry these crispy potato pancakes.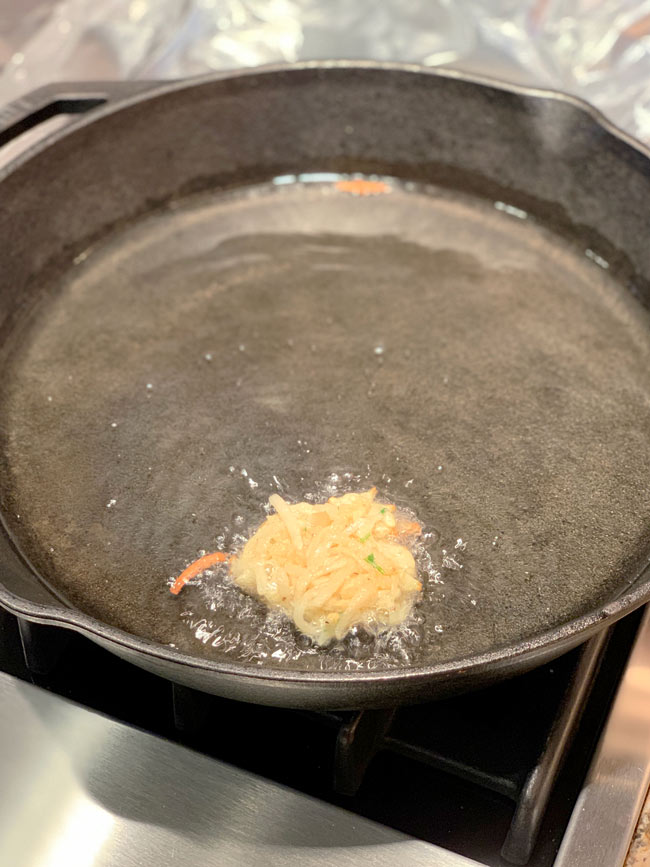 More is less when it comes to oil
The most important advice about the oil is to bring it back to temperature before putting the next batch in. To achieve the crispy exterior, you need hot oil. The temperature should be about 375 degrees. You can drop a bit of the batter in to test if it's hot enough.
And don't be shy with how much oil you use. The oil creates a heat bath for the latkes to cook in – not enough and they just soak up the oil without getting crispy or cooking throughout. We find that we use less oil to fry our latkes when we put more in the pan and maintain the heat.
Can you really make latkes ahead of time?
Also up for much debate but YES, you can. I didn't believe it until I did it. But I went to a Hanukkah party at a neighbor's house and brought this plate of latkes. I made them ahead of time and then reheated them in her oven. If they were crisp to begin with, they will be crispy again. Really.
Crispy potato latkes ready to eat – these were reheated and maintained their crunch!
Best toppings for potato latkes
The traditional toppings are sour cream and applesauce. Making your own applesauce is really easy. Jenni from the blog Pastry Chef Online has recipes from apple butter to apple sauce.
Or try something new! Top your latkes with cranberry sauce. Really. And specifically, try my cranberry orange jam. It is so easy to make, has apple in it, and you can make it for Thanksgiving and just save a jar in the fridge for Hanukkah. (Or make it again!)
Check out my Amazon shop that includes some of my favorite food and food-related products. I am always updating it – please visit often. And let me know if you need specific products recommendations – I am happy to help!

P.S. If you try this recipe, please leave a star rating and/or a review in the comment section below. I so appreciate your feedback! AND find more inspiration on Pinterest, Facebook or Instagram. Signup for my email list, too!
The Best Potato Latke Recipe
These classic potato latkes were inspired by years of studying cookbooks, cooks, and bloggers who have made many more latkes than I have. Latkes have few ingredients – it is all in the technique and organization. This recipe will yield crispy, delicious pancakes every time!
Ingredients
4

pounds

russet potatoes

peeled and grated by hand or in a food processor

2

medium onions

grated by hand or in a food processor

4

eggs

½

tsp

baking powder

½

cup

matzo meal

½

teaspoon

white pepper

1

teaspoon

black pepper

2

teaspoons

kosher salt

⅓

cup

chopped parsley

optional

oil of choice for frying
Instructions
Grate your potatoes and onions.

Have a strainer lined with cheesecloth or a towel ready over a large bowl.

Squeeze as much of the liquid as possible out of the potato onion mixture.

Before you toss that liquid, there should be some potato starch accumulated at the bottom of the liquid. Try to pour off the liquid reserving that potato starch.

In a separate bowl mix the eggs, baking powder, matzo meal, white and black pepper, salt, and parsley.

Put the strained potato and onion mixture back in the large bowl with the reserved potato starch (if there was any – don't worry if there wasn't). Add in the egg mixture and combine well.

Have two or three paper towel lined sheet pans ready and the oven preheated to 200 degrees or so to keep cooked latkes warm.

Heat one or two 10- or 12-inch frying pans on the stove top with a ¼ – ½ inch of oil in them. If you are working alone, I'd say use only one. Heat to about medium to medium high – you don't want the oil to splatter but you want it to "get excited" when you drop in some latke batter. As Dana of Foodie Goes Healthy suggests – drop in a small amount and test it out. See if it starts to cook vigorously. And cook it through and taste it for flavor. You can adjust seasoning before cooking all of them.

I like to flatten the batter right after I put it in the pan so it is an even depth and cooks all the way through. So don't crowd them when you drop the batter in. Give them room to spread and room to cook.

When they are dark brown on one side, flip them over. When they are nearly burnt, as my friend's mother would say, take them out and place them on the paper-towel lined sheet pans. If you have a helper, have them salt them immediately. If you salt while hot, it adheres and the latkes taste so good, your guests will tell you they are the best latkes ever!

If you are not serving them right away, they will crisp up in a hot oven. Really they will. Don't stress out trying to make enough latkes for a crowd while the crowd is there.
Notes
Serve with sour cream, apple sauce or cranberry jam. Or if you are feeling fancy, serve them with crème fraiche and smoked salmon.
Nutrition
Serving:
4
pancakes
Calories:
202
kcal
Carbohydrates:
13
g
Protein:
2
g
Fat:
15
g
Saturated Fat:
1
g
Cholesterol:
21
mg
Sodium:
167
mg
Potassium:
285
mg
Fiber:
1
g
Vitamin A:
90
IU
Vitamin C:
4.9
mg
Calcium:
17
mg
Iron:
0.8
mg