Flank steak with pomegranate molasses is one of the tastiest and easiest meals you will ever make. Refrigerator to table in under half an hour, this is one of many pomegranate molasses recipes that you will put on repeat in your repertoire.
Steak with Pomegranate Molasses - Big Flavor with Little Effort!
In my house, we have a saying that "everything tastes better with lemon". Well I have amended that to say "and pomegranate molasses". This recipe for flank steak will make you a believer. It comes together so quickly but is just packed with flavor. With just a brush of olive oil, a dash of salt and pepper, a squirt of lemon, you are ready to sear it. When it is done cooking, you pour on some pomegranate molasses while it rests and voila – a flavor-packed protein is ready to serve.
How to Prepare Steak with Pomegranate Molasses
You can use a cast iron pan, as I show you in the video, but a grill pan or an outside grill would be terrific as well.
After the pan gets nice and hot, you sear it for about three minutes a side, depending on what temperature you prefer your meat and the thickness of the piece of meat.
When you take it off the heat and put it on a cutting board to rest, you pour on a bit of pomegranate molasses on each side and let it rest. That's all there is to it.
When you slice it up after it has rested for about ten minutes, you can drizzle on a bit more lemon and molasses if you'd like.

What to Serve with Steak with Pomegranate Marinade?
This beef dish pairs nicely with:
What Other Cuts of Meat Can I Use?
In addition, feel free to use other types of steak cuts such as top sirloin, boneless ribeye, and skirt. Or try lamb. I once made lamb chops using this method and they were a huge hit! Another trick is to make a bed of greens such as arugula or spinach and serve the steak right on the greens for an exciting salad presentation. It will look like a professional chef made your meal but it was really you in just a matter of minutes.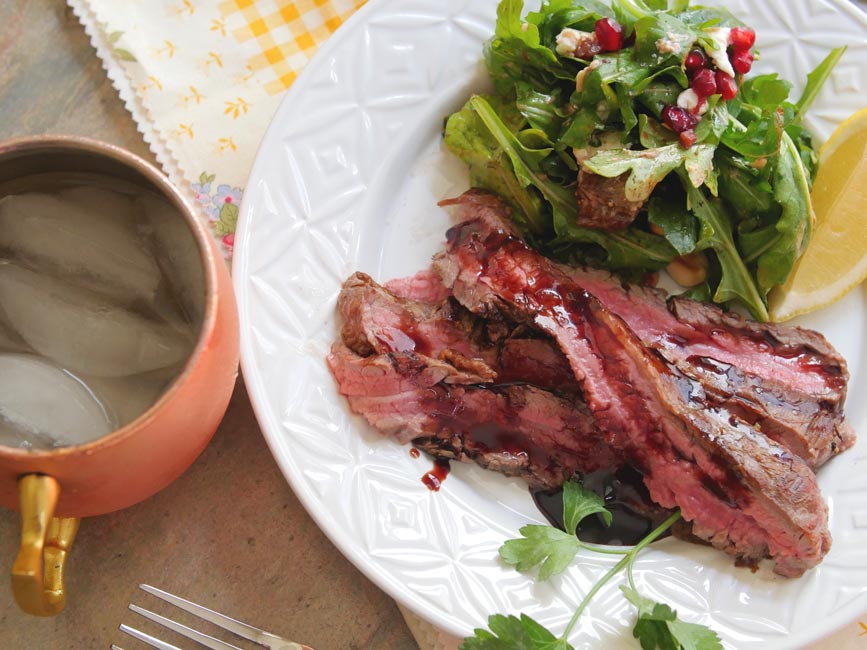 Where Can I Buy Pomegranate Molasses? (or Can I Make it?)
You can find pomegranate molasses online (see my affiliate links below) or in your local International or Middle Eastern Market. Or you can make your own! If you can boil water, you can make pomegranate molasses. All you need is a bottle of pomegranate juice which I have found at large chain grocers like Safeway as well as Trader Joe's and small Middle Eastern markets.
Other Pomegranate Molasses Recipes on OMG! Yummy
This post contains Amazon affiliate links – if you click on one and purchase something, I receive a very tiny percentage of the sale. Your price is never affected.


Also check out my Amazon shop that includes some of my favorite food and food-related products. I am always updating it – please visit often. And let me know if you need specific product recommendations – I am happy to help!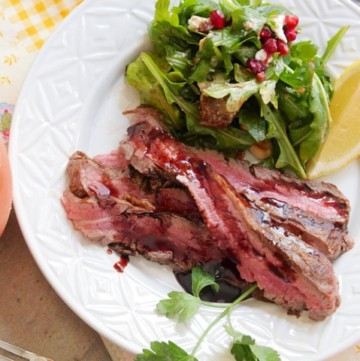 Lemony Seared Flank Steak with Pomegranate Molasses
Beth Lee
This lemony flank steak glazed with pomegranate molasses wows your taste buds with its tangy flavor but goes from pan to table in a matter of minutes.
Ingredients
1

pound

flank steak

1

tablespoon

olive oil

salt and pepper

about ¼ - ½ teaspoon each or to taste

one small lemon or ½ of a large one

1-2

tablespoons

pomegranate molasses
Instructions
Preheat a heavy bottomed medium size cast iron or grill pan over medium high to high heat. Rub olive oil over both sides of the steak and sprinkle both sides with the salt and pepper and squeeze some lemon juice all over. When the pan is hot, place steak in it and let it sear for about 3 minutes per side or to your desired doneness. I like to take it out when it is just rare and then let it cook more as it rests – about 125 degrees.

As soon as you place the meat on a cutting board to rest – pour on the pomegranate molasses (both sides) then let it rest for 5 – 10 minutes.

Slice across the grain and serve.
Nutrition
Calories:
266
kcal
Carbohydrates:
4
g
Protein:
32
g
Fat:
12
g
Saturated Fat:
3
g
Cholesterol:
90
mg
Sodium:
82
mg
Potassium:
515
mg
Sugar:
3
g
Calcium:
32
mg
Iron:
2.3
mg